AnyRec PhoneMover
Transfer photos, videos, music, contacts, and messages between any iPhone and Android.
Your Complete Tutorial to Empty Trash on Android (All Phone Brands)
One of the most common ways to clean phone space is to empty trash on Android. But there are also many different types of trash in your phone. And different trash files have different ways to clean them from your phone. So, this post will give you the three best solutions to empty trash on Android. You can choose which type of trash files you want to delete and adopt the corresponding method.
Part 1: Use AnyRec to Delete Trash with High Efficiency
If you want to find the most efficient way to empty trash on Android, you can use AnyRec PhoneMover on your computer. This software could help you find and delete duplicate files to free up storage space on your phone. Moreover, you can merge duplicated contacts here. You can transfer, edit, add, delete, change, duplicate, play, and explore more phone management tools within AnyRec PhoneMover.
Unlike other software to scan your app data, this phone manager will display all Android files. So, you can choose to delete those photo trash, music trash, video trash, etc., which will not cause any system problems or app crashes after you delete them. This is a safer way to empty trash on Android with high efficiency either. Moreover, you can organize and delete duplicated files on Android quickly.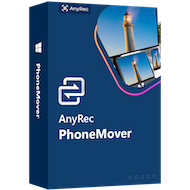 PhoneMover
Delete photos, music, playlists, videos, contacts, and contact groups.
Find duplicates and automatically delete them or merge duplicated contacts.
Back up files in case accidentally delete them when emptying trash.
Organize files by many operations to find out trash files easily.
Support Android 12 of Samsung, LG, One Plus, HTC, etc.
Step 1When you launch AnyRec PhoneMover, there are two ways supported to let you connect your Android to your computer. You can use a USB to connect Android to your computer directly, or you can download MobieSync on Andorid and then scan the QR code. Make sure your Android phone and computer connect to the same Wi-Fi.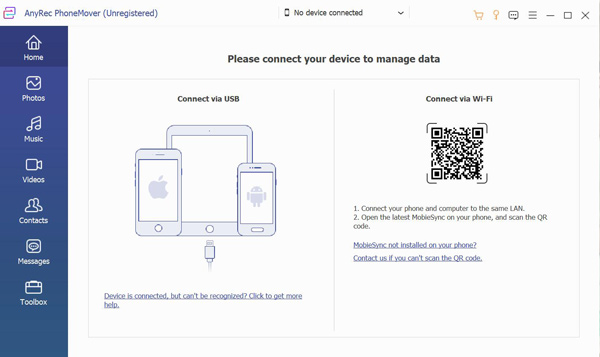 Step 2After you connect your Android to the computer, the left bar has Contacts, Messages, Photos, Music, and Videos. You can click them to see which trash you want to delete.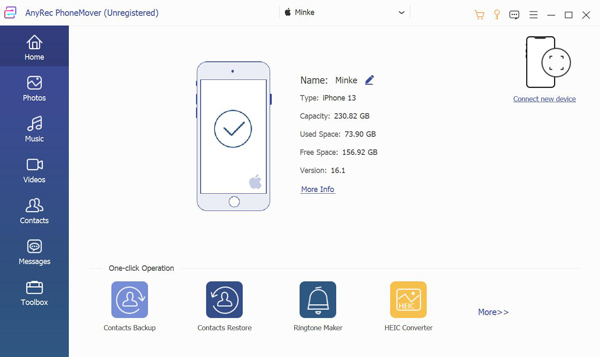 Step 3Every file will be displayed for you. You can check which one you want to delete. There are even some music or photos you cannot check on your gallery, which also is called trash files. Then you can choose them and click the Delete button with a trash bin icon at the top of the screen.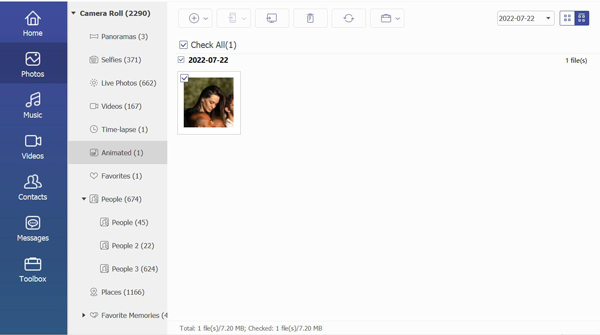 Part 2: Clear Cache and Data Manually on Android
As you use apps on your phone, they collect files and other data for later use. Clearing out an app's cache or data is another way to empty trash on Android. Much third-party software could delete them with the wrong or could not delete cache and data thoroughly. So, you can manually delete them on Android.
Step 1Start by launching your phone and tapping Settings. You'll need to access the Apps menu. This will vary, depending on your Android device. For example, you may need to tap Storage and then tap Other Apps or Apps, or simply tap Apps.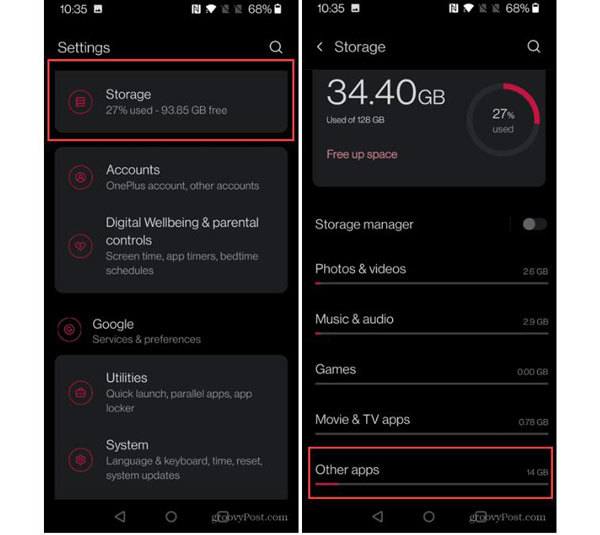 Step 2Tap the app you want to clear the cache for in the Apps or Apps storage menu, depending on your device. Tap Clear cache to clear the cache files on Android. Clearing cached data doesn't remove databases, logins, or saved games. To clear everything completely, tap Clear storage or Clear data.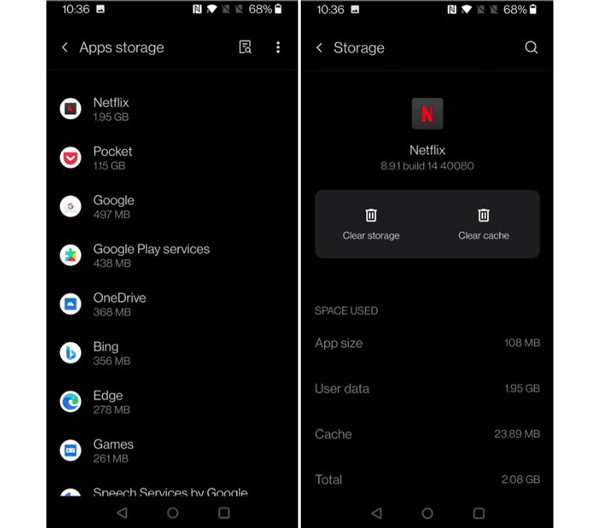 Part 3: Clean Your Android with Files by Google
The Files by Google app performs most of the manual steps shown above with a single tap. It's also an alternative file-managing app for your app if your phone doesn't have one. This app could empty trash on your Android with a few taps. Here are the steps to about Android empty Trash with Files with Google.
Step 1Download and install Files by Google on your Android device. And then launch the app and tap Clean at the bottom. The app will scan your phone and present you with a comprehensive list of Cleaning suggestions. The list will contain an option to delete large files, recorded media, downloaded files, and more.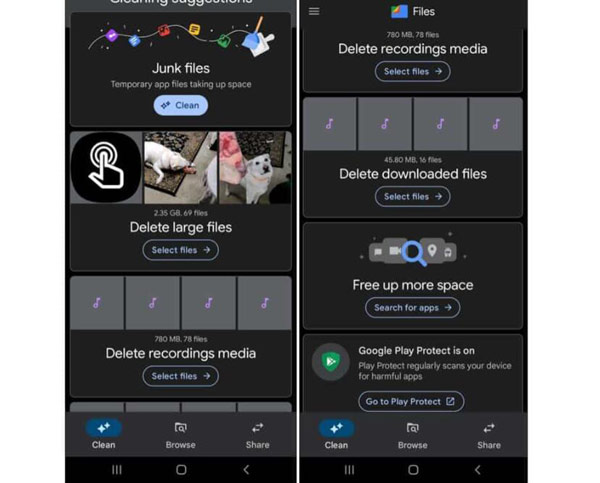 Step 2For the Junk files section, tap Clean and give permission to clear it. It doesn't automatically remove other files on the list, however. Instead, the app will point out large files on your phone. Work your way through the list and get rid of the items you don't need or compress the large-size video.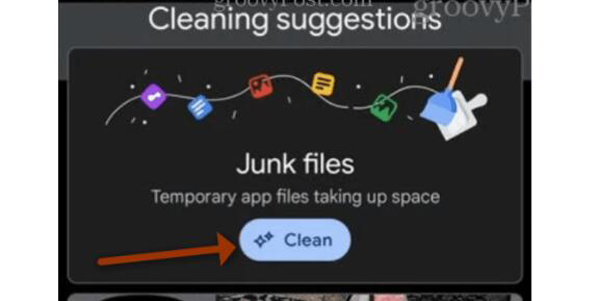 Part 4: FAQs about Emptying Trash on Android
Why should I empty trash on android?

If your phone is infected, if it lags, or if apps crash repeatedly, cleaning up your files is a good way of starting to solve the problem. Additionally, if your device's memory is full, emptying the trash is naturally the right method.

Do Androids have a trash bin?

There is no trash bin or recycle bin on Android. Although, there is a folder named Trash that stores the recently deleted photos and videos in the recently deleted folder and stays there for 30 days.

Can you get something back after deleting it on Android?

It depends. You can restore files from your trash before the 30-day time window. You can also permanently delete them to empty your trash. So, when dealing with photos, music, or other files, you can use AnyRec PhoneMover which could help you delete them and backup and restore them easily.
Conclusion
When you finish reading the post, the three methods have their own features to empty trash on Android. If you want to clean the cache and data, it would be better to delete them manually on Settings. As for third-party apps on Android, you can use them to clean your phone simply. And if you want to delete photo trash or music trash, AnyRec PhoneMover could detect more deeply and delete them more completely.
Related Article