AnyRec PhoneMover
Transfer photos, videos, music, contacts, and messages between any iPhone and Android.
Send Videos from Android to iPhone Without Quality Loss
The different system always has problems with sharing files. So, if you want to send video from Android to iPhone 14/13/12/11, you will find you cannot use Bluetooth or AirDrop. Do not worry about it, this post will give you 3 solutions to help you. And concerned about the quality loss during the sending process, there are also some ways could reserve the quality as high as possible. Now, you can read the article to see which way is the best for you to send videos from Android to iPhone.
Part 1: Transfer Large Videos in Batch [Fastest]
Although there are many ways to send video from Android to iPhone, a few tools could send the original quality videos between devices. And AnyRec PhoneMover will be recommended to you to do this work. With the help of this Android iOS transfer tool, you can easily transfer videos from Android to iOS or reversely. What's more, if you are going to transfer files like photos, music files, contacts, messages, and more, there will be no quality loss during the transfer process too.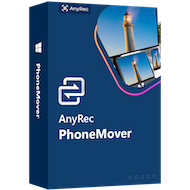 PhoneMover
Transfer phone photos, contacts, music, videos, and SMS easily.
Manage your phone files to make your phone orderly and efficient.
Find duplicates and automatically delete the duplicates.
Add, delete, transfer, and rename phone files conveniently on your computer.
Support the latest iPhone 14/13/12, iOS 16/15, and Android 12/11.
Step 1When you launch AnyRec PhoneMover, you can see there are two methods to connect your phone. You can choose to use a USB to connect your phone to your PC or scan the QR code. And if you choose to scan the QR code, you must install the latest MobileSync and make sure your phone and computer are connected with the same Wi-Fi.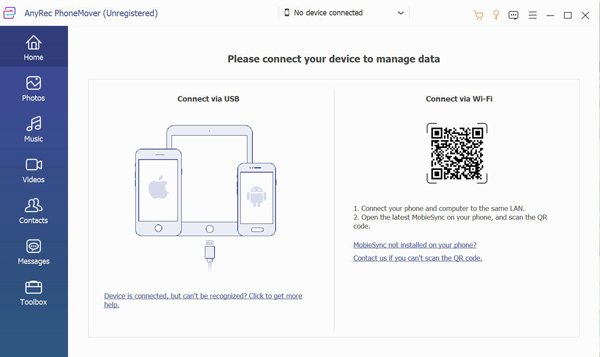 Step 2After you connect one device, the information about your phone will be displayed. And if you want to send video from Android to iPhone, you need to click the Connect new device button.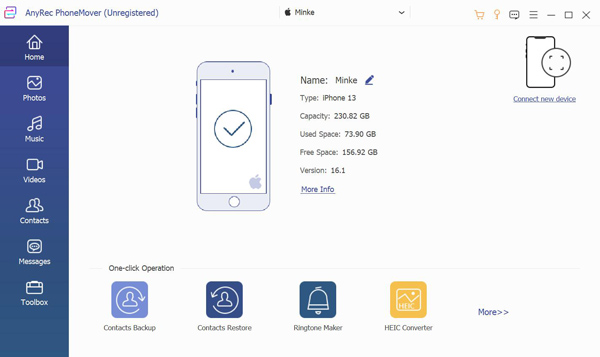 Step 3When the connection is over, you can see the left bar will display the file of your phone. You can click the Videos button or the Photo button to see the video files on your phone. And you can right-click the video to preview it in case you send the wrong video.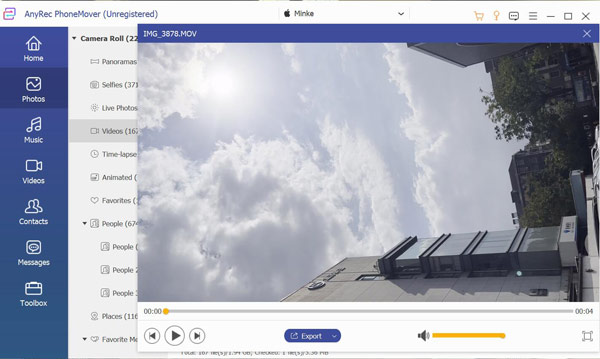 Step 4If you have chosen the videos you want to send, you can click the Transfer button with the phone icon. Later, choose which device you want to send videos to. After sending Android videos to iPhone, there will be a window to let you know.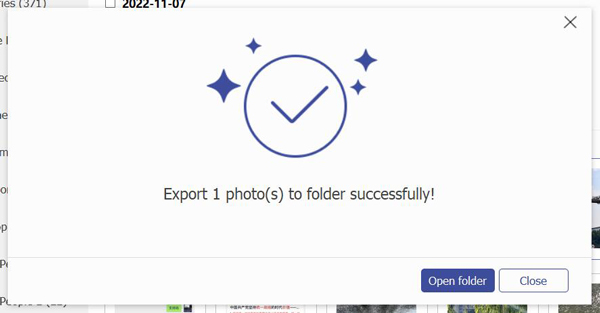 Part 2: Sync Your Video with Google Photo
If you do not want to send files via computer, you can download Google Photo to send videos from your Android to your iPhone. But in this way sending video from Android to iPhone will have quality loss. Because when you upload and download again the video, the resolution will be decreased. Also, make sure your Internet connection speed is fast.
Step 1Open the Google Photos app. Make sure Back up & sync is turned on, tap Next to move on. Then you can choose your backup settings with Original or High Quality. With Original, you have limited space for backing up your videos. With High Quality, videos will be compressed without space limits. Next tap Confirm. The app will now back up and sync your videos.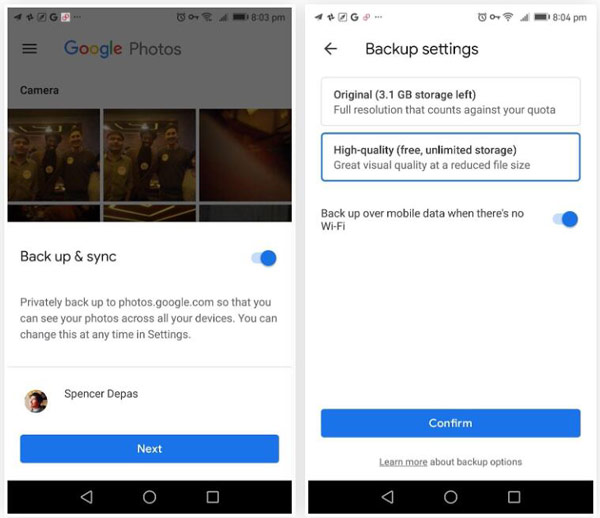 Step 2Once Back up & sync is turned on in your Google Photos app, the video will be uploaded to the cloud within seconds. This enables you to send videos to any of your Gmail contacts. When you are ready to share your videos, tap Send.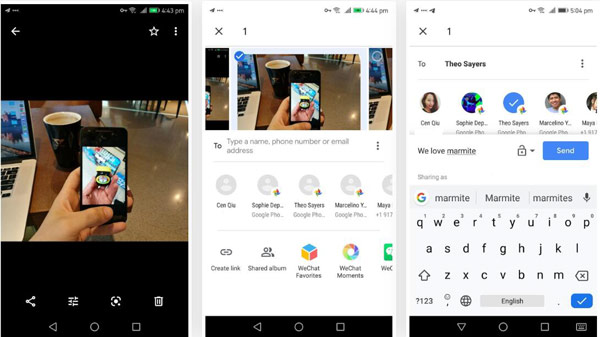 Step 3Google Photos lets you share content through a link that can be opened on any operating system. If you choose your desired video and press Share, then tap Create link in the bottom-left. Then Google Photos will create a shareable link that you can paste it wherever you want. Send the link to your iPhone, when you tap the link you will go directly to the video and have the option to download the video.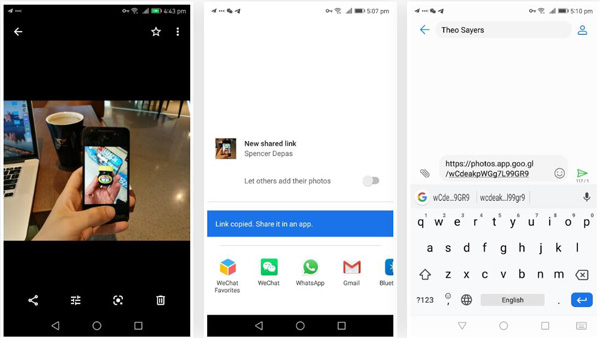 Part 3: Send the Video with a Chat App in Small Size
The most popular chat app is WhatsApp. People can use WhatsApp to send text messages to one another and also share different files like photos, videos, music, and so on. However, the maximum video file size of WhatsApp is 16MB. Or you can use Snapchat, Facebook Messenger, and other chat apps to send videos too.
It is easy enough to send video from Android to iPhone with a small size. But the biggest disadvantage of using a chat app is that the quality will be compressed.
And here are the steps to send videos from Android to iPhone in the following easy steps with WhatsApp:
Step 1Open a chat app like WhatsApp. And choose the recipient's chat
Step 2Choose the video you want to send. In the case of WhatsApp, you might want to send the video as a document attachment instead of texting it directly from the gallery, otherwise, it will auto-compress and ruin its quality. Sending videos as a document attachment retains the same.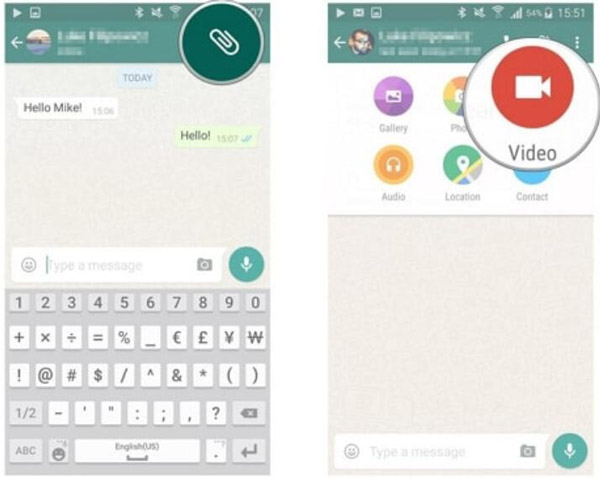 Tips
You can send videos as attachments to yourself from Android to iPhone too. The maximum video size limit of email is 25MB. So you may need to reduce the MB size of video before sending via email.
Part 4: FAQs about Sending Video from Android to iPhone
Can you send videos via Bluetooth from Android to iPhone?

No, you can't. Apple does not allow non-Apple devices to share files with its products using Bluetooth! In other words, you cannot transfer files from android to iPhone via Bluetooth crossing operating system boundaries

Why are videos blurry when sent from Android to iPhone?

The density of pixels on the two devices is different. In most Android devices, the video pixel is around 720p or 480p, while on the iPhone, it is about 1080p. This difference can result in a lack of proper compression and make videos blurry.

How can I send a video from Android to iPhone without losing quality?

You can use a cloud storage service, like Google Drive, iCloud, Dropbox, and more. But if you want to transfer large videos in batch quickly, you can use AnyRec PhoneMover to send video from Android to iPhone without video quality compression.
Conclusion
There are 3 ways to send videos from Android to iPhone. The easy way must be WhatsApp, but the quality apparently cannot be promised. Although Google can help you reserve the resolution, the space is very small for the video. So, the best solution is AnyRec PhoneMover, which has no space limitation and quality promise.
Related Article