DNG/RAW/TIFF/JPEG/PNG - Differences and Which is Better
DNG vs. RAW vs. TIFF vs. JPEG vs. PNG, which image format is better? For example, DNG, TIFF, and RAW are all original file formats and can only be seen in digital cameras. JPEG or PNG is a standard image format with high compatibility. This article will compare DNG vs. RAW vs. TIFF vs. JPEG vs. PNG. Read on to learn more about them, and you can get an online converter to convert the image format.
Part 1: DNG vs. RAW vs. TIFF vs. JPEG vs. PNG: Everything about Them
DNG
DNG is an open lossless original image format developed by Adobe for digital photography. In addition, DNG files store uncompressed image data on the camera. You can perform post-processing in various image editing software programs. With the same image quality, DNG files are about 20% smaller than RAW files, saving storage space and time to transfer to the hard drive. Note that you can convert other original files to DNG.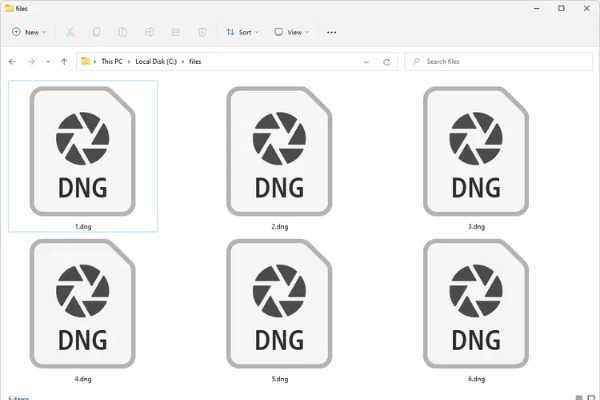 RAW
Because they have not been processed, RAW is called an original file. The camera's original image files contain unprocessed or minimally processed data from digital cameras, image sensors of image scanners, and film scanners. RAW files can also be original audio data format files. The most significant advantage of the raw format is that you can edit, transform and compress high-quality images losslessly. If you want to open this file directly, you can use Photosea, Windows Photos, or Able RAWer.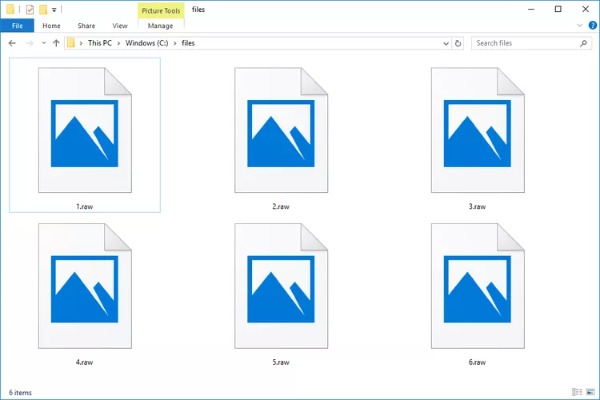 TIFF
TIFF file is a graphics container that stores raster images in a tag image file format. It contains high-quality graphics, supports color depth from 1 bit to 24 bit, and supports lossy and lossless compression. Therefore, the TIFF format is trendy in various industries, such as design, photography, and desktop publishing. TIFF can also be used as a container file for storing smaller JPEGs. TIFF files are quite large due to details and resolution, so they will occupy much storage space.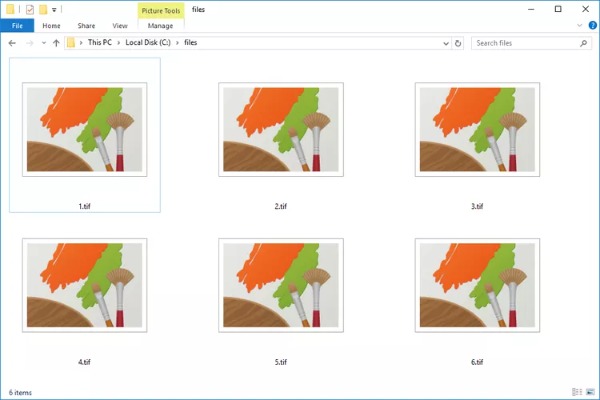 JPEG
JPEG is a common image format compatible with Windows, Mac, and other platforms. In addition, it is also a lossy compression method for digital images, especially those generated by digital photography. You can adjust the compression level and choose between the storage size and image quality. JPEG can achieve 10:1 compression with almost no obvious loss of image quality. Furthermore, the size of JPEG image files is usually small and does not take up too much space.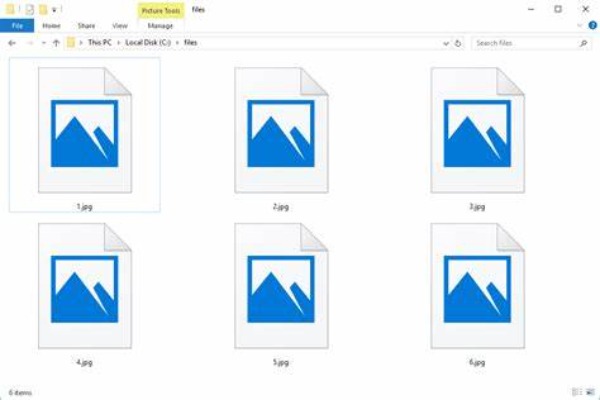 PNG
PNG files are portable network graphics files. This format uses lossless compression. When you take screenshots on some operating systems, they are stored in PNG format default, such as macOS, Windows, and Ubuntu. If you need screenshots and illustrations, PNG format is preferred, while JPEG/JPG format is preferred for actual photos. It is compatible with most platforms like JPEG. You can open PNG files using any browser or image program.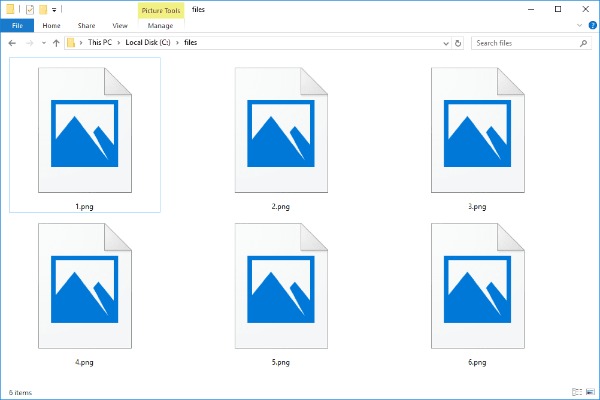 Part 2: DNG vs. RAW vs. TIFF vs. JPEG vs. PNG: Which One is Better
Now you have a detailed understanding of these image formats. DNG vs. RAW vs. TIFF vs. JPEG vs. PNG, which image format is better? You can compare them in terms of compatibility, file size, and quality. Here is a comparison table for you to see which is the best.
| | | | |
| --- | --- | --- | --- |
| Image Format | Compatibility | File Size (in 1920×1080 as an example) | Compression Mode |
| DNG | Higher than RAW/TIFF | 2.48 MB | Lossless compression |
| RAW | Low | 3.11 MB | Lossless compression |
| TIFF | Low | 2.59 MB | Lossless compression |
| JPEG | High | 423.41 KB | Lossy compression |
| PNG | High | 8.29 MB | Lossless compression |
Part 3: How to Convert DNG/RAW/TIFF to JPEG/PNG for High Compatibility
If you want to convert DNG/RAW/TIFF to JPEG or PNG for high compatibility, AnRec Free Image Converter Online must be the initial choice you should not miss. This excellent online tool supports converting your BMP, DNG, TIFF, RAW, WebP, and 30+ image formats to JPG, PNG, and GIF for free. Moreover, you can convert multiple files at a time without watermarks. Experience high-speed conversion together and download all converted files with one click right now!
Convert DNG/RAW/TIFF to JPEG or PNG online without hassle.
No watermarks and registration during the conversion.
Support batch conversion to convert various files simultaneously.
Free and safe to convert image files to JPG/PNG/GIF with high quality.
Step 1.Open AnyRec Free Image Converter Online on the browser by copying this link, https://www.anyrec.io/free-online-image-converter/. Then you can select the output format by checking the JPG option.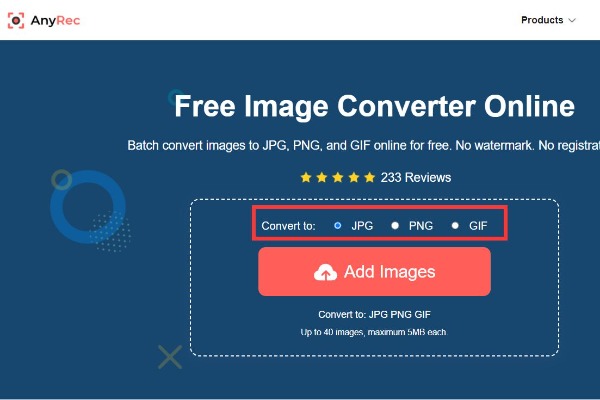 Step 2.After that, you should click the Add Images button to import your DNG/TIFF/RAW files. Note that you can upload up to 40 images, and each image cannot exceed 5 MB.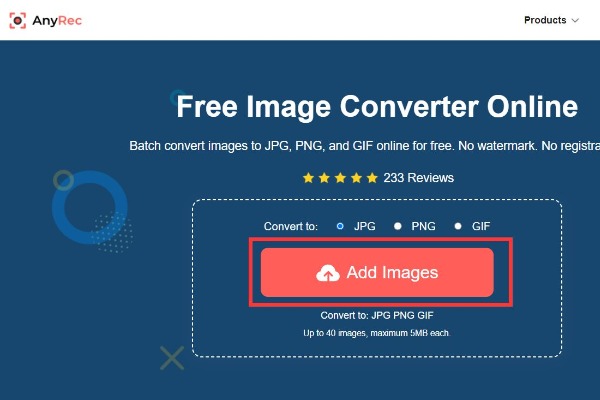 Step 3.The conversion will start automatically after uploading. Then you can click the Download button to save your file. If you have converted multiple files at one time, you can click the Download All button to save all files.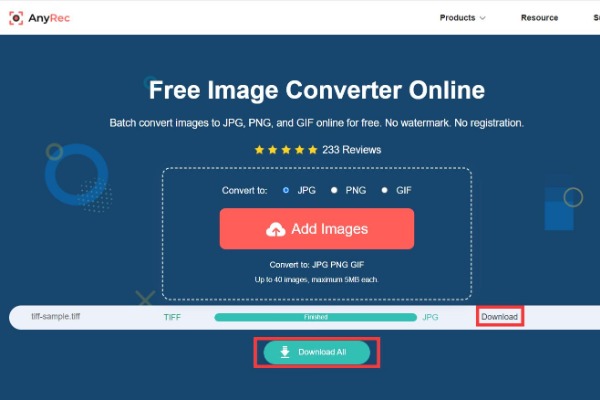 Part 4: FAQs about DNG vs. RAW vs. TIFF vs. JPEG vs. PNG
1. Which one provides better quality, DNG, RAW, TIFF, JPEG, or PNG?

Among these image formats, the image quality provided by raw is the highest. It is uncompressed and unprocessed image data captured by digital cameras or scanners sensors.

2. DNG vs. RAW vs. TIFF vs. JPEG vs. PNG, which should I choose for converting the image?

JPEG is a recommended conversion format among DNG, RAW, TIFF, JPEG, and PNG. It is compatible with most platforms and has a small file size and high quality.

3. What software can directly open pictures in DNG, TIFF, and RAW format?

For DNG, you can use Adobe Photoshop, Adobe Photoshop Lightroom, and Photoshop Elements. You can use Microsoft Photos, Adobe Photoshop, and Apple Preview to open TIFF. Opening RAW by using Adobe Photoshop or Photoshop Elements.
Conclusion
After understanding the differences between DNG, TIFF, RAW, JPEG, and PNG, you can determine the best way to convert images. If you use an excellent tool like AnyRec Free Image Converter Online, converting DNG/TIFF/RAW to JPG/PNG is not a problem. This professional solution can help you convert pictures without quality loss. Open this online tool now and experience its powerful functions!
Related Articles