[6 Free Methods] How to Compress TIFF without Distortion and Quality Loss
TIFF (Tagged Image File Format) files have no compression algorithms and contain more data than JPG or PNG. So, the TIFF file size is bigger, and the picture quality is better than typical JPG images. Therefore, if you have such files, they must have taken up lots of disk space on your device. TIFF compression is an excellent solution to save you from piled-up picture files. But when compressing TIFF files, one detail is worth the attention: the quality drop. This way, finding a useful image compressor to resize TIFF files without quality loss is significant. Walk through the guide below to learn the top 6 free TIFF compressors without a quality drop.
Part 1: Top 6 Free Online TIFF Compressors [with Steps]
Different TIFF compression methods will lead to different results. To make sure that your final compressed TIFF files remain high-quality, compression methods like ZIP and LZW are workable and helpful, for they achieve both lossless compression for TIFF. Therefore, some 6 TIFF compressors will use such methods to compress TIFF to retain the original quality. Check the features and the guide to pick a suitable one.
1. XConvert
XConvert is a web-based platform that changes TIFF compression to LZW, Deflate, lossy, and PackBits to make your file size smaller. The website promises not to compromise the TIFF quality during the compression. Meanwhile, you can free upload TIFF files as big as 1GB.
Step 1.You can find the TIFF compression tool on XConvert's official website. Then, click the Add Files button to upload your TIFF file. You can press the Ctrl key on your keyboard to upload more TIFFs simultaneously.
Step 2.On the right, there are many options. Choose which mode you want to reduce the TIFF file size. You can set a percentage to control the final picture size
Step 3.Select a compression method, and you are good to go. Click the Compress button to compress the TIFF. Click the Download button to save the compressed file to your device.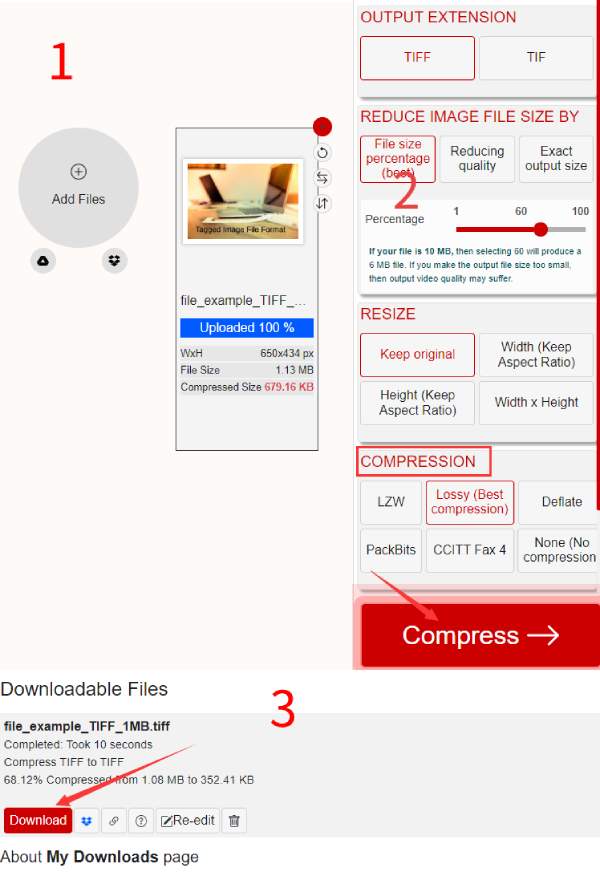 2. Free Image Compressor Online
AnyRec Free Image Compressor Online is a one-stop solution for all image compression, including TIFF. You can upload up to 40 images; each should be at most 5MB. Equipped with AI technology, this online picture compressor helps take care of all the details for your TIFF compression and preserves lossless quality. The compressing speed is quick, and the batch image compression mode is also available.
Optimize and compress TIFF files for free.
Output TIFF images with small size but lossless quality.
Compress TIFF images in seconds with no watermark.
Step 1.Click the Add Images button in the center of the AnyRec Free Image Compressor Online official website. Then, choose the TIFF image on your device and upload it. You can keep adding and uploading more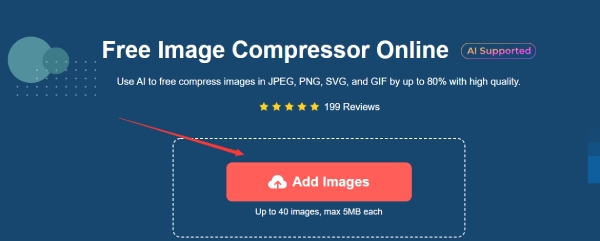 Step 2.Once the image uploading process succeeds, the website will compress the TIFF image immediately. The compression is quick, and you can see the progress below. Click the Download All button to save all the compressed TIFF images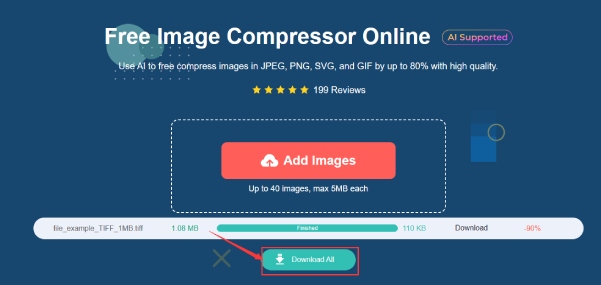 3. Online Converter
Online Converter is an online website with many converting tools for different types of files. Besides, you can find a background changer and change your image background to black. This website allows you to compress TIFF and optimize it simultaneously. Meanwhile, the original quality will also remain. Moreover, you can upload a TIFF image of up to 200MB within the free TIFF compressor.
Step 1.Go to Online Converter's home page and find the Compress TIFF tool under the Image Converter category. Then, click the Choose File button to upload a TIFF image.
Step 2.You can click the Color dropdown option to switch your image to a black-and-white style. Next, click the Compress button to upload and compress. After it ends, click the Download button to save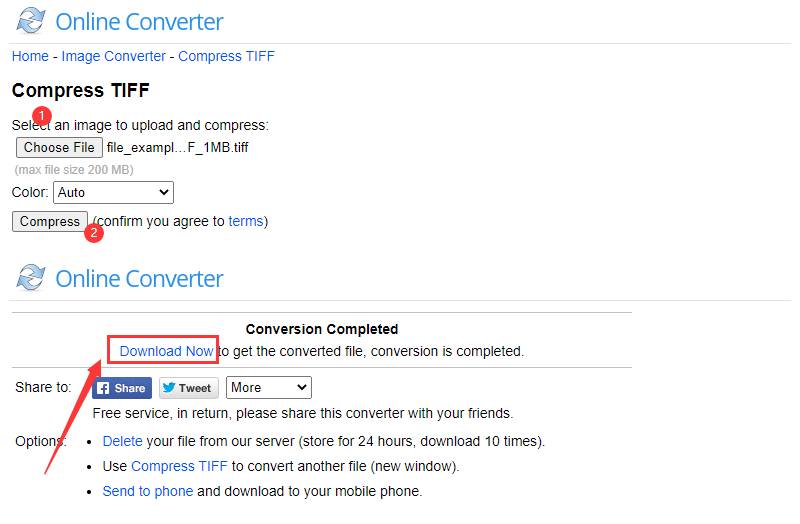 4. ASPOSE – Compress Image
APOSE is another online compressor on the list that provides high-performance TIFF compression. You can upload maximum 10 files for compression and customize your needs for each TIFF image. There are also diverse compression methods for your TIFF images, some of which enable you to compress the image to 200KB.
Step 1.Find the Compress Image function under the Imaging Apps category on the ASPOSE website. Then, you can see the Compress TIFF images tool.
Step 2.Click the Upload File button to select a TIFF image from your device. Your image will start uploading and compressing automatically
Step 3.Go to After the compression ends, you can see how much the size has been reduced. Scroll down to see more options. You can choose an output format, change the compression method to restart, and click the Apply button to apply these changes.
Step 4.When satisfied, click the Download button to save the compressed TIFF image on your device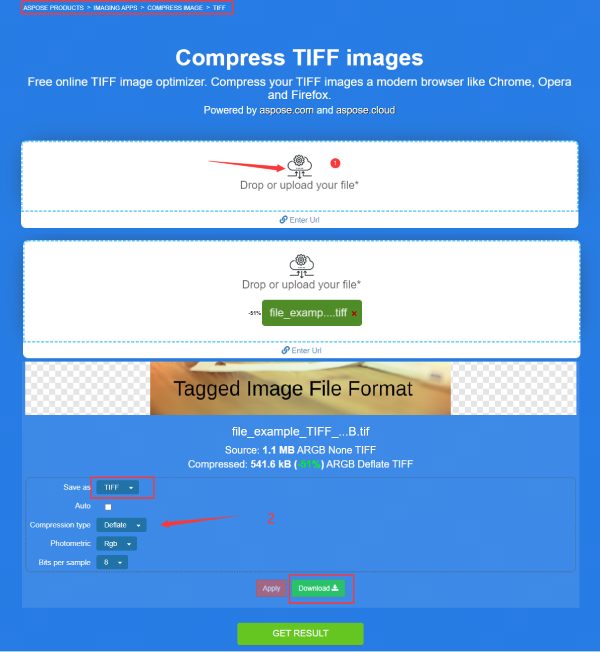 5. YouCompress
The YouCompress website is more than an image compressor. It can compress all kinds of files, including videos, PDF documents, etc. With the encrypted connection on this website, you can compress the TIFF images in a safe internet environment. Moreover, there is no limitation on the uploading file numbers and no watermark, but the file size must be under 50MB. Most importantly, your TIFF image quality is well preserved.
Step 1.You can see the Compress TIFF tool on the toolbar after entering the ImageSmaller site. Next, click the Select Image File button and upload a TIFF image from the device.
Step 2.Your compression will complete in seconds, and you can click the Download button to save it. You can also see the final file size and decreased percentage.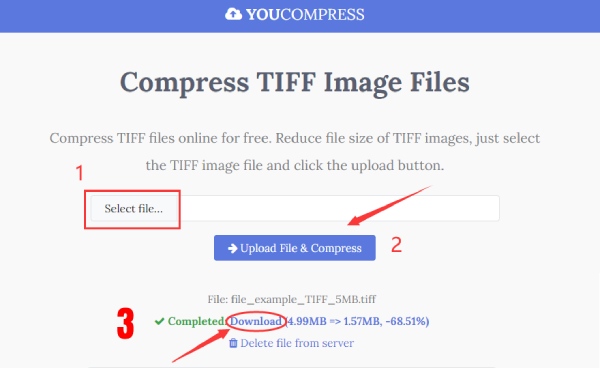 6. ImageSmaller – Compress TIFF Images
Similar to YouCompress, ImageSamller also has a clear layout and straightforward interface. The lossless TIFF compression from this online compressor is also free and has no watermark. The maximum file you can upload is 50MB. Meanwhile, no registration is required, and you can use the service on any browser.
Step 1.You can see the Compress TIFF tool on the toolbar after entering the ImageSmaller site. Next, click the Select Image File button and upload a TIFF image from the device.
Step 2.Your compression will complete in seconds, and you can click the Download button to save it. You can also see the final file size and decreased percentage.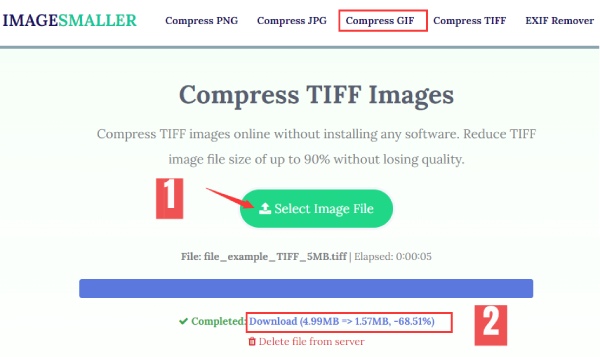 Part 2: FAQs about TIFF Compression
How to view all pages of TIFF files on Windows?

If you have multi-page TIFF files on your PC, right-click one of the files and choose Open With Windows Photo Viewer; then, you can see all pages from this TIFF file.

Can I convert TIFF to JPG to compress the TIFF image?

Yes, you can. But the TIFF file contains more data than JPG, and its quality is higher than the latter format. So, you might have a quality drop after conversion.

Which TIFF compression method is better, ZIP or LZW?

If you are compressing an 8-bit TIFF file, these two give you a good result. So, they are both workable for your TIFF compression. If you want to compress a 16-bit TIFF file, choose ZIP, for LAW often makes the file even larger.
Conclusion
With the handy tools and the right compression method, you can compress TIFF images to your ideal size without losing any quality at all. Meanwhile, the 6 online compressors above all have their highlights, and you can pick a preferred one and use others as backup choices when the ideal one is unstable. You will find compressing TIFF files is such an easy thing after reading this guide with the detailed illustration.
Related Articles: