MOV vs. MP4, Your Detailed Comparison fo MOV and MP4 Format
MOV vs. MP4: Which is better? Different people have different answers. In short, MP4 is a universal video format compatible with most devices and programs. As for MOV, it is a QuickTime format that is compatible with Mac. Instead of long paragraphs, you can read this MOV and MP4 comparison to get more details.
Part 1: MOV and MP4 - Definition
1. What is the MOV format?
MOV files are a type of video container that Apple created. MOV employs the concept of tracks to store data as a container. A track is a collection of data, such as video, audio, subtitles, text, etc. Different sorts of data are stored on many tracks in a single MOV. Moreover, it is a lossy video format that saves films and movies for QuickTime Player. As a result, MOV runs smoothly on both macOS and iOS. Moreover, the file size is relatively minimal because it has been compressed using modern technology. Or you can compress MOV files to get smaller file size. With that, you can watch the video on your computer or mobile device instantly. MOV is now generally compatible with various operating systems, including Windows and Mac.
2. What is the MP4 format?
MP4, also known as MPEG-4 Part 14, is a multimedia file storage type. The MP4 video format is popular because many media devices and operating systems can play it. It uses lossy compression to reduce file size, just like MOV. This compression function has little impact on image or sound quality, but it provides a lot of flexibility, which is a big plus for this video format.
Because MP4 and MOV share the same compression technology, they can be used interchangeably in a QuickTime environment. MP4 is now extensively supported across operating systems such as Windows, macOS, iOS, Android, and websites like Facebook and YouTube. Furthermore, several gaming consoles and DVD players can play MP4 files directly.
Part 2: MOV vs. MP4 - Comparison
What are the main differences between MOV and MP4 file formats? While there are many similarities between the two files, it is vital to grasp the differences before using either. The table below highlights some significant differences between MOV and MP4, such as the size, features, quality, compatibility, and more.
| | | |
| --- | --- | --- |
| | MOV | MP4 |
| Developer | Apple | International Organization for Standardization |
| Compatibility | Compatibility Apple devices | Almost every device |
| Codec | Video: H.264, XVID, ProRes, ProRes_KS Audio: AAC | Video: H.264, H.265/HEVC, MPEG-4 Audio: AAC, MP3, AC3 |
| Quality | Higher quality | Higher quality More compressed |
| File Size | Bigger file size | Smaller file size |
| Compression | Lossy | Lossy |
| Compatibility | Compatibility Apple devices | Almost every device |
| Pros | ◆ Provide high-quality videos. ◆ Multiple tracks can be saved independently.◆ Work with Apple devices and editing programs, such as Adobe Premiere, Final Cut Pro, etc. | ◆ Compatible with a wide range of devices, streaming platforms, and programs◆ No visual quality loss while playing on most devices. |
| Cons | ◆ Third-party media player is required on other devices. | ◆ Quality is not that good. |
MOV VS. MP4: Which is Better?
The most significant difference between MOV and MP4 is that the two video formats are compatible with various devices. MOV is an Apple-only QuickTime file format that provides high-quality videos. On the other hand, MP4 is an international standard. And because of its excellent image quality and short file size (which reduces download/upload time), MP4 can practically playback on all operating systems and media players. For that reason, if you want a more compatible and smaller file format, MP4 is more suitable for you.
Part 3: How to Convert MOV to MP4 for Better Playback
As stated above, even if MOV provides higher quality videos than MP4, MP4 is more compatible with practically all devices and has a smaller file size. MP4 also has good quality videos. And so, to save space and watch videos without hassle on Windows or Android phones, convert your MOV to MP4 with the help of AnyRec Video Converter. This tool will help you convert QuickTime to MP4 without lags and quality loss. So hurry up and download this powerful MP4 converter now on your device.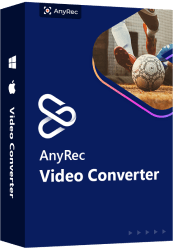 AnyRec Video Converter
Convert large MOV videos to MP4 in bulk without file size limitation.
Edit MOV and MP4 videos by trimming, cropping, rotating, etc.
50x Faster speed and high quality output.
All-in-one video editor, such as video reverser, video watermark remover, and more.
Steps to Follow:
Step 1.Of course, download and run the Anyrec Video Converter on your computer. Then, after the installation process, click the Add Files button to upload MOV files. You can also drag and drop all your MOV videos files together to add them easily.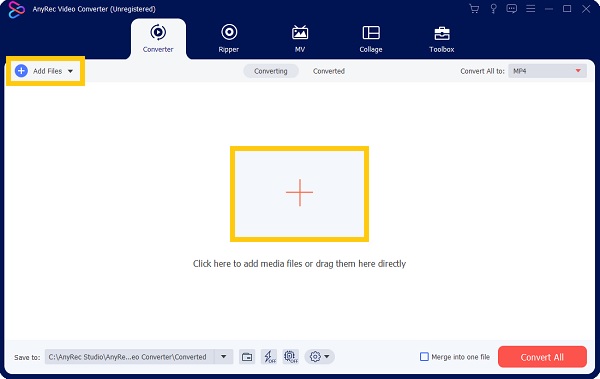 Step 2.After uploading your files, click the Format icon. Select MOV as the output video format for QuickTime MOV to MP4 convertion. From there, go to the Video section and choose the MP4 format.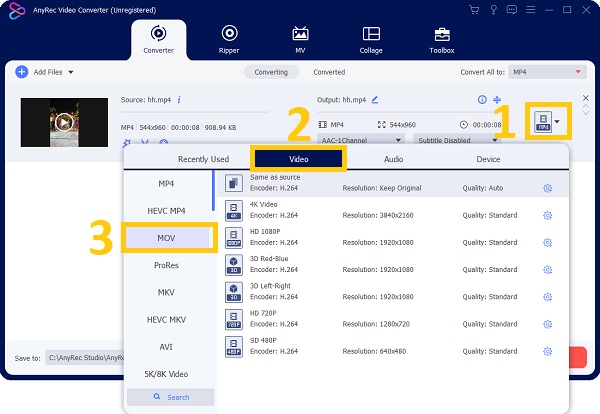 Step 3.Then, you can choose to click the Setting button with the gear icon. Once you click it, a new pop-up window will appear on your screen. Adjust the encoder, frame rate, resolution, and bitrate according to your preference. You can convert video to H.264, H.265, and more based on your need. When you are done, click the Create New button.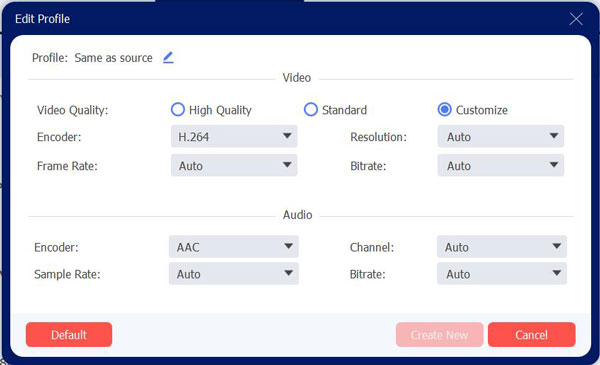 Step 4.With as easy as that, you can now save your converted MP4 files. But first, choose a file location by clicking the Save To button to locate them quickly. After that, click the Convert All button to convert MOV to MP4.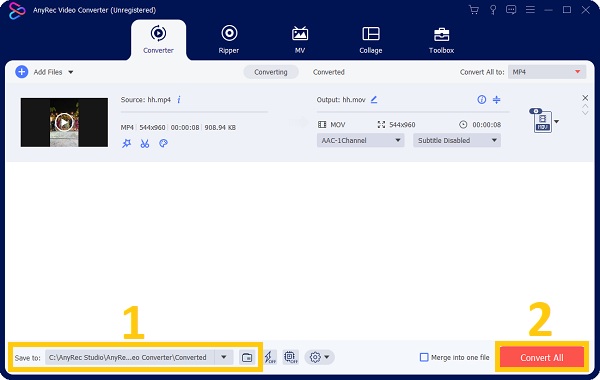 Part 4: FAQs about MOV vs. MP4
1. Is MP4 and MOV the same?

No. They are not the same. Although, MP4 is identical to MOV since it uses the same MPEG-4 codec. MP4 was derived from the MOV file format. Moreover, both formats are lossy and can be used in a QuickTime context. However, MP4 is more adaptable than MOV.

2. Is MOV better than MP4?

It depends. It is preferable to use MOV if you use a MacBook or any computer running Mac OSX. On the other hand, MP4 is more suitable for video sharing than MOV.

3. What is the best video format for Facebook, MOV or MP4?

MOV and MP4 files are often small and light, allowing for greater HD quality preservation when uploading and compression. But if you want to achieve a balanced, high-quality video and small file size, Facebook recommends using MP4 file formats with the H. 264 video codec and the AAC audio codec.
Conclusion
To summarize, the definition, advantages, disadvantages, and differences of MOV and MP4 have been discussed above. Now, you should be able to tell the difference between MOV and MP4. Additionally, if you want to convert MOV to MP4 or vice versa, we have provided the best tool to assist you ㅡ AnyRec Video Converter. Please do not hesitate to contact us if you have any questions.
Related Articles