8 TIFF to PDF Converters for Efficient Conversions Between PDF and TIFF
TIFF file is an image file that stores large data and preserves extremely high image quality. But its popularity might not be the same as JPG, PNG, or other common image formats because of its inferior compatibility and numerous sizes. But, once you convert TIFF to PDF, all these issues can be addressed. PDF files help maintain the original TIFF image quality and are also portable and suitable for sharing. Under this circumstance, there will be no quality drop if you choose to convert existing TIFF to PDF files or PDF to TIFF images. All you need is the 8 workable methods to achieve the conversion successfully.
Part 1: 2 Offline Methods to Convert TIFF to PDF on Windows 11 or Mac
There are several solutions to convert TIFF to PDF on Windows 11 or Mac. But the following two are the most efficient ones. Follow the steps to see how.
1. Windows Photo Viewer
Without third-party programs, the built-in Windows Photo Viewer on your PC can help you change TIFF to PDF without a hassle. The trivial printing feature in this program takes care of all for you. You can even open the multi-page TIFF file in this viewer.
Step 1.Find your TIFF image on the PC, right-click on it, and choose to open it with Windows Photo Viewer
Step 2.Click the Print dropdown button above and choose Print. You can also use the shortcut keys: Ctrl and P
Step 3.Choose the Microsoft Print to PDF option under Printer. Then, you can set up the paper size and output quality. After that, click the Print button
Step 4.There will be a pop-up; name your output PDF file and choose a folder. The TIFF to PDF conversion completes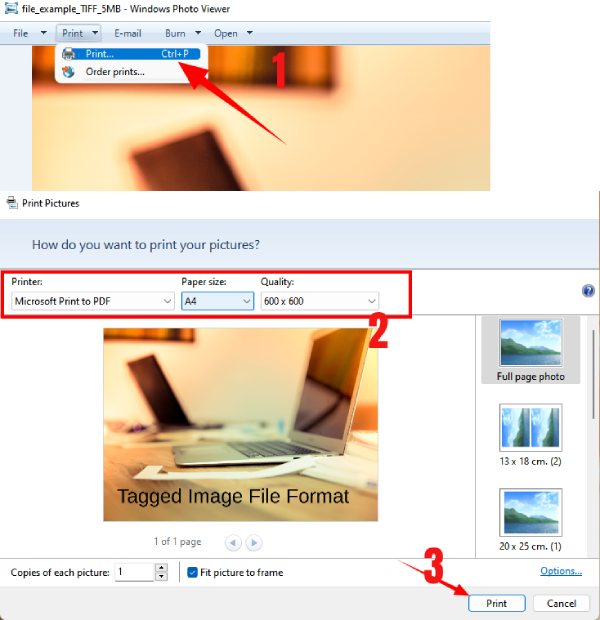 2. Adobe Acrobat Reader DC [Windows/Mac]
Here is a professional solution for users who seek more advanced features. You must unlock Adobe Acrobat Reader DC's premium version to convert TIFF to PDF on Mac or Windows, and you can continue editing the PDF in it. Moreover, you can reverse the conversion and change PDF to TIFF file.
2.1 TIFF to PDF
Step 1.Launch Acrobat after installing it on your computer. Click the Create PDF button and choose Single File or Multiple Files. Then, you can select your TIFF images and import them.
Step 2.After selecting the file, click the Create button to convert TIFF to PDF. You will get a PDF file immediately.
Step 3.You can export the PDF or edit it before exportation.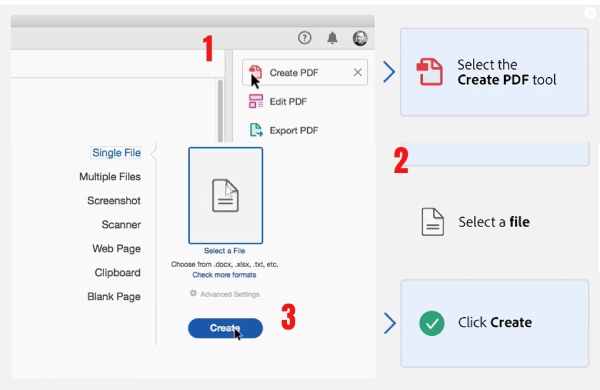 2.2 PDF to TIFF
Step 1.Launch the Adobe Acrobat Reader DC on your computer and import your PDF file. Click the Export PDF option on the right side.
Step 2.Choose the Image option and select TIFF as your exportation option. Then, click the Export button, select a destination folder for it, and it is done.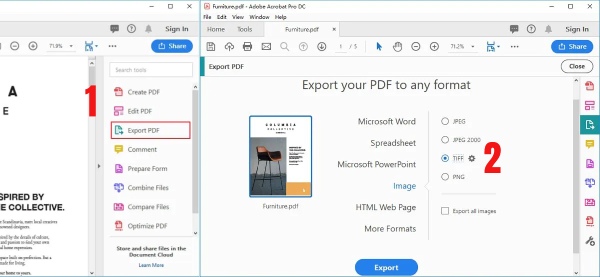 Part 2: 6 Ways to Convert TIFF to PDF or PDF to TIFF for Free Online
There are also workable free methods that can preserve your image quality while converting TIFF to PDF or vice versa. The online converters enable you to transfer between these two formats flexibly and change PDF to TIFF or reverse it. There are, in total, six converters below for your conversions between PDF and TIFF. You may jump to the ones you need based on your task.
3 Ways to Change TIFF to PDF Online for Free
1. TIFF2PDF.com
TIFF2PDF website is a specialized online platform that helps users convert TIFF to PDF without trouble. In this way, this website is simple and offers straightforward operations for TIFF conversions. The biggest highlight of this web-based tool is that you can enjoy the conversion without limitations. There is no limit on file size or numbers and no watermark.
Step 1.Go to the website and choose the TIFF to PDF tab. Click the UPLOAD FILES button. Then, you can select as many TIFF images as you have and upload them.
Step 2.The website will process and convert your TIFF images after selecting them. You can click the Download button on your image to download a single PDF file.
Step 3.Or click the Combine button to get one PDF document with all the TIFF images you upload. A pop-up window will appear, choose a folder, and save the file.

2. Soda PDF
Whether merging, editing, compressing or converting, Soda PDF covers everything. Not only can you convert TIFF to PDF online in Soda PDF for free, but you can also use other tools to edit your PDF documents. Besides, you can convert more than just TIFF images to PDF with this tool; for example, you can also change your screenshots to PDF, for it supports several different image formats. The website also offers a desktop version if you want to achieve conversions offline.
Step 1.Click the Convert option on the home page of the Soda PDF website, which will lead you to the PDF Converter page.
Step 2.Use the Choose File button to upload your TIFF image. Once you upload it successfully, the website starts converting immediately.
Step 3.Next, a window will pop up. You must choose a folder and click the Save button to download this PDF.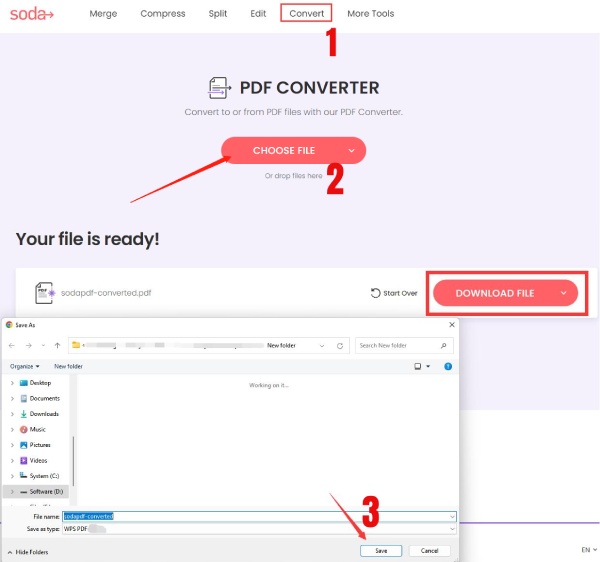 3. PDF Candy
PDF Candy is another all-in-one solution for PDF conversions. Whether you want to convert files from PDF or to PDF, PDF Candy offers both the tools you need. You can use it free to convert TIFF to PDF in any browser. The strong cloud server of PDF Candy also ensures that you can convert files as fast as possible and will not store any of your data. Meanwhile, you can check the previously converted files in the last 120 minutes in the download center.
Step 1.On the official website of PDF Candy, you can find the TIFF to PDF converter from the All PDF Tools dropdown menu. Then, click on it.

Step 2.Click the ADD FILE(S) button, select TIFF images, and upload them. Then, you can choose the paper size for the output PDF and select a margin.

Step 3.Next, click the Convert button below to change these TIFF images to PDF. After conversion ends, click the Download file button to save the PDF to your device.

3 Ways to Convert PDF to TIFF Online for Free
1. Adobe Acrobat Online
The professional Acrobat tool also has a free online version for starters who want to experience the features before subscribing. Adobe Acrobat Online enables users to do many things with their PDF documents, including cropping PDF pages, and you can use this tool to remove the watermark from your PDF as well. With your Creative Cloud free membership, you can easily access these tools and convert PDF to TIFF.
Step 1.Enter the Adobe Acrobat website and find the PDF to JPG converter under the Convert menu. Click the Select a file button and upload your TIFF images in the pop-up.

Step 2.In the Convert to option, select TIFF. Then, set up the image quality for your output TIFF. Click the Convert to TIFF button to start.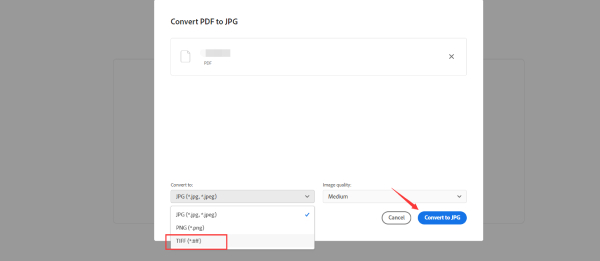 Step 3.You will get a ZIP file and click the Download file button to save it. Unzip it afterward.

2. ZAMZAR
ZAMZAR is famous for its expertise in file conversions. Whether looking for a document, image, video, or audio conversion, ZAMZAR has all the tools you want. There are no complex steps; you can find all the converters on the home page. Besides, you can upload up to 50MB and even larger files after signing up. Meanwhile, if you want to convert PDF to other files, there are also multiple choices.
Step 1.The PDF tool is in the Document category of the Converters section. Once you are there, click the Choose Files button to import your PDF document. Then, set the output format as TIFF.
Step 2.The document will show up in the pending list. Click the Convert Now button to convert PDF to TIFF. Next, click the Download button on the new page to save the image file.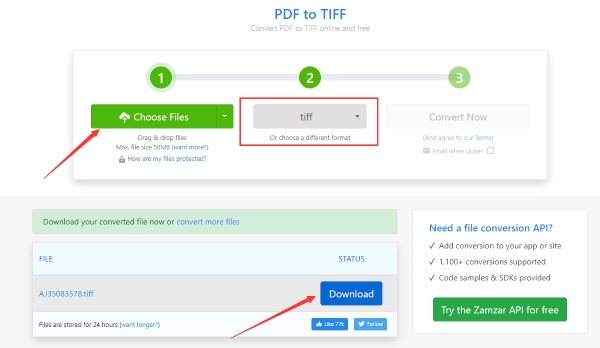 3. AvePDF
AvePDF is another toolbox for different conversions. You can find all the PDF tools there for free and even experience advanced features after upgrading your account. Nothing you need to worry about since all the PDF to TIFF conversions are automatic. Moreover, this is also a good backup choice for you when other websites are unstable.
Step 1.On the home page, click the Convert tab, and choose PDF to TIFF. Next, click the Choose File button or drop your PDF to the page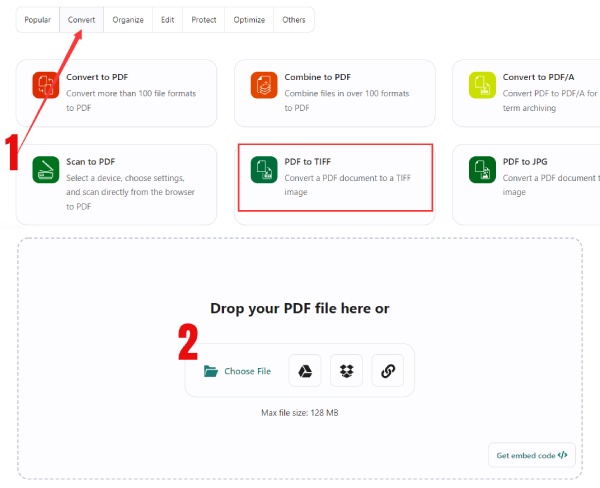 Step 2.AvePDF will automatically convert PDF to TIFF. You must choose an image resolution in advance and click the Convert button to start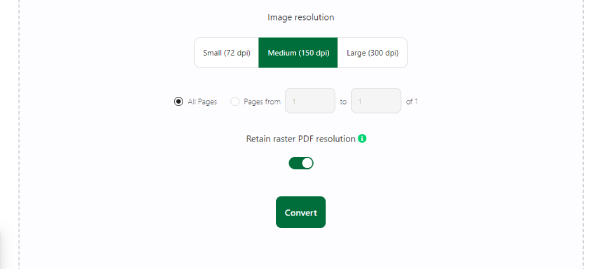 Tips
Free Online Method to Convert TIFF Images to a Compatible Format
AnyRec Free Image Converter Online is a free web-based platform where you can freely upload your TIFF images and convert them to JPG, PNG, or GIF. The limit for image size is 5MB, and you can upload such images up to 40 for conversion. This website requires no registration, and the photos will not have any watermark. Support multiple image formats for input.
Convert all your TIFF images with one click quickly.
Download and convert different images in batches.
Protect your privacy by deleting images after conversion ends.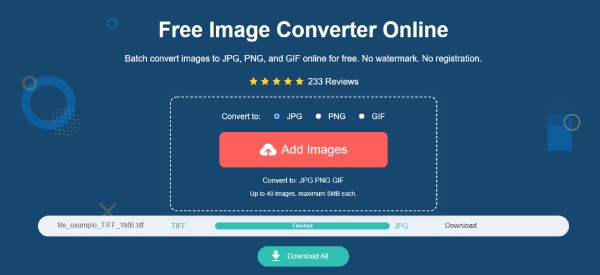 Part 3: FAQs about TIFF to PDF
Can I open a multi-page TIFF image on iPhone?

No, you can't. iOS does not support such files, and you will need a third-party app to help you view the image. Or you can visit the converters above on Safari and convert your TIFF to PDF and make it more compatible.

Is there any built-in tool on mac OS X to convert PDF to TIFF?

No, there isn't. To convert PDF to TIFF on your Mac, you must have a converter to help. You can install Adobe Acrobat DC to help or use the free online converters.

Can I access these online converters on the mobile phone?

Yes, you can. All the online converters above are cross-platform, and you can use the browsers on your iPhone or Android to visit them. Then, you can convert across PDF and TIFF files.
Conclusion
With the 8 converters above, you can freely change formats between TIFF and PDF. Whether you want to convert TIFF to PDF or vice versa, these tools can quickly meet your requirements and enjoy conversions for free.