WebP to PNG – 8 Ways to Change Save WebP Image as PNG
Although WebP is an image format with a few benefits, there are still many people who need to convert WebP to PNG. As we all know that WebP has a smaller file size than other formats, but it only could be opened by a browser. So, it is not easy to edit such an image format. For you to open and edit this format easily, the best solution to this predicament is to convert WebP to PNG. And this post will give you 8 ways to do it so you can edit, save, and open your pictures.
Part 1: 5 Easy Ways to Convert WebP to PNG Online for Free
The easiest way to convert WebP to PNG is through an online converter. Various websites can help you to convert for free, but this part will show you the top five online converters based on fast process, no watermarks, and user-friendly.
AnyRec Free Image Converter is one of the uprising tools to convert image files for free. The web-based converter supports multiple conversions at once with a fast-speed process. You can upload captured photos to a digital camera, from a website, etc. It supports over 30 input formats, including WebP, GIF, and JPG, and converts them to the most standard output formats. With AnyRec Free Image Converter, converting WebP to PNG guarantees the best image quality.
Features:
◆ A free online converter for WebP to PNG without an applied watermark and no registration required.
◆ Retain the image quality while converting pictures in a fast and reliable process.
◆ Support a batch conversion for up to 40 files with a maximum of 5MB file size for each uploaded file.
◆ Protect the user's privacy by deleting the uploaded and converted files after a couple of hours.
Step 1.Go to https://www.anyrec.io/free-online-image-converter/. Set PNG as the output image format in the Convert To option. Click the Add Images button to upload the WebP files you want to convert.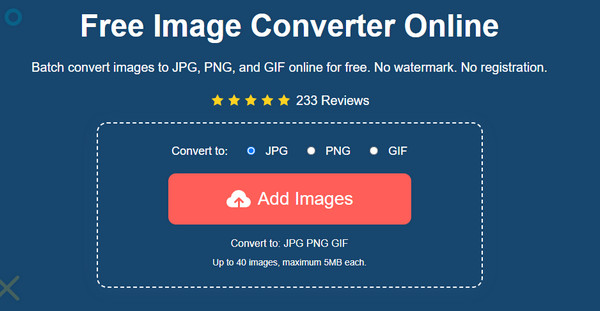 Step 2.While uploading the image, you can open another file by clicking the same button again. You can see the progress of every file being converted. Once you see the word Finished beside the file, download the converted images.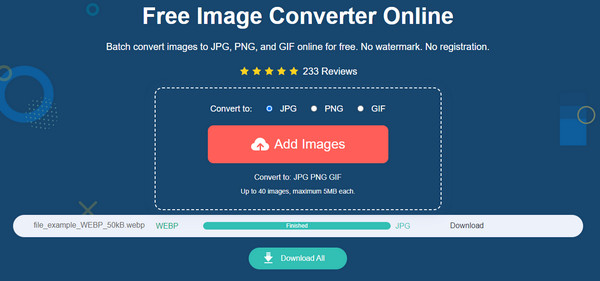 Step 3.Click the Download button to save the output file. If you converted more files, click the Download All button for a one-click process. Repeat the procedure if needed.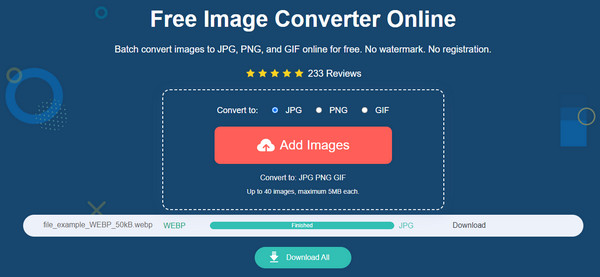 2. Zamzar
This online tool supports various conversions, including WebP to PNG. It has a user-friendly interface where you can easily upload a photo, set the output format, and download the converted files. Moreover, Zamzar keeps the user's privacy by securing the files within 24 hours and deletes them automatically after the given time has expired.
Step 1.Go to the Zamzar webpage and click the Choose Files button to import the file you desire to convert. Ensure the file is within 50MB size for a smooth uploading process.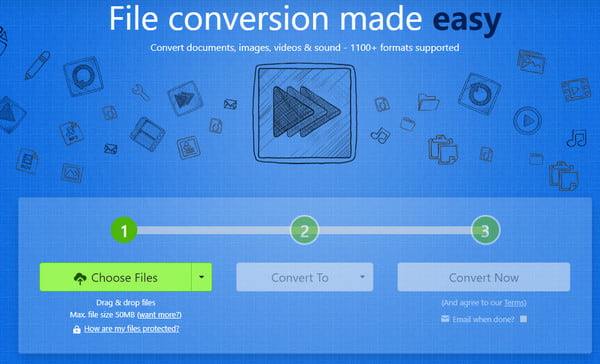 Step 2.After importing the picture to the site, pull the list on the Convert To menu and select the PNG format.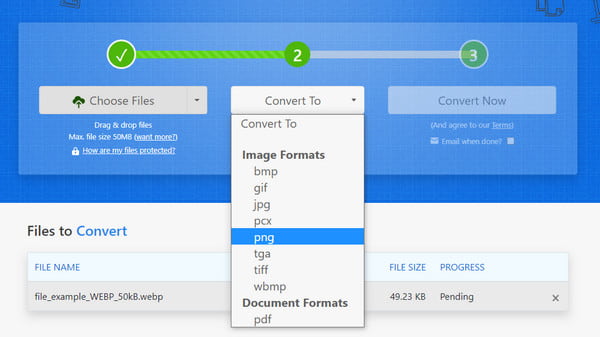 Step 3.Click the Convert Now button to start the conversion. When the conversion is done, click the Download button to save the file to your computer.

3. Convert365
Another free online converter you can try for free. Converter365 helps to convert unique files with a few steps, including ARW, CR2, CRW, DCR, etc. The interface is intuitive and gives you more straightforward navigation. Although advertisements are all over the webpage, they will not interrupt your time converting files. Besides its effective WebP to PNG converter, the online tool also offers audio, video, archive, and presentation converters.
Step 1.Visit the official webpage of convert365. Click the Add Files button to upload the pictures for conversion or add files by pasting the URL. Click the Add More Files button to import more WebP files.

Step 2.Pull the format list from the Convert To option and locate PNG. Once all WebP files are imported, click the Start Conversion button to begin. Optional settings will appear for you to enhance, sharpen, or equalize the pictures.

Step 3.Click the Start Conversion button again to proceed. Once the process is done, click the Download button to save the output on your computer.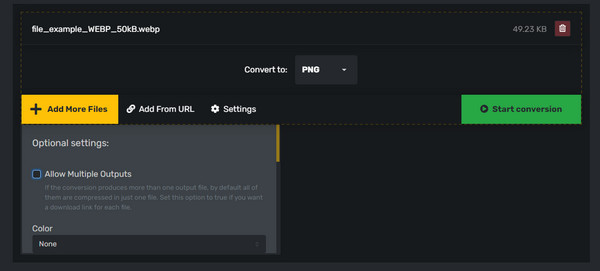 4. Cloudconvert
Cloudconvert is one of the most popular online tools on the internet. The website is simple, offering different source options like Google Drive, Dropbox, and OneDrive. It also provides an advanced setting where you can edit the picture by width, height, fit, and quality. Unfortunately, you can't see a preview after editing or converting WebP to PNG.
Step 1.Search for Cloudconvert on your browser. On the website, click the Select File button to upload. You can also use other sources like Google Drive or Dropbox to add a file. Create a batch conversion by adding more files.
Step 2.Choose the PNG format from the Convert To list, then click the Wrench button to open the optional settings. Apply or change the information to your preference. Save the changes by clicking the Okay button. Proceed to click the Convert button to begin. As the conversion is done, save the output file to your device.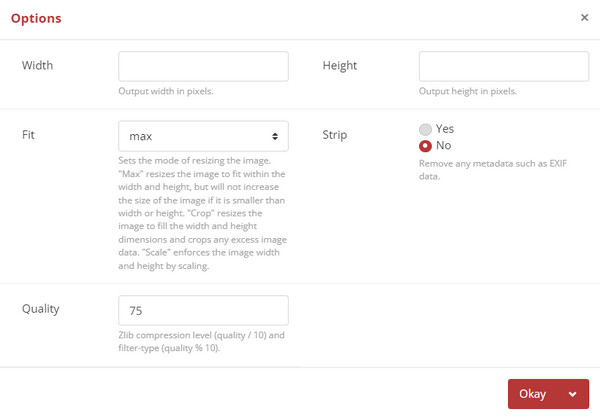 5. Ezgif
Unlike other converters, Ezgif's primary purpose is to edit video and image files. But one of its features is to convert WebP to PNG, where you can also create a video from compiled pictures, add an overlay, or apply various effects. It also shows a preview of the edited output before converting it. The only problem you can encounter on Ezgif is the random slow progress from uploading or converting files.
Step 1.From the official Ezgif site, select the WebP tab from the top menu, then choose the WebP to PNG option. Upload a file by clicking the Choose File button. Once the file's name is on the site, click the Upload button to proceed.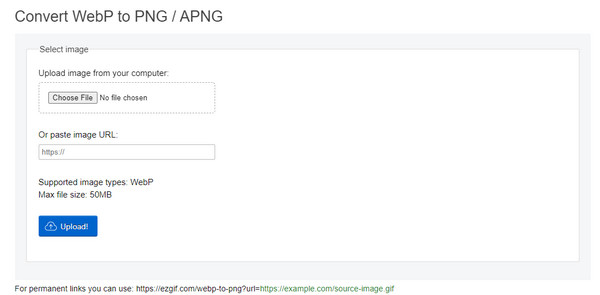 Step 2.The next page will give you the editing features which you can use to crop, rotate, optimize, and add effects. Click the Convert to PNG button and wait for the process. Scroll down to see the preview of the output. If satisfied with the result, click the Save button to download the PNG file.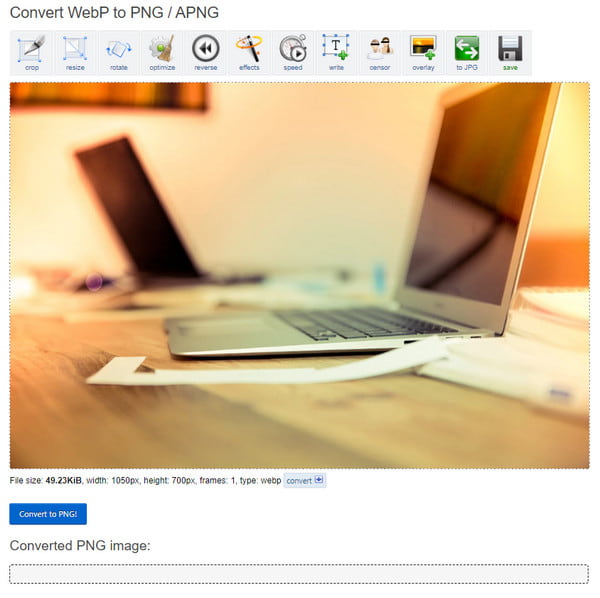 Part 2: Top 3 WebP to PNG Converters for Batch Conversions
Besides the recommended tools and their free services, you can try a desktop tool to convert WebP to PNG. Although most downloadable programs aren't free, you might see the best one you can invest in. Here are the top three converters for quicker conversion speed.
1. File Converter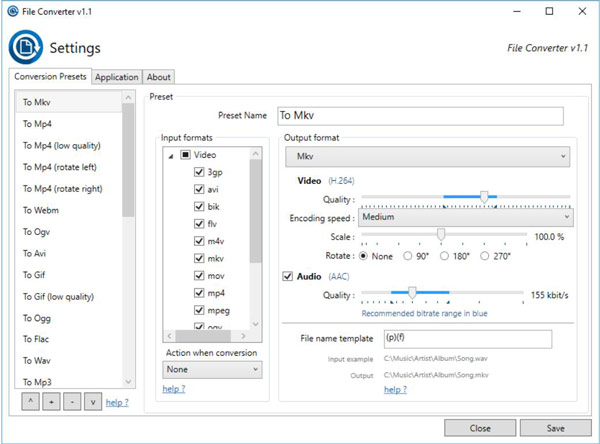 The desktop tool is specifically designed for Windows, which you can use to convert WebP to PNG. It surprises many users as it automatically adds the supported files from their devices. It also has a wide range of supported input formats, including JPG, GIF, PDF, and more. File Converter can customize the output file by using the scale, rotation angle, rename mask, and other features.
Pros

Convert and compress one or several files in windows explorer with one click.
Customize the application in order to add or remove conversion presets.
A free and open-source desktop tool that is easy to navigate and use.
Cons

Need Microsoft Office installed and activated in order to convert Office documents.
Require admin user to give permission and non-admin user unable to use it.
2. Picosmos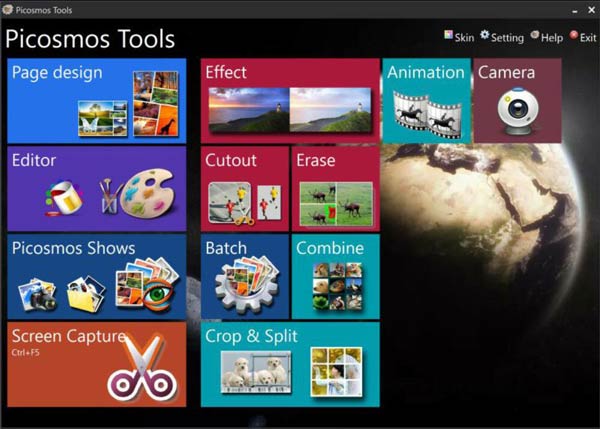 Although Picosmos is for image processing, you can also use it to convert WebP to PNG. Like some of the recommended tools, Picosmos allows you to use its Batch feature for multiple conversions. The steps only consist of installing the software on your desktop device. Then, upload the file you want to convert and edit tools if necessary. Save the output as a PNG file.
Pros

Enable users to convert, edit, remove watermarks, and optimize pictures.
Intuitive overlay where all features are categorized for all purposes.
Provide other functions like screen recorder and screen snapshot.
Cons

Stop updating the software for 2 years since 2020.
Support only a few main image formats to convert.
3. Pixillion Image Converter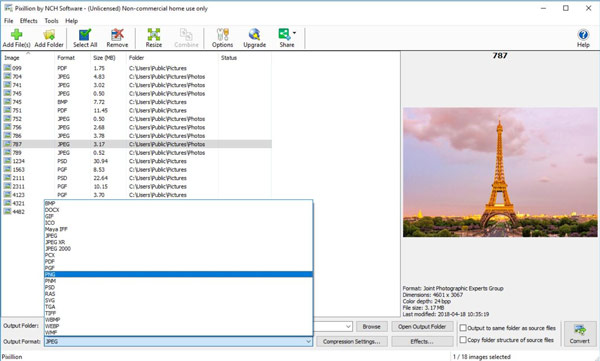 A dedicated converter for WebP to PNG, which also offers a vast number of features. It allows users to upload a WebP folder to convert and compress it with Compression Settings. Moreover, it has basic editing functions like text and color palette.
Pros

Preserve vector graphics during the picture conversion process.
Provide a preview of the output before converting and saving it to the device.
Add a whole folder picture to convert or edit them at once with one click.
Cons

It has a free version for non-commercial purposes only.
It has a free version for non-commercial purposes only.
Part 3: FAQs about Converting WebP to PNG Photo Format
1. What is the best way to open a WebP file?

The default way to open Webp files is through any browser like Chrome, Mozilla Firefox, Microsoft Edge, and more. Some image editors, such as Adobe Photoshop, also support WebP.

2. Does converting WebP to PNG reduce quality?

Yes. Converting WebP to PNG can cause a slight reduction in image quality. But it is better to convert WebP as you can't open the file by default on your folder or built-in photo preview.

3. Is WebP supported on iPhone?

No. By default, WebP is still unsupported by iPhone. But WebP functionality was added in 2020 for Safari 14. You can also convert WebP to a compatible format for Apple devices.
Conclusion
With the fantastic online and desktop tools, converting WebP to PNG is not a problem anymore. And if you want the fastest conversion, AnyRec Free Image Converter would be the best online converter. Visit the site now!
Related Articles: