Is it Possible to Delete Drafts on TikTok? The Ultimate Guide
How to delete the drafts on TikTok? TikTok allows its users to save unedited and unfinished contents on draft to edit at a later time. It's very useful when apps crashing. But the TikTok trends are always changing, so you may want to delete the old drafts on TikTok. Luckily, this article will discuss saving, editing, and even deleting drafts on TikTok with easy steps, which helps you to deal with old drafts.
Part 1: How to Delete Video Drafts on TikTok [Simple Steps]
Mostly, you have kept too many drafts that are probably not useful anymore since trends are changing too quickly. Or, in some cases, you messed up the recording and want to delete it from your TikTok draft. Here are the simple steps on how to delete video drafts on TikTok.
Step 1.Open the TikTok app and tap the Profile button on the bottom right part of the screen. Once you are on your profile menu, tap the Draft option.
Step 2.On the Drafts pane, just long-press the video you want to delete. The only option that will appear is the 'Delete Draft,' tap it, and a pop-up will ask you for confirmation. Click the Delete button to delete drafts on TikTok.
Step 3.If you want to delete multiple drafts, click the Select button on the top right part of the screen. Check the drafts you want to delete; the number of the items you have selected will appear beside the Delete button on the bottom part of your screen. Click the button, and a pop-up will ask you for confirmation; tap it to delete drafts.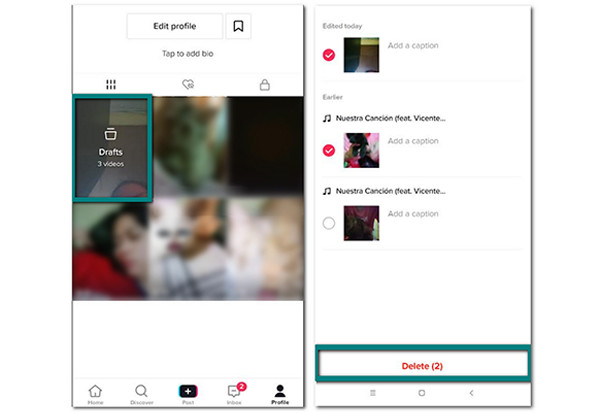 Now, you have cleared the unwanted videos you have saved on your TikTok drafts for a very long time. Moreover, deleting drafts on TikTok can save you some storage space.
Part 2: Can I Save or Edit Drafts on TikTok?
You may want to keep your TikTok drafts on your camera roll before deleting those drafts on TikTok. But is it possible to save drafts on your phone even though you will not post them on TikTok? Fortunately, yes! Just follow the steps below:
Step 1.Launch the TikTok app on your phone and click the Profile icon on the lower right part of the screen. Then, open the drafts folder.
Step 2.Select the video you want to save. Locate 'Who Can Watch This Video' to change the setting to Only Me.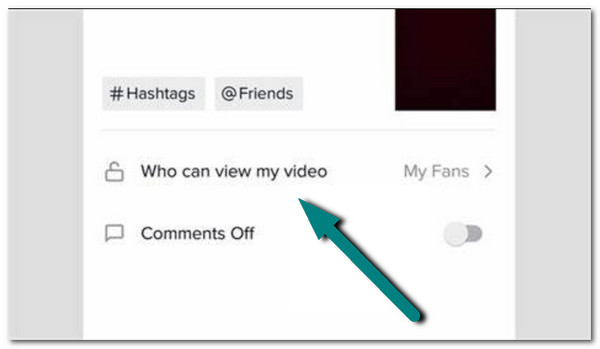 Step 3.Under more options, ensure that the Save Video option is turned on. Tap the Post button on the video. Automatically, the video will be saved on the camera roll when it is posted. And it will delete the drafts on TikTok.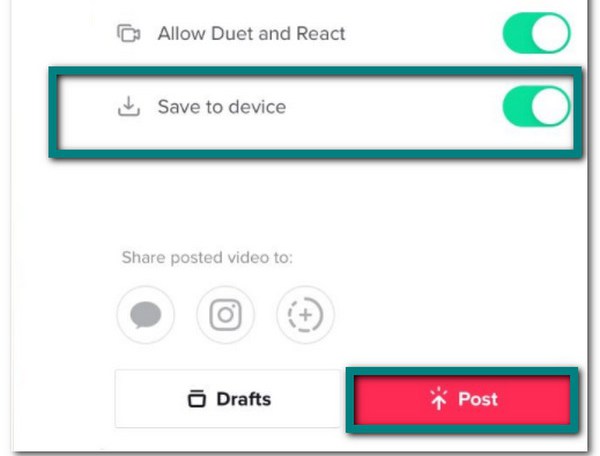 This will add a watermark of your TikTok account. Alternatively, you can screen record your TikTok drafts on Android /iPhone to save the videos without TikTok's watermark.
Part 3: The Ultimate Way to Edit Drafts on TikTok with More Effects
If you are not satisfied with the edited TikTok videos but don't want to delete the drafts on TikTok. Just go for AnyRec Video Converter to access more editing tools. This professional software has the best filters you can use on your TikTok videos. With more than 50 filters, you can create wonderful TikTok videos and save them in high-quality resolution. It allows you to adjust the applied effect to get the best video you have created.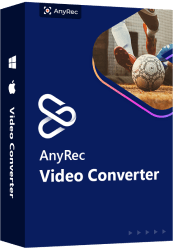 Other outstanding features of AnyRec Video Converter:
All-in-one solution for enhancing and modifying TikTok videos and audios.
Complete control on adjusting Saturation, Contrast, Brightness, Hue, and more.
Offer additional features such as crop, rotate, audio volume, and more.
Save video files in custom resolution and designated folder with 50x speed.
How to add filters and effects to TikTok videos with AnyRec Video Converter:
Step 1.Download AnyRec Video Converter on its official website. After installing it on your device, launch it and click the + button in the middle of the pane.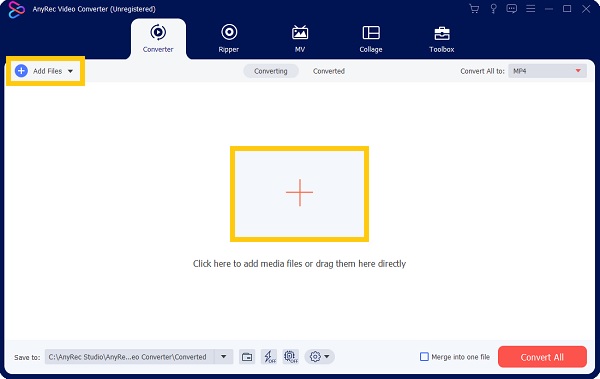 Step 2.Choose the TikTok draft to add effects from your folder. Once the video file is on the program, click the Star Wand button under the file's name to start adding effects. Locate the Effect & Filter tab on the top menu, and select the best filter fit for your video.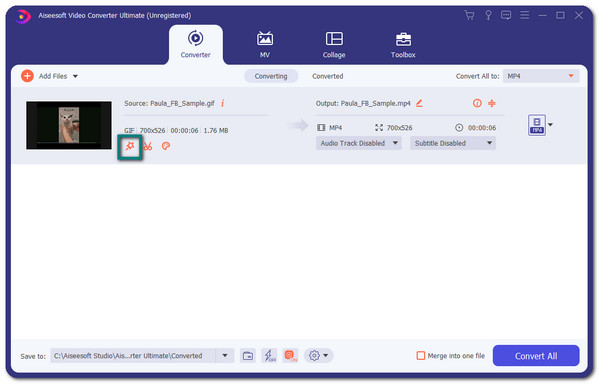 Step 3.Adjust the sliders for the Basic Effect option to apply the filter the way you want it. You can see the original video and the applied effects to see the difference. You can do another editing, such as increasing the volume of your TikTok draft up to 200% or cropping the video.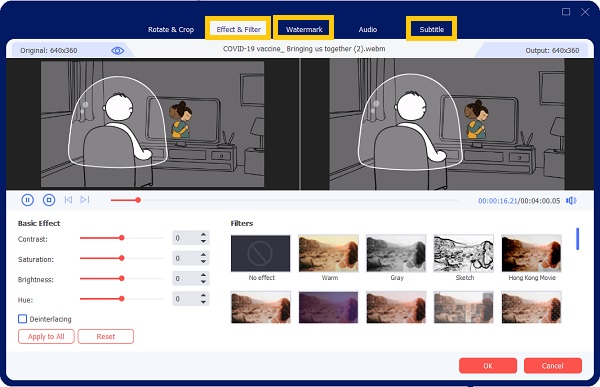 Step 4.Once you are satisfied with the changes, click the OK button to go back to the main pane. Choose the folder you want to save the TikTok video by browsing the Save To option on the bottom part of the pane. Click the Convert All button to save it to the desired folder and enjoy! No need to delete unsatisfied drafts on TikTok, you can edit it to make it more fantastic.
Download AnyRec Video Converter on your device to try its other powerful tool for your video. You can do as much as video merger, video enhancer, color correction, and many more! With it, you can easily make your TikTok video go viral.
Part 4: FAQs about Deleting Drafts on TikTok
How long do drafts stay on my account?

TikTok drafts will remain perpetually on your TikTok account unless you delete them. You can post them to remove them in the Draft, and you can see them on your Profile. Similarly, if you don't want to post your drafts and keep them as it is, you can download them to your camera gallery.

Will my TikTok drafts delete if I uninstall TikTok?

Yes. Once you decide to uninstall the TikTok app from your phone, all the drafts and posted videos will be deleted. Along with this, you can't retrieve the deleted drafts once you re-installed the app. It may not look like it, but this is also an excellent way to delete drafts stored on the TikTok Draft.

Can people see my drafts on TikTok?

Fortunately, no. If you are shy about sharing your videos with people, your drafts are safe from people's eyes. To guarantee you this, you can see the message "Only you can see your drafts" on the editing page. But you can also choose to delete drafts on TikTok for saving storage space.
Conclusion
Now that you have learned how to delete drafts on TikTok, and you can enjoy saving and editing more drafts in the future. Editing your drafts can be easier than you can imagine when you use AnyRec Video Converter. With this tool, you can apply filters and effects in any way you want. If you have questions or suggestions, welcome to contact us.
Related Articles