Top 8 Chrome Audio Capture Tools to Record Audio and Music Online
What are the best Chrome audio recorders to capture music and audio from Chrome to MP3? When you are listening to the music files with an online streaming service or having an audio conference with your colleagues, it is important to launch a Chrome audio capture to record audio files instantly without searching for an audio recorder, such as OBS, Game Bar, or QuickTime. Here are the best audio recorders for Chrome to capture audio files within one click.
Part 1: Top 4 Chrome Audio Recorders Online
When you choose an audio recorder online, you can use it with Chrome, Microsoft Edge, Safari, and other web browsers. Here are 5 frequently used Chrome audio recorders online for your reference.
Top 1: AnyRec Free Screen Recorder
AnyRec Free Audio Recorder Online is a versatile Chrome audio recorder to capture system audio and microphone. Different from the other online audio recorders, it enables you to record audio files without limitation. It is a fast and easy-to-learn online audio recorder on Chrome. It can capture system audio and microphone voice simultaneously or separately with high quality.
Pros
1.100% free to capture computer sound and microphone voice.
2. No time restrictions or watermarks to capture audio files.
3. Capture the audio and music files offline without the Internet.
Provide hotkeys to launch the Chrome audio recorder instantly.
Cons
1. Require downloading launcher before recording.
Note: If you want to record on-screen video and audio together, you can try AnyRec Free Screen Recorder Online as well. Here users can set custom screen capture areas, grab internal/external audio sources, adjust recording quality, and make other changes before and after recording.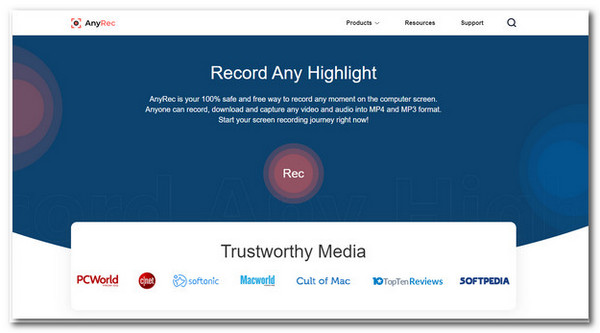 Top 2: VMaker - Free Webcam and Screen Recorder
VMaker is more than an online audio recorder for Chrome, which allows you to audio with a screen and webcam. It enables you to get unlimited access to audio-making features, organize captured files in folders, give customized access to your teammates, and edit the audio files after recording. Moreover, there are some advanced features to trim and resize the files.
Pros
1. Compatible with both Windows and macOS with original quality.
2. Suitable for educators, company meetings, gameplay, etc.
3. No limitations on the audio you can capture on Chrome or Safari.
4. Offer 15 GB free of cloud space in saving audio files and videos.
Cons
1. Limited tools and features for the free version.
2. 4K-quality is only available on the premium version.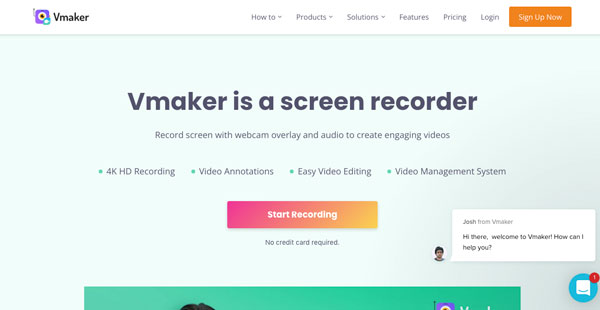 Top 3: Flex Clip Online Screen Recorder
Flex Clip Online Screen Recorder is another Chrome audio recorder that requires no download, which means that just by searching this software on the Internet, you can use its features and tools even without a downloaded file on your device. Besides the basic recording features, you can compress the audio, adjust the audio speed, and convert it to another file format.
Pros
1. Provide up to 1080P video resolution for a paid version.
2. Save the original audio recording to 30 minutes in length.
3. Wide range of video templates and audio file formats.
4. Can hold up to 1000 projects per user.
Cons
1. Free Version can only 12 projects for audio files and video.
2. Limited time restrictions up to 1 minute with watermark.
Top 4: Voice Recorder
Just as the name of the Chrome audio capture, Voice Recorder is an online voice recorder with advanced features. It not only allows you to save your voice to MP3 via a microphone but also removes the silent parts automatically at the beginning and the end of your recordings. Moreover, it will detect the connected audio devices and microphones.
Pros
1. Capture the audio files from system, microphone, and virtual audio device.
2. Cut out the desired parts after the audio recording finished on Chrome.
Adjust your microphone settings via the standard Adobe Flash Player tools.
4. Provide more advanced audio editing features to polish the recordings.
Cons
1. There are advertisements on the web page, affecting the visual effect.
2. Lose the audio recording if you accidentally close or update the web page.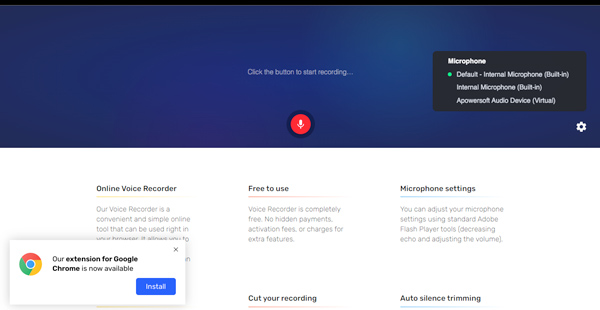 Part 2: 4 Best Chrome Audio Recorder Extensions
When you need to use the Chrome screen recorders frequently, you can also download some audio recorder extensions for Chrome. Just record audio files by clicking the icon in the upper right corner within one click. Here are 4 plugins for Chrome for your reference.
Top 5: Chrome Audio Capture
Just as the name of Chrome Audio Capture, it is a friendly and easy-to-use chrome audio recorder that allows you to record the ongoing audio that is played on the Chrome screen, including the online music streaming sites and services. Moreover, it also provides hotkeys and shortcuts to manage the audio recording on Chrome within one click.
Pros
1. Provide you with a simple and easy control system.
Provide hotkeys also known as shortcut keys for recording.
3. Enable you to capture WAV audio format with original quality.
4. Capture audio files from multiple Chrome tabs simultaneously.
Cons
1. There is a 20 minutes maximum time restriction when recording.
2. Provide limited audio output formats, unlike other extensions.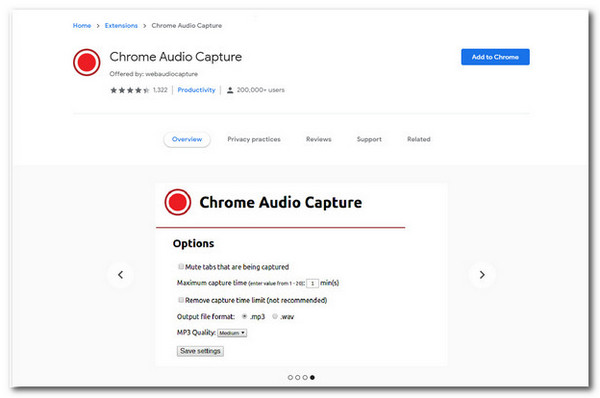 Top 6: Awesome Screenshot and Screen Recorder
Is there a powerful and multi-purpose Chrome audio recorder to capture audio files with screencasts? Awesome Screenshot and Screen Recorder is the all-in-one screen recorder extension for Chrome, which you can capture audio files, snapshot a full browse page, and use the annotation tool to resize or crop the screen that you want to record.
Pros
1. Include your voice recording through the microphone.
2. Allow the full page capture or crop size screenshot.
3. Capture the screenshots and video without a watermark.
4. Grant the users to enjoy pro-version tools for the first 20 videos.
Cons
1 .Downloading MP4 format in a free plan is not allowed.
2. Lack multiple editing features, unlike other recorders.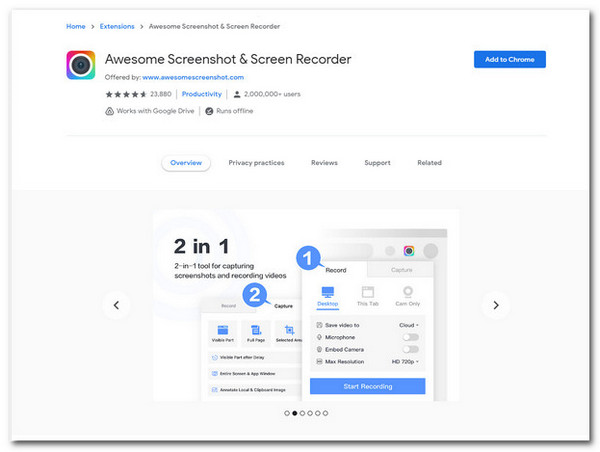 Top 7: Screencastify on Chrome Extension
Screencastify is the all-in-one audio recording, editing, and sharing extension for Chrome. It is easy for teachers to have 1:1 interactions and add some informational videos in the online classroom. Moreover, it provides quality service because it is easy to record videos, edit them and sync/upload them to Google drive for the Pro version.
Pros
1. There is not much difference between the free and paid version.
2. Access to most of the tools such as multiple recording modes for free.
3. Upload the recordings to Google Drive, and YouTube directly.
4. Download in different formats such as MP4, MP3, and GIF, etc.
Cons
1. There is 5 minutes export limitation without Cloud service.
2. The paid version doesn't offer 4K-quality video resolution.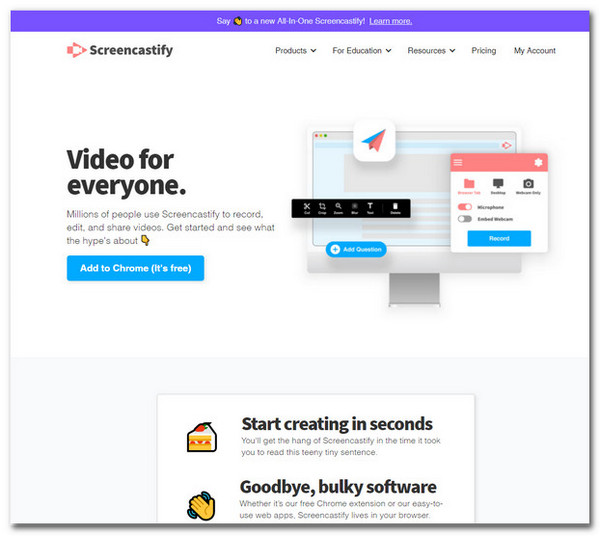 Top 8: Cloud Audio Recorder on Chrome
Cloud Audio Recorder is another Chrome audio capture extension, which you can start and stop recording by clicking the extension icon and then using hotkeys. It is easy to use and you can save audio files to your computer or save them on Google drive. After recording, you can save the file in MP3 or WAV format.
Pros
1. Just click the hotkey to quickly start recording.
2. Save the file on a Google drive or computer directly.
3. With the pause button, you can pause the recording halfway.
4. Support and compatible with HTML5 and Flash recorders.
Cons
1. The maximum recording time is limited to 25 minutes.
2. Less supported file formats without audio editing functions.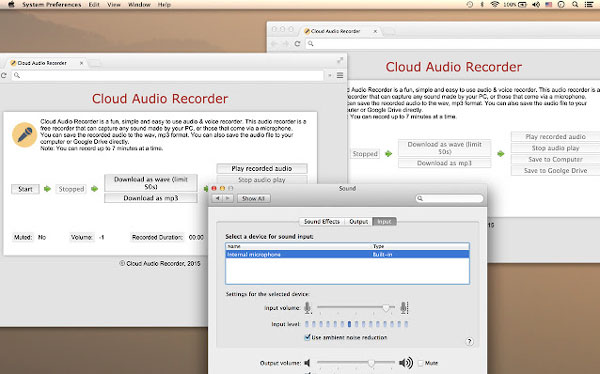 Part 3: FAQs about Screen Audio Recorder Chrome
Where can I find more Chrome audio recorders?

If you just need to get an extension for Chrome, you can simply enter the free Chrome audio recorder in the search bar of Google Store, which is called the Omnibox. Just learn more about the features and limitations beforehand. Of course, there are some online screen recorders with advanced features that can help you out.

Which should I choose, an online audio recorder or Chrome extension?

The crashing issue is a headache for the Chrome screen recorder extension. When you need to record a large movie, you should use the stable online screen recorder without time limitations. As for the Chrome extension, which should be a nice choice to capture some screencasts and screenshots.

Why can't I record streaming music with a Chrome audio recorder?

Because of the DRM protection, the Chrome screen recorder extensions are restricted to recording live streams due to copyright protection. When you need to record gameplay videos, movies, and more other files, you should choose professional screen recorders without lagging or restrictions.
Conclusion
The article provides a list of the best screen audio recorders on chrome. If there comes a time where you need to capture your screen or the QuickTime screen recorder not working, check this list of applications and these might help you in doing your projects. When you need to record the audio files and videos without limitation smoothly, AnyRec Free Screen Recorder is the best choice you should not miss.
Related Article