An Unbiased Review on ShareX Screen Recorder with Overall Analysis
ShareX is a free and open-source program to record an online class, business meeting, gameplay, and many other kinds of computer activities. It's also a good video editor on Windows. You can easily use ShareX screen recorder to capture your computer screen activities and share them with various destinations like social networks with their unique features. Although many screen recorders are similar to ShareX, this article will discuss their uniqueness. Moreover, you can learn about the best alternative to ShareX.
Part 1: ShareX Reviews: Introductions to the Features, Pros, and Cons
Brief Introduction: ShareX is a screen capture that is free and compatible with Windows 10/8/7. It is a lightweight software that is abundant with features. It can record videos on your computer, capture still images, and allow you to share files on various platforms. It is quite an advanced tool because it provides multiple ways to screen record to help you have the best experience. It also offers 15 different capturing modes such as active window, window menu, full screen, scrolling capture, and many more. With this productivity tool, ShareX has come to help you record everything you need without paying any cost.
Overall Score: 4.5/10
Features:
◆ A fully open-source program that enables users to modify ShareX.
◆ Able to perform scrolling capture on any webpage.
◆ Offer image annotation features and multiple methods for screen recording.
◆ 80+ destinations and sharing options to upload recorded files.
◆ Record GIFs files up to 15 frames per second.
Pros
Customizable keyboard shortcuts and workflows.
No paid promotion is included while using the software.
Support popular video and audio containers like MP3 and MP4.
ShareX identifies borders on screens
Cons
The software's settings are overly complex.
Requires plugin to be able to download and install the program.
Only records up to 20 minutes
Not recommended for game recording
Part 2: Simple Steps to Record Screen with ShareX on Windows and Linux
Now that you have learned about the features of ShareX and its overall score from its users, but how to use this screen recorder to capture your screen? Since it's relatively difficult for beginners to find the function, this part will teach you how to record your screen with ShareX in simple steps.
Step 1.At first, download ShareX on your computer. After launching ShareX, right-click the ShareX iconic the system tray, locate the Capture option, then choose the Screen Recording option to begin screen recording.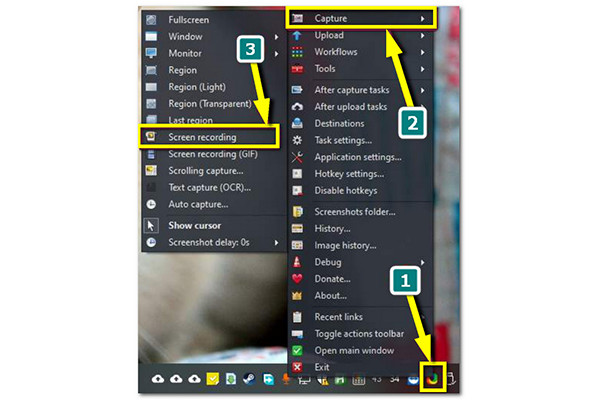 Step 2.ShareX will prompt you to download the ffmpeg.exe. Click the Yes button, and it will automatically install the needed files. Click the Screen Recording option again like the first step, then select the region of your computer screen you want to capture. Just move your mouse to select the desired window freely.

Step 3.Then the recording will start immediately on ShareX. Once you are good with the recorded activity, click the Stop button on the toolbar or select the Abort button to discard the recording. After that, you can easily upload the recording to any platform or download it on the local files.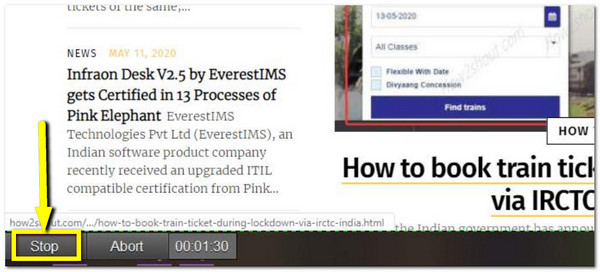 Part 3: The Ultimate Alternative to ShareX Screen Recorder
ShareX is an excellent tool to record video, but it is harder to navigate than you ever expected, and you may need to download more suite to use ShareX without trouble. Once you are in a hurry, AnyRec Screen Recorder is the best alternative to record your computer screen. With its innovative features, AnyRec Screen Recorder allows you to record video with annotations, capture computer audio separately or together with microphone voice, and take screenshots with editing tools. This tool is available on Windows and Mac.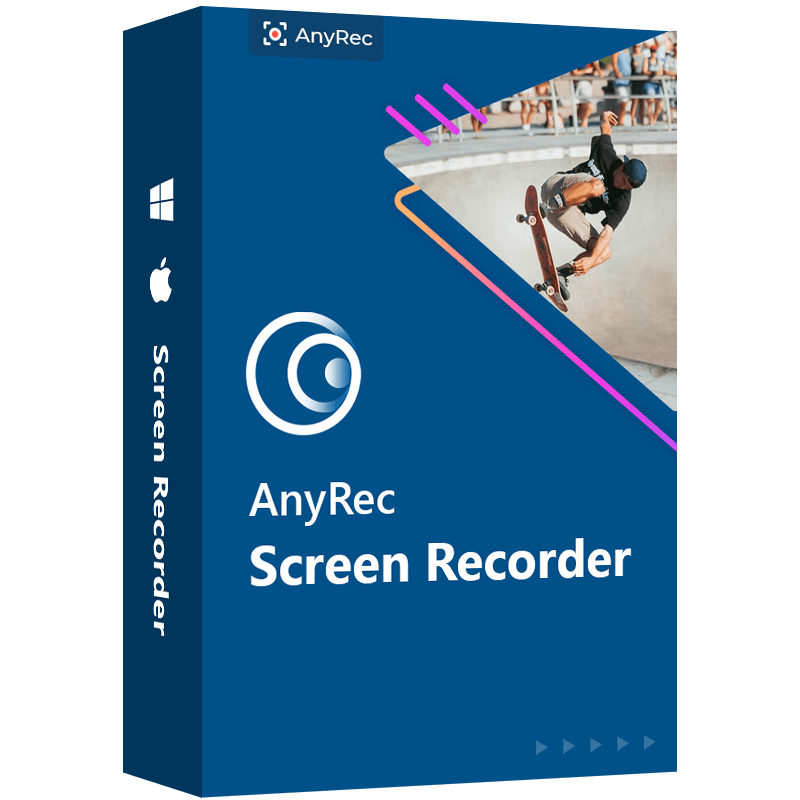 How to capture your screen with AnyRec Screen Recorder:
Step 1.After downloading the program on your device, open it and choose the Video Recorder or Game Recorder option from the menu to start recording.

Step 2.You will be able to edit and set the option on your preferences on the Custom Settings. Set the screen area you want by choosing the Full or Custom option. You can also input the exact size for the screen recording.

Step 3.Ensure that the System Sound and Microphone are turned on to include the recording. Once everything is set up, click the REC button to record your screen.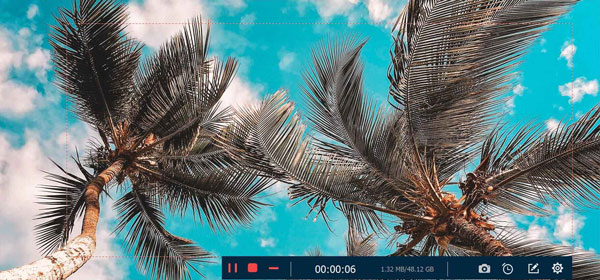 Step 4.A Widget menu will appear once the video starts. You can pause, stop, and even take a screenshot while recording throughout. Once you are finished recording, click the Stop button. Then you will be able to trim the video and click the Save button to export it to a designated folder.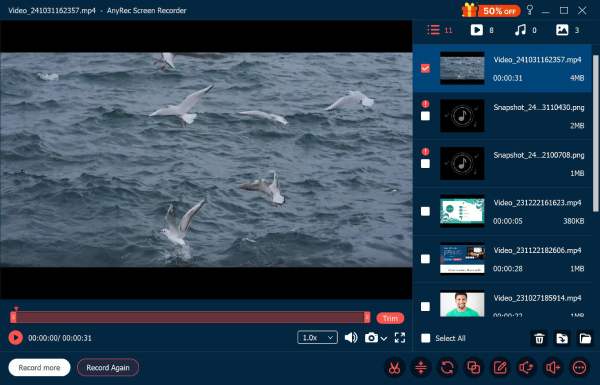 Part 4: FAQs about ShareX Reviews
What applications does ShareX integrate?

ShareX has integrated with many apps and services all over the internet. Including the popular ones such as Twitter, Google Photos, Google Drive, Amazon S3, Dropbox, Flickr, Pushbullet. Moreover, ShareX allows you to upload files via email, custom file uploader, and shared folder.

What are the supported file formats of ShareX?

ShareX Screen Recorder has a default output video and codec, which you can choose VP8, x264, MP3, and Vorbis. However, it has other supported file formats such as WebM, AVI, MKV, and MP4. But if you are not familiar with codec, you can download the file to FFmpeg.

Can ShareX Screen Recorder record longer video?

Unable to record long videos is the major problem with ShareX Screen Recorder. Some users claimed that the program suddenly crashes and will not save your recorded files. However, to prevent everything from turning in vain, use AnyRec Screen Recorder to record longer videos.
Conclusion
To conclude, ShareX Screen Recorder is a powerful tool to record your screen activities. It also provides essential editing tools to enhance and improve your recorded files before sharing them on social networks. However, you need to download other tools to access to the full functions, and it's also complex for beginners. Thus, you can rely on the best alternative - AnyRec Screen Recorder to see its unique features and how it can bring you the quality you want for your recorded files. If you have more questions, please contact us now.
Related Articles