How to Add GIF Overlay to Videos Easily on Windows/Mac/Android/iPhone
Adding an animated GIF to your video is a brilliant way to add some extra excitement to a dull video. It frequently works like magic in attracting people's attention. It seems difficult to create such interesting videos with GIFs like videos uploaded on YouTube, Facebook, and other social platforms. Worry no more! In this post, you will know how to quickly and easily add a GIF overlay to any video or image. Just keep reading and find out how!
Part 1: The Best Way to Add GIF to Videos on Windows/Mac
Editing videos is already complicated, that is why AnyRec Video Converter wants to make it easier for you. This powerful app allows you to easily add animated GIFs to your videos. Moreover, this app is trusted by many users because of its amazing editing features and smooth process. You can also add many effects when adding GIF to videos. Download this ultimate video converter now on your device and follow the hassle-free steps below.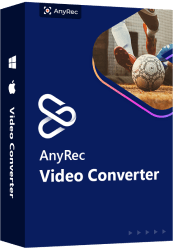 AnyRec Video Converter
Enables you to add GIF overlay to videos with customized settings.
Allows you to turn any video clip into an animated GIF and make interesting GIFs.
Provide many additional editing tools to add more effects and filters to videos.
Adjust the video format, resolution, quality, frame rate to export high-quality video.
Steps to Follow:
Step 1.First and foremost, download and run the AnyRec Vidoe Converter on your Windows/Mac. After the installation process, you can now upload your videos to the software by clicking the Add Files button. You can also simply drag or drop your files directly to the software's interface.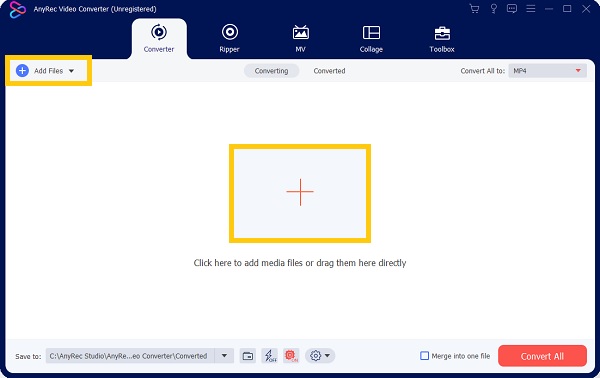 Step 2.After that, click the Edit icon and a pop-up window will appear on your screen. Go to the Watermark section and tick on the radio button of the Image option. Then, click the Plus (+) icon and choose the GIF that you want to add to your video as a watermark.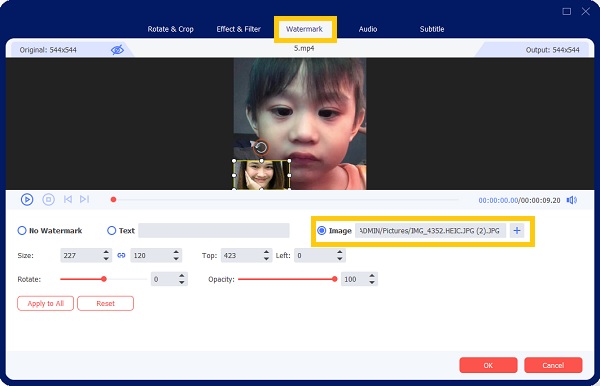 Step 3.Next, you can also adjust the size of the GIF by typing the size on the Size area. You can just click the arrow upward or downward. Moreover, you can rotate your GIF by adjusting the slide bar. Once done, click the OK button.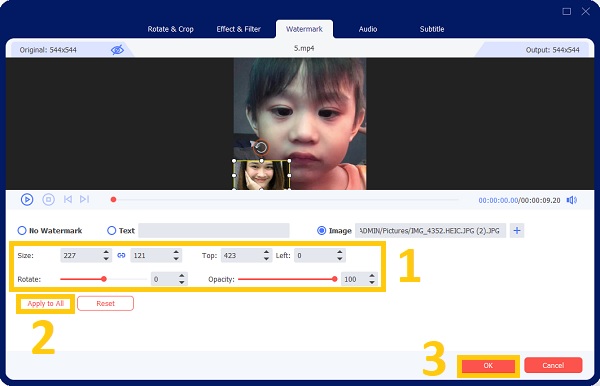 Step 4.Finally, after a few clicks, you can now save your video with a GIF overlay. But before that, you may choose your file location for you to easily access them. Click the Save To button and choose among your file folders. After that, you can now click the Convert All button to start saving your video.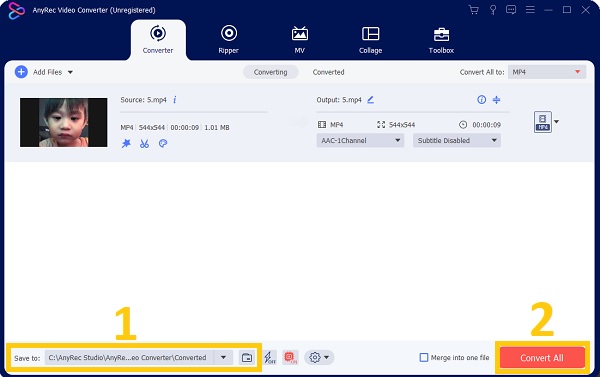 Part 2: How to Add Animated GIF to Videos Online
Kapwing is a free online video editor that allows you to add GIF and image overlays to your videos. It also includes a video resizer, video cropper, video cutter, video looper, video trimmer, video speed changer, and other video editing tools. It can also be used as an image editor, removing the background from a photograph. Please rely on the given steps below to effectively add an animated GIF to your videos.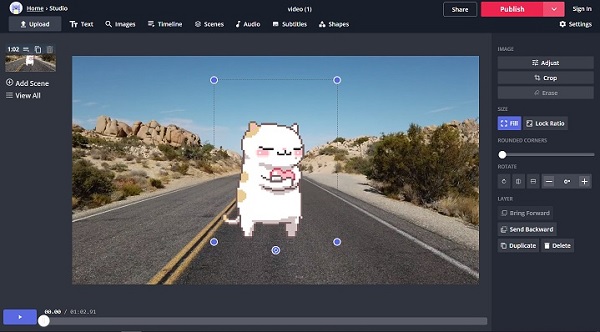 Steps to Follow:
Step 1.Go to the Kapwing website on your browser. Select the Start Editing option to use this GIF overlay tool.
Step 2.Next, drag and drop your video file onto Kapwing, or use the Click to Upload button to import the desired video clip.
Step 3.In the menu bar, click the Images button after you have uploaded the video. Then go to the Image Search tab and look for a GIF you like, or go to the Upload option and upload the GIF you made. In this way, you can add the desired GIF to your videos.
Step 4.Adjust the size of the GIF overlay and place it where you want it. When you are finished, click the Publish button to start the video processing. You can either download the video file or post it on Facebook or other social media sites after the process is complete.
Part 3: 2 Easy Methods to Add GIF to Videos on Android/iPhone
1. VivaVideo
For Android users, VivaVideo is a rapidly expanding and popular app. It comes with a number of tools for editing video files stored on your device's local memory. On Android, you can use GIPHY and the Stickers feature to add a variety of effects, text, and animation, as well as add GIFs to videos on Android.
Steps to Follow on How to Add GIF to Videos:
Step 1.Open the VivaVideo and select a video from the app on your phone. Then, select the Stickers symbol and confirm by tapping Edit (scissors icon).
Step 2.Select GIPHY from the list of alternatives, then select a GIF to download and hit Use. Next, go to your phone's Download folder, copy the file, and paste it into the GIPHY folder in DCIM.
Step 3.Return to the VivaVideo app and tap the Stickers option once more. You should now be able to see your downloaded GIF there. Then, tap it to add the GIF to a video.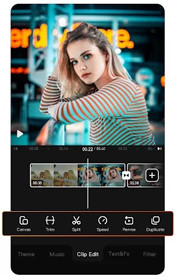 2. Gfycat
This iOS app is a complete GIF tool that allows you to locate and use GIFs in films, and add animated GIFs to videos. It even works with your iMessage keyboard to offer you access to the collection's hundreds of GIFs.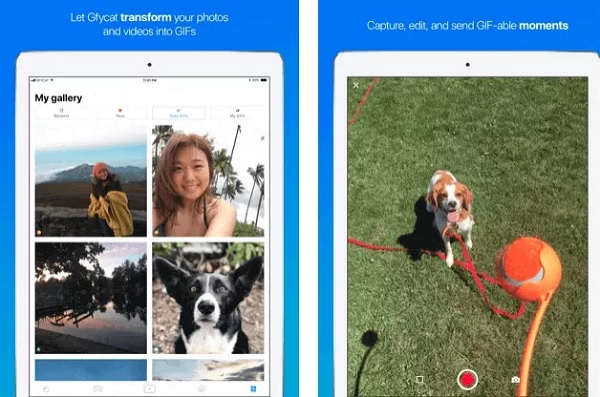 Steps to Follow on How to Add GIF to Videos:
Step 1.Launch the app on your device and select a video. Navigate to the GIF library and select a GIF to utilize.
Step 2.Insert it into the video and adjust its location and other properties. Now, you have added GIF to videos.
Step 3.Save the file to your Camera Roll or share it with others via a variety of methods.
Part 4: FAQs about Adding a GIF to Videos
What is a GIF?

GIF (Graphical Interchange Format) is an image format with the shortest file size. It can merge several pictures into one file and watch like a video. In a nutshell, GIFs are a succession of images or soundless videos that loop indefinitely without the need for anyone to push play.

Can I make an Animated GIF on my computer?

Of course! With the help of AnyRec Video Converter, making animated GIFs on your computer is possible. All you have to do is to download the tool and follow the step-by-step tutorial.

How to add GIF to videos and create interesting videos?

Firstly, you should find some funny GIF memes, and add them in the right place according to your video topic. And you can also insert them to your videos instead of adding GIF overlay to the videos.
Conclusion
Written above are the top four basic methods on how to add GIF overlay to videos on Windows/Mac/Android/iPhone. Among these tools, we highly recommend AnyRec Video Converter for you to have a hassle-free service, which enables you to add GIF to videos with customized settings and even make animated GIFs. If you still have questions stored in mind, please do not hesitate to contact us.
Related Articles