15 Best MP4 Players to Get Excellent Video Playback [2023 New]
Most videos are saved as MP4, and this video format is universally supported by operating systems and programs. However, even though there are many MP4 players, you still need some good ones to play quality videos without buffer or lag. Maybe your default media player is not enough, so this post will show you the best MP4 Player for Windows and Mac and how these tools can help you easily watch movies.
Part 1: 10 Acclaimed MP4 Players on Windows/Mac
Third-party media players mainly offer compact interfaces with practical functions for better video watching. And the best part is some recommended tools can be downloaded on Mac. Without further ado, here are the top ten MP4 Players for Windows and Mac.
1. AnyRec Blu-ray Player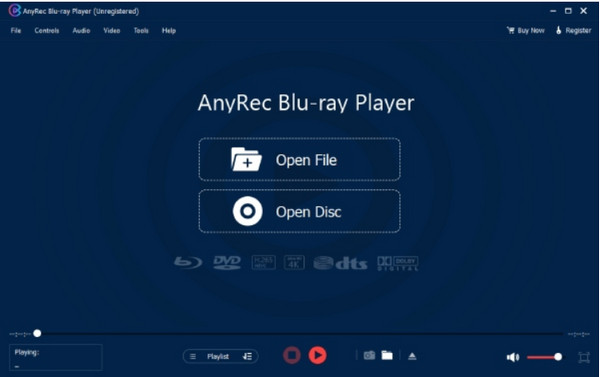 The first MP4 Player recommended is designed to open and play Blu-ray discs with a high audiovisual experience. AnyRec Blu-ray Player supports DVDs, 4K UHD, and 1080p HD, enabling users to watch videos like in a home theater. The desktop tool can deliver high-quality sound effects with built-in DTS-HD Master Audio, Dolby TrueHD, and Apple lossless audio codec. Meanwhile, it allows you to change the channel audio to reverse stereo, etc. Try AnyRec Blu-ray Player for immersive movie watching.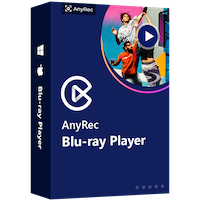 AnyRec Blu-ray Player
Playback Mode enables smooth Blu-ray playback with various screen sizes, deinterlace, and others.
Provide a built-in snapshot feature to capture a quick screenshot while watching videos.
Video effects adjust the video's brightness, contrast, hue, gamma, and saturation.
Support other popular video formats, including MPG, MTS, M4V, WMV, ASF, and more.
2. VLC Media Player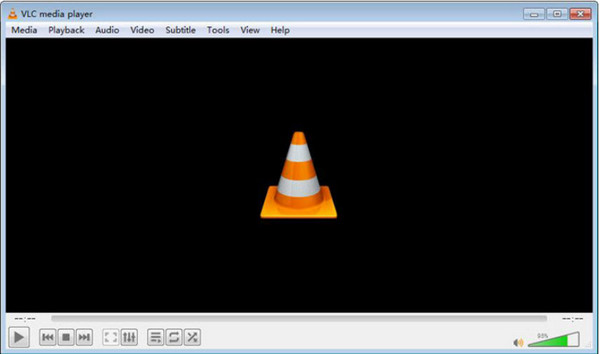 VLC is a well-known MP4 Player for both Windows and Mac. It is an open-source multimedia player that supports diverse formats such as MKV, MP4, AVI, WebM, and more. VLC brings more features to edit media content, and one of its renowned functions is the default converter. You can download the media player on popular operating systems like Windows, Linux, and Mac with 32-bit and 64-bit versions.
Versatile desktop media player, which is easy to use.
Abundant features like subtitle synchronization, video filters, etc.
Smooth playback for most video files up to 60FPS.
Free to download without third-party codecs required.
3. QuickTime Player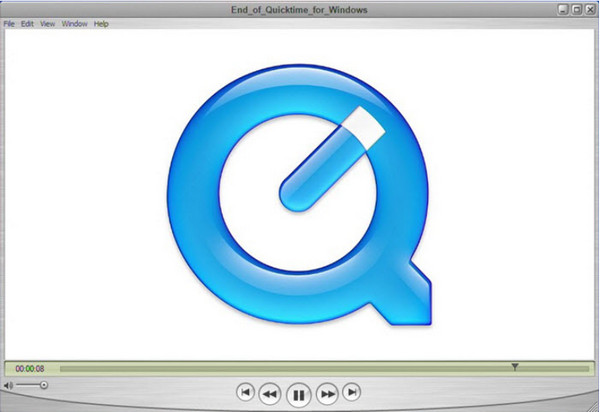 QuickTime Player is the default media player for Mac and is a longstanding tool for playing videos. It is also downloadable on Windows; however, there have been no updated versions since 2016. There are basic features found in the MP4 Player, including trimming, flipping, and recording. Use QuickTime Player to watch HD videos with easy playback controls.
Customizable settings to change the screen size, soundtrack, and subtitles.
Real-time recording function while playing a video.
Enable to share media files directly on AirDrop.
Suitable for playing video files like M4V, MPEG-2, AVCHD, etc.
4. Windows Media Player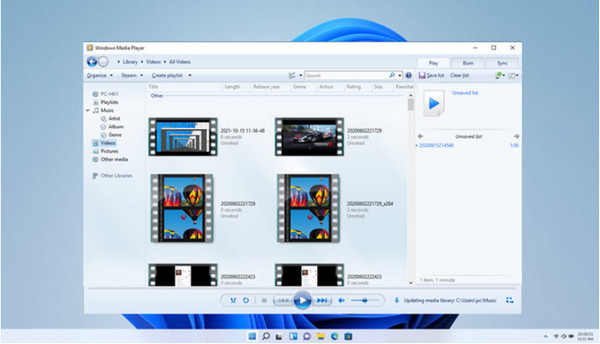 This MP4 Player is available for all Windows versions. Microsoft changed its name to Media Play for Windows 11, and the latest version supports various formats like MP4, WMV, WMA, ALAC, and more. It allows you to customize the playback process, including video speed up, slow down, and reverse. Unfortunately, Windows Media Player is not available for Mac to download.
Support streaming MP4 files to Smart TVs for wider screens.
Enable users to create playlists for movies, audio, and other media content.
Download CD information like album name, artist, song title, etc.
Work well with HEVC video extension to play other file formats.
5. IINA Player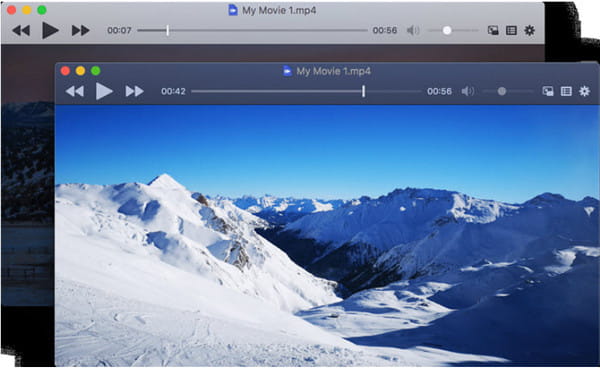 Another default Mac MP4 Player that is free and open source. IINA was released under the GNU General Public License version 3, adapting post-Yosemite design language and modern media player interface. It can keep the pace of new technologies such as Touch Bar and Force Touch. The best part of IINA is it has a browser extension available for Firefox and Chrome.
Customizable interface with dark mode, various colors, and textures.
Support Picture-in-Picture mode for local and online videos.
Support about 20 languages for users around the globe.
Excellent 4K video resolution for MP4 files.
6. KMPlayer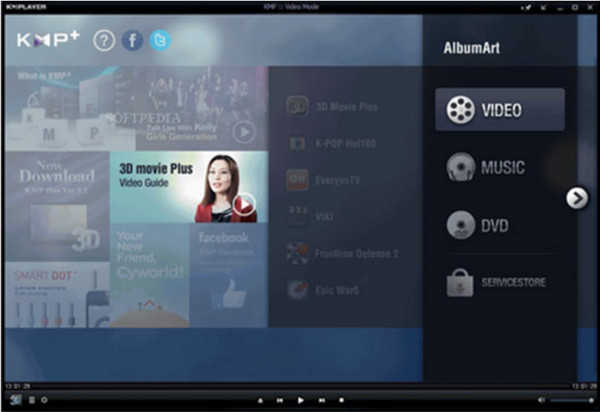 KMPlayer is a versatile MP4 Player for Windows 10, 8.1, 8, and 7, and macOS. It is a multimedia player that supports various container formats which are MKV, MPEG-4/2/1, FLV, and others. Aside from playing videos with different formats, it also supports 4k UHD and 8K on Windows 10 version.
Hardware acceleration has 60FPS and high-quality videos.
Configurable settings for bookmarking and audio synchronization.
Functions include screenshots and a recorder for video and audio.
Provide a mobile version for Android.
7. GOM Player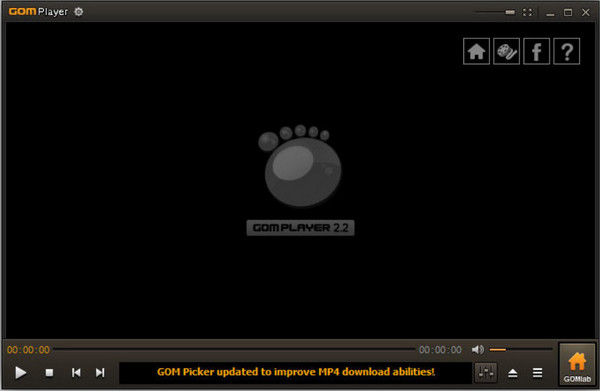 This Korean-made MP4 Player is not only for MP4 but also supports other popular containers like MOV, AVI, DVD, etc. Its clear interface provides a comfortable environment to have video playbacks without advertisements when you purchase its Pro version. The company also developed the GOM Remote app which you can download on your mobile device and use as the remote control while watching.
Automatically find and sync subtitles with the built-in Subtitle Library for MP4 files.
Support 360-degree videos from side by side to top to bottom.
Enable users to extract audio from videos or apply effects on movies.
Suitable for downloading media content in different languages.
8. Real Player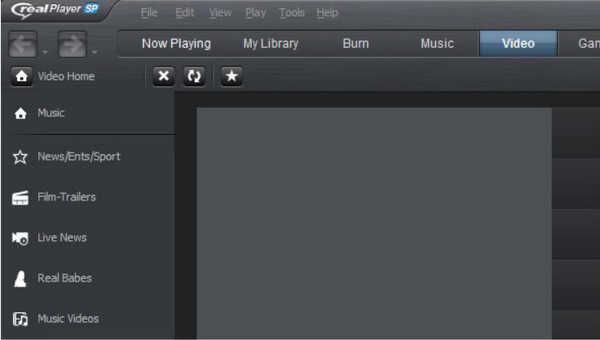 Real Player is one of the most used and downloaded MP4 Players for various operating systems. It is available for other OS like Palm OS, Symbian, and Oracle Solaris, which support playing online and local videos on your device. Additionally, it provides a list of plugins for more supported formats.
Multifunctional media player that allows to convert files and download web videos.
Support burning DVDs and CDs and manage the media collections.
Affiliated with popular platforms like YouTube and Vimeo for good-quality movies.
Support streaming video on Chromecast, Xbox One, and Roku.
9. MPC-HC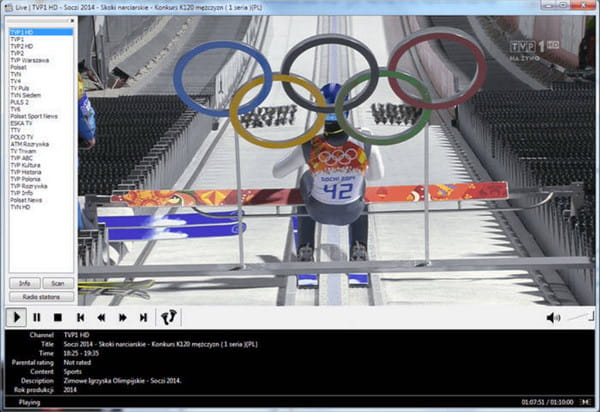 This lightweight MP4 Player is also known as Media Player Classic which is available for Windows 10, 8.1, 8, and 7. It guarantees 100% spyware free with no pop-up advertisements and viruses. Unfortunately, Media Player Classic is not available on Mac and does not support 4K videos for other formats. Therefore, it is advisable to look for another media player.
Work well for hardware decoding of 4K videos with AMD cards.
Good for older versions of laptops and computers.
Custom toolbars provide a wide array of options for customization.
Also a good alternative as a DVB player.
10. BS.Player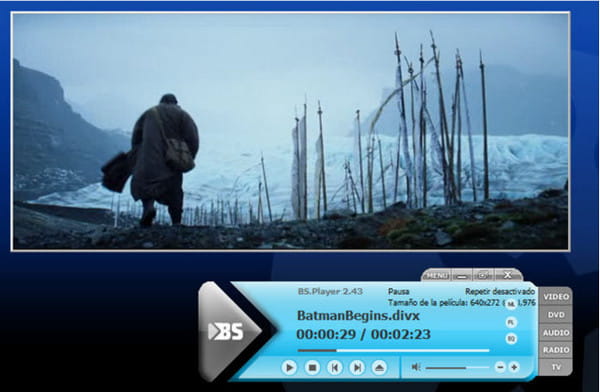 Another easy-to-use MP4 Player that specializes in playing media content like MP4, WMV, AC3, AAC, and more. It has an efficient program with a low CPU for an average level of video quality. With its recent update, you can manage your files, and web-based and radio programs. Although BS Player is a decent choice, you might not like its old-fashioned interface.
A lightweight desktop media player that does not use too much CPU resources.
Directly play videos from YouTube via the internet.
Input subtitles in various video formats with the advanced feature.
Work well with an AVCHD Player for digital tapeless camcorders.
Here is the comparison chart for the recommended MP4 Players for Windows and Mac.
| | | | |
| --- | --- | --- | --- |
| MP4 Players | Operating System Compatibility | Support Formats | Price |
| AnyRec Blu-ray Player | Windows, macOS | MP4, MPG, M4V, TS, MTS, M2TS, RM, WMV, ASF, 3GP, AVI, etc. | Freemium, $24.96 for a one-month premium version |
| VLC Media Player | Windows, Mac, Linux, iPadOS | MP4, WebM, TS, MP3, FLAC, iPhone, iPod, Android, Apple TV, YouTube. | Free |
| QuickTime Player | Windows Vista, Mac OS V Leopard | MPEG-1, MPEG-2, MPEG-4, 3GPP and 3GPP2, AVCHD, AVI Motion JPEG, and DV. | Free |
| Windows Media Player | Windows 11/10/8.1/8/7 | MP4, MOV, MKV, WMV, AVI, ASF, H.264, 3GP, WMA, ACVHD (.mts, .m2ts), WebM VP9, MP3, ALAC, AAC, etc | Free |
| IINA Player | macOS 10.11 and later versions | MP4, MKV, M4A | Free |
| KMPlayer | Windows 10/8.1/8/7 | MPEG-4/2/1, MKV, WMV, FLV, AVI, 3GP, QuickTime MOV, VCD, DVD | Free |
| GOM Player | Windows 10/8/7, Mac OS X 10.13 | MP4, MKV, MOV, AVI, FLV, WMV, MOV, DVD, and Audio CD | Freemium, $151 per PC |
| Real Player | Windows, macOS, Linux, Symbian, Oracle Solaris, Palm OS | MKV, AVI, WMV, MOV, FLV, VOB, RM, MP3, AAC, M4A, etc. | Freemium, $49.99 per month |
| MPC-HC | Windows 10/8.1/8/7 | MP4 | Free |
| BS.Player | Windows 2000, XP, Windows Vista | MP4, AVI, MKV, WMV, VOB, MP3, AAC, AC3, WMA | Free |
Part 2: Top 5 Apps to Play Quality MP4 on iPhone/iPad/Android
Do you need an MP4 Player for your smaller device? Here are the best MP4 Players for Android, iOS, and iPad.
1. FX Player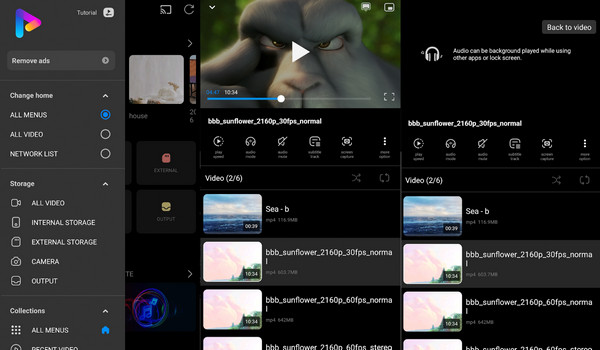 This MP4 Player is the next generation for a better streaming experience. Its Media menu lists various functions like storage, camera, output, and search. Excellent screen settings for full, partial, and multi-screen watching.
Pros

Support resolutions like 720p, 1080p, and 8K UHD.
Video editing features included, such as crop and GIF Maker.
Cons

No MP3 playback for audio files.
2. VLC for Android and iPhone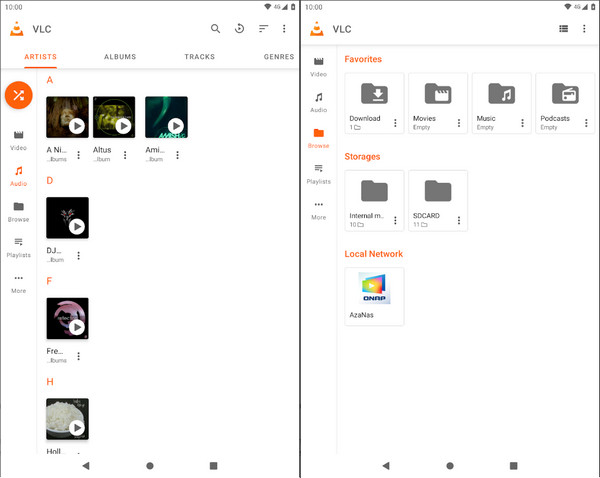 VLC mobile app is free as MP4 Player and is still open source for output settings. Because of its popularity as a desktop tool, VLC also expanded as an app, and you can play any media with it.
Pros

Play local videos and network streams.
Widget menu for audio control and media library access.
Cons

Recent update cause playback to completely stop once paused.
3. Fast Player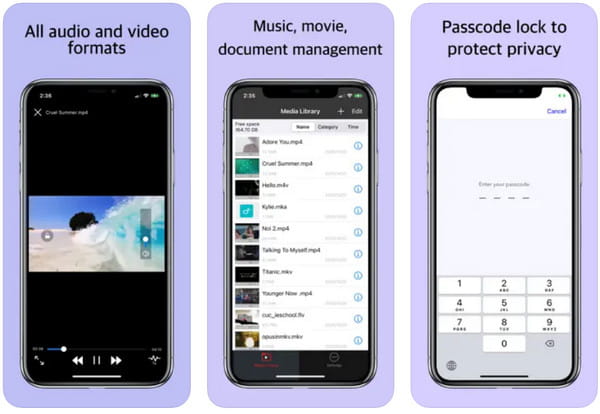 Fast Player is an iOS version of MP4 Player. It is an all-around media player that enables decoding, file transferring, and supporting many formats. It also allows you to open another app while a video is playing in the background.
Pros

Adjust audio playback speed with a swipe on the screen.
Manage files by creating new folders for a better sorting function.
Cons

The app freezes when many files are added.
4. Video Player- MP4 Player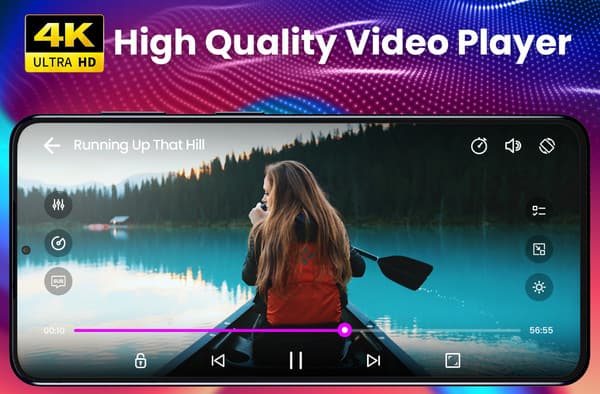 This MP4 Player supports playing full HD, 1080p, and ultra HD on your phone. It is easy to use, from the control volume to playlist creation. And you can use it to convert VLC to MP4 to play easily. It has a search function to search for videos and songs anytime.
Pros

Smooth playback for media files like MP4, MOV, MKV, FLV, TS, etc.
Excellent for playing audio files.
Cons

Many pop-ups and ads.
5. PLEX
If you want to consume more videos than your own, this MP4 Player is the best pick. It offers the highest quality for media playback. Moreover, it allows you to play videos in any format you want.
Pros

Best media browsing experience.
Excelleny community support.
Cons

Very slow progress.
| | |
| --- | --- |
| MP4 Players | OS Compatibility |
| FX Player | Android |
| VLC for Android and iPhone | Android, iOS |
| Fast Player | iOS |
| Video Player- MP4 Player | Android |
| PLEX | Android, iOS |
Part 3: What to Do When I Can't Open Videos with MP4 Player
MP4 is universally supported, but there are instances when your video is not playing on an MP4 Player. Don't worry; here are corresponding solutions to help play videos again with the media player.
Method 1:
MP4 works on various codecs to be playable with a media player. So, you might need to install the codecs needed on your computer. A codec pack is necessary, and a few great examples are CCCP and K-Lite Codec Pack.
Method 2:
Convert the video to another format. You can also use an advanced tool to configure the output, such as the video encoder, resolution, bitrate, etc. For example, you may need to convert iPhone videos to MP4 and then play them.
1. How to open MP4 files on Windows 100?

Go to File Explorer and browse for the video. Right-click on it and select the Open With option from the drop-down list. You can find more MP4 Players other than Windows Media Player.

2. Does Mac's Preview support MP4?

No, Preview does not support other formats unless they are Apple formats. You might need to convert the files or use an MP4 Player to open MP4 videos.

3. Can I play MP4 on Xbox 360?

Yes. Xbox 360 supports MP4 files with MPEG-4 codec. No content is shown if you open any MP4 with a different codec. You might as well convert the videos to allow Xbox 360 to open them.
Conclusion
MP4 Players are helpful for smoother playback. Some have wealthy features to offer, and you can freely try them. AnyRec Blu-ray Player offers a free trial version; just click the Free Download button to install the media player quickly!
Related Articles