M4V VS. MP4: Detailed Comparison and Conversion between M4V and MP4 Formats
I've started ripping some DVDs to .mp4 extension, but I found they can't be played on QuickTime. Then I changed the extension to .m4v, which plays fine in QuickTime/iTunes. What gives? What's the difference between MP4 and M4V?
-From MacRumors
MP4 and M4V are two commonly used formats in daily life. They are very similar, but also have differences in the video quality, compatibility, and codecs included in them, which cause the mentioned problem. To choose the optimal format to play videos on your computer and mobiles, you should keep reading this article and learn more about the differences between M4V and MP4.
Part 1: M4V VS. MP4: What Are the Differences between M4V and MP4 Formats
Before comparing M4V and MP4 formats, you should know about the definitions of the M4V and MP4 formats. Get to know their features in the following.
1.What is the M4V format?
M4V, also called Podcast format in Apple devices, is a standard container format created by Apple. Actually, it is a special format of MP4 designed for playing videos on Apple devices, including iPhone, iPad, Mac, Apple TV, etc. All the movies, videos, and music MV you download from iTunes are saved in M4V format.
2.What is the MP4 format?
MP4 is a widely used container format in daily life. That's because the MP4 format is recognized by most media players, devices, and even online players. Whether you want to upload videos on the Internet or save movies on your computer/mobiles, MP4 is the primary choice. Just like M4V, MP4 also supports saving multiple video, audio, and subtitle files.
3.M4V VS. MP4: Differences between M4V and MP4
According to the definition of M4V and MP4 formats, they have differences in usage and compatibility. What about the codecs and video quality? The following table will give you an intuitive comparison between M4V and MP4 formats.
| | | |
| --- | --- | --- |
| Container Format | M4V | MP4 |
| Developer | Apple | MPEG: Moving Pictures Expert Group |
| Video Codecs | H.264 | H.264, HEVC/H.265, MPEG-4 |
| Audio Codec | AAC, AC3, MP3 | AAC, AC3, MP3 |
| Compatibility | Easy to play on any Apple device. Some professional media players also support it. | Can be played on almost all media players and devices, including the default players on computers and mobiles. |
| Usages | For downloading protected videos from iTunes. | For saving videos on all devices and playing them on any player. |
| Pros | · Provide DRM protection to protect the copyright.· Relatively fewer file sizes with high quality than MP4. | · Easy to spread and share videos on the Internet.· Able to be edited by any video editor. |
| Cons | · Less compatibility. | · Larger file sizes than M4V |
Part 2: M4V VS. MP4: How to Convert between M4V and MP4 for Better Playback
Video Converter is a kind of versatile software that supports converting videos to any format easily. With customized settings, you can change the detailed codec and keep the high quality as well.
Ultimate Way to Convert between M4V and MP4 for Compatibility
1. Convert any video to more than 1000 formats, including M4V and MP4.
2. Able to adjust the detailed settings, including the video codec, quality, and resolution.
3. Provide 1080p, 2K, 4K, and even 8K resolution to keep high quality when exporting.
4 .30X faster processing speed to convert a batch of videos quickly.
Step 1.Free download and launch Video Converter on your Windows/Mac. After the main interface pop up, click the Add Files button or the Plus icon to add the desired M4V or MP4 video files.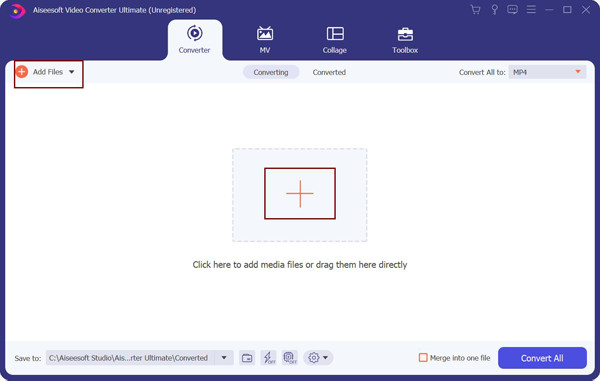 Step 2.To convert videos between M4V and MP4 formats, you need to click the Convert All to menu and choose the desired formats in the Video list. As for the resolution, you can choose the Same as Source option to keep the original quality or any other resolution you like. Furthermore, clicking the Custom Profile icon will help you change the codec, quality, and frame rate of the videos.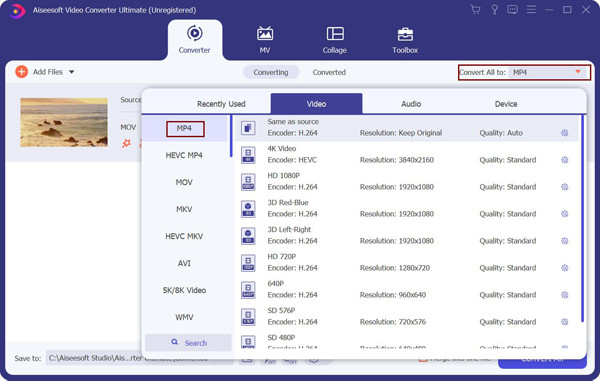 Step 3.After going back to the main interface, you should click the Save to menu to select the desired storage path. And then, click the Convert All button in the low-right corner to start converting between M4V and MP4.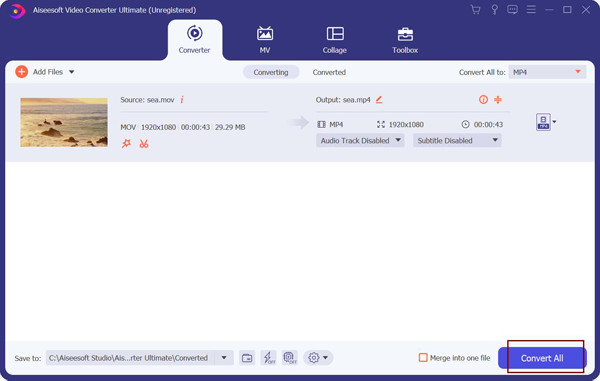 Part 3: FAQs about M4V and MP4 Video Formats
1.Are M4V and MP4 the same?

Not exactly. M4V is a specific format included in MP4, thus, it only has one codec - H.264 to encode videos. They have similar quality and file size, but MP4 is more compatible with media players and devices than M4V.

2.Can I play M4V videos on Windows Media Player?

No, you can't. M4V is a format created by Apple, and M4V videos are supported playing on QuickTime or iTunes through Apple devices. Besides, only some professional third-party players can play M4V files.

3.M4V VS. MP4: Which is better for playing videos?

It depends on the devices. For Windows and Android users, MP4 is the primary choice because of its high compatibility. For Apple users, M4V will be better because of its high compression rate and small size.
Conclusion
This article has made an overall introduction to two commonly used formats - M4V and MP4. They are similar to each other, but there also exist differences, including compatibility, supported codecs, and usages. For having a better viewing experience on different devices, you can also convert between M4V and MP4 formats through Video Converter. If you still have problems, feel free to contact us.
Related Article