Top 10 Most Recommended Screen Recorders for Linux This 2023
What is the best Linux screen recorder? Many individuals use screen recorders for a variety of reasons. It's necessary to create tutorials, how-to instructions, record gameplay, presentation of lessons, and many more. It's no wonder, then, that screen recording software is a must-have on any computer, including those running Linux. If you are a Linux user, and want to capture your screen, just take a look at these ten most recommended screen recorders for Linux.
Part 1: Reviews of the 10 Best Linux Screen Recorders: Features, Pros, and Cons
Here's a rundown of the top ten screen recorders for Linux users. All of these tools are safe and free. By the way, the list of screen recorders is in no particular order.
1. Open Broadcaster Software (OBS)
OBS is one of the best Linux screen recording applications available, offering a variety of functions to its users. It's best for developers that enjoy watching and streaming tech videos. It enables users to capture, mix, and stream content through multiple websites.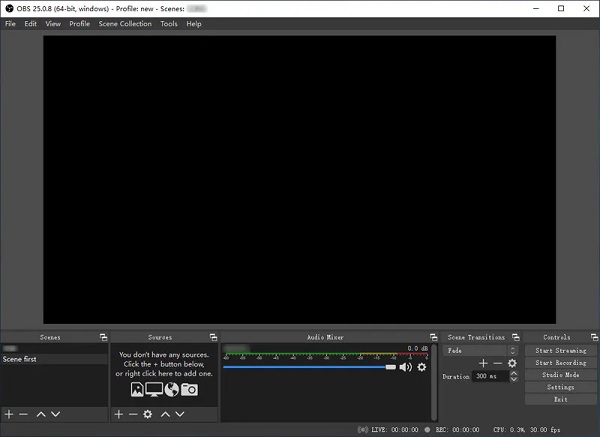 Pros
It has an almost limitless number of configurations to play with.
It gives you access to your webcam and captures cards while you're recording.
Cons
It will take some time to learn the lingo.
2. Kazam
Kazam is suitable for you if you want something straightforward with no extra features or frills. This simple Linux screen recorder also allows you to take valuable screenshots. Kazam is best for newbies who want to get the job done quickly without becoming distracted by other possibilities.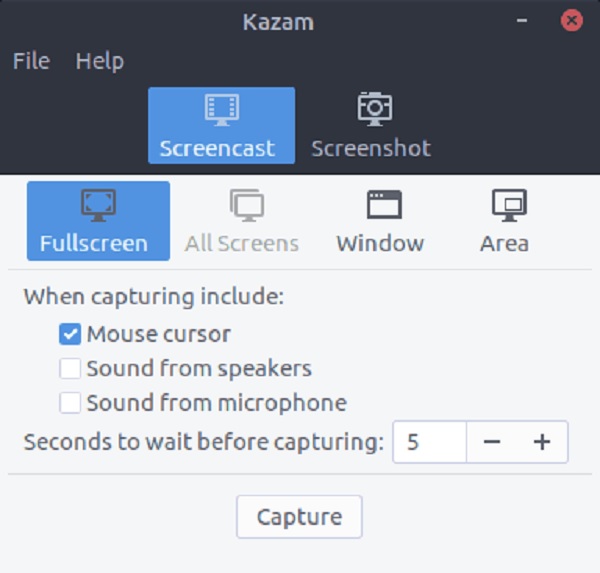 Pros
Record sounds from a microphone, a sound system, or both.
Kazam is a simple and useful screencasting program.
Cons
There aren't many choices for great configuration settings.
Inability to record webcam
3. Vokoscreen
Vokoscreen is a screen recorder for Linux that is extremely basic and straightforward. It also supports a variety of video output types and audio inputs that are appropriate for the situation. Vokoscreen can record a selected area of the desktop screen or the entire desktop screen.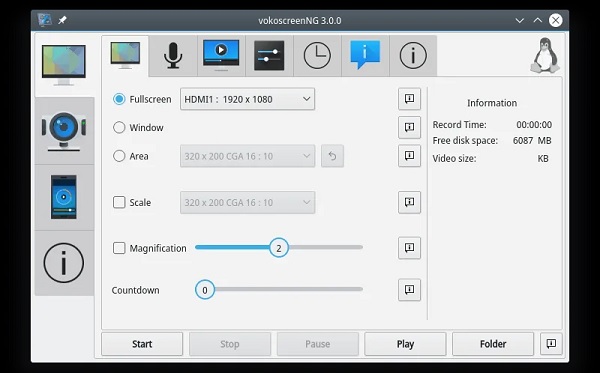 Pros
It has a lot of useful functions.
Support adding a delay timer when you record.
Cons
As of now, it does not provide a deb/rpm package or an AppImage file.
Some audio synchronization difficulties.
4. SimpleScreenRecorder
SimpleScreenRecorder is a basic and easy-to-use Linux screen recorder and a webcam recorder, as its name indicates. It has essential functions like screen recording, capturing, adding audio, and converting videos to different formats. Moreover, it is a Linux screen recorder built with Qt.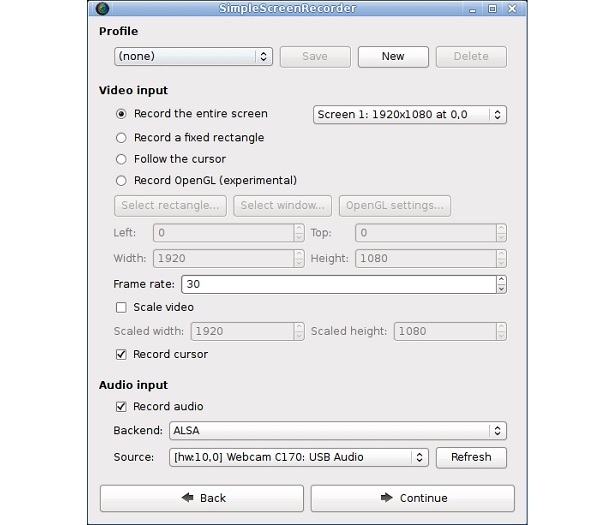 Pros
It may record while previewing your work.
It runs without a hitch on older systems.
Cons
Webcam recording isn't supported by default.
5. Green Recorder
Green Recorder is simple to use and has a simple UI. It was one of the first Linux screen recording software to support Wayland. GreenRecorder offers all of the functions of a standard desktop recorder plus the ability to record gigs. The GTK3 interface is basic and straightforward to use.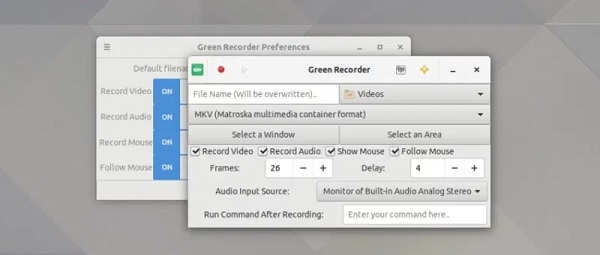 Pros
Various video formats are compatible with it.
Gifs can also be recorded from the screen.
Cons
Insufficient support for webcam video recording.
The project is no longer being worked on. GitHub has archived the project.
6. Gifine
Gifs and videos can be created with the help of Gifine, a Linux screen recorder. It comes with built-in tools for editing and maintaining your GIFs, which can save you a lot of time when it comes to creating something unique.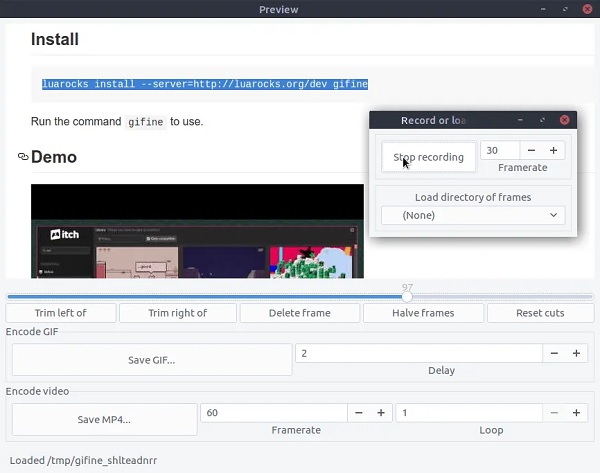 Pros
It allows you to edit and trim the output before saving
Support exporting the recorded videos in GIF format
Cons
The interface is not very appealing.
7. ScreenStudio
Next on the list is ScreenStudio, a Java application and a simple yet powerful screen recorder software for Linux. An open-source Java-based screen recording tool to make tutorial videos. It enables desktop recording as HD video, which may be streamed straight through any video host service.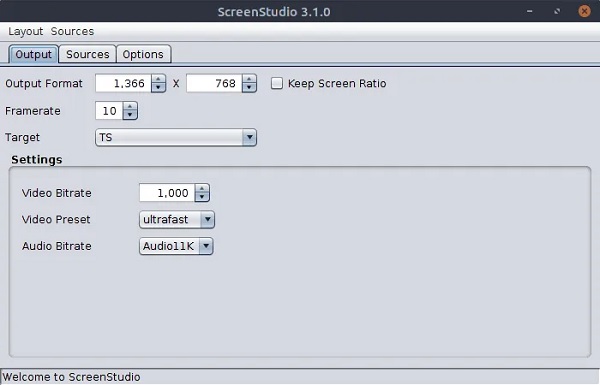 Pros
It just allows output, frame rate/bitrate, and streaming options.
It provides webcam recording.
Cons
Large dependency – requires JRE 8.0
No longer active
8. Shutter
The Shutter is a feature-rich screen capture software for Linux-based operating systems. With Shutter, you may capture and record specific areas or the entire screen. Shutter has a modern UI and several video editing capabilities.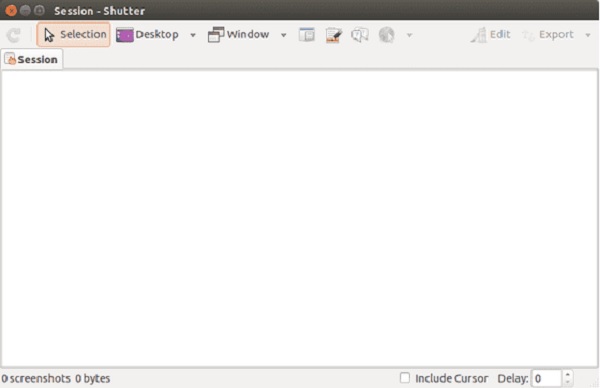 Pros
It's capable of capturing even when you're browsing.
There are numerous plugins available.
Cons
It lacks some editing features.
9. recordMyDesktop
This Linux screen recorder provides two distinct graphical user interfaces based on GTK and QT4 for those who enjoy options. This program is a wonderful choice for tutorial videos because it allows you to sync video with audio and highlight significant parts of the video.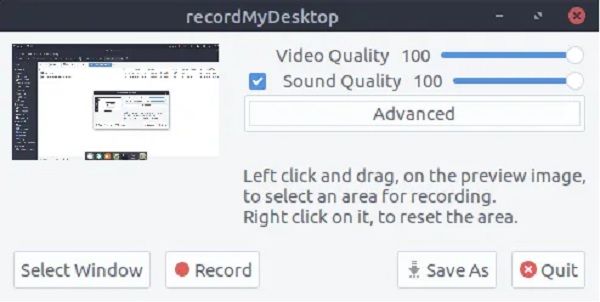 Pros
Features that are unique to video creation (video/audio synching, footage highlighting)
The command line for the Linux screen recorder is quite simple to use.
Cons
There isn't a webcam recording option.
Alternative video output formats are not available.
10. Peek
Peek is a simple program that allows us to make an animated GIF for our desktop. This app's key features include customizing the frame rate and delay time. It comes with a sleek and modern graphical user interface.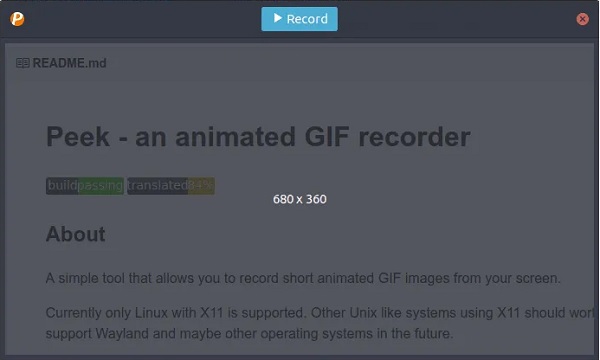 Pros
Provide a clean and modern user interface.
Support some unique features to record easily.
Cons
For the time being, only Linux systems with X11 are supported.
Bonus Tips: The Ultimate Recommended Screen Recorder for Windows/Mac
If you want to record your screen smoothly and without lags on your Windows/Mac, it is highly recommended to download AnyRec Screen Recorder now on your device. This tool allows you to record your on-screen activities, gameplay, how-to video tutorials, meetings, and more. What's more, it also enables you to record computer audio and voice from a microphone simultaneously or independently. Stop hesitating! Download this powerful screen recorder now.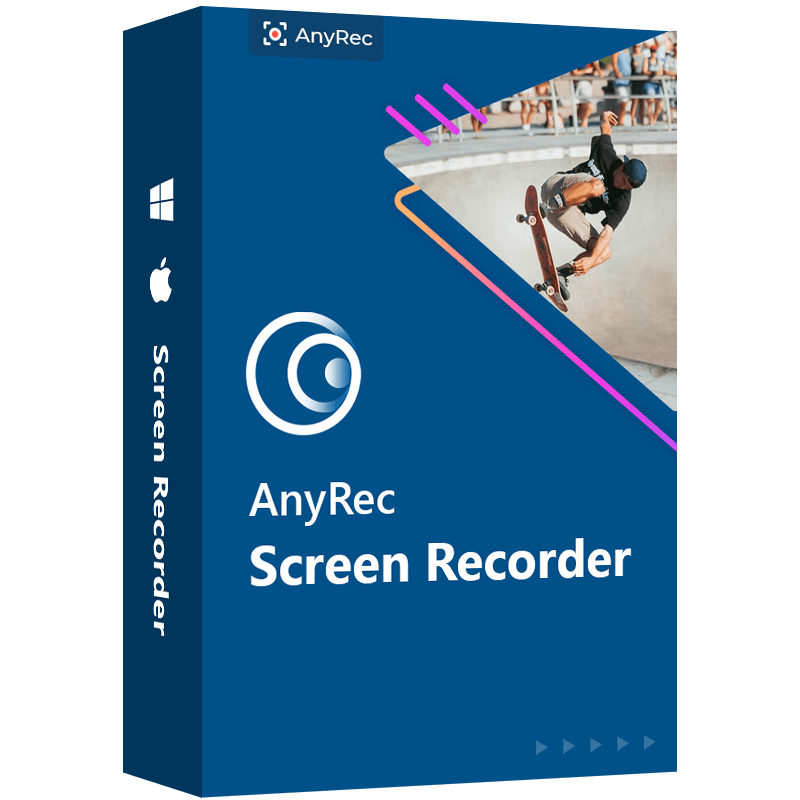 Part 2: FAQs of the Best Linux Screen Recorder
Is Bandicam available for Linux?

Bandicam Screen Recorder is not available for Linux. However, other alternatives provide comparable functionality and work on Linux.You can choose any one among the mentioned Linux screen recorder.

Does Linux have a built-in screen recorder?

A few fantastic apps allow users to record their displays and play with them as much as they want. Nonetheless, Ubuntu comes equipped with a built-in screen recorder. It does not necessitate the use of an application, does not require the use of an order line, and does not provide a long-term challenge in terms of implementation.

How do I record my screen with VLC on Linux?

VLC is also a Linux screen recorder and video player. To begin, launch VLC. Then go to the Media tab and choose the Convert / Save button. Next, go to the Capture Device tab. Then, select Desktop from the Capture mode dropdown. When you are finished, go to the bottom of the page and click the Convert / Save button again to save it.
Conclusion
Looking for the best Linux screen recorder might take you some time. But, you do not have to worry and look for other screen recorders because the given Linux screen recorders above are proven and tested. If you have more questions or advice, please contact us now. And welcome you to share your user experience!
Related Articles