How to Use iMac as Second Monitor for Windows PC [Solved]
Having an iMac will give you a decent display with its best features such as having a 4K retina that improves your workflow. And now it's possible to use iMac as a monitor for Windows PC! By setting iMac as secondary monitor, you can enjoy watching movies, playing your favorite games, and even working efficiently. You might also ask, "Are there other requirements to connect iMac?" or "Is my version of iMac compatible with being a secondary monitor?" So here on out, this article will answer your questions and tell you the detailed steps on how to use iMac as a monitor for PC. Keep reading and know more tips for making iMac as your PC monitor.
Part 1: How to Use iMac as Second Monitor for Windows PC
Before setting up iMac as a secondary monitor for PC, there are still some requirements you need to pay attention to. Normally, you need to make sure your iMac and Windows PC meet the following two requirements:
◆ About the iMac version. To use iMac as the monitor for PC, you should use the iMac version of a late 2014 version that comes with the Mini Display and Thunderbolt port functions. Other iMac versions can be also the 2009 or mid-2010 with 27 inches in size (of course, with Mini Port Display port), the 2011 and 2014 versions with Thunderbolt port.
◆ Another requirement about your PC. It should have a Mini Display or Thunderbolt port. But if your PC does not have any of these, you can use an HDMI or Display port with a compatible adapter to make iMac as a monitor.
Note
If you are not sure about the iMac version, it is easy to look for it. Just click the Apply icon at the top of your iMac screen and click the About this Mac. Click the Overview button and look for the year besides the iMac model and version.
If you have made sure that your iMac is one of the given versions, you can read the following guide on how to setup iMac as a second monitor PC:
Step 1.At first, you need to connect your iMac and the PC with a Thunderbolt cable or Mini Display cable. Make sure that the iMac and your PC are both powered off.
Step 2.Plug the cable into the Thunderbolt port, HDMI, or the Display port in the PC. For the other end of the cable, plug it in your iMac's Mini Display Port or Thunderbolt port. If you are using an adapter, you need first to connect the cable to the adapter. The male end should go to the Mini Display or the Thunderbolt port of the iMac.
Step 3.When everything has been put to place, you can turn on the PC and iMac, and press the Command+F2 or Command+Fn+F2 keys on your iMac keyboard for the Target Display Mode to be activated. Wait for the PC screen to be mirrored to the iMac screen. Now you can use iMac as monitor for PC and change the output resolution to a higher setting.
Part 2: FAQs and Important Tips to Use iMac as a Monitor for PC
If you are still having a hard time setting up your iMac as monitor for PC, here are the other tips to guide you solve your problems. Learn more about other important things you should know:
What is Target Display Mode and why is it important for iMac?

Target Display Mode allows displaying the iMac screen to another screen output. It is important as it functions to share files and of course, to connect iMac to PC. Thus, it is one of the most important things when you need to make your iMac a secondary monitor for PC.

How to turn an old iMac into a second Mac monitor?

Turn on Target Display Mode on your keyboard. Make sure that the iMac also supports Target Display Mode and you have a Thunderbolt cable. With these, it is easy to proceed setting up:
Step 1.Turn off both iMac and Mac and connect the Thunderbolt cable to their ports.
Step 2.Turn on the devices, press the Command+F2 on the iMac's keyboard to activate Target Display Mode. The iMac then will display Mac's screen.
Why does my PC cannot use the iMac with a 5k screen?

iMac has a resolution of 2560 × 1440 and another 5120 × 2880 (5K). If you are going to choose the 2560 × 1440, make sure that the PC is set to the same resolution as the iMacs. When you can't use 5K iMac screen as monitor for Windows PC, it's mainly because of the incompatibility with PC.

How can I disconnect the iMac from being my second monitor for PC?

If you want to disconnect your iMac, just exit the Target Display Mode by pressing Cmd + F2 on your keyboard. Or another way, you can disconnect is by turning off your devices then disconnecting the MiniPort or Thunderbolt cable. The Target Display Mode will automatically be disabled too.
Bonus Tips: Best Screen Recorder for any Monitor on Windows/Mac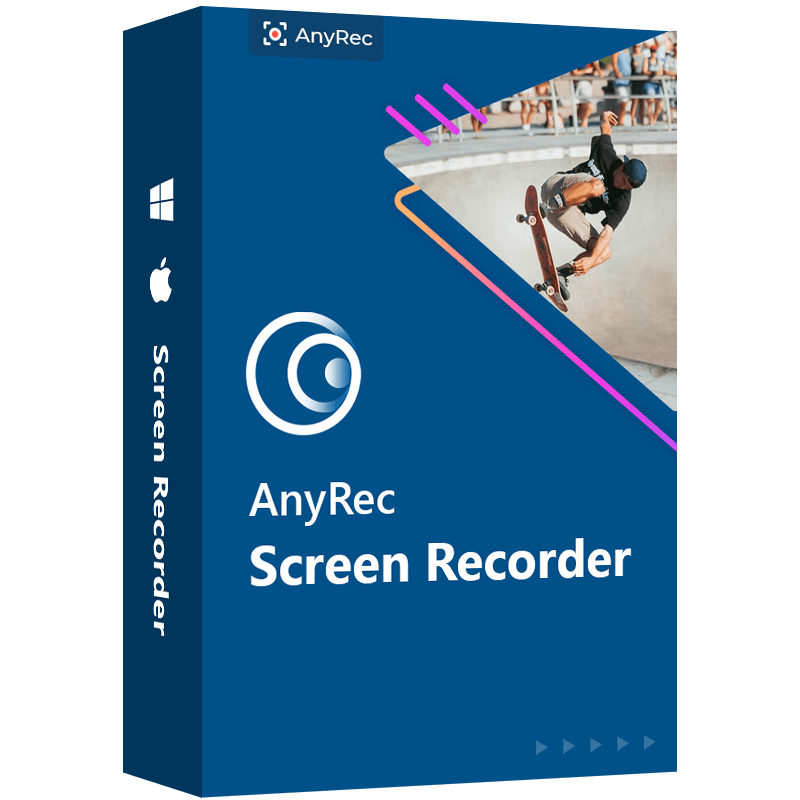 If you find your Windows Media Player is not supported to record screen on Windows PC after you use iMac as the monitor for PC, you can simply rely on the mentioned screen recorder.
Conclusion
To end this with a blast, having your iMac as your secondary monitor PC is not impossible if you have the right requirements to connect it. And if you want to capture high-quality videos on iMac screen, you can have AnyRec Screen Recorder to record both iMac monitors and your PC. If you follow the steps to make your iMac a secondary monitor PC, welcome to tell good news to us.
Related Articles