All Solutions to Take a Video Screenshot on All Desktops [Windows & Mac]
Is there a quick way to take a video screenshot on computers as you do on phones? Sure, there is. After acquiring the right methods, you can capture any moment on your desktop while playing a video as quickly as possible. Just quickly browse through the following methods and you will know how to screenshot videos on both Mac and Windows. Whether it is a slipping moment in your movie or the detail on a video, you can capture it all with the best method as well as the default ways.
Part 1: Take a Video Screenshot with Default Shortcut Keys
Just like what you do on mobile phones to take a video screenshot, you can also use the shortcut keys and press your keyboard to take a screenshot of the video on your computer. There are built-in screenshot features on both Windows and Mac that enable you to capture the screen while watching the video. And the following content will let you know more about how to screenshot a video with these default features.
1. Windows: Snipping Tool and Shortcuts
There are several methods to take a video screenshot on Windows, you can either activate the Snipping Tool app or use the shortcut to activate the Screenshot Mode on Windows 10 and 11. Check the following steps on how to take a video screenshot on Windows now.
1.1 Snipping Tool
All you need to do is to click Start on your desktop and then search for Snipping Tool to open it. Moreover, on Windows 11, the Snipping Tool app is pinned in the Windows Menu. Next, you can click the Mode button to choose a snipping mode. To take a video screenshot, you can choose the Free-form Snip or Rectangular Snip and use the crosshair to hover over the video to capture. Then, your screenshot will show on the Snipping Tool windows for you to annotate. Or you can use Snipping tool shortcuts to take Windows 11/10 screenshots.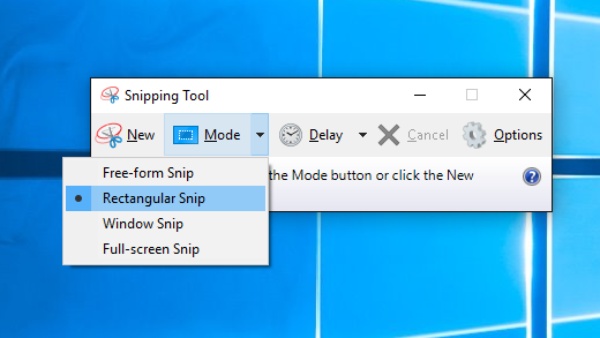 1.2 Shortcuts of Screenshot Mode
For Windows 10 and 11 users, you can use the key combination (Windows, Shift, and S) to quickly launch the Screenshot mode. You may check the following chart to know more about this mode and other quick shortcuts of how to screengrab a video.
Key Combination
Actions
WIN + Shift + S
Default Mode: Rectangular Snip. You can capture a random area of the video.
Freeform Snip: Draw a random shape to capture part or the whole of the screen or take a video screenshot
Windows Snip: Take a screenshot of the window you are using to play the video.
Fullscreen Snip: Capture the whole screen of your desktop including your video player window.
WIN + PrtScr SysRq
Take a screenshot of the whole screen
Tips
If you use the first key combination to take a video screenshot, then the picture will be attached to your clipboard, and you can press Ctrl and V keys to paste it to a document to any drawing app. For the second key combination, the screenshot will be stored in the Screenshots folder of the Pictures folder on your computer.
2. Mac: Screenshot App and Shortcuts
On a MacBook, you also have two ways to take a video screenshot either by opening the Screenshot app or using shortcuts. You can press Shift, Command, and 5 keys to open Screenshot. Then, a toolbar will show up and you can choose a mode to capture the moment in your video. Furthermore, you can also record your video with the toolbar, but this method does not allow you to record internal audio on Mac.

For a quicker screenshot of your video, you can use the shortcut keys below to activate the screenshot on your Mac. If you want to take a video screenshot with only your video in it, you can then use the second combination to capture.
| | |
| --- | --- |
| Shorcuts | Action |
| Shift + Command + 3 | Capture the whole Mac screen. |
| Shift + Command + 4 | Take a screenshot of part of the screen. |
| Shift + Command + 4 + Space | Capture a window or a menu on your desktop. |
| Shift + Command + 5 | Open the Screenshot app and activate the Toolbar |
| Shift + Command + 6 | Capture the Touch Bar |
Part 2: How to Screenshot Videos and Make Notes [Windows & Mac]
The above-mentioned methods can be quick when you get familiar with the operations, but you can also take a video screenshot quickly without learning so many different solutions. You just need a one-stop solution, AnyRec Screen Recorder, installed on your device. Then, whether you want to capture a video or a video clip, you can easily do it by pressing a few keys on your keyboard and there will be no watermark on your screenshots. Meanwhile, unlike default screenshot shortcuts that are fixed, you can change the key combinations in this screen recorder for screenshots or recordings anytime you want.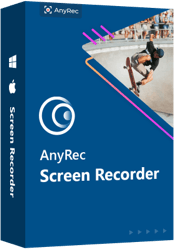 AnyRec Screen Recorder
Blur private messages on your screenshots.
Take a video screenshot in different formats.
Make annotations on your video screenshots.
Fix the screenshot on your screen to check anytime.
Step 1. Once you download and install the recorder on your computer, you need to launch it and click the SnapShot button. However, on Mac, you can access the Screen Capture directly. Then, a crosshair will appear on your screen.

Step 2. Move the crosshair over the video window you want to capture. Then, click your mouse and hover the crosshair over your video to capture it. You can always press the Esc key to restart this process.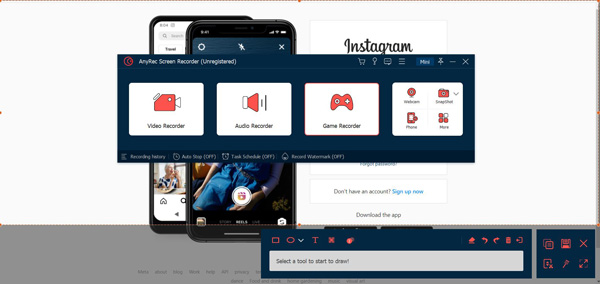 Step 3. Now, there will be a toolbar around your screenshot. You can paint your screenshot, draw marks on it, or blur certain areas on it. Or even type the text as the annotation to share. Then, you can either click Copy to move it to your clipboard or click Save to save it to your device.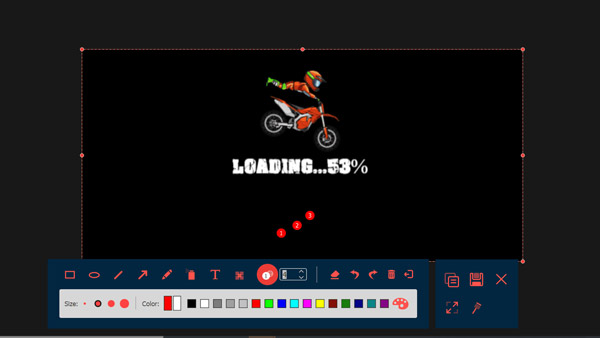 Part 3: FAQs about Take a Video Screenshot
How to screenshot a video clip on Windows?

You can enable Xbox and record a video clip. The shortcut key for this operation is WIN, Alt, and R keys. Besides, you can also press the WIN and G keys to activate the dashboard of Xbox, then on the upper left corner, click the dot icon to record your video.

How to take a video screenshot on mobile phones?

It is rather simple to screenshot a video on phones than on computers. For iPhone users with Face ID, press the side button and volume down button simultaneously. For iPhone with a home button, press the side button and home button together to capture the video. For Android users, you may use three fingers to swipe down from the top of the screen to take a video screenshot.

Can I screenshot a video clip on Mac with internal sound?

No, you cannot. The built-in screenshot features only record the audio of your microphone. If you want to record the internal sound, then you may need a third-party app to help.
Conclusion
When you try to capture a certain moment on a video that is playing, the above-discussed solutions are the quickest ones to solve your issue. Then default screenshot shortcuts and Snipping Tool can help you screenshot a video while watching a video quickly. But if you want to get more annotations and customization features, AnyRec Screen Recorder is worth trying. Now, you can take a video screenshot on your desktop as quickly as possible, and the best thing is that none of these methods contain watermarks.
More Related Articles: