Top 12 Best Recommended Video Reversers for Making Popular Videos
When you scroll through your newsfeed and something catches your attention; you want to try and jump into the trend. Making a revere video is exactly what you need, and it always bring some funny effects. Thus, you need the best video reverser in the market to help you. In this post, you are about to know the best video reversers for Windows and Mac. You can pick the best ones through the features offered. Let's get into it.
Part 1: Top 12 Best Video Reversers on Windows/Mac/Online
There are some video reversers that are free and good enough. But if you want the best outcome for your video, you need to consider the video reverser to be available for your device or packs with valuable features. Moving forward, here are the top video reversers for Windows, Mac, and online.
| | | | |
| --- | --- | --- | --- |
| Software | Supported Systems | Features | File Size Limitation |
| AnyRec Video Converter | Windows, Mac | Reverse video in a few seconds with high quality. | No file size limit. |
| iCloo Player | Windows | Provide high-speed video camera analysis. | 10-second playback in the free version. |
| VideoPad Video Editor | Windows, Mac | Professional features for video editing. | No file size limit. |
| VSDC Free Video Editor | Windows | Deliver essential features like Chromakey for background removal. | No file size limit. |
| iMovie | Mac | Built-in video editor for Apple devices. | 60-minute video length. |
| Pinnacle Studio | Windows | Enable to edit 4K and 360° videos. | 10-minute video length. |
| Ezgif | Windows, Mac | Support key formats like MP4, AVI, WebM, etc. | Maximum file up to 100MB. |
| Kapwing | Windows, Mac | Accessible tools like volume booster, smooth transitions, etc. | 250MB file limit. |
| Online Video Reverser – Media.io | Windows, Mac | Reverse speed provided high and slow video speed. | 100MB file limit. |
| Powtoon | Windows, Mac | Great for editing high-quality videos. | 45-second video length for the free version. |
| Kizoa | Windows, Mac | Ability to merge video clips, images, and others in one clip. | 100MB file limit. |
| ClipChamp | Windows, Mac | Easily share video files to YouTube and other social platforms. | No file size limit. |
1. AnyRec Video Converter
AnyRec Video Converter is an all-in-one tool that includes many features for video editing. As a video reverser, it allows you to upload files in any file format. It supports many important video formats like MOV, MKV, WMV, HEVC, MP4, and more. In just a few clicks, you will be able to reverse videos and share them on social media platforms.
Pros

Reverse video in high quality.
No watermark applied to the reversed video.
Pack with unique video editing tools.
Cons

Only reverse a video at a time.
How to use AnyRec Video Converter to reverse a video:
Step 1.Download, install and launch the software on your device. Click the Toolbox button on the main screen. Then you can click the Video Reverser button.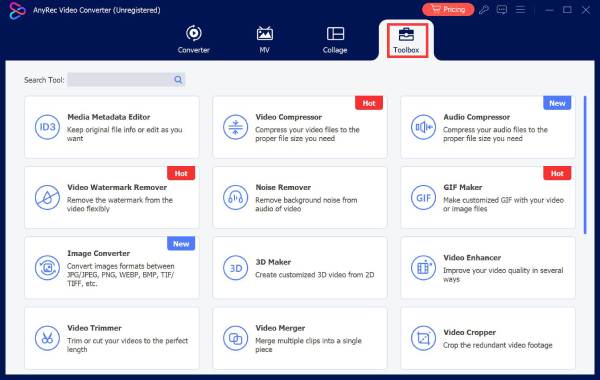 Step 2.Click the Add Files button with the Plus icon to import a video file. On the pop-up window, you can trim the video clip by adjusting starting and ending position on the Time Bar, or you can directly set the starting and ending position by clicking the Set Start/End button.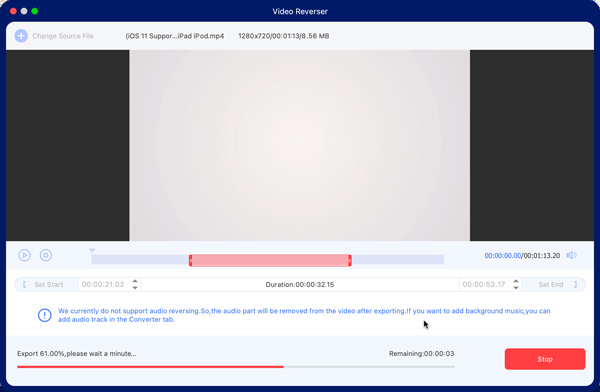 Step 3.If you are looking for other editing tools, click the Toolbox, MV, and Collage buttons to check. You can add background music, apply effects or filters, and make your customized watermark. Moreover, you can upscale the resolution, reduce video shakiness, optimize brightness, and more.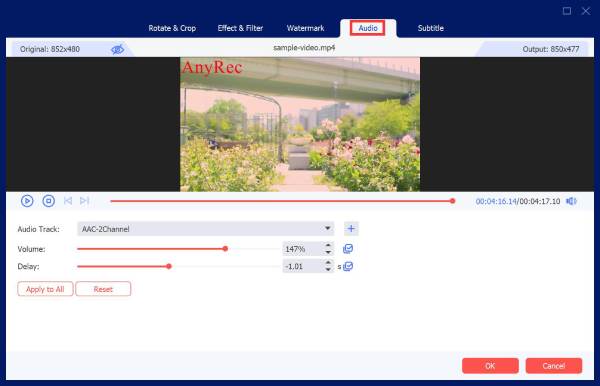 Step 4.Once you are satisfied with the changes, choosea destination folder by clicking the Save To button. Finally, click the Export button to reverse the video. You can view the reversed video once the chosen folder pops up.
2. iClooPlayer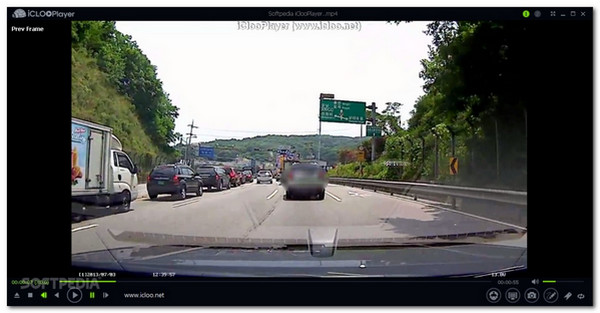 The best thing about this tool is it is both a video player and a video reverser. Its selling point is to play a video in reverse without converting it. This tool works well with people who want to analyze something in the video. It does not fall short when you want to save your video in reverse.
Pros

Reverse video clip frame-by-frame without conversion.
Bookmark video when you exit the tool.
Cons

Watermarks the reversed video clip.
3. VideoPad Video Editor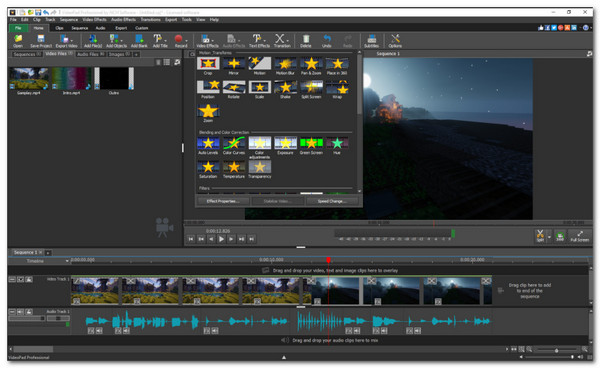 You can try the free version of VideoPad Video Editor on Windows or Mac. To experience its greatness, you need to purchase the Pro version, which is only $39.95 (Home Edition). When you unlock the pro version, you will be able to easily reverse video clips, edit audio, and edit 2D or 3D videos on this video reverser.
Pros

Fine-tune color other visual effects.
Direct sharing to YouTube and other social platforms.
Cons

Too complex for beginners.
4. VSDC Free Video Editor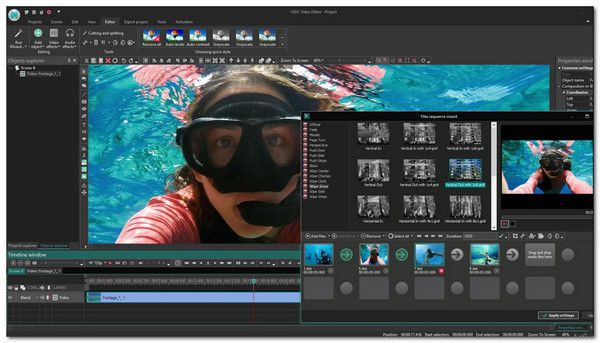 If you don't want to spend money on a video reverser subscription, try the VSDC Free Video Editor. The tool is equipped with features that will surely enhance and beautify your reversed video. Although the video reverser's interface looks complicated, it is easier than it seems, so you can learn to navigate it in no time.
Pros

Use motion-tracking for an object's movement trajectory.
Record voiceovers in real-time.
Cons

No hardware acceleration on the free version.
5. Pinnacle Studio
This video reverser has been around for a very long time and is being updated with powerful features. A good reason for choosing this video reverser is it has three versions: Studio, Studio Plus, and Studio Ultimate. You can decide to upgrade to one of these versions after trying its fantastic reverse tool in the free trial.
Pros

Flexible tool for video and audio editing.
Upscale resolution up to 4K. (1440p vs. 4K)
Cons

Too difficult than the other tools.
6. Ezgif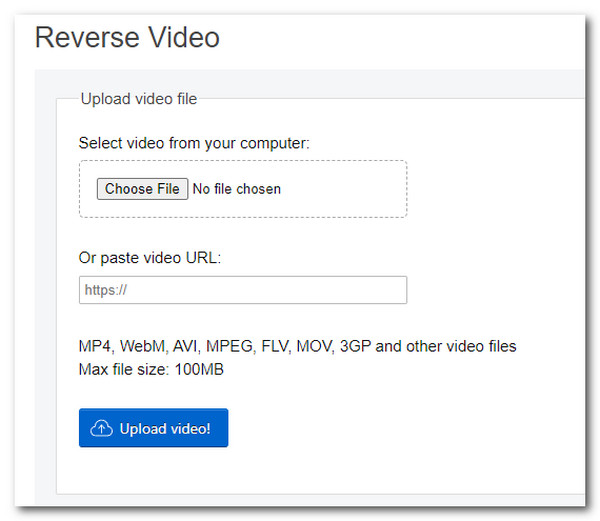 Ezgif is an online video reverser that allows you to reverse a YouTube video by pasting a URL. It allows you to import video with formats such as MPEG, MOV, 3GP, WebM (get WebM video editor), AVI, and more. However, you need to be aware that the online video reverser is very slow in processing the reversed video. Ensure that you have a stable connection whenever you use Ezgif.
Pros

Simple interface.
Offer many video editing tools.
Cons

Prolonged process.
7. Kapwing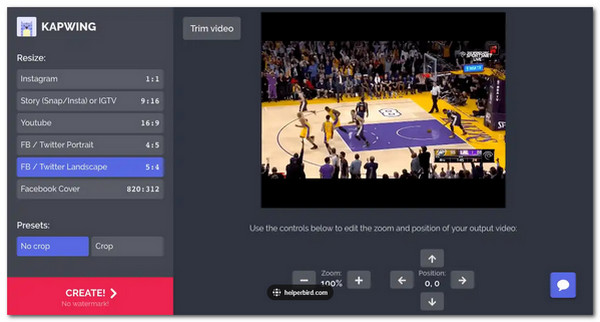 Similar to Ezgif, Kapwing is an online video reverser equipped with helpful tools. You can use the online video reverser by signing up, and you will be able to enjoy its fantastic functions for reversing or editing video. Moreover, you can make GIF animations or memes in Kapwing. However, you can only upload clips with a 250MB file size (reduce large video size online).
Pros

Fast exporting process.
High-quality reversed video.
Cons

Watermark applied.
8. iMovie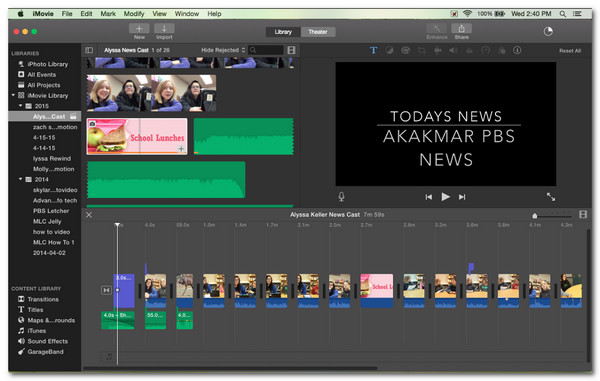 This video editor is a default video reverser for Mac users. If you are using a Mac, you don't need to go far away searching for a good video reverser. Just import the video clip you want to reverse, and it will only take a couple of clicks to achieve what you need. Moreover, you can trim, rotate, and crop videos in iMovie.
Pros

Easy to navigate.
Reversed video is of good quality.
Cons

Only support a handful of video formats.
9. Online Video Reverser – Media io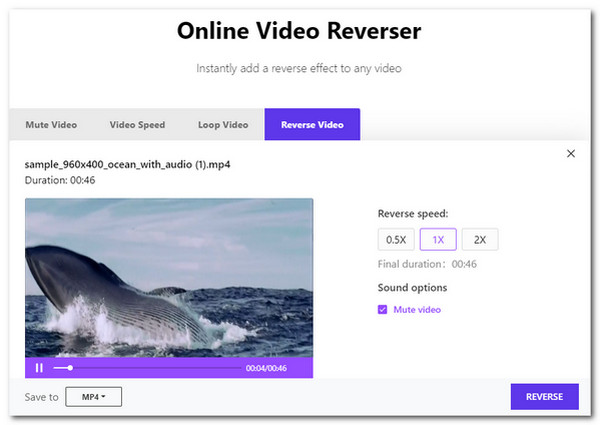 This online video reverser created by the Media is another straightforward tool. The tool is dedicated merely to reverse video with some basic editing tools included like speed, sound options, change format, and more. If a complex-looking video reverser does not fancy you, this online video reverser is for you.
Pros

Reverse video in a few clicks.
User-friendly.
Cons

Slow saving and exporting process.
10. Powtoon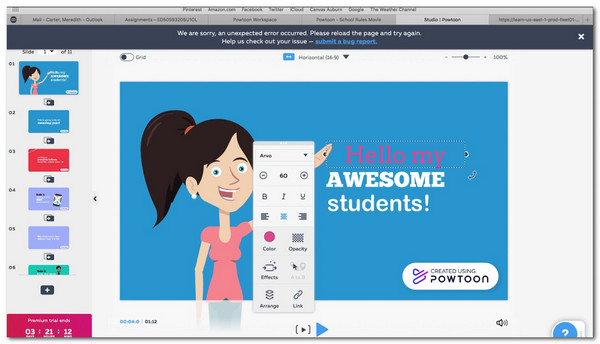 Customize your video before reversing it with Powtoon. This online video reverser works well with beginners and does not waste your time learning it. Excellent functions await you to perform video reversing and directly share to Facebook, Instagram, Snapchat, and more. Create more high-quality reversed videos with Powtoon.
Pros

Intuitive interface.
Produce high-quality content like tutorials reverse videos.
Cons

Only allows 45-second video length.
11. Kizoa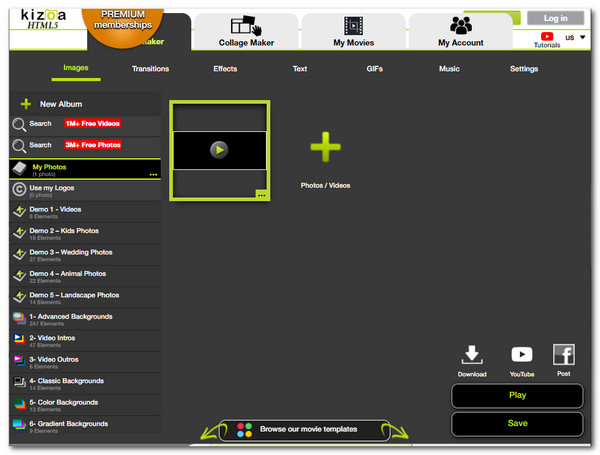 A powerful online video reverser like Kizoa should have millions of videos and photos to add to the reversed video. You can freely use the photos just by searching through the website. It also provides settings to improve the video quality up to 4K (upscale 1080p to 4K). What's more, you can beautify by applying effects and filters.
Pros

Huge collection of features and effects.
Merge video, images, other media into one file.
Cons

The interface looks outdated.
12. ClipChamp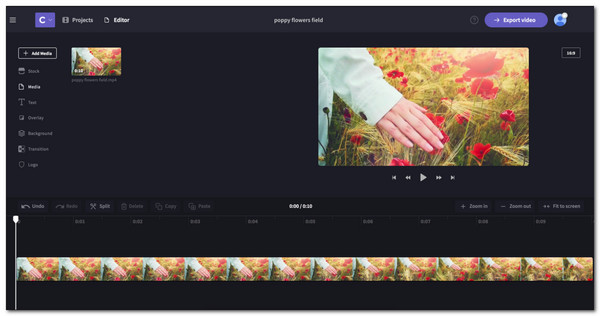 ClipChamp is a professional online video reverser providing special features for thousands of users. You can use the free trial of ClipChamp and see how it is ideal for video reversing. Of course, you can still reverse video with basic editing tools such as trimming, cutting, and direct sharing to social media platforms.
Pros

Work well with any device.
User-friendly.
Cons

Watermark included.
Part 2: FAQs about Video Reversers to Play Videos Backwards
What is the best video reverser for Android?

There are video reverser apps you can consider trying, such as PowerDirector, VivaVideo, Reverse Movie Reverse Backwards, Reverse Video Player, and more.

Is it possible to reverse subtitles with video?

Unfortunately no. If it's the external CC subtitle, you can't reverse it. And for the inline subtitles, you can only reverse it completely with the wrong order.

How does video reversing work?

It is simple: A video reverser exchanges the starting and ending point of a video clip and plays it frame-by-frame. Thus, if you watch a glass of water and it goes back to a glass, the reversed video looks like magic.
Conclusion
Now that you have checked the best-recommended video reversers, you can use one of them as a primary tool or an alternative. Among the 12 best video reversers, AnyRec Video Converter got your back. Its powerful features can be seen even on the free trial version. No file size limit and high-quality reversed videos can only be found in AnyRec Video Converter.
Related Articles