5 Efficient Ways to Play a Video in Reverse for Creating Fun
Playing a video in reverse can always leave you laughing or mesmerized with how things go back to their origin. The best thing you can also do is share something similar with your friends over the internet. By reading this post, you can learn how to put a video in reverse in the easiest ways. Once you have known how to do it, share the reversed videos with your friends or family.
Part 1: The Best Way to Play A Video in Reverse on Any Device
While you can be creative and funny on playing a video in reverse, you can do more with AnyRec Video Converter. The tool has functions that are great for reversing a video. Just with a few simple steps, you can beautifully reverse the video. If you need to edit or cut some part of the clip, you don't need to download another video editor because AnyRec Video Converter has all the editing tools you need. In this way, you can play a video in reverse on any device later.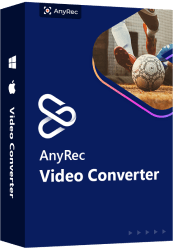 The Best Video Editor to Play Videos in Reverse on Any Device:
Provide a designed Tool to reverse a video with simple steps.
Offer other essential features like trimming, cutting, rotating, etc.
Support formats for reversing video like MP4, MOV, MKV, and more.
50x rapid speed for importing reversed video and sharing to social media.
How to put a video in reverse using AnyRec Video Converter:
Step 1.Free download, install and launch the software on your device, Then, click the Toolbox button on top of the main screen, and click the Video Reverser button to put a video on reverse.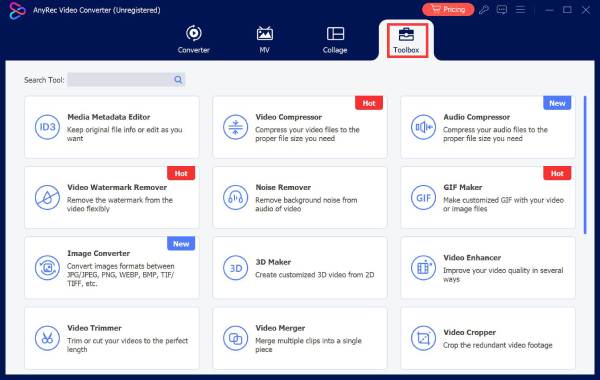 Step 2.Click the Plus button and upload a file to put a video on reverse. Once uploaded on the software, adjust the trimmer on the video timeline. You can also input a specific time to trim on the video clip.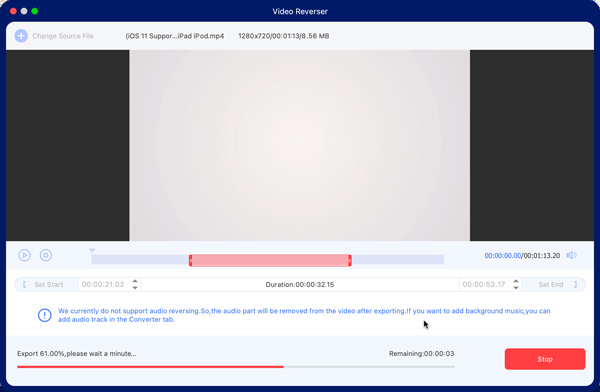 Step 3.Adjust the starting and ending position on the Time Bar to reverse a certain clip of your video instead of the whole. Then, browse for a destination folder by clicking the Save To dropdown list below. At last, click the Export button to save all the changes. Play the reversed video on your media player, or send it to your friends!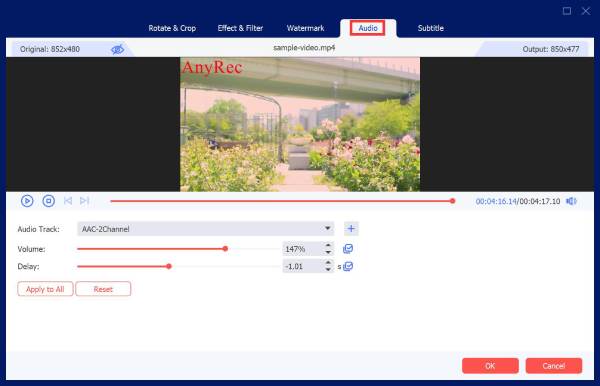 Part 2: Two Easy Ways to Play A Video in Reverse on Windows/Mac
How to play a video in reverse professionally? Of course, there are times when reversing a video is not only for mere entertainment but also for a fantastic project. So, here are two professional tools to reverse a video with easy steps to follow.
1. Adobe Premiere
Adobe Premiere is a famous professional video editor. It holds unique features that can also help you play video in reverse. You can use the Speed/Duration command to make a reversed video clip with this powerful tool. It also allows you to adjust speed to make a high-speed or slow-motion reversed video.
How do I reverse a video using Adobe Premiere:
Step 1.If you still don't have the software on your device, download it from the official website—open Adobe Premiere to put a video in reverse. Click the File button on the menu and add the video clip you want to reverse by clicking the Import button.
Step 2.The clip will then be on the Project area of the interface. Right-click the video file, then click the Speed/Duration button. Tick the box ahead the Reverse Speed option on the smaller window that will appear.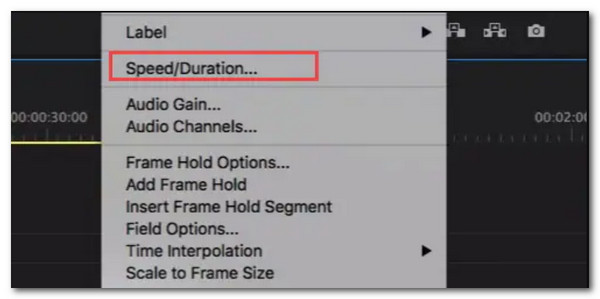 Step 3.You can also input the speed you prefer for the video clip. Once done, click the OK button to save all the changes. For the last step, drag and drop the reversed file on the timeline and hit the lay button.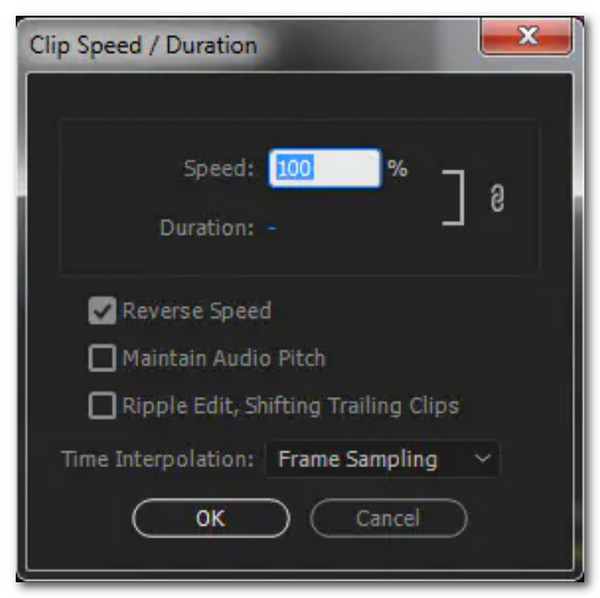 2. iMovie
If you are using a Mac, how do you reverse a video? Of course, you can use iMovie to reverse video clips. As a default video editor, iMovie has advanced editing techniques to make professional videos. Even with a complex interface, you can still quickly reverse a video with iMovie.
How to play a video in reverse using iMovie:
Step 1.Open the tool on your device, then import the video file you want to reverse. Once the file is on the Project window, drag it to the timeline at the bottom part.
Step 2.You will see many icons above the preview on the top of the window. Click the Speed button with the Speedometer icon, and then the Reverse button.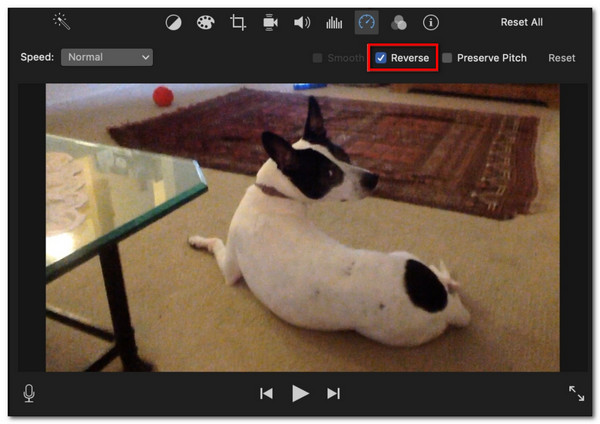 Step 3.You can also adjust the speed by clicking the Speed dropdown list. Click the Save button to save all the changes.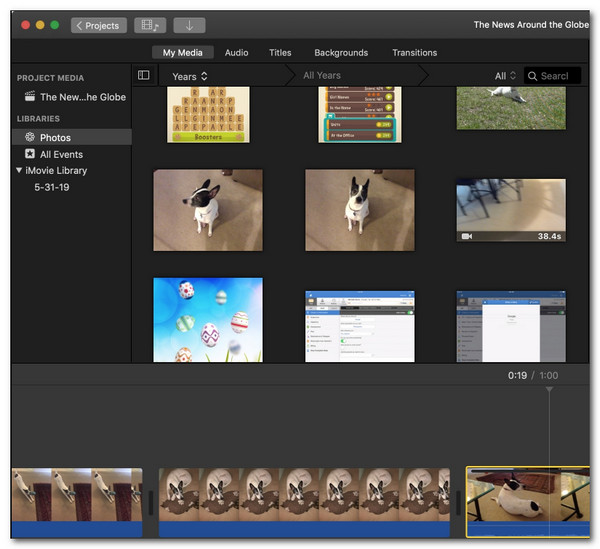 Part 3: How to Play A Video in Reverse on Android/iPhone
Reversing a video on Android or iOS is not off-limit. There are many alternative tools to choose from, but you can start with these two recommended apps to play a video in reverse.
1. VivaVideo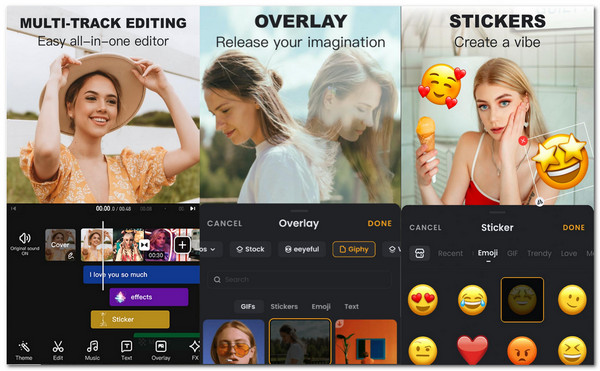 The first recommendation is VivaVideo. It is a free app to download and has many features to offer. The primary function of the VivaVideo app is to edit video at any length, which you can adjust position frame size and apply other elements effectively. What's more, you can play a video in reverse.
Pros

User-friendly for beginners.
Direct share to Facebook, YouTube, etc.
Cons

Watermark applied to edited videos.
Resolution may be lower after edit.
2. Reverse Movie FX
A very entertaining reverse app for Android and iOS. Reverse Movie FX is a dedicated tool to play a video in reverse that looks like a magic trick! You can download it freely to Play Store and App Store. Choose the best part of the clip and reverse it in one tap.
Pros

Enable to add music background.
Allow loop reverse.
Cons

Lack some elements like effects and stickers.
Bombard you with a lot of ads.
Part 4: FAQs about Playing A Video in Reverse
Does VLC Media Player support playing a video in reverse?

No. Although it's a very powerful video player, it doesn't support playing a normal videos in reverse. So you need to put a video in reverse through the video editor, and then play it on VLC.

How to play a video in reverse on TikTok?

Launch the TikTok app on your device, then tap the Plus icon to add videos. Once done, click the Effect icon on the right part of your screen. At the bottom of the screen, glide the editing options to the right, then tap the Time Effect. Lastly, select the Reverse options to reverse videos on TikTok.

How can I reverse a video online?

You can use Ezgif online video editor. Go to the official website, then click the Reverse menu. Click the Choose Files button to upload a clip. Then, click the Upload Video button. You can see options to include the audio or mute the video. Once done, click the Reverse Video button to save and download.
Conclusion
To conclude, you now learned how to put a video in reverse for any device. However, some of the said tools are not guaranteed to produce high-quality reversed videos. To get reversed videos quickly with high quality, you can rely on AnyRec Video Converter. If you have more questions, please contact us now!
Related Articles