How to Record Tango Video Calls on Android/iOS/Windows/Mac
How to record a Tango video call to keep precious moments with families and friends? As we all know, living at a distance from someone you love is quite upsetting and heartbreaking. No physical touch and acts of service are done. Thankfully there is technology! It allows us to live and have fun together even if we are miles away from each other. And with the help of the Tango video call, we can now effortlessly reach and talk with someone that is so dear to us.Moreover, most of us want to treasure and keep those precious moments and look at them countless times until our longingness is gone. The following methods will help you on how to save tango videos for you to ease your longingness. Whether you are a Tango Windows, Mac, Android, or iPhone user, we got you!
Part 1: The Best Method to Record Tango Video Call on Windows/Mac
Here you can record your Tango video calls on Windows and Mac using AnyRec Screen Recorder. This app can be your best screen recorder for Tango video calls. Because it allows you to record your Tango video and audio at the same time. You don't have to worry about how to save Tango video calls because this screen recorder is user-friendly! You can record Tango video/audio to MP4, MP3, WMV, and others. Or you can record Tango call and then share it to YouTube, Facebook, Twitter, and more directly. So, treasure your fruitful conversation and rely on the given steps below.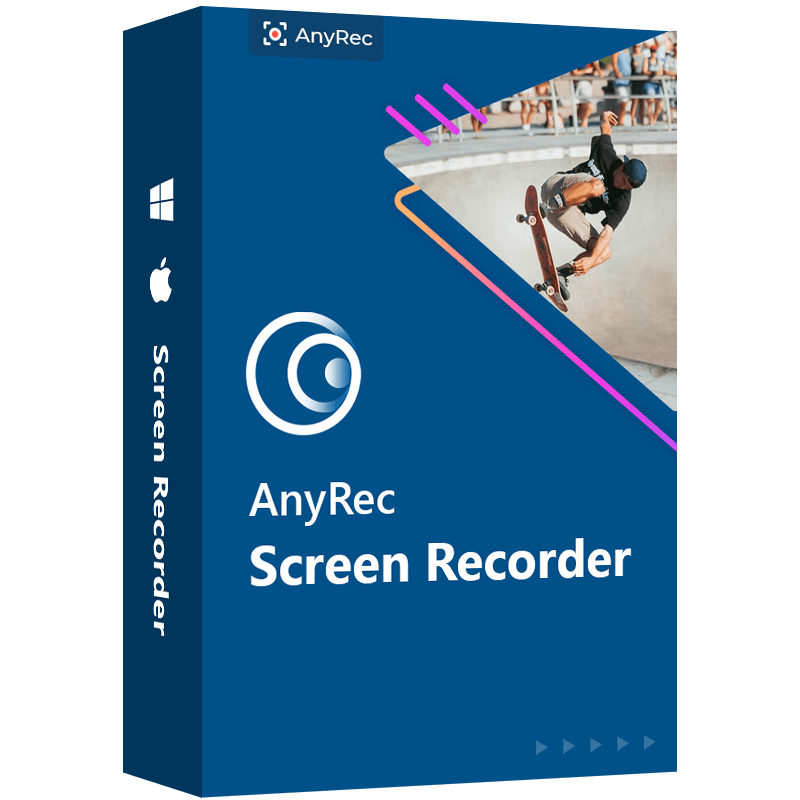 Tango Video Call Recorder
Provide a designed photo recorder to mirror Tango video call on computers for further recording.
Record any video and audio into any formats, including MP4 and MP3 format.
Able to record your Tango video call without time limits.
It supports video that comes with 4K Ultra High-Definition.
Record Tango live video and audio on Windows 11/10/8/7 and Mac 10.7 or higher.
How to Use:
Step 1.Start the Tango Video Call on Your Computer
Free download and launch the AnyRec Screen Recorder on your device. After installing the Tango recorder software, its interface will appear on your screen. Click the Video Recorder button to record your screen while having your Tango video call.

Step 2.Prepare for Tango Recording
After that, you can adjust the settings based on your preference. You can record the whole screen of Tango video call or just the particular area of it. You can also turn on the Microphone and System Sound buttons for your audio to be recorded as well.

Step 3.Step 3: Record Tango Video Call
After customizing the recording setting, you can now record your tango video call. All you have to do is to click the REC button to start recording the Tango video call. Then a toolbox will pop up with additional editing tools.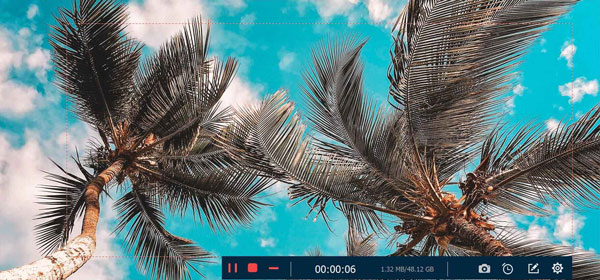 Step 4.Save Your Recorded Tango Video
Click the Stop button and check your recorded video for Tango first. You can also get a built-in video trimmer to trim the extra parts at the beginning as you like. After that, save it to your files by clicking the Save button on the bottom right area of the app.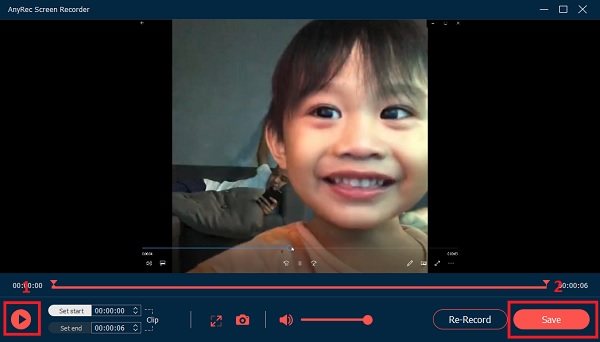 With this method, you can effortlessly record your Tango video call on your iPhone and watch it countless times offline.
Part 2: How to Record Tango Video Call on Android/iPhone
1. Use Default Screen Recorder to Record Tango on iPhone
You can use a built-in screen recorder when it comes to recording Tango video calls on your iPhone. This tool is included in the iOS operating system and allows you to record the screen of your iPhone. Moreover, this tool can also record your audio while having Tango video calls.
Steps to Follow:
Step 1.Go to the Settings app on your iPhone, then select the Control Center button. After that, click the + button to add Screen Recording to the Control Center.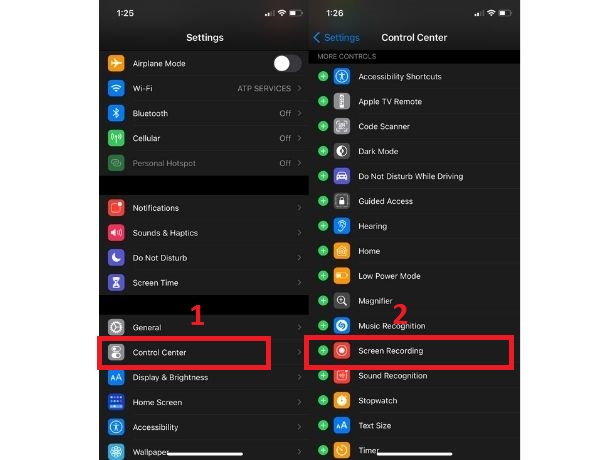 Step 2.For the updated version of iOS, you can pull down the hidden menu on the upper right area of the screen. On the other hand, for the outdated version of iOS, you can pull it up from the bottom of the screen. Next, long-press the Screen Recording button then turn on the Microphone to enable audio recording.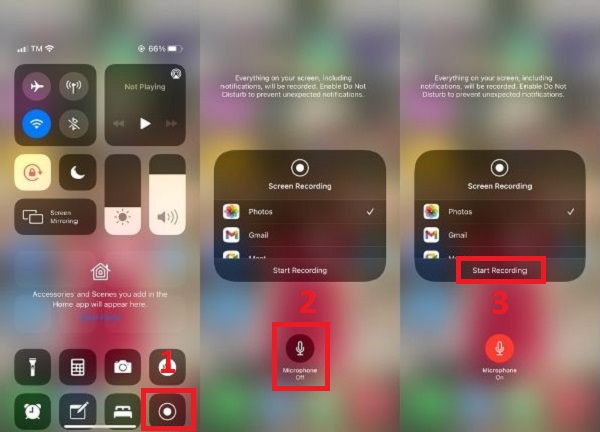 Step 3.Click the Screen Recording button to record your Tango video call on iPhone without time limits. To finish recording, go back to the Control Center and click the Screen Recording button or you can just click the red button on the upper left of the screen.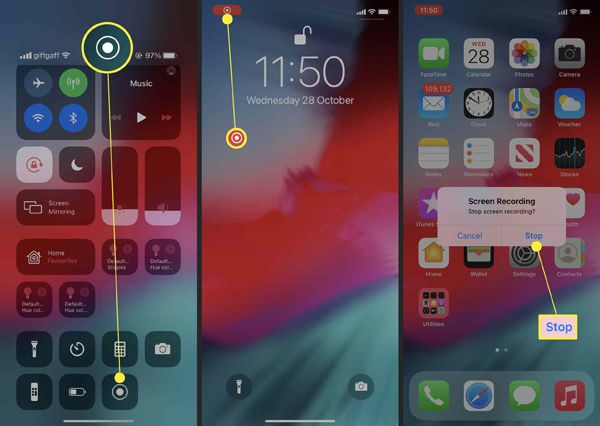 Tips
Now you can record Tango live on iPhone via AnyRec Screen Recorder as well. Just navigate to its Phone Recorder to get more recording controls.
2. Use Third-party Screen Recorder App to Record Tango on Android
For some Android users, there is no built-in screen recorder for Tango app. However, you can use AZ Screen Recorder as your Tango recorder apk. Here you can record Tango video call with smooth and high definition quality. This Tango recorder app for Android allows you to record anything on your screen including your audio. Moreover, you can choose to record the whole screen while having a Tango video call or just the particular area you want. Follow the procedures below to know how-to.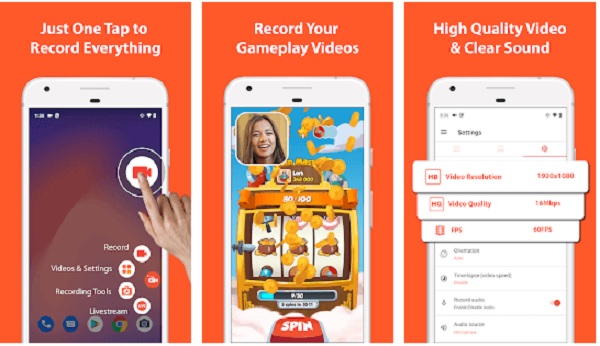 Steps to Follow:
Step 1.After installing the video recorder app for Tango from the Google Play, you can record your Tango video call on Android phones easily. Tap this screen recorder to launch it. Then you can click the Settings button to adjust the recording parameters in advance.
Step 2.Once you are done, tap the Home button without turning off the recorder and choose the Tango app you want to record. Then tick the red Record button to start recording Tango video call on Android.
Step 3.Finally, tap the same button to stop, and then save the recorded Tango video call to your files on Android. You can directly check the recordings on your album. Or you can check other possible video recording location on Android.
Part 3: FAQs about How to Record Tango Video Call
1. How do you make a video call on Tango?

After you've created an account and added your contacts, go to the Call tab, click the New Call button and press the video camera buttton next to the person you'd like to call. Finally, wait for the person to pick up the call.

2. Can I record a Tango video call without time limits?

Yes. As mentioned before, you can rely on AnyRec Screen Recorder to record Tango video call. This Tango recorder doesn't have limitations to time or file size.

3. Why does my recorded Tango video call do not have sound?

Check if the microphone is turned on. Go to the Control Center and long-press the Recording button. After that, turn on the Microphone and it will turn into the color red.
Conclusion
There you have it! This article has introduced three efficient ways to record video call on Tango. You can choose to use AnyRec Screen Recorder as your Tango recorder for Windows/Mac, or Tango recorder apps for Android/iPhone. If you still have some questions, you can message us and we will make to get back to you as soon as possible.
Related Article