Screenshot on Skype - Your 5 Ways to Take Snapshots of Skype Calls on Multiplatform
Skype has swiftly become the most popular platform for making long-distance calls and video chats on computers. When you are having a video chat session on Skype with your loved ones or friends, you might want to take a screenshot on Skype to save or share your moments together on the screen. However, there is no default Skype screenshot feature. If you want to screenshot on Skype across different devices, you can do as the following steps show.
3 Ways to Take Screenshots on Skype on Windows/Mac
1. Take a High-Quality Screenshot and Add Annotation with AnyRec Screen Recorder
It is AnyRec Screen Recorder that can help you capture any moment in a JPG, PNG, BMP, TIFF, or GIF image in high quality. You can take a snapshot on your Skype video call via a Screenshot button or custom hotkeys. Meanwhile, you can add text, line, arrow, and other shapes in different size and color on your captured image.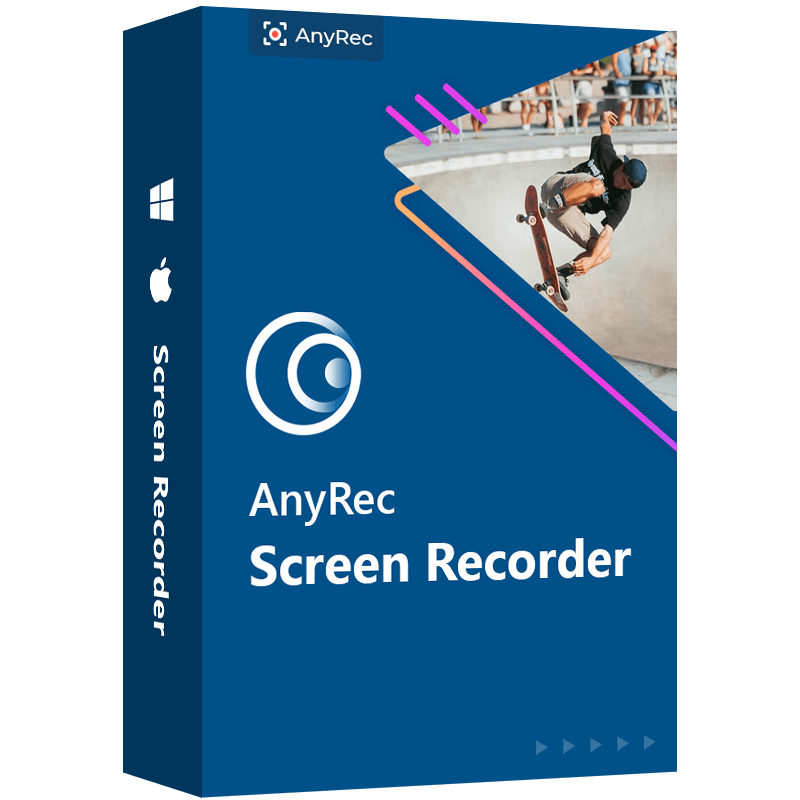 AnyRec Screen Recorder
Capture screenshots on Skype with the original quality.
Take a Skype screenshot in full screen, or a specific area.
Add text, lines, arrows, and other drawing tools to your screenshots.
Set custom hotkeys to capture Skype images and record Skype calls.
Save or share your Skype screenshots and vide/audio recording freely.
Step 1.First of all, download the AnyRec Screen Recorder on your Windows/Mac. Then, go to the Skype application where you wish to take a screenshot. After that, open the screenshot tool and click the Snapshot button.

Step 2.After that, your mouse moves as the cursor. Simply move your mouse to the window and left-click it to confirm the screenshot. It also allows you to grab a rectangle screen by clicking and dragging with your left mouse. Here you can capture Skype images in full screen or selected region.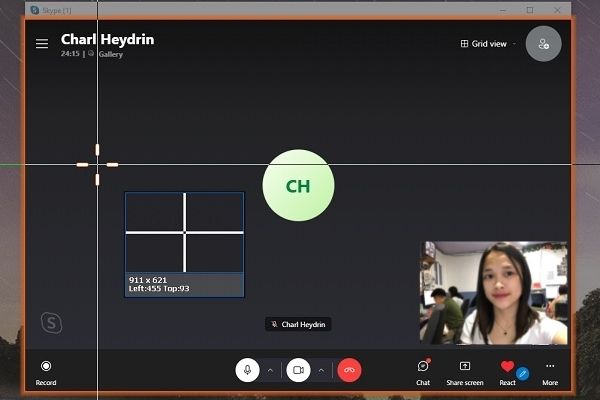 Step 3.Click the Edit button to annotate on Skype with tools like a callout, a watermark, a line, and more. You can also change the colors and fonts. Once you are done, you can now click the Save button to save your Skype screenshot. Or you can go to Recording History or share or quickly locate your Skype snapshot.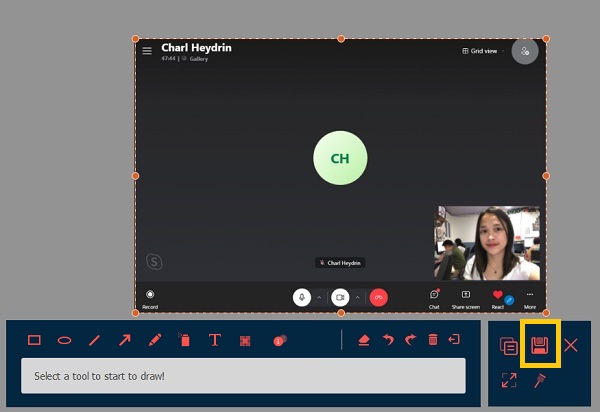 2. Take A Screenshot in Skype with Windows Snipping Tool
If you just want to capture the current picture on Skype, you can use the Windows default screenshot app. It is Snipping Tool (or Snip & Sketch) that can screenshot on Skype on all Windows computers for free.
Step 1.Open the Windows Start menu, Search for Snipping Tool to find and open it.
Step 2.Click the down-arrow button next to Mode. Choose the screenshot mode with Free-form Snip, Rectangular Snip, Window Snip, and Full-screen Snip.
Step 3.The captured Skype snapshot will be copied to clipboard automatically.
Step 4.Go to the Screenshots folder to find your Snapshot screenshot in PNG format.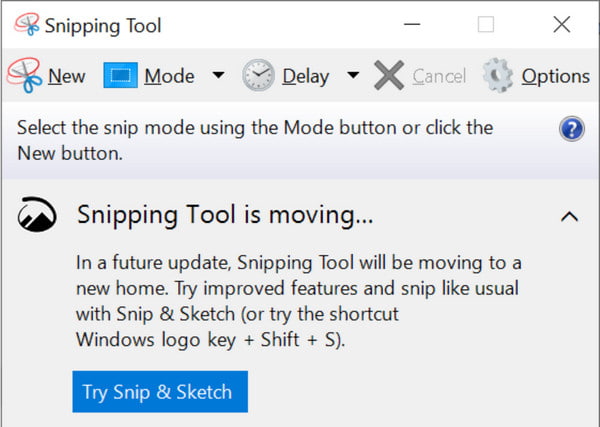 3. Screenshot a Skype Conversation with Mac Keyboard Shortcuts
As for all Mac users, you can take a screenshot of Skype on Mac with default shortcuts. All your Mac screenshots are saved on desktop with .png file extension automatically. Later, you can use Preview to check, crop, and resize this picture quickly. In short, you can crop a Mac screenshot of Skype with the following shortcuts.
Shift + Command + 3: take a screenshot on Skype in full screen on Mac.
Shift + Command + 4: screenshot Skype with the selected portion
Shift + Command + 5: activate the Mac screenshot app to get more screenshot features
3 Ways to Screenshot Skype on Android/iPhone
As for Android and Apple users, you don't have to worry. This article also provides the step-by-step procedures on how to take screenshots on Skype using your mobile devices. Just sit back and relax. Please refer to the short and detailed steps indicated below.
1. Default Assistive Touch for iPhone to Take Screenshots on Skype
iPhone devices have this built-in Assistive touch feature that enables you to take screenshots on Skype. Please follow the given steps below to effectively snap your screen on your iPhone.
Step 1.First and foremost, if your device's built-in assistive touch is not enabled, turn it on immediately. Go to the Settings menu. Tap the General option. On the Physical and Motor section, tap the Touch option. Then, tap the AssistiveTouch and turn it on. Make sure that it turns green.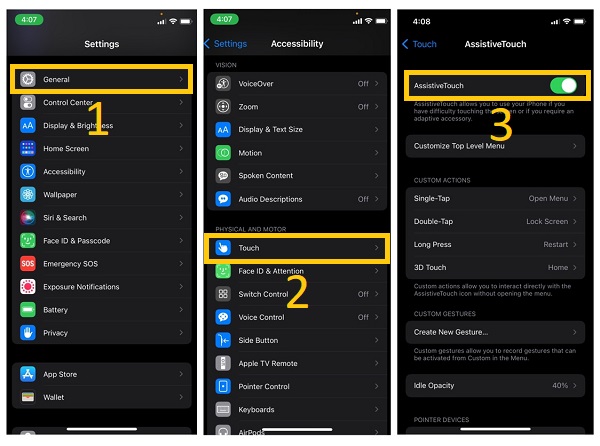 Step 2.Once done, open your Skype application. Then, tap the AssistiveTouch. Later, tap the Screenshot button. Then, your taken Skype screenshots will automatically be saved in your Photos app.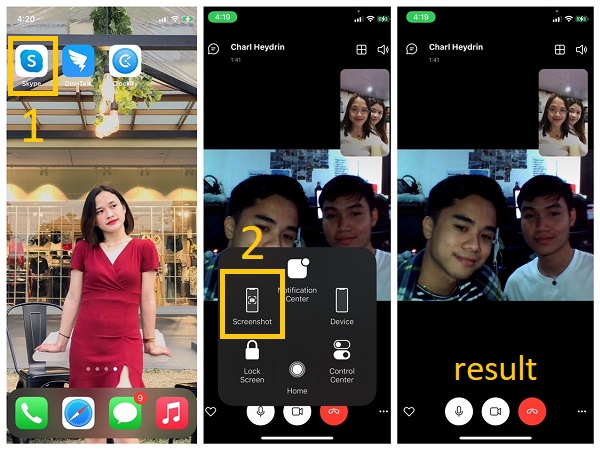 2. Use Screenshot App to Capture Skype Snapshots on iPhone, iPad, and Android
Since we now live in a technologically advanced society, every mobile phone is equipped with a screenshot feature that can be accessed by simultaneously pressing the Volume Down and Power buttons. However, some users find it inconvenient because of the limited features it offers. Furthermore, you can use the given Skype screenshot app for iOS and Android below.
Screen Master allows you to take Skype screenshots by shaking your device or tapping/enabling the floating button on the screen. Screen Master also provides in-scroll screen capture to store the entire webpage, add text, pixelate photos, and more. Kindly follow the given steps below.
Step 1.Install the screenshot app then launch it on your phone.
Step 2.Open the Skype app and start a video call as usual.
Step 3.Screen Master will appear on your screen as a symbol. Simply tap the symbol to get a Skype snapshot.
Part 3: FAQs about Taking Screenshots on Skype
Does Skype tell me if someone is taking screenshots on Skype?

No. Skype can't detect whether someone is taking a screenshot of the current conversation. So Skype won't send anybody the notification about screenshot or screen recording.

How to send my taken screenshots on Skype?

You can send the screenshots you have taken on Skype. All you have to do is to go to your conversation and click the Add Files button. After that, choose the picture and click the Send button. Then, you are all done.

Can I take screenshots on Skype online?

Yes. You can use Lightshot to take a screenshot online. Moreover, Lightshot is available for Chrome, Firefox, IE, and Opera. So you can install the Lightshot extension to screenshot Skype within your browser.
Conclusion
There you have it! You have successfully completed 5 easy ways to screenshot on Skype on Windows, Mac, iPhone, iPad, and Android. Again, if you want a fast and easy way to take screenshots, we recommend you to free download AnyRec Screen Recorder now on your computer. If you still have questions in mind, please do not hesitate to send us your message. We promise to get back to you as soon as possible.
Related Articles