Best 7 HD Screen Recorders You Must Try for a Better Video Quality
Nowadays, everyone who creates a short clip, tutorial, or any kind of video wants the best quality for their project. So they need an HD screen recorder, they are not satisfied with casually capturing a screen that simple anymore. With today's technology, full HD or 1080p is easy to achieve; however, it still depends on the software you use. Even when you need to screen record whatever is on your screen, viewers or you will be delighted with crisp images. The following 7 HD screen recorders are the recommended tools you can try on Windows or macOS.
Part 1: Top 7 HD Screen Recorders
When you find a high-quality screen recorder, you may confuse yourself about how many tools you can see in the market. So, this post will show you the best seven HD screen recorders to help you cut down the list.
The first HD screen recorder highly recommended by many professionals is AnyRec Screen Recorder. It is a lightweight desktop tool that offers an intuitive interface with various recorders on the main menu, including audio and webcam. It is designed for more straightforward navigation, which helps users to set up the video quality in 1080p and select the desired screen region to capture without breaking a sweat. AnyRec Screen Recorder is the ideal HD screen recorder for Windows and macOS.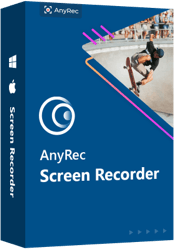 AnyRec Screen Recorder
Record all screen content with full screen or selectable screen region, which is customizable depending on the user's preference.
Support MP4, MOV, WMV, and WebM as output formats to save the video file in a standard container.
The Preference menu enables users to configure the video codec, resolution, quality, and audio settings.
Provide other features, including shortcut keys, screenshots, and a soundcheck system for audio.
How to use the best HD recorder:
Step 1.Click the Free Download button based on your device's OS. After downloading and installing, launch AnyRec Screen Recorder to begin screen recording. Click the Video Recorder button from the main, and then set up the tool.

Step 2.Click the Full button for a fullscreen recorder, or select the Custom option to choose a partial part of your screen. Don't forget to toggle on the System Sound to capture the computer's audio. The Microphone is optional if you want to add a voiceover while recording.

Step 3.Then click the REC button to start recording. The widget menu will appear on your screen, giving you options to pause, stop, take a screenshot, or draw on the screen. Click the Stop button with the Square icon when you are finished recording.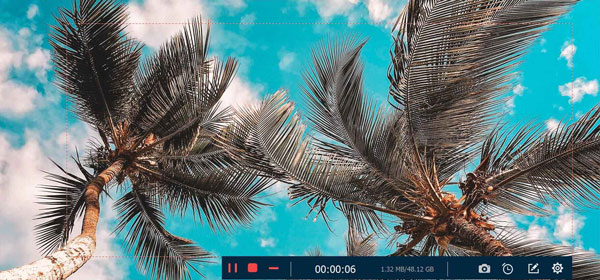 Step 4.Trim the video from the beginning to the end. Browse for the folder where you want to save the output. Finally, wrap everything up by clicking the Save button. You can watch the video from the designated folder or on the Recording History option in the software.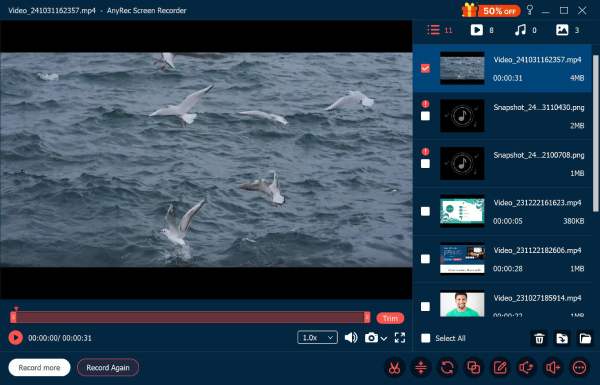 2. Bandicam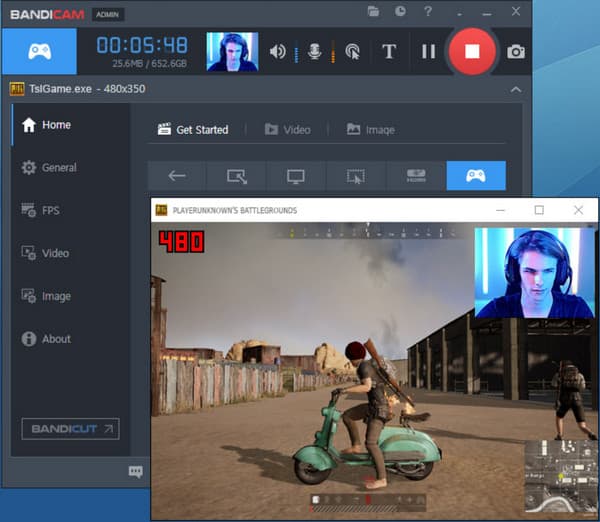 Bandicam is a powerful HD screen recorder that allows you to capture 1080p to 4K UHD video with higher FPS. It is suitable for gaming, tutorials, and external devices with configurable encoding and codec options in any preference you need. This screen recorder also enables capturing games that use OpenGL, Vulkan, or DirectX graphics technologies.
Features:
◆ Provide various recorders like webcam and game recorder.
◆ Real-time drawing to use during recording.
◆ Support recording audio and voice at the same time.
◆ Enable users to set a specific time to record.
3. Ezvid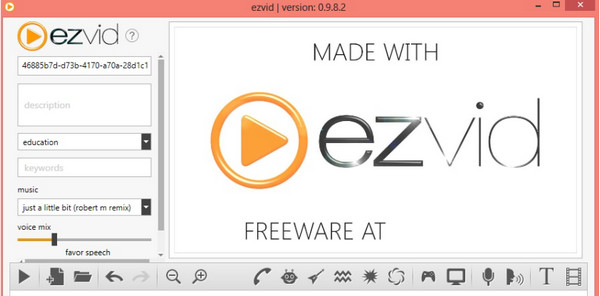 If you want to invest in a heavily packaged HD screen recorder, Ezvid is the one for you. It makes the screen capturing more fun with its features, while you can rely on its fast saving process. Another beautiful thing about Ezvid is you can download the screen recorder with any kind of version of Windows.
Features:
◆ Built-in video editor and slideshow maker.
◆ High-resolution with incredible sharpness.
◆ Enable editing the playback speed and apply elements like text.
◆ Use the latest C++ binaries to utilize modern core CPUs and video cards.
4. Snagit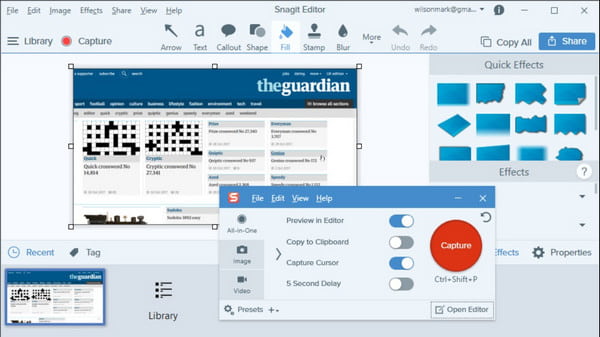 An exceptional high-quality screen recorder allows you to capture video and take a screenshot. It is best to record online meetings and complex discussions, whereas you unlimitedly record them in good resolution. Snagit provides a way to instantly share images and videos through Microsoft Office, Gmail, etc.
Features:
◆ Add context with templates and presets.
◆ Support output formats like MP4 and GIF.
◆ Sync recorded videos for fluid transfer in devices.
◆ Offer essential tools like trimmer and cropper.
5. OBS Studio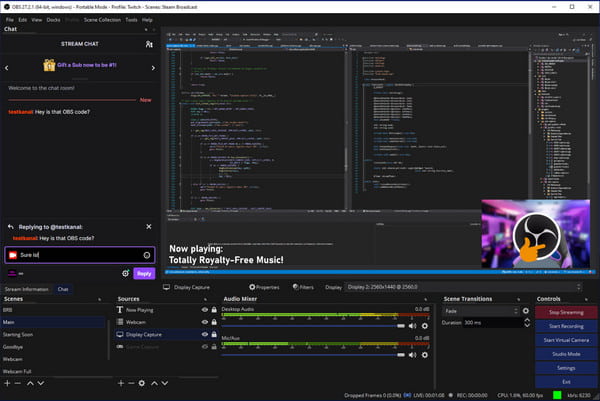 This HD screen recorder is one of the well-known software on the internet. Although its interface is intimidating and only produces high-quality clips, you can download OBS Studio for free. It is open source, so you can configure its system for better recording quality. As it is cross-platform, you can install this screen recorder on Windows, Linux, and macOS.
Features:
◆ Suitable to screen record live stream and podcast with 1080p.
◆ Provide real-time audio mixers.
◆ Open multiple sources while recording.
◆ Allow users to customize with 20 plug-ins.
6. Icecream Screen Recorder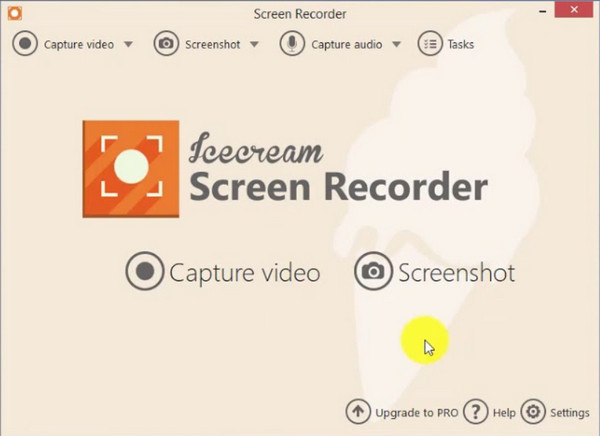 Suppose you need a quicker way to record your screen; this HD screen recorder is for you. Unlike the first professional screen recording software, Icecream Screen Recorder gives you the simplest way to capture high-quality video. It also allows you to record external devices such as smartphones and webcams.
Features:
◆ Helpful switch control from control to PC desktop.
◆ Support output formats like MOV and WMV.
◆ Editing features are available after recording.
◆ Take multiple screenshots at once.
7. CamStudio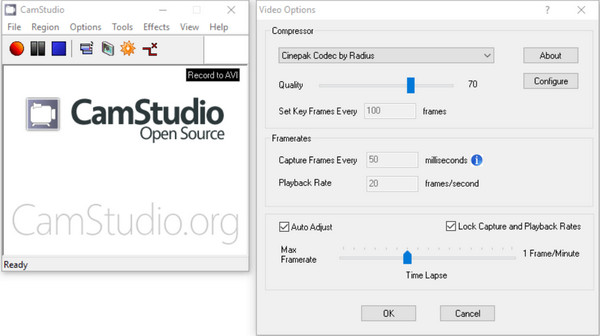 Since its first release in 2001, CamStudio has gained popularity as an HD screen recorder. It provides standard capturing tools and adjustable portions to capture full or partial parts of the user's screen. CamStudio is the perfect fit if you are recording for long hours.
Features:
◆ Support capturing with webcams.
◆ Smaller file size.
◆ Create standard AVI using its built-in SWF producer.
◆ Provide an Annotation feature during recording.
Part 2: FAQs about HD Screen Recorder
Is 1080p a big file size?

If you are using an HD screen recorder to capture a video on 1080p, the possible file you can get is 50MB per minute. Unless you have a huge storage space and an updated device, you can store a considerable file size in good resolution.

What is the recommended resolution other than 1080p?

If you want good quality for your videos, the recommended resolution is 720p with 60 to 120FPS. These are enough to produce a recorded clip through a screen recorder. It is also an excellent method to save some storage space if running out.

Does Windows 10 have a default screen recorder?

Yes, Windows 10 has a built-in screen recorder which is Xbox Game Bar, that is perfect for gamers to record games on Xbox or PS. You can personalize the tool as much as possible, including its main interface, shortcut keys, and other settings. To activate it, go to the settings and search for Game Bar. Toggle on its button to enable its features.
Conclusion
HD screen recorders are way more beneficial when making tutorials or recording discussions. While you can produce high-quality videos, it is best to learn the key features of the software you choose. AnyRec Screen Recorder is the best-recommended desktop tool you can rely on for excellent video quality. Create the best screen-captured video with AnyRec Screen Recorder today!
Related Articles