Top 10 Most Recommended Video Quality Enhancers [Windows/Mac]
You downloaded a video from the internet, but the video quality gets lower when you open it, and it tempts you to delete it. Or you want to upload a video clip on your social media accounts but it is shaky. You just need video quality enhancers to fix these common issues that happen anytime. A professional video quality enhancer can modify the low quality of the downloaded videos and even the recorded ones. Find the best tool fitting for you by continuing reading.
Part 1: The Ultimate Video Quality Enhancer [Resolution, Shakiness, etc.]
The first tool to introduce is AnyRec Video Converter which has a powerful video quality enhancer for all your video files with low quality. It has AI Technology to improve video quality so you can share them on any social network with perfect resolution. Moreover, this tool allows you to edit the video setting to make it a smaller file size. With this video quality enhancer, you can enjoy watching movies and making creative video recordings.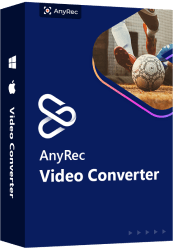 Other features of the Best Video Quality Enhancer on Windows/Mac:
Upscale resolution, optimize brightness, reduce video shakiness, and noise.
Process enhancing video in any file format with high resolution.
50x Faster improving the speed powered by GPU acceleration.
Offer other features like volume booster, 3D Maker, Video Compressor, etc.
Step 1.Download the powerful video quality enhancer on the official website and launch it on your device. Click the Toolbox option on the top menu to start enhancing the video. Choose the Video Enhancer, among other options. Click the Plus button and browse your folder for the video file you want to improve.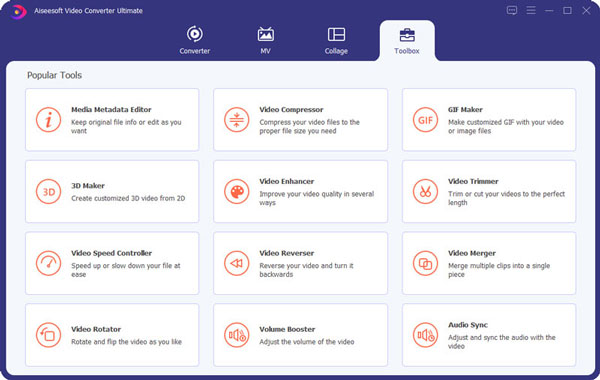 Step 2.Once the file is uploaded, the enhancement tool will appear. Click the Upscale Resolution button to enhance the video file. Also, you can use other tools like Optimize Brightness and Contrast or Remove Video Noise option.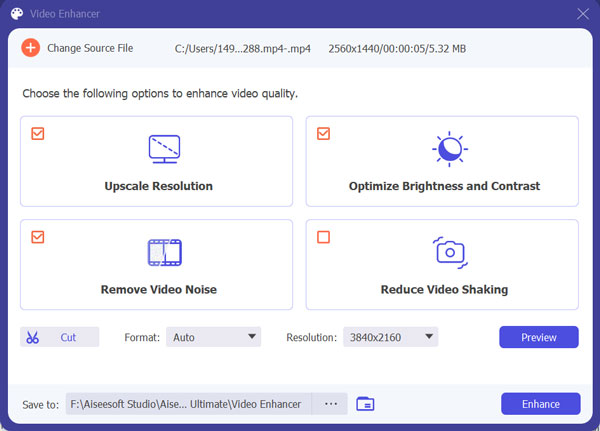 Step 3.If you want to trim the video file, click the Cut button, and another pane will show. Move the Trimmer to cut the unwanted parts. Click the Save button to go back to Video Enhancer. Once everything is done, click the Preview button to watch the first 10 seconds of the enhanced video file.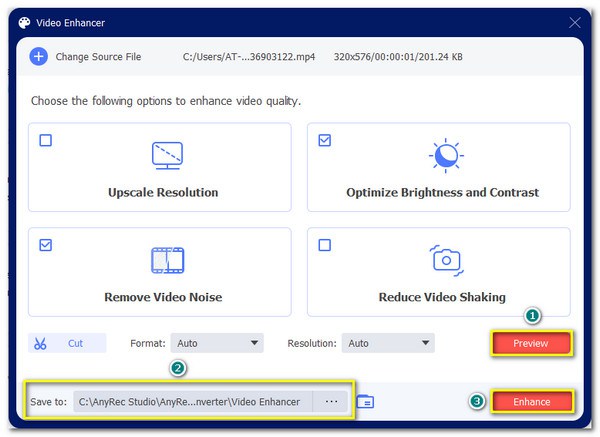 Step 4.If you are satisfied with the changes, browse the Save To option to choose the designated folder for the file to be saved. Then, proceed to click the Enhance button in the video quality enhancer to improve the video file. The desired folder will appear with the enhanced video file once the process is finished.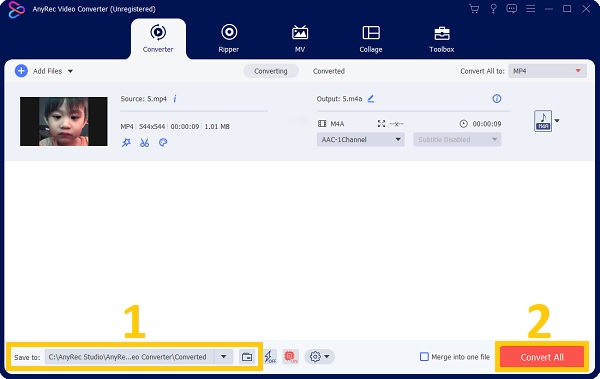 Part 2: Top 9 Video Quality Enhancers for Windows/Mac
Video Quality Enhancers are all over the internet. Even with one search on your browser, you can easily find this tool. However, not every video enhancer you encounter can promise a good result. So, to cut off short the long, long list, here are the top 9 video quality enhancers to enhance video quality via online and app.
1. Adobe Premiere Pro
Supported System: Windows, Mac
This professional video quality enhancer is the best motion graphics software as it removes camera shaking, adds transitions, adjusts timeline, and more. Premiere Pro is a robust tool that can turn raw captured footage into a magnificent video. You can also improve video resolution on Premiere Pro via the plugin.
Pros

Edit video files simultaneously.
Extend editing platform.
Manage curve adjustments.
Cons

The Paid version is not cheap.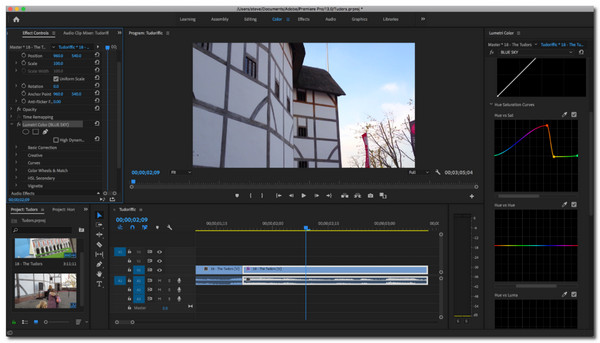 2. Avidemux
Supported System: Windows, Mac
This professional video quality enhancer is the best motion graphics software as it removes camera shaking, adds transitions, adjusts timeline, and more. Premiere Pro is a robust tool that can turn raw captured footage into a magnificent video. You can also improve video resolution on Premiere Pro via the plugin.
Pros

Support file formats like MOV, WMA, ASF, etc.
Equipped with task automation features.
Support batch conversion.
Cons

Only offer basic tools.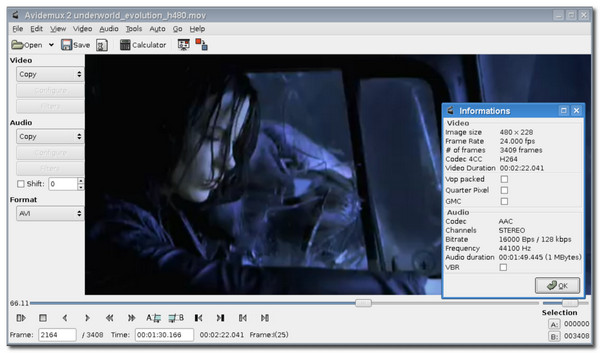 3. iMovie
Supported System: Mac
If you have Mac as your device, you can use iMovie as video quality enhancer. iMovie is a built-in tool for Apple users and improves video files with its professional tools. It enhances 4K video files by making the process easy by arranging clips on the timeline, applying background music, or inputting opening titles.
Pros

Free to use advanced tools.
Beginner-friendly.
Accessible on iPhone and iPad.
Cons

Not available on Windows.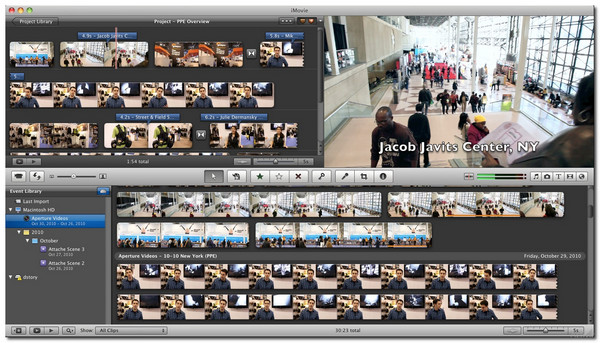 4. Pinnacle Studio
Supported System: Windows
Another user-friendly video quality enhancer is Pinnacle Studio. It offers a great-looking interface pack with essential tools to improve video quality such as transition, speed changer, adjusting lighting, and many more. Pinnacle Studio allows you to upscale 720p to 1080p resolution by giving you the detailed settings for the video.
Pros

Allow split-screen video.
Provide 360 video editing.
Contain 2000+ effects.
Cons

Only available on Windows system.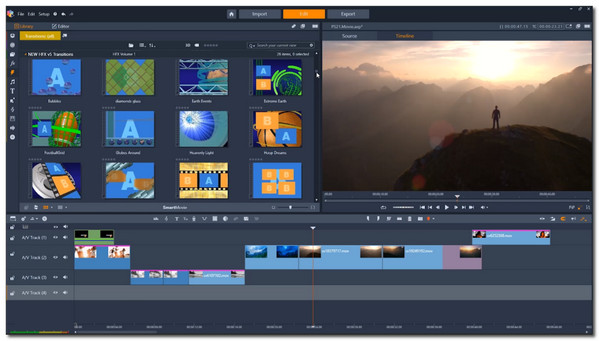 5. Lightworks
Supported System: Windows, Mac
The video quality enhancer has won multiple awards because of the unique features for free. Of course, you can use more cinema professional tools when you purchase the monthly license for only $24.99. Lightworks has been the best video enhancer for nearly 30 years, helping world-famous movie directors create well-known movies.
Pros

Support enhancing 4k videos.
Customizable keyboard shortcuts.
Offer Color LUT Boris FX plugins.
Cons

Restricted exporting in the free version.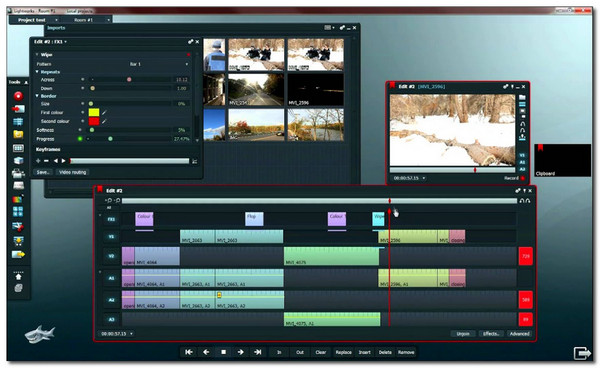 6. Final Cut Pro X
Supported System: Mac
Final Cut Pro is a powerful video quality enhancer that improves video files by offering massive effects for any video and audio editing. A non-linear 4K upscaling software allows you to sort out all multimedia files in its non-linear timeline. Moreover, Final Cut Pro has the most advanced camera editing tools to automatically sync up to 64 video angles in different frame sizes, formats, and more.
Pros

Support 4K, HDR, etc.
Offer 2D and 3D headers.
Fast video enhancing speed.
Cons

Not beginner-friendly.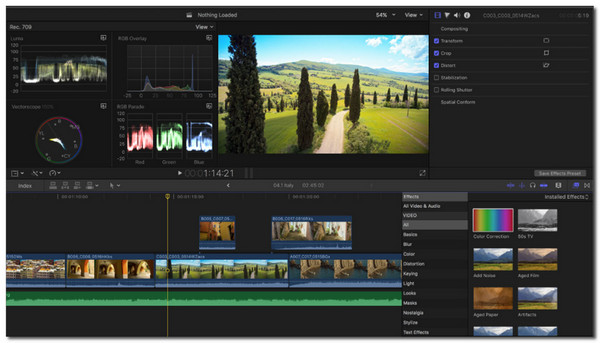 7. VideoStudio Pro
Supported System: Windows
VideoStudio Pro supports new video editing technology for you to use it as a video quality enhancer. You can also create professional movies as this tool can detect voices on the clips and turn them into subtitles. It also allows you to track specific elements in your video like bouncing a ball, license plates, and more.
Pros

Customize titles, graphics, etc.
Enable to correct color in clips.
Offer 1000+ effects and filters.
Cons

Outdated interface.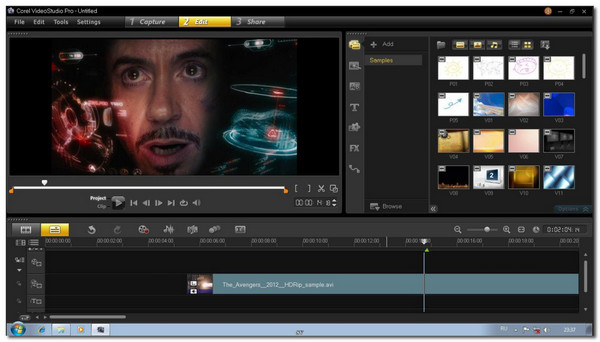 8. Vegas Pro
Supported System: Windows
This video quality enhancer makes the editing process faster while maintaining high video quality. Like Adobe, it offers powerful tools like Picture-in-Picture, Crop OFX plugins, and 26 effects to control colors in the videos. Although Vegas Pro is not popular like Premier Pro, you can still rely on its powerful functions.
Pros

Automatic tracking control to objects.
Simple edits and transitions.
Suitable for creating YouTube videos.
Cons

Sometimes crashes on simple projects.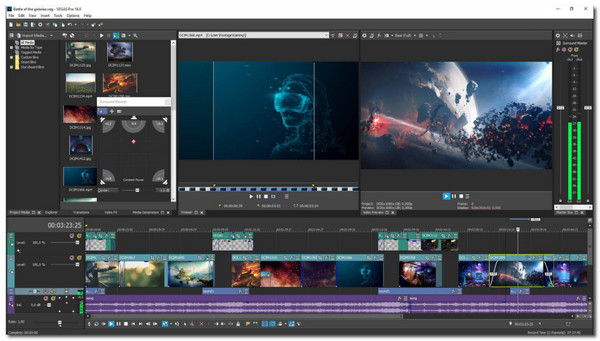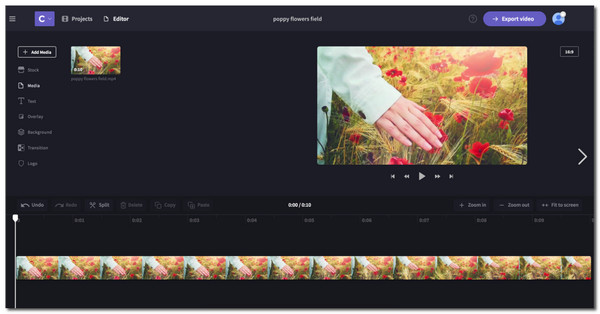 Part 3: FAQs about the Best Video Quality Enhancer
1. How to enhance video quality?

There are many ways to improve video quality and depend on your video file from what it lacks. For example, you can use upscale resolution if the video file is low quality. Or decrease the shakiness of a video. If there is one more, some video enhancer software offers automatic video enhancing.

2. Is there any video enhancer for Android/iPhone?

You can find a lot of free and essential video quality enhancers on both App Store and Google Play Store. The most used apps are PowerDirector Video Editor, 4K Video Editor, Remini – AI Photo Enhancer, and more

3. How to increase video quality in VLC?

Launch VLC on your device and go into the VLC settings. Choose a video file and click the dropdown list next to the Output option. Click the OpenGL option. This will help you increase video quality while watching a movie in VLC.
Conclusion
With the recommended video quality enhancers, you can improve the video resolution quickly. You' better use the best video quality enhancer - AnyRec Video Converter to achieve video resolution up to 4K! If you have more questions or suggestions, please contact us now!
More Related Articles