AZ Screen Recorder: Features, Pros, Cons, and Alternative for PC
The AZ Screen Recorder is specifically designed for the Android platform to record your screen. It is free and has all the features you want for a screen recorder. If you have the Lollipop or upper version, you can freely download the AZ Screen Recorder APK from the Google Play Store and use it to record a high-quality video on your phone. Other than being free, it does not limit you on the recording process and even doesn't add a watermark to your video. Capturing your best moments will highly be in good condition with AZ Screen Recorder. Let's continue talking about its key features, pros and cons, and best alternative.
Part 1: Main Features, Pros, and Cons of AZ Screen Recorder
◆ Screen record any activity you have on your phone's screen, including gameplay, video calls, and even the contents on social media like YouTube and Facebook.
◆ Provide a floating toolbar for easier access, and it remains active even during the video recording.
◆ It has additional drawing functions which allow you to annotate easily. This app also can be used while you are still recording your screen.
◆ It is one of the few apps in the market that can record internal audio only if you have Android 10.
Pros
Features offered are fully functional in the free version.
Great for recording tutorials, gameplay, and more in high quality.
It doesn't need to root your device.
Cons
Require a subscription on the pro version to remove advertisements.
Part 2: How to Use AZ Screen Recorder on Android [Detailed Steps]
As we have mentioned, AZ Screen Recorder is a powerful screen recorder and video editor for Android devices. Although it's easy to use, there are many additional features and settings to adjust your recording. Thus, you can still read the following tutorial to learn how to screen record on Android.
Step 1.At first, you can directly download it from Google Play or choose to install the AZ Screen Recorder APK from the official website.
Step 2.After that, you can launch the app on your Android phone. Then you will see an overlay icon with five buttons of different functions on the screen. Before start recording your screen through AZ Screen Recorder, you can tap the Video&Settings button to adjust the recording settings. In the popping-up app, you can change the video resolution, quality, frame rate, and more.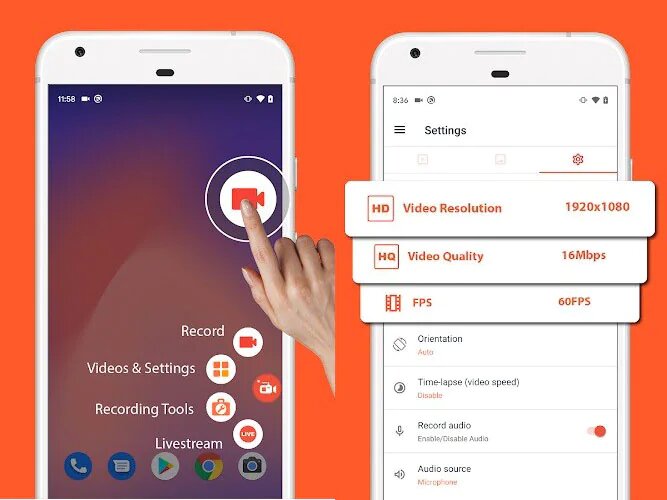 Step 3.Go back to the home screen without finishing the AZ Screen Recorder program. Then you can go the the desired video or app you want to capture. Tap the Record icon to start recording the whole screen easily.
Step 4.GOnce done, swipe down the control panel and tap the Stop button to save the video file on the program. Then you can choose to edit and download the recordings.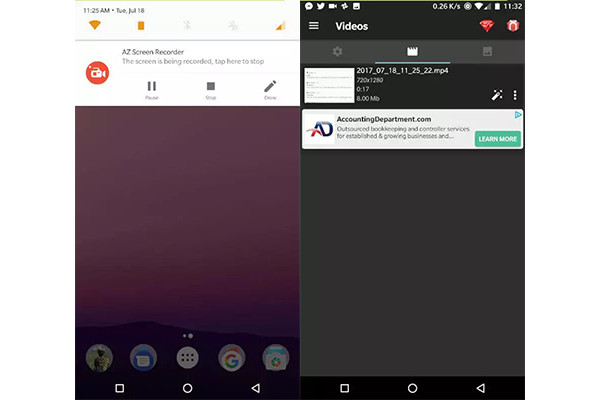 Part 3: The Best Alternative to AZ Screen Recorder for Windows/Mac
AZ Screen Recorder is a great video recorder for both smartphones. But how to use AZ Screen Recorder on computer? Relying on the best alternative to AZ Screen Recorder - AnyRec Screen Recorder is the best choice. This screen recorder offers you unique features to experience the best recording you could ever feel. It allows you to screen record with custom screen width or lets you select a window to capture. It gives you the freedom to have unlimited time to record and other tools to navigate its interface with ease, like keyboard shortcuts. Thus, AnyRec Screen Recorder is the best alternative to AZ Screen Recorder.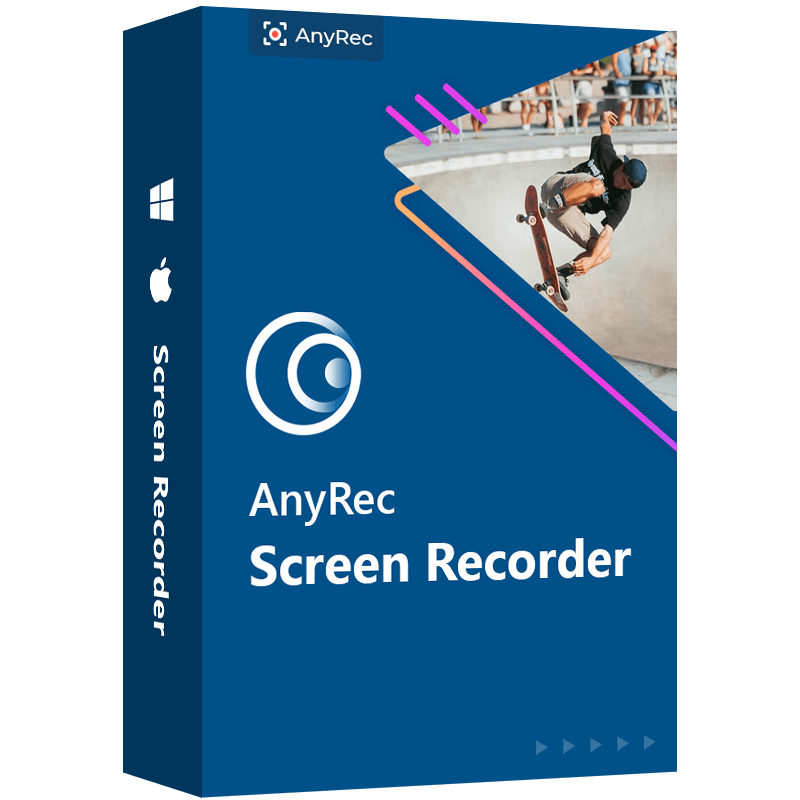 The Outstanding Features of AnyRec Screen Recorder on Windows/Mac:
Record video with internal sound external microphone for commentary.
Allow to customize the settings like video codec, quality, frame rate, etc.
Support exporting video formats such as MP4, WMV, MOV, and more.
Clip the video recording and save them without distorting the video quality.
How to record screen content with the best AZ Screen Recorder alternative:
Step 1.Launch it on your device to start the video recording after downloading the program. Select the Video Recorder in the menu to customize the settings.

Step 2.Choose between Full or Custom for screen area you want to include or input the exact width in the empty boxes. Ensure that both System Sound and Microphone are toggled on if you're going to have audio to your video.

Step 3.Once everything is set up, click the REC button to capture your screen content. A widget toolbar will appear, and it will give you options like pausing, stopping the video, taking screenshots, and even having a drawing tool to draw any part of the screen.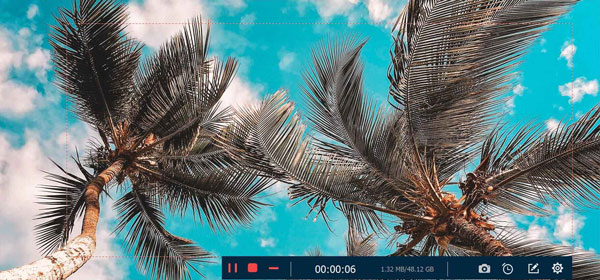 Step 4.Once you are done recording, click the Stop button, and a preview of the recorded activity will appear. You can trim the video, rename it, and save it to your preferred destination folder.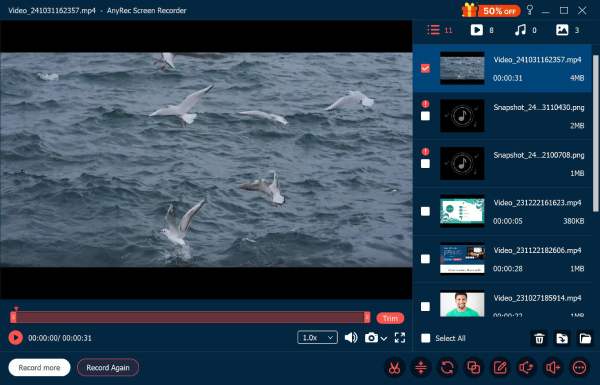 Part 4: FAQs about AZ Screen Recorder Review
1. Is AZ Screen Recorder safe to use?

Definitely yes. AZ Screen Recorder ensures that making awesome videos with this app is on complete security that you need to utilize your device. Moreover, it has its policy, code, and conduct that it strictly follows for the users' safeness.

2. Can I use AZ Screen Recorder for a WhatsApp call?

Yes. If you have the app downloaded on your device, just open it to make the floating toolbar appear. Then launch your WhatsApp application, start a call, then just tap the recording button. WhatsApp doesn't have a built-in recorder, but it allows third-party tools to screen record.

3. Can I use AZ Screen Recorder on iPhone?

No, you can't. AZ Screen Recorder is very powerful, but it's only for Android phone. If you want to screen record on iPhone, you can choose the built-in screen recorder in the control panel or find third-party apps on App Store.
Conclusion
To end with a blast, AZ Screen Recorder is a great application you can download on your phone and computer. It gives people tremendous help who want to record quickly, especially beginners. But for Windows/Mac users, you can use the best alternative for AZ Screen Recorder - AnyRec Screen Recorder. Try the software's free trial version to have a better experience in video recording! If you have questions, feel free to contact us.
Related Articles