Top 10 Working Hidden Voice Recorder App that Doesn't Miss a Sound
Audio Recording has been one of the central features of your mobile devices. However, there might be cases that you need to find a working hidden voice recorder with the best clarity and behaves unsuspiciously. In such a niche market, you might have tried a lot of apps that are either outdated or have serious functionality flaws. In this article, we will list the top 10 choices of spy audio recorder apps for Android and iPhone, as well as the best options if you are using a desktop computer.
Part 1. Top 10 Best Hidden Voice Recorder for Android
1.High-Res Audio Recorder
It allows you to discreetly start recording by customizable hand gestures. Supported exporting formats include WAV and OGG. Freely available for download on Google Play Store.
2.Voice Button Recorder
Press the Volume button of your Android Device to launch a secret recording. Its Free version has most of the functionalities, but it also provides an ads-free Pro version.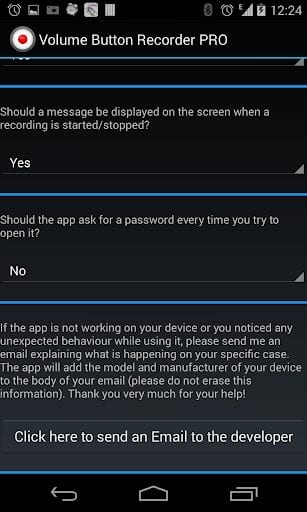 3.Background Recorder
Great spy voice recorder app for Android. All you need to do is long pressing on the volume button for the app to run in the background.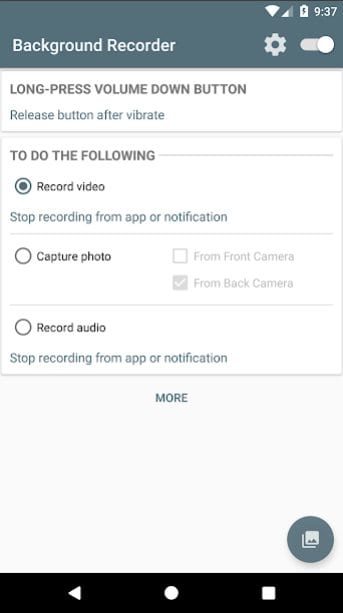 4.GOM Recorder
Sophisticated Voice and hidden voice recorder app. Set your recording timer in advance, which perfectly fits for recording meetings.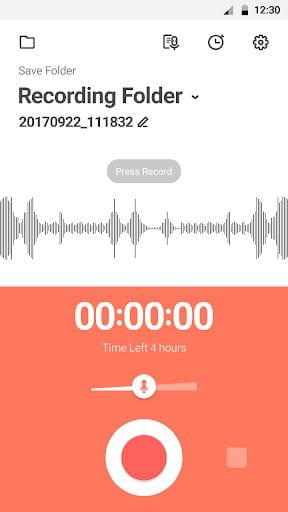 5.Voice Recorder - Scheduled Timer Audio Recorder
Another app allows you to schedule a recording time a priori. Freely available to download on Google Play.
6.Silent Witness Hidden Voice Recorder
This app behaves like a true spy voice recorder. After clicking on the Recording button, the app will automatically black out and runs in the background secretly. You would also be able to set up an encryption password.
7.sCalc – Camouflaged Audio Recorder
Masked as a legit Calculator App, you would secretly record voices without any suspicions from the surroundings.
8.Easy Voice Recorder
Best for recording high-quality sounds for business meetings and musicians, Easy Voice Recorder is available on Google Play for Free.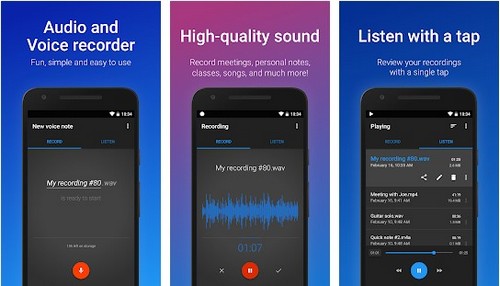 9.Automatic Call Recorder
This app is dedicated to recording phone calls. Compare to other hidden voice recorders, it comes free of charge and its features are so plenty of a pleasant surprise.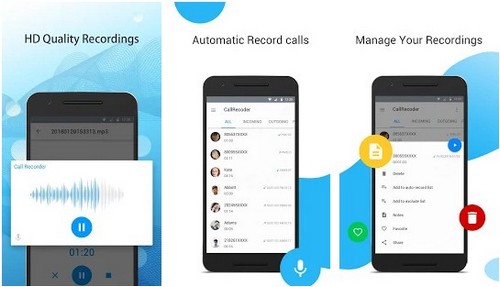 10.Amazing MP3 Recorder
Another hand gesture recording app. Easy to use with customizable hand gestures and launch as a spy voice recorder.
Part 2. Discrete Record Voices on iPhone with the Voice Memo App
If you want to find a working secret voice recorder app on iPhone, you are kind of out of luck if you are searching for an Android app equivalent. Apple sets its own rules for iOS apps and there is no way you would be able to find an app that would discreetly start recording by double-pressing your volume button. However, you would still be able to find a work-around.
How to Use iPhone Voice Memo as a Hidden Voice Recorder
Step 1.Open your Voice Memo App beforehand.
Step 2.Tap on the red circle record button to start a recording
Step 3.Close your screen by clicking on the power button once. Now you would use your iPhone as a hiden voice recorder.
Step 4.Tap on the stop button to stop recording. Your recordings are saved to your iPhone automatically. If you already had your iCloud account set up, the recordings would be synced to your iCloud as well.
Step 5.You might need to edit your audio track and clip out chunks of unwanted parts.
Part 3. Record Voice with Free Online Audio Recorder
If you want to find a good spy audio recorder, a web-based audio recorder could be your ideal choice, preferably free. AnyRec Free Online Audio Recorder is the choice that you couldn't miss. Beyond just a regular online free voice recorder. Here is a step-by-step guide instructing you how to use it as a hidden voice recorder:
Step 1.Visit the official webpage of AnyRec Free Online Screen Recorder. Click on the Record for Free button.
Step 2.You would be instructed to download a plugin to proceed. After installation, a control panel window would pop up. Click on the Audio Recorder option.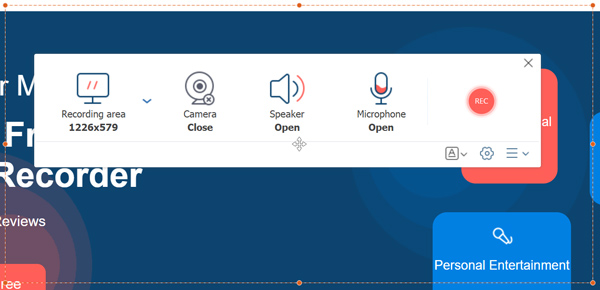 Step 3.Click on the Microphone option to enable your recording. If necessary, turn on the Camera option to capture your webcam footage.
Step 4.Click on the REC button to start capturing audio. After the recording is finished, click on the REC button once again to stop. Your recordings will be automatically saved to your Documents folder.
Part 4. Record Voice with the Best Professional Software
On the PC/Mac platform, you might need a good recording tool as your spy voice recorder app. Consider AnyRec Screen Recorder as your go-to choice. It covers most of the functionalities of which you might need. Furthermore, as a professional sound recording tool, it gives you more powerful tools with great flexibility such as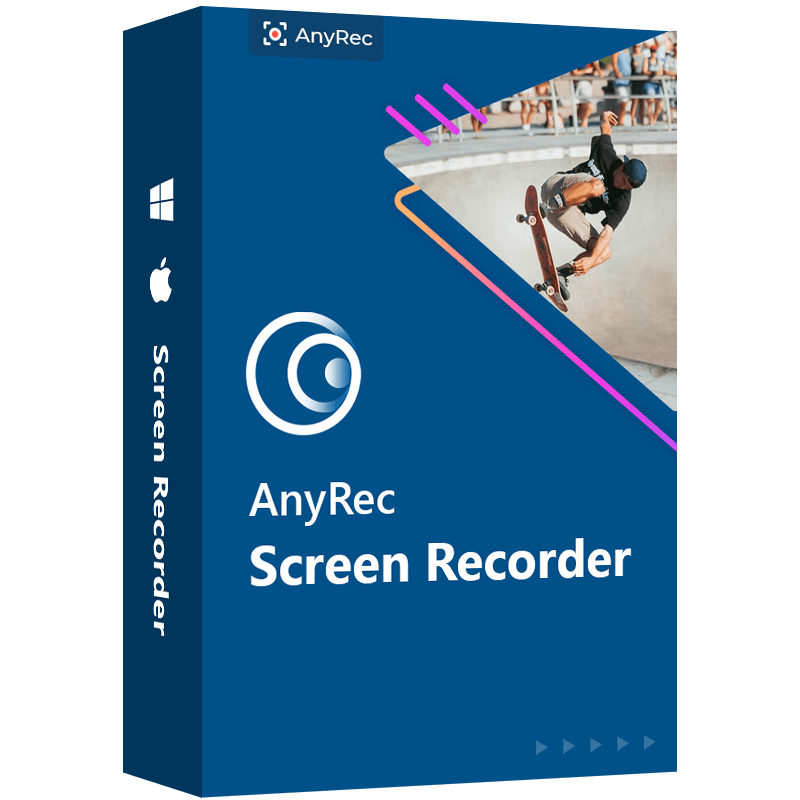 AnyRec Screen Recorder
Record voice and narration
Record Zoom/Skype/Facetime video conferences
Record with external devices such as headphone and USB mic
Easily export to your desired format
No recording time limit
Simple file management
Step 1.Download and install AnyRec Screen Recorder on your computer. On the main screen, click on the Audio Recorder option.

Step 2.Turn on the Microphone option to start recording from your Mic voices. Alternatively, if you need to capture your soundcard audio, turn on the System Sound option to proceed.
Step 3.Click on the REC button to start recording. A soundwave would be available on the left side of your screen indicating the soundtrack is being captured.

Step 4.After the recording is finalized, click on the REC button again. You could save the captured audio clip to your disk.
Part 5. FAQs about Hidden Voice Recorder
1.Is it legal to use a hidden voice recorder without other people's knowledge?

Depends on the law specific to your location. In the US, Federal Law requires any secret recordings has consent from at least one party of the conversations. However, details of the related laws vary from state to state.

2.Is there an iPhone tweak to start recording audio in the background like a spy audio recorder?

No, unless you jailbreak your iPhone. For security reasons, we wouldn't recommend this method, you might take your own risk.

3.Is there an inconspicuous hidden voice recorder for stuffed animals you would recommend?

All the apps listed in our article are proven working and tested. However, we strongly recommend you to be aware that if it is if it's legal in your jurisdiction beforehand.
Conclusion
In this article, we have listed and analyzed some proven working and useful hidden voice recorder apps free of charge for Android & IOS users. Whenever you wish to make a discrete recording, easily pick one of the options we listed above and give it a quick test run. Wish you would find the best option for a hidden voice recorder app that fits your need perfectly!
Related Article