Unbiased Review of Dxtory Screen Recorder: Features, Pros, and Cons
Dxtory Video Recording Software is a famous game recorder, and it also supports recording videos and taking screenshots. It's mainly used to capture videos on DirectX and OpenGL directly and quickly without losing too much quality. So, how about recording gameplay through Dxtory Screen Recorder?
With its customized recording settings, you can set the maximum 120 fps to capture gameplay on high-end computers. But is Dxtory Video Recording Software good for low-end PC? Does it provide a free trial? Can I use it to capture any screen on my computer? This article will tell you all about Dxtory Screen Recorder. Please keep reading and learn more!
Part 1: Main Features of Dxtory Video Recording Software
1.Record gameplay and movies with audio
As mentioned before, Dxtory Video Recording Software is designed for capturing gameplay and recording movies from DirectX and OpenGL. And it will automatically recognize the recording region when you start a game or movie. It's very convenient, but it also means you can't capture meetings or websites on your computer. It also supports recording audio tracks from the system sound and microphone.
With customized settings, you can adjust the video codec, frame rate, quality, etc. Moreover, the clipping size enables you to change the margin and value with a selected region.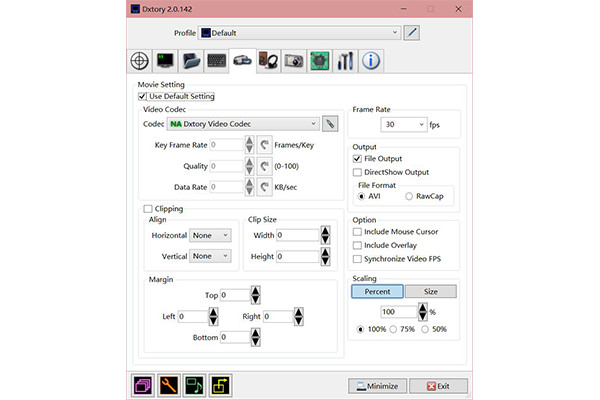 2.Overlay to show FPS and other parameters
Dxtory Video Recording Software also provides an overlay setting to show the recording information while capturing the screen. You can choose to show the FPS, video length, file size, bitrate, and more parameters over the screen. Moreover, the position and color of the layout can be adjusted easily and freely.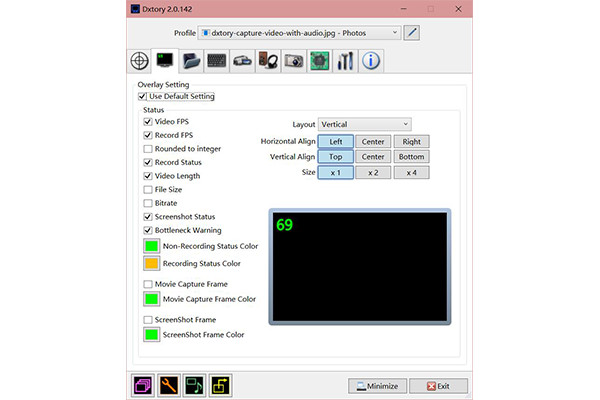 3.Hotkeys to record or take screenshots
Hotkeys are the basic functions for screen recorder, Dxtory Screen Recorder also has multiple shortcuts. You can start/stop the recording, take screenshots, hide/show the fps overlay, and start your microphone to talk easily.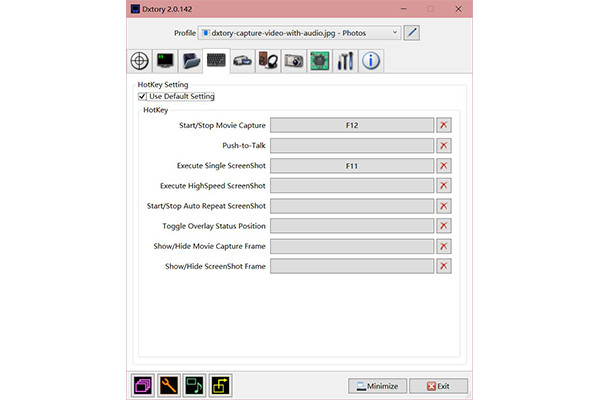 Part 2: Overall Review of Dxtory Screen Recorder: Pros and Cons
Pros
• 7Able to change the video and audio settings before recording.
• Provide a high frame rate and quality to capture without much quality loss.
• Advanced settings to improve CPU and GPU processing.
Cons
• Difficult to use with an outdated and complex interface.
• Only support exporting videos to AVI format.
• Difficult to adjust the selected regions to capture movies.
• Unable to capture any screen on your computer.
• Limited features and time for the free version.
• Problems in syncing audio and video on many platforms.
Overall Review: 4/5
Operating System: Windows 10/8/7/Vista/XP
In general, Dxtory Video Recording Software is a powerful movie and gameplay recorder with many customized settings and high quality. With the CPU acceleration, it's also provided on low-end PC. The most problem is that Dxtory Screen Recorder can't record any screen with the desired region freely.
Part 3: Best Alternative Screen Recorder to Dxtory Video Recording Software
Although Dxtory Video Recording Software is powerful, you need to rely on AnyRec Screen Recorder to capture all the things on your screen on Windows/Mac. In addition to multiple recording settings, it also provides editing tools to take notes, task schedule to set time in advance, etc.
Pros
• Record any screen with the full-screen, selected regions, or certain windows.
• Provide all popular video, audio, and image formats to export.
• Able to adjust the recording quality, frame rate, and resolution freely.
• Additional editing tools to add annotations with shapes, lines, etc.
Cons
• Limited recording time for the free trial.
How to record gameplay through the ultimate alternative to Dxtory Video Recording Software:
Step 1.Free download and launch AnyRec Screen Recorder on Windows/Mac. It provides 6 modes to capture your screen. Click the Video Recorder, Game Recorder, or Audio Recorder on the main interface according to what you want to capture. You can also take screenshots and record your mobile screen after connection.

Step 2.In the next page, you can choose to record the full screen or click the Custom button and choose the desired region freely. Don't forget to turn on the Microphone and System Sound if you want to record your voice.

Step 3.Click the Record Settings icon to adjust the video format, quality, frame rate, etc. Thus, you can also export recordings in high quality as Dxtory Video Recording Software. Then click the OK button and go back to the main interface. Click the REC button to start recording.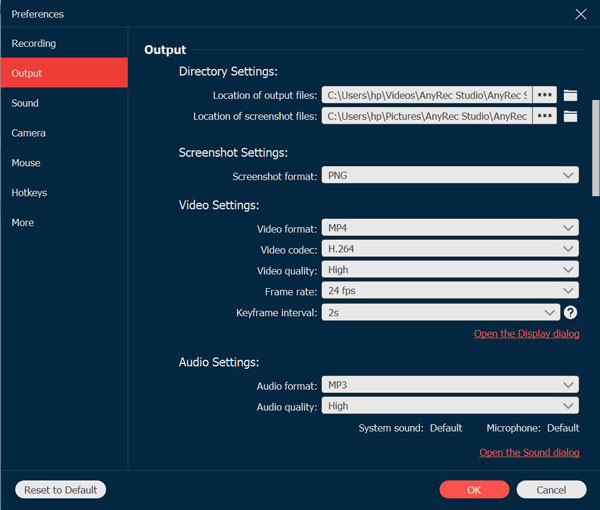 Step 4.After the toolbox pop up, click the Stop icon at any time to finish the recording through this alternative to Dxtory Screen Recorder. Then clip the recordings and click the Save button to export them.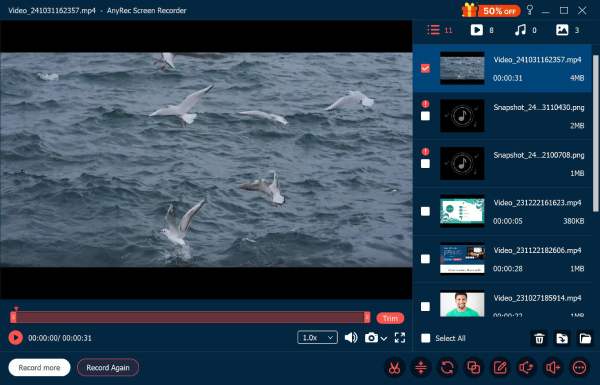 As one of the best screen recorders with no lag, AnyRec Screen Recorder will provide the best recording experience for you.
Part 4: FAQs about Dxtory Video Recording Software
1.Why does Dxtory not work when I play the gameplay?

Normally, Dxtory will recognize the gameplay automatically. If there's no response after you start recording, you can try restarting your gameplay or the screen recorder.

2.Can I export the recording from Dxtory Screen Recorder to MP4?

No, you can't. All the recordings captured by Dxtory are saved in AVI format. And there's no option to change the video format. You can rely on the best alternative - AnyRec Screen Recorder to capture video in MP4.

3.Does Dxtory Video Recording Software cause lags?

Sometimes yes. Although it provides CPU and GPU acceleration for recording videos smoothly, the recordings may be played with lags on other platforms. You can try converting the video formats.
Conclusion
This article has introduced Dxtory Video Recording Software from all aspects. If you'd like to record movies on DirectX/OpenGL, it must the be the best choice. But to record meetings, gameplay, or any other screen on your computer, AnyRec Screen Recorder will meet all your requirements. If you have other questions, feel free to contact us.
Related Article