The Difference Between VP8 and H.264 and How to Convert Them
The most popular video codec includes VP8 and H.264, and there is always a debate about which is better than these two video codecs. VP8 is mainly for WebM videos with a smaller size and faster loading speed. While H.264 is always used in MP4, MKV, MOV, and other video containers. And the latest iPhone 14 has already uses this video codec. Don't worry, this article with tell you the actual differences between VP8 and H.264 codecs so that you can choose your video codec as you like.
Part 1: What are VP8 and H.264 - Brief Introduction
What is VP8
VP8 is an open video compression format released in May 2010.
VP8 only supports progressive scan video signals with 4:2:0 chroma subsampling and 8 bits per sample. In its first public version, On2's VP8 implementation supports multi-core processors. Compared with H.264, VP8 has a comparatively lower resolution. The format features a pure mode, i.e., using only independently coded frames without temporal prediction, to enable random access in applications like video editing.
What is H.264
The H.264 project intended to create a standard to provide good video quality at lower bit rates than previous standards without increasing design complexity so much that it would be impractical or costly to implement. This was achieved with many features such as a reduced-complexity integer discrete cosine transform, variable block-size segmentation, and multi-picture inter-picture prediction.
An additional goal of H.264 codec was to provide enough flexibility to allow the standard to be applied to a wide variety of applications on a wide variety of networks and systems, including low and high bit rates, low and high resolution video, broadcast, DVD storage, RTP/IP packet networks, and ITU-T multimedia telephony systems. H.264 is typically used for lossy compression, although it is also possible to create truly lossless-coded regions within lossy-coded pictures or to support rare use cases for which the entire encoding is lossless.
Part 2: VP8 VS. H.264: Comparison between These Two Codecs
There are so many differences between these two files, and there is a table about VP8 vs H.264. You can learn more about the quality, usage, and compatible video formats, etc.
| | | |
| --- | --- | --- |
| Features | H.264 | VP8 |
| Compatible Video Formats | MP4, MOV, AVI, MKV | Mostly are used in WebM format. |
| Quality | Relatively high quality with the maximum 2K resolution. | 20–30% lower quality on average. |
| File Size | Larger than VP8, but still small enough for saving. | Smaller than most files, which provides a faster loading speed. |
| Supported Player | Almost all media player on Windows, Mac, Android, iPhone, and other portable devices. | Playable on browsers with HTML5 player.Professional video players. |
VP8 also shows a 5–25 times lower encoding speed when comparing the encoding. For example, x264 High-Speed preset is faster and has higher quality than any of the VP8 presets on average.
VP8 has almost no hardware acceleration, so it uses more CPU in some cases. H.264 has hardware acceleration on Apple devices including iPhone 14, PCs, and all Android phones like Samsung, Sony. As for Google Chrome, it doesn't really use H.264 in WebRTC. So VP8 is actually the more widely used on websites.
Part 3: How to convert VP8 to H.264 with Higher Compatibility
The comparisons between VP8 and H.264 have been listed above; you can choose which video codec meets your requirements. And if you want to convert one video codec to another, you can use AnyRec Video Converter to make a conversion between the video codecs.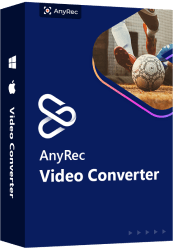 AnyRec Video Converter
Convert video formats while changing the detailed video codec as you like.
Able to convert M4A to MP3, MP4 to WAV, MOV to GIF, MKV to MP4, and much more.
Support high quality, including HD, 4K UHD, 5K, and even 8K with high quality.
Change video quality, encoder, resolution, frame rate, bitrate, and other settings.
Step 1.Click the Add Files button to import your video or audio files. Or you can drag and drop your files into the main interface.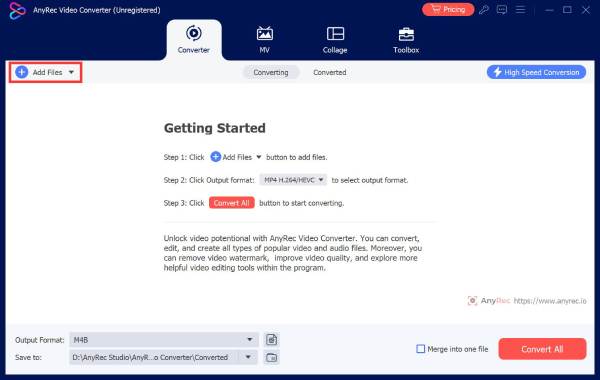 Step 2.Click the Convert All to button from the top right corner to select which output format you choose. You can also click the Format icon on the right side of your video/audio file.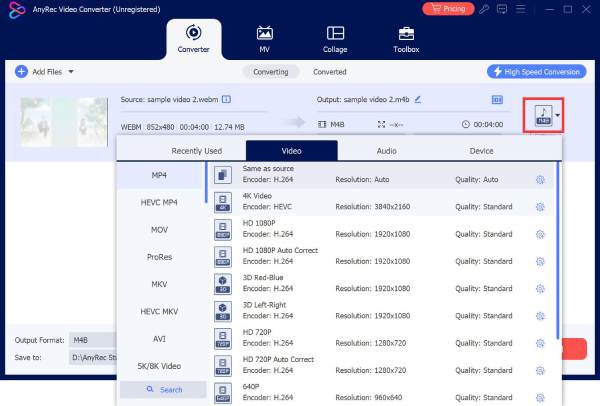 Step 3.And you can adjust the video encode in the adjust tab, you can click the Custom Profile button. It locates on the right side of this format profile. In the Edit Profile window, there is an encoder option which you can adjust the video encode.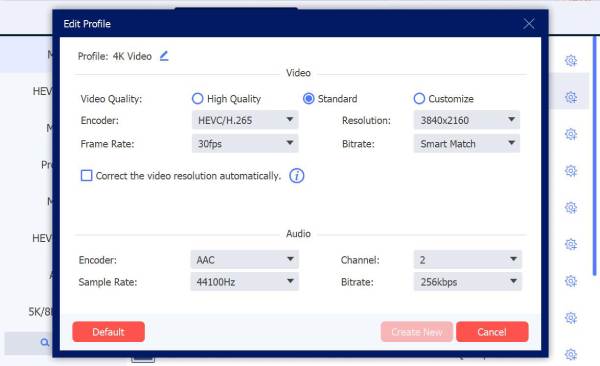 Step 4.After that, go back to the main interface and click the Convert All button to start converting between H.264 and VP8.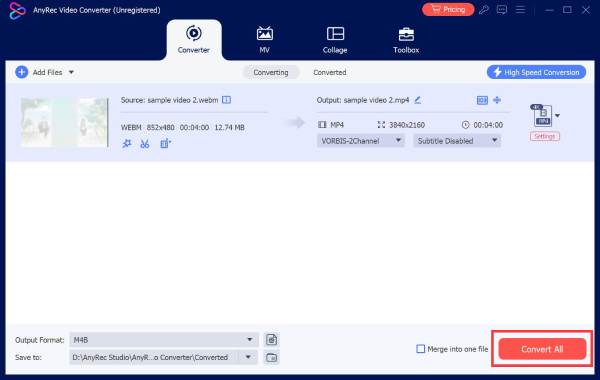 Part 4: FAQs about VP8 and H.264
What is a video codec?

A video codec is a hardware or software that compresses and decompresses digital video, to store and distribute the videos more accessible.

Which one has a larger file size of VP8 and H.264?

Compared with the bitrate and the resolution, the file size of H.264 is larger than the size of VP8. That's because H.264 videos always have higher quality.

Can I have a patent issue of VP8 and H.264?

No, you will not have a patent issue. Even though VP8 claims that its patent is free, VP8 has copied too much about the technology of H.246. And H.246 claims that developers can use H.264 free based on the International Organization for Standardization.
Conclusion
After the comparison of VP8 and H.264, you can see that H.264 encoded with the latest x264 offers notably higher quality while encoding almost twice as fast as VP8 encoded with the latest Libvpx offering. For better video quality, H.264 is a better video codec, even on the latest iPhone 14 and Samsung Galaxy. And if you want to change the codec of a video, AnyRec Video Converter would be a better choice for you to use.
Related Articles