MKV VS. MP4 Comparison: What Are the Differences between MKV and MP4
You can check all the videos saved on your computer now and will find that most videos are encoded by MKV or MP4 extension. Whether you download videos from the Internet or take videos from cameras, MP4 and MKV always appear in your daily life. But why are most movies saved in MKV format, and some MKV files can't be played on your computer? What are the differences between MKV and MP4 formats? Which format should you choose to store videos?
This article will introduce these two video formats in detail with the definitions and features, and you can learn more about the comparison between MKV and MP4 formats. Moreover, this post will also help you convert video formats for different usages.
Part 1: MKV VS. MP4: Brief Introductions to MKV and MP4 Formats
1. What is MKV?
MKV, Matroska, is a free and standard multiple container format that contains several videos, audio files, subtitles, and even chapter information. It can be seen as a versatile container format because almost all the file formats can be saved in MKV format. Thus, it can support high-quality encoders, but at the same time, some uncommon codecs can't be played by the default video players on your computer.
2. What is MP4?
Just like MKV, MP4 (Moving Picture Experts Group 4) is also a powerful video container format that includes audio, video, image, and subtitle files. With fewer encoders in it, MP4 format can be played on any device, including portable devices and computers. Thus, it is commonly used to save videos and stream videos on websites.
Part 2: Differences between MKV and MP4: Which One is Better?
After the brief introductions to MKV and MP4 formats, you have learned that they are both container formats to save multiple files with different encoders. And that's the main difference between MKV and MP4. You can directly know more about the detailed features, compatibility, and usages of them in the following table.
Container Format
MKV
MP4
Video Formats
Almost all, including XviD (for DVD files), VP9 (high quality), etc.
MPEG, H.264/x264, H.265, HEVC
Audio Formats
Almost all, including the FLAC with lossless compression
AC3, AAC, MP3
Compatibility
Most professional video players
All the media players, including the default players on the computers and mobiles
Usage
For saving HD movies/videos and ripped Blu-ray files with multiple languages
For saving videos in small sizes with relatively high quality; For uploading and spreading videos.
Pros
High quality.
Supports all codecs.
Provides different subtitles in multiple languages.
High compatibility
Easy to spread on the Internet.
Relatively small size.
Cons
Large file sizes.
Need professional players.
Limited video and audio codec.
Part 3: The Ultimate Guide to Convert between MKV and MP4 for Better Playback
To play videos on your computer smoothly, you transfer MKV format to MP4 through Video Converter. Besides, it also supports converting MP4 to MKV format to enhance the video quality. With this powerful video converter, you can manage your videos for your computer and mobiles better.
Best Software to Convert between MKV and MP4 with High Quality
1. Transfer files between MKV and MP4 formats with simple steps.
2. Support more than 1000 formats to import and export.
3. Customize the detailed video settings, including the encoder, quality, etc.
4. CPU acceleration to deal with a batch of videos quickly at the same time.
Step 1.Free Download Video Converter on your Windows/Mac and install it. After launching, click the Add Files button on the main interface to choose the desired video files. You can also drag and drop the MKV videos you want to convert to MP4 to this video converter.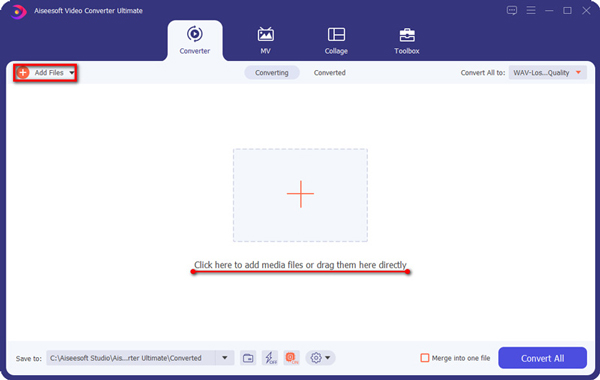 Step 2.Click the Convert All to menu at the top-right corner and choose the Video list. Then you can choose the desired video format, including MKV and MP4 formats from 1000+ choices. And you can select the original resolution to keep the high quality. By clicking the Custom Profile icon, you can further adjust the video codec, frame rate, etc.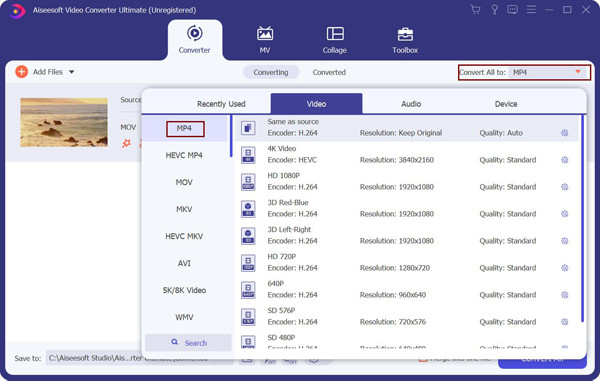 Step 3.After saving the settings and going back to the main interface, you should choose the desired storage path. At last, click the Convert All button to start converting between MKV and MP4 formats.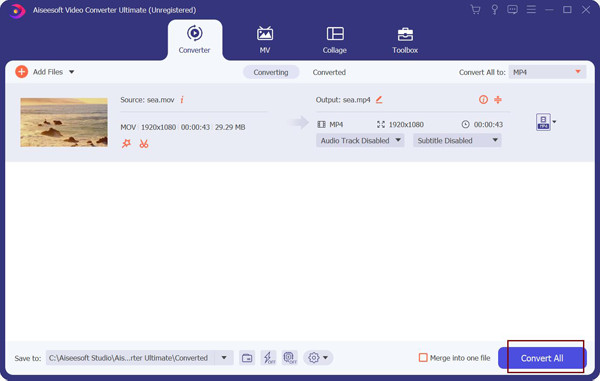 Part 4: FAQs about MKV and MP4 Formats
1. Does the MKV format have higher video and audio quality than MP4?

Not certainly. As mentioned in this article, MKV and MP4 are both container formats that support multiple video formats. Thus, the video quality depends on the contained video formats and codecs. For example, Xvid and VP9 codecs for MKV format have better quality than MP4.

2. MKV VS. MP4: Which one is better for playing videos on my phone?

MP4 is the best video format for saving and playing videos on your mobile phone. That's because it has high compatibility with all the devices. Thus, you can convert any video to MP4 format through Video Converter to play on phones.

3. Can MKV videos be played by Windows Media Player?

Some MKV videos can be played by the default Windows Media Player, but some can't. It is mainly caused by different codecs. Uncommon video codecs, such as Xvid, are not supported by WMP.
Conclusion
MKV VS. MP4, which one is better? After reading this article, you have known the definition, features, pros, and cons of MKV and MP4 formats. As for whether MKV is better than MP4, it depends on the situation and usage. Generally speaking, MKV has higher quality for saving movies. And MP4 is more used for easy spreading and playback. For different usages, you can also transfer files between MKV and MP4 formats through Video Converter. Welcome to contact us and ask questions.
Related Article