Get to Know More About AAC VS. AC3: Which is the Best for Music?
Listening to music is one of the coping mechanisms of the people nowadays. When you listen to music, you may find AC3 audio files provide surround sound, which is better than AAC format. However, what about the sound quality and file size of AAC and AC3 formats? This post will tell you all the things you need to know about AAC vs AC3 and will help you find your answer. Moreover, you will be able to learn about what their differences are. Please continue reading the article to get more information.
Part 1: AAC VS. AC3: Brief Introductions to AAC and AC3 Audio Formats
First and foremost, you have to know what AAC and AC3 are. Of course, you know that these are audio formats, but this article will explicitly explain their definition for you to have deep knowledge about AAC and AC3.
1. What is AAC?
AAC, Advanced Audio Coding, was developed in collaboration with Nokia, Dolby Laboratories, AT&T-Bell Laboratories, and Sony Corporation. This audio format is a lossy digital audio compression technology that is a successor to MP3 but outperforms it in terms of performance. And it was created exactly with the goal of improving the compression strategy for creating MP3 files with higher quality.
Furthermore, this format was approved by MPEG in both its MPEG-2 and MPEG-4 specifications. The AAC format, which is also the default audio format for iPhone, iTunes, iPad, PlayStation 3, YouTube, and iPod, is now supported by new audio devices and media players.
2. What is AC3?
The AC3 file extension is used for surround sound audio files on DVDs. Dolby Laboratories created AC3, also known as Audio Coding Version 3. Moreover, AC3 is an audio compression method that stores audio in a lossy format. Originally, AC3 was commonly employed in the 5.1 acoustic channels, much like Dolby Pro Logic from the previous generation. In line with that, AC3 can support up to six channels, with Dolby Pro Logic handling the mix surround channel.
AC3 is a common format for laserdiscs and DVDs with bit rates ranging from 384 to 448 kbps. Furthermore, it is used for 640 kbps films. The AC3 Dolby Digital format is almost exclusively used with video, and encoding or decoding it sometimes necessitates the use of specially licensed software or hardware.
Part 2: AAC VS. AC3: Get to Know the Differences between AAC and AC3
After knowing what AAC and AC3 are, you will now know how they differ from each other. The AAC format is a part of the MPEG-4 standard, and creates compact digital audio files in order to store a larger number of audio files in less space while maintaining sound quality. AAC may typically create frequencies ranging from 8 to 96 kilohertz. On the other hand, AC3 will provide a higher quality for Dolby Digital-compatible amplified theater system. See the table below to further and easily understand AAC and AC3 differences.
AAC
AC3
Bit rate
8 – 529 kbit/s
32- 640 kbit/s
Sample rate
8 to 192 kHz
32, 44.1, 48 kHz
Output Quality
Better Sound Quality
Lower Sound Quality
Supported Operating Systems
Compatible with Windows, macOS, iOS, Android, Linux, etc, and it is widely used in digital television, radio, and internet streaming.
It is widely used in cinema, TV transmission, radio broadcast via satellite, digital video streaming, DVDs, Blu-ray discs, and game consoles, and it is supported on Windows, Linux, and iOS.
Pros
A wide range of sample rate: 8000-96000 Hz
Open and high-quality ones.
Audio files are small digital audio files.
AAC audio files work with a wider range of devices and players.
For high-quality audio, AC3 is commonly used in HDTV, DVD, and Blu-ray.
Has full-range channels, and the sound quality is noticeably superior.
Works with older versions of Windows.
Cons
Many portable players (that only support LC) will be unable to play these valid AAC files
Maximum support for 5.1 channel audio CDs, with Digital Dolby, restricted to 448 kbps.
Part 3: The Ultimate Way to Convert between AAC and AC3 for Playback
For some circumstances, you want a smaller digital audio size and you are using your smartphone in listening to your favorite music. You have to convert your audio into AAC format for it allows you to have a compact digital audio size and this format is compatible with a wide range of smartphones. On the other hand, if you are using a DVD player in listening to your favorite music, you have to convert it to AC3 for it allows you to have high-quality sound on DVD and Blu-ray. Therefore, to help you solve your problem, you may need to download Video Converter to convert between AAC and AC3 formats. Rely on the following steps below to be guided well in converting your audio.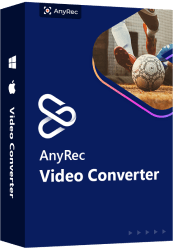 Outstanding Tool to Convert Between AAC and AC3:
Capable of converting any audio file to 300+ different formats, such as AAC and AC3.
Any video or audio file can be converted without sacrificing much quality.
Able to change the audio channels, sample rate, bitrate, etc.
You can also input multiple audio files with no file size limit for quick batch conversion.
Steps to Follow:
Step 1.Install the Video Converter on your device and start it up. After that, click the Add File button to start adding your files. You may also drag and drop all of your audio into the software.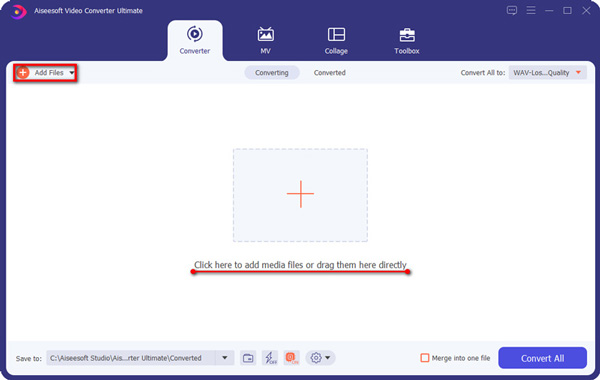 Step 2.After the files have been added and displayed on the software interface, select the target format. Select the Convert all files to button on the top right-hand side. A new pop-up window will appear on the screen. Select AAC or AC3 from the list of formats under the Video tab. You can also choose the file's resolution.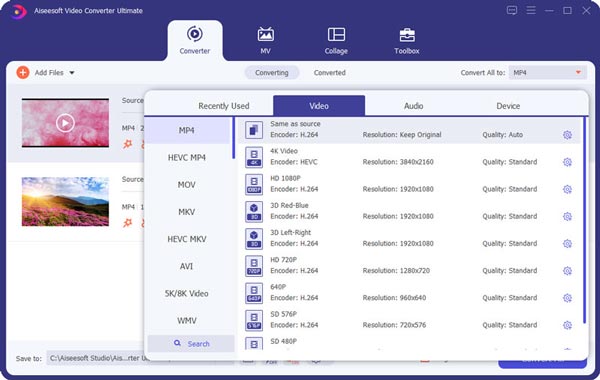 Step 3.Finally, on the bottom bar, click Save To button to choose a location for the converted files. Then, on the main screen, click the Convert All button to begin converting on your computer.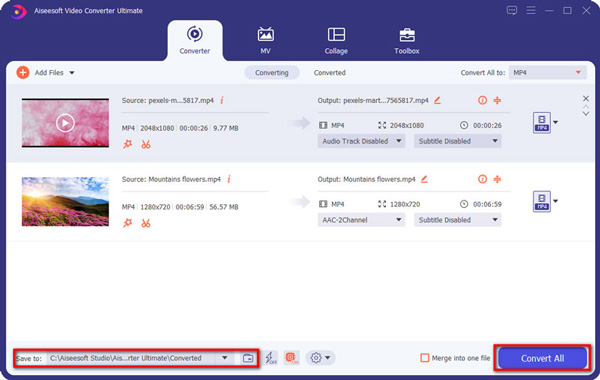 Part 4: FAQs about AAC and AC3 Audio Formats
1.Is AAC better than MP3?

Even though AAC uses lossy compression, it provides greater quality than MP3 at the same bitrate. At the same bitrate, MP3 has lower quality than AAC.

2.What is the difference between AAC and AC3?

AAC format allows you to listen to your favorite music using your smartphone with a smaller file size. While AC3 is a file format that allows you to have high-quality sound on DVD and Blu-ray.

3.Is AAC stereo surround sound?

AAC is the audio standard for DVDs and the American digital TV audio standard, and it provides 5.1 surround sound (ATSC 2.0).
Conclusion
Written above is detailed information about AAC and AC3. We provided their definition, differences, pros, and cons. Moreover, we have given the best tool for you to convert your files to AAC or AC3. Now, it is your turn to share your ideas with the world.
Related Articles