M4A vs. MP3– Great Details about Compatibility, Pros, Cons, How-to
Everyone enjoys music, podcasts, and other kinds of audio, but some people are unfamiliar with the audio formats. If you ever need to convert audio files, you must learn the most popular ones– M4A and MP3. These two formats can change the information of a soundtrack, and before you regret mistaking the output format you should've used, this guide will distinguish M4A vs. MP3 and which is better for conversion.
Part 1: M4A vs MP3, Which is Better
M4A and MP3 are differentiated in this part to see how they can contain information from audio files. This will help to learn more about the two formats before converting your songs to another format.
1. What Is M4A
Apple introduces M4A to differentiate MPEG-4 audio tracks from MP4. As it was not popular enough, the company started using the format in iTunes and iPod. M4A uses MPEG-4 technology in terms of compression while encoded with a lossy AAC compression or lossless ALAC in other settings. The best part of the audio format is that users can't find the quality loss because of the sample block and stationary signals.
Pros

It's possible to use it as an iPhone ringtone right away.
It's simple to share audio over the internet without having to worry about it being protected.
Audio quality is improved while the file size is reduced.
Cons

Except for Apple devices and players like VLC, it isn't commonly supported.
Digital Rights Management is not supported.
2. What Is MP3
MP3 is universally supported by programs and devices, making it the most used audio format. MP3 has the capability to reduce the file size of a CD track by removing information that is unnecessary for the user. With its perceptual coding, reducing size will not affect or compromise the quality. And for this very reason, MP3 has been in the market for a very long time.
Pros

The use of a portable media player has become possible because of this file format.
By increasing the bitrate, you can improve quality while also increasing the file size.
The file size is substantially lower than that of a CD, making it easy to stream.
Cons

It is not comparable to CDDA or other uncompressed formats.
Not every MP3 files are of high quality.
Because it can eliminate individual audio, it has resulted in music piracy.
3. What is the Difference Between M4A and MP3?
Even if M4A and MP3 are both audio formats, there are huge differences you should know. The first one is device compatibility. M4A is a newer audio format, while MP3 has gained support from devices, so accessing it is not impossible. However, M4A is highly compressed with good audio quality, making MP3 inferior in terms of quality and file size. The former audio format can be an excellent alternative to MP3 because of its tighter compression with high-quality sound. The only problem is if M4A will be compatible with your device.
| | | |
| --- | --- | --- |
| | M4A | MP3 |
| Output Quality | Higher Sound Quality | Lower Sound Quality |
| Output File Size | Occupies Less Space | Occupies More Space |
| Audio Compatibility | Limited Audio File Format | Highly Compatible with Other Devices |
| Supported Operating Systems | iPhone, iPad, iPod, and other Apple devices;Apple Music, iTunes, and QuickTime;VLC, Windows Media Player, and more. | Practically all media players and devices |
To summarize, when it comes to sound quality, M4A is much better than MP3 since M4A produces a higher quality sound plus it occupies lesser space than MP3 does. However, when it comes to compatibility, MP3 is highly compatible with almost all devices. Thus, these two have their advantages and disadvantages.
Part 2: How to Convert M4A to MP3 (or MP3 to M4A) on Windows and Mac
M4A is an awesome audio format to store your soundtracks, but it is not a good idea for device compatibility. So, the only solution for this is AnyRec Video Converter to convert M4A to MP3. The desktop software offers a powerful converter that supports various input formats like MP3, AAC, WAV, M4A, etc. It allows you to convert audio files to the desired output format with device presets like Samsung, LG, Lenovo, Android, and iPhone. Download the best audio converter for Windows and macOS.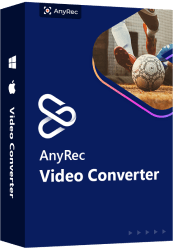 AnyRec Video Converter
Convert and edit M4A to MP3 audio files with multiple tools.
50x faster speed with no file size limit. Support batch conversion.
Get volume booster, audio compressors, and more tools from Toolbox.
Keep adding new audio editing tools and fix bugs.
Step 1.Download and install the software by clicking the Download button. Once done with the prompts and the converter is launched, click the Add button to upload M4A files. You can also import a whole M4A folder for batch conversion. Click the drop-down list on the Add Files menu in the top left corner.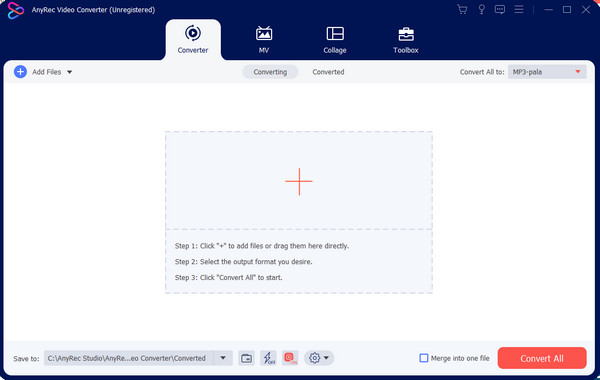 Step 2.After uploading the files, go to the Format menu and head to the Audio section. Select the MP3 option from the list. If you have multiple M4A files to convert all to MP3, head to the Convert All To menu and select the desired format for a more straightforward setup.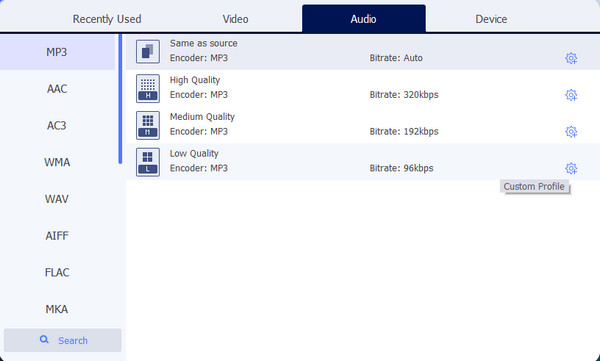 Step 3.To see and change the output settings, click the Custom Profile button with the gear icon. You can rename the file and change the encoder, sample rate, channel, and bitrate. Click the Create New button to save and apply the changes.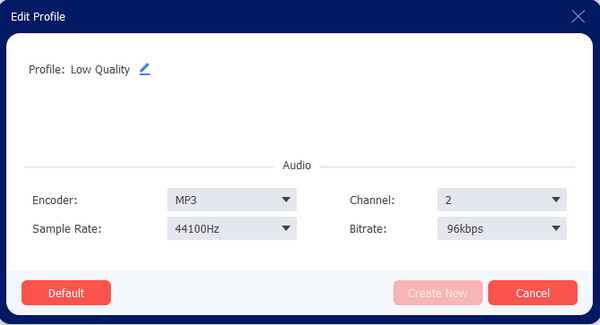 Step 4.Choose the designated folder for the converted files on the Save To menu, located on the bottom part of the main interface. Lastly, click the Convert All button to start the conversion. You might need to wait for a couple of minutes before the audio conversion is done.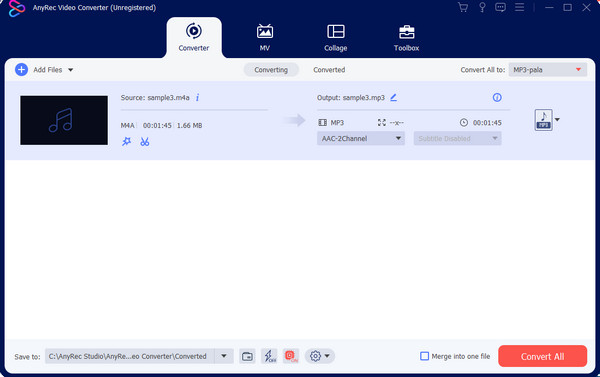 Part 3: How to Convert M4A to MP3 (Or Reversely) for Free
Alternatively, AnyRec Free MP3 Converter Online can convert M4A to MP3. The web-based converter provides the best quality for your audio files, while you can also choose other output formats like MP3, M4A, AC3, WAV, and FLAC. Even though this online converter is free, no registration is needed, and it is 100% free. Convert more audio files on AnyRec Free MP3 Converter with no maximum file size limit.
Features:
Excellent alternative for accessible conversion of M4A to MP3 online.
Intuitive website interface while clean from advertisements and pop-ups.
Support batch conversion for multiple audio files with various formats.
Guarantee of high quality after using the online MP3 converter.
Step 1.Visit the website and click the Add Files to Convert button. There is a prompt for AnyRec Launcher; click the Download button. Once installed, click the main button again to upload the audio file.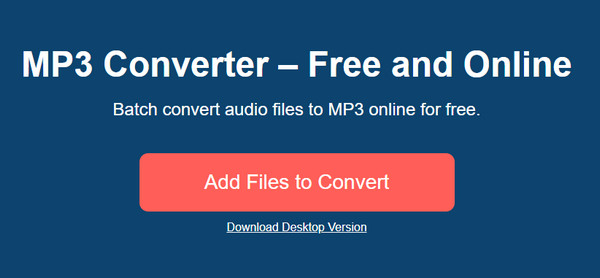 Step 2.The output format is selected automatically, but you can change it anytime. For more audio settings, click the Settings button with the gear icon to edit the audio encoder, channel, bitrate, sample rate, and bitrate. Save the changes by clicking the OK button.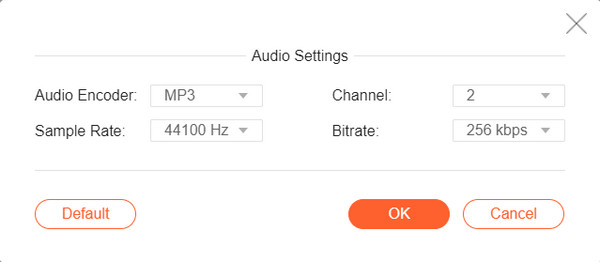 Step 3.Back from the main menu, click the Convert button to turn M4A to MP3 audio. You may repeat the procedure to convert another audio file. If you haven't downloaded AnyRec Video Converter, click the Install Desktop Version button at the bottom part.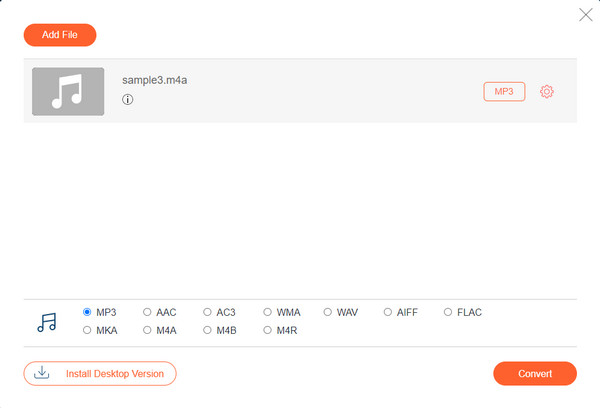 Part 4: FAQs about M4A and MP3
M4A VS. MP3: Which offers a better sound quality?

M4A has greater sound quality, whereas MP3's audio quality is usually enough for casual listening, especially at higher bitrates.

Can I use M4A audio to an Mp4 video?

Yes. You can use a soundtrack with M4A on an MP4 video clip. You may need a powerful video editor that supports the audio format. For this matter, it is suggested to use AnyRec Video Converter.

Is it possible to convert M4A to MP3 on my smartphone?

Yes. There are many converters you can find on Google Play and App Store. You can try M4A to MP3 Converter by SmartApps38, M4A Converter, and more. Additionally, you can also use an online converter for your M4A files.
Conclusion
M4A and MP3 are audio formats but have different settings for storing audio information. While M4A has a better sound quality and smaller file size than MP3, the latter is more accessible and supported by programs. That's why you might need to change M4A to MP3, and AnyRec Video Converter is the recommended tool. Try the free trial version now to experience the best service!
Related Articles