M4A vs. MP3 - That's All Differences We Found
The majority of the individuals prefer to listen to their favorite music on a daily basis, but only a few know the distinction between audio formats. Technically, there are different types of audio formats that perform differently depending on their types such as M4A and MP3.
First and foremost, you must realize that these are two separate audio formats that are utilized for different purposes. Before you even consider how to convert between M4A and MP3 formats, you must first understand the differences between these two formats. And so, in this article, we will give you a comparison of M4A vs. MP3. You will also know which format is better for you.
Part 1: M4A VS. MP3: Brief Introductions to M4A and MP3 Formats
1. What is M4A?
M4A is an abbreviation for MPEG 4 Audio, a compressed audio file in the MPEG-4 container format. This file format is most commonly used to store video and audio as a digital multimedia container format. Moreover, M4A is a file format used by Apple users who obtain audio files from sources other than iTunes. So, because this format is not protected with no purchase restriction, you have limitless access to the collection of M4A audio format files. Furthermore, M4A has higher audio quality but occupies less space on your storage.
2. What is MP3?
MP3 is an abbreviation for MPEG-1 Audio Layer III. It is a digital audio codec or method for compressing and decompressing digital audio. As a file format, it commonly refers to files that contain an elementary stream of MPEG-1 Audio or MPEG-2 Audio encoded data but do not include any of the complexities of the MP3 standard. Moreover, MP3 support has remained nearly universal since the introduction of portable media players, a product category including smartphones.
Although this file format is similarly limited to audio exclusively, it has grown in popularity. It came to the point where every iPhone user downloads files in MP3 format since it allows users to share them across several devices freely. They are also relatively easy to keep due to their small size.
Part 2: M4A VS MP3: Differences between M4A and MP3 Formats
Though M4A and MP3 are both audio formats, they differ from each other. Find out from the tables below their differences.
| | | |
| --- | --- | --- |
| | M4A | MP3 |
| Output Quality | Higher Sound Quality | Lower Sound Quality |
| Output File Size | Occupies Less Space | Occupies More Space |
| Audio Compatibility | Limited Audio File Format | Highly Compatible with Other Devices |
| Supported Operating Systems | iPhone, iPad, iPod, and other Apple devices;Apple Music, iTunes, and QuickTime;VLC, Windows Media Player, and more. | Practically all media players and devices |
Detailed Features about the M4A Format:
Pros

It's possible to use it as an iPhone ringtone right away.
It's simple to share audio over the internet without having to worry about it being protected.
Audio quality is improved while the file size is reduced.
Cons

Except for Apple devices and players like VLC, it isn't commonly supported.
Digital Rights Management is not supported.
Specific features about the MP3 Format:
Pros

The use of a portable media player has become possible because of this file format.
By increasing the bitrate, you can improve quality while also increasing the file size.
The file size is substantially lower than that of a CD, making it easy to stream.
Cons

It is not comparable to CDDA or other uncompressed formats.
Not every MP3 files are of high quality.
Because it can eliminate individual audio, it has resulted in music piracy.
To summarize, when it comes to sound quality, M4A is much better than MP3 since M4A produces a higher quality sound plus it occupies lesser space than MP3 does. However, when it comes to compatibility, MP3 is highly compatible with almost all devices. Thus, these two have their advantages and disadvantages.
Part 3: How to Convert between M4A and MP3 for Different Usages
For instance, your audio format is not compatible with your device, you can convert it into MP3 for it is compatible with almost all devices. On the other hand, if you are an Apple user, and you want a higher quality sound, you have to convert your audio format into M4A. Thus, you need AnyRec Video Converter to make it happen. The following steps will help you in converting audio formats into M4A or MP3 file formats.
The Best Audio Converter to Transfer between M4A and MP3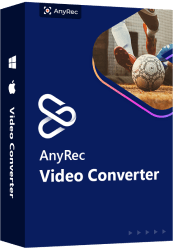 AnyRec Video Converter
Convert any video or audio file without losing too much quality.
With CPU acceleration, you can convert large batches of data quickly.
Able to further adjust the audio sample rate, channel, and bitrate.
Support almost all the popular video and audio formats, such as M4A and MP3.
Steps to Follow:
Step 1Download and launch the Video Converter to your device. After registration, you can now add your files by clicking the Add File button. You can also drag all your audio directly to the program.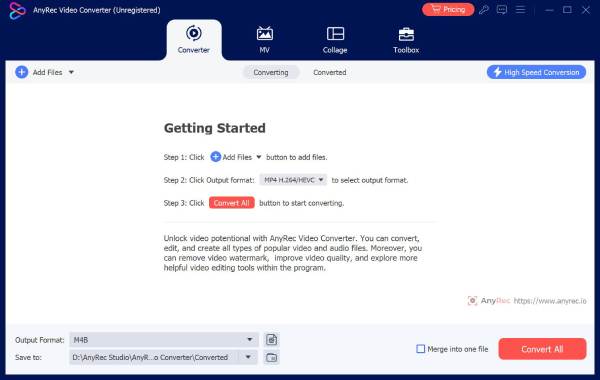 Step 2After that, you can listen to the audio by clicking it. You may also modify the audio from the playing interface. You can trim or edit your audio by clicking the Cut or Edit buttons. To see what you can obtain, go here.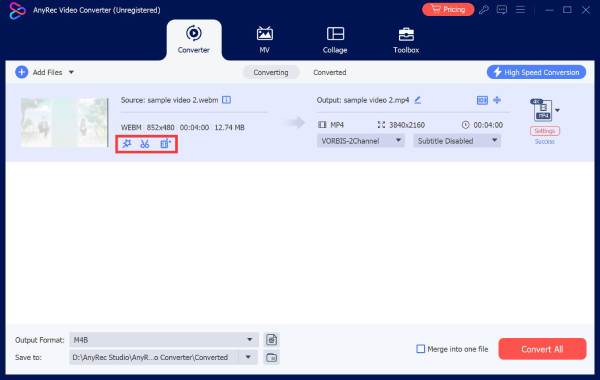 Step 3Click the Convert All to button to start converting between M4A and MP3 formats. After that, you will see a list of settings. Select a preset and change the profile settings to fit your needs. Click the gear Settings button on the right to custom profile if you want to change the detailed format options. You can adjust the settings, including the resolution, frame rate, quality, etc.
Step 4On the bottom bar, choose a location for the converted files. Then, on the main screen, click the Convert All button to begin converting on your device.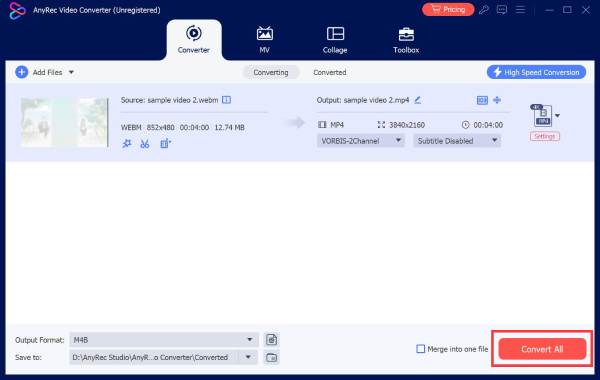 Part 4: FAQs about M4A and MP3 Audio Formats
1. Is M4A better than MP3?

M4A and MP3 have a lot of similarities. However, M4A provides a higher-quality audio format, even at smaller file sizes. At the meanwhile, MP3 is significantly more device-compatible.

2. Are M4A and AAC similar?

They aren't the same thing. M4A files are MPEG-4 Part 14 files that typically include solely audio. AAC is a raw MPEG-4 Part 3 bitstream containing an encoded audio stream, not a container format.

3. M4A VS. MP3: Which offers a better sound quality?

M4A has greater sound quality, whereas MP3's audio quality is usually enough for casual listening, especially at higher bitrates.
Conclusion
Mentioned above are the differences, functions, and qualities of M4A and MP3. Although M4A has relatively high sound quality than MP3, it is only commonly used by Apple devices. Thus, we also provided a simple procedure on how to convert audio files to M4A or MP3 for different usages. If you have questions and clarifications, you can message us directly. Or you could free download the M4A to MP3 converting software and start your free trial right now!
Related Article