How to Compress Video for Email on Windows/Mac [4 Ultimate Guide]
Sending an email is an important job to do exceedingly; it is work-related or a school project. When you send a video file for email, sometimes the email provider will not accept it because it's too large. So how to compress videos for email to send them? With a video compressor, you don't need to cut your video file into two, or if it comes to worse, recreate a shorter video file. Another perk of compressing a video file for email purposes is that it makes the uploading process quicker than waiting for a big file to finish. Continue reading as you will learn the different size limitations for the four most used email providers and the various ways to compress videos for email.
Part 1: Introductions to the Sizes You Should Compress Video for Email
Every email provider has file size limitations you need to follow. Whether you want to send compiled photos, word, or video files, these files should not exceed the tool. A video with huge file size is not excepted, but you can compress video file size for email if you know the maximum file limitation of your email provider. Below, you can find the email provider you use and see how much file size it can accept.
| | |
| --- | --- |
| Email Provider | Email File Size Limitations |
| Gmail | 25MB per email sent and received. |
| Yahoo Mail | 25MB per or Unlimited for files attached via DropBox. |
| iCloud Mail | 20MB per message and other file types. |
| Outlook.com | 20MB per file attached, 10MB for Exchange Accounts. |
Part 2: How to Compress Video for Email with High Quality on Windows/Mac
Now that you have learned about the file size limitations for the most used email providers, you need a professional video compressor to compress video size for email. AnyRec Video Converter has the best video compressor to minimize video file size without losing the original quality. It allows you to have complete control over the advanced tools that will help you enhance the video file and choose the file size you want. With AnyRec Video Converter, compressing video for email is more straightforward than other video compressors.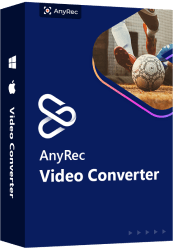 Other Outstanding features of the best video compressor:
Compress any supported video file format for email.
Support keeping high video quality with AI Enhancer.
50x faster process speed for compressing video files.
Offer other features like color correction to modify video files.
How to compress video using AnyRec Video Converter:
Step 1.After downloading the program to your device, launch it and locate the Toolbox button on the top menu of the pane. Choose the Video Compressor option among the tool options to compress the video.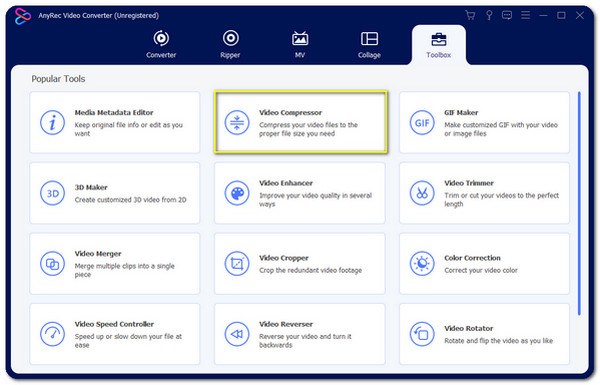 Step 2.A window will ask you to upload a file; click the + icon to open your computer's folder. Once you have chosen the desired file, you can select the video file's size by moving the Size Slider. Another option is to enter the specific size on the box. You can edit other settings such as the file's name, format, and even the bitrate. You can even upscale the video resolution up to 1080p.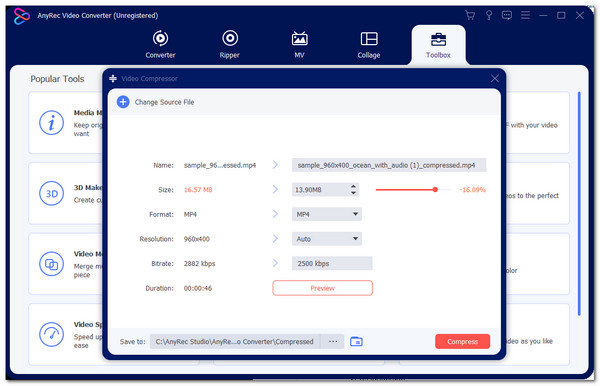 Step 3.After editing, you can watch a small portion of the video file by clicking the Preview button. It will give you a 10-second extended preview of your supposed-compressed video file. Once satisfied with the changes, browse the Save To option to select the desired folder path. Then, click the Compress button to start the compression process. Depending on the size of the video, it may take some time to finish.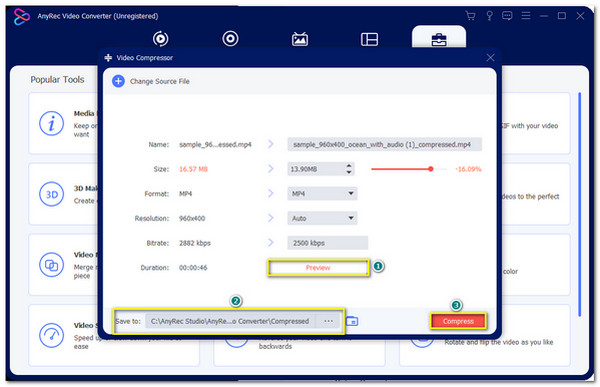 Part 3: 3 Easy Ways to Compress Video for Email Online for Free
Video compressors come in different kinds of forms. You can search on the internet for free online video compressors. But to save you some time, this article was prepared with alternatives to compress video files for email online. However, these online tools might not meet your expectation as some tools give file size limitation, lower video quality and more.
1. FreeConvert
FreeConvert is an online video compressor accessible to any supported operating system like Windows and Mac. It has advanced settings that allow you to customize the video codec, quality, and more. With just a few clicks, you can compress your video for email in no time.
Steps how to compress video for email in FreeConvert:
Step 1.Go to the official website and click the Choose Files button to select the video you want to compress. If you're going to get the video file from another source, you can click the down arrow to choose from Dropbox, Google Drive, and URL.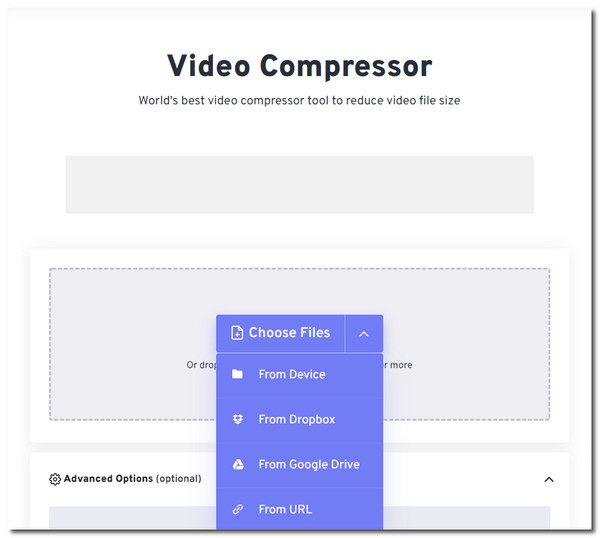 Step 2.Once done choosing the desired file, click the Gear icon for the Advance Options to appear. Choose the target size by moving the Slider. You can also change the video codec or make the video compatible with older devices.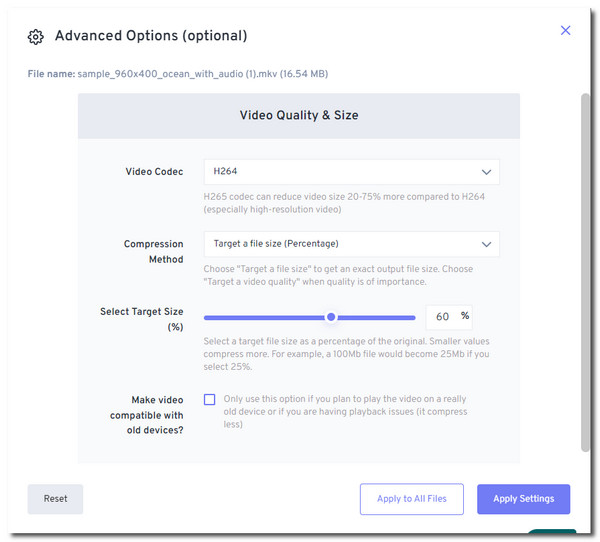 Step 3.Once done, click the Apply Settings to save the changes. Back on the main page, click the Compress Now button to start the compressing process. Click the Download button to save the compressed video for email to a folder.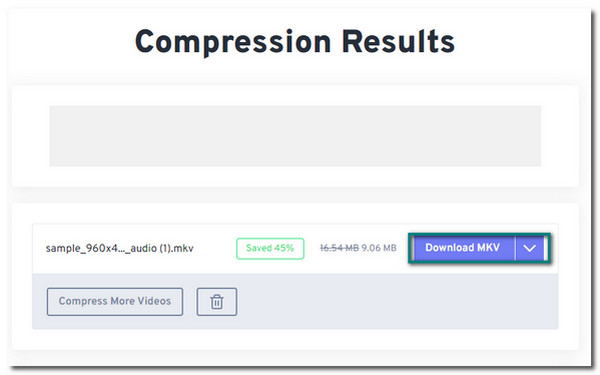 2. Compress Video
Another online video compressor with a few necessities to compress video files for email. Unlike FreeConvert, this online video compressor supports various file formats and allows you to preview the compressed video. The only drawback of this tool is that it is slow uploading and compressing one video file.
How to use Compress Video to compress video for email:
Step 1.Go to your browser and search for the online tool. You can check the supported output format if your file is one of them. Once confirmed, click the Choose Files or drag and drop the file from your folder. Wait for the file to be uploaded.
Step 2.Once it's done, move the Size Slider to select a specific file size for compression. You can also trim the video by dragging the Trimmer at both the start and end of the video. Or enter the time on the Start and End boxes to trim.
Step 3.Click the Video Output Format Settings link for other settings. Here, you can change the video codec, resolution, and more. After editing the video settings, go back to the main page, then click the Compression button to compress the video file. Lastly, save the compressed MP4 video in your folder.
3. VEED
VEED is an excellent online video compressor with an easy-to-use interface. It works well with many operating systems and devices such as Windows, Macbook, iPad, and smartphone devices. VEED also guarantees users that it compresses video files for email without losing video and audio quality. You just need to ensure that your internet connection is stable, or else you will lose your video's progress.
How to compress video for email with VEED:
Step 1.Search the VEED video compressor on your browser and click the Choose Video button from the main page. The program will direct you to another window, then click the Upload a File button to select the video file you want to compress.
Step 2.After choosing a video file, the program will direct you to the Compression Options. There is an estimated compressed file for automatic compression, but you can select the size for the video file by moving the Compression Slider.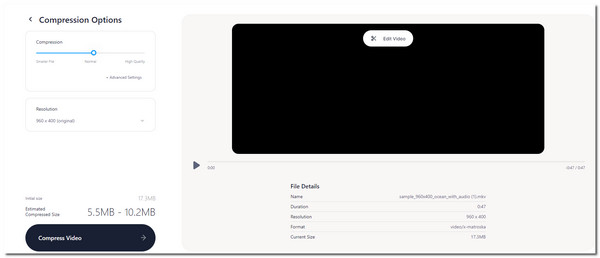 Step 3.If you want to change other video settings, click the Advanced Settings option. You can change the bitrate and FPS of the video to minimize the file size. Once done, click the Compress Video button to start compressing video for email. You will have options to download the compressed video or edit it with another VEED video editor.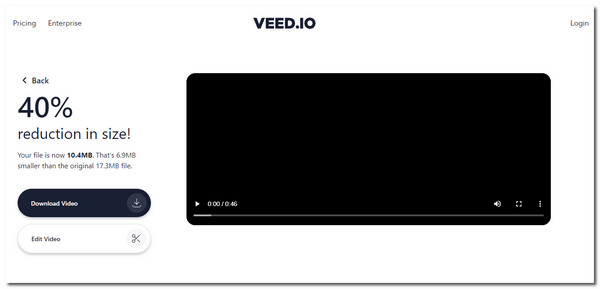 Part 4: FAQs about Compressing Video for Email
1. How to compress video for Email on Android?

You can download a video compressor to your Android device by going to Google Play Store. Most recommended video compressors are Fast Compress Video & Photo, Compact Video (MP4, MKV, AVI, MOV) , etc.

2. What happens when you maximize the email size limit?

The email provider you use will send you an email error back to your mailbox. You might receive an error message such as '552: Message size exceeds maximum permitted' or 'Attachment size exceeds the allowable limit.'

3. Why is there a limited email file size?

Email providers limit the maximum email size mainly for security reasons. If there is no size limit per email sent and received, the email server would be bombarded with massive emails causing the program to work correctly. Thus, you need to compress video for email to meet the limitation.
Conclusion
To end this, knowing email file size limitations will help you to avoid wasting your time resending it every time you receive an error message. What's more, it is necessary to have a powerful tool to compress video for email purposes. You can rely on AnyRec Video Converter as it has a professional video compressor for any type of video file. Welcome to contact us and provide your suggestions.
More Related Articles