AnyRec Screen Recorder
Record screen, audio, webcam, gameplay, online meetings, as well as iPhone/Android screen on your computer.
Open ROFL File in League of Legends to Share Your Dominating Time
Do you want to replay your LOL game video? Or hone your game skills by watching others' game replays. But when you see the ROFL file in your replay folder, you have no idea what it is and how to play it on your computer. This article will tell you how ROFL files work in the League of Legends game and how to play the ROFL file to replay your game.
Part 1: What is Rofl File? Why Can't You Play it?
The ROFL file is created by Riot Game Inc, not a video format but a file that records a game's data. ROFL files can be sent, saved, and played back. Although ROFL files are playable, they are unlike the video format which can be played in any player software. ROFL files contain spectator data so that the game client knows what actions happened at what times, which allows it to replay actions in sequence. For example, the layout of the file is not like the normal video format files:
id | champ.name | action | parameters 0000 |
annie | move | 155 | 188 0001 |
fizz | attack | annie
The theory of ROFL files could make you see all game details when the replay, and you can change the perspective of every champ, which a video format cannot do.
Part 2: How to Open ROFL File to Watch the Highlights
Usually, you can directly watch your replay on the Watch History in the client. But what if there is someone sent you a ROFL file, and you want to open these files in your folder, here are the ways to instruct you to deal with these ROFL files.
Step 1Find ROFL files in the League of Legends replays folder. If you are a LoL game player, you can find it via this path:
C:Users[Username]DocumentsLeague of LegendsReplays.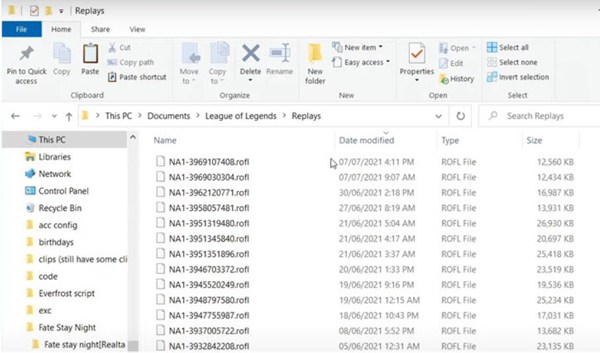 Step 2You can drag and drop the ROFL file onto the game client shortcut to start playing.
It is very easy to use the League of Legends client to watch the ROFL files, but there is also a way to watch ROFL files without the client if you need to.
Part 3: How to Share Game Moment in ROFL File
If you want to share ROFL files you can send them to anywhere or on any platform, but there is no way directly to share your game replay on any platform, AnyRec Screen Recorder will be recommended to you to screen record your ROFL files. This game recorder without lags will record HD gameplay with high frame rate. No matter whether you are a game streamer or game influencer, AnyRec Screen Recorder would be the best choice.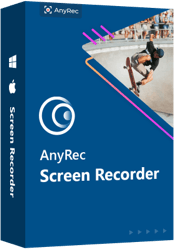 AnyRec Screen Recorder
Provide a designed game recorder to record your gameplay replays in high quality.
Able to adjust the video settings, including the format, resolution, and frame rate to reduce lags.
Support sound enhancement and noise cancellation to record the audio clearly.
Additional features to set schedule task, add real-time drawings, clip the recordings, etc.
Step 1Free download and launch AnyRec Screen Recorder on your computer. Click the Menu button and then the Preferences button. In the Output tab, you can choose the desired high frame rate and quality.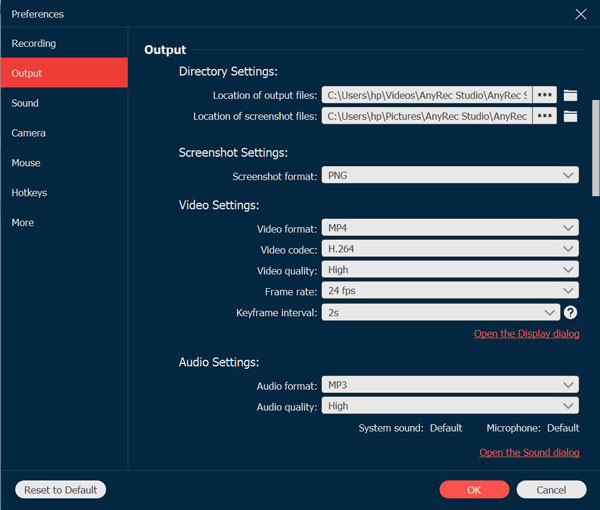 Step 2After that, you should launch the League of Legends first, and click the Game Recorder on the main interface to capture your ROFL file. Choose the source from the dropdown list in the Select the game section.

Step 3Next on the REC button to start recording the replay of the game before playing the files. It will start after a 3-second countdown.

Step 4When you captured the replay video of the game, you can click the Stop button to save the recording. You can also preview and edit the recorded video before clicking the Save button.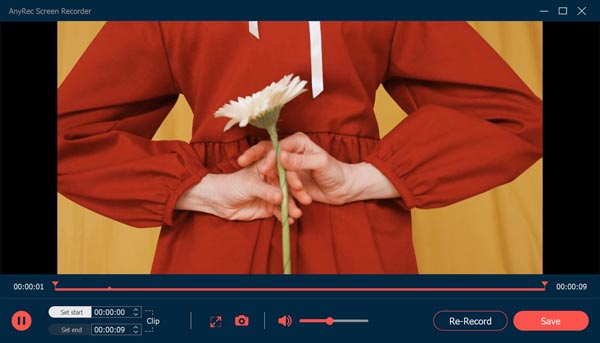 If you only want to share a short part of your gameplay highlights, you can convert MP4 or MOV to GIF format, which is more popular on social media platforms.
Part 4: FAQS about ROFL File
How to change perspective while watching the ROFL file?

You can hit the keys 1, 2, 3, 4, 5 or Q, W, E, R, or T for moving between champs when watching the ROFL files.

How to download the ROFL files in the League of Legends game?

After you have finished playing a match in League of Legends, find that download button located in the upper right of the End of the Game screen. You can also locate your replays on your Match History screen to download the ROFL files.

What should I do when I can't open the ROFL files?

This problem may occur because of the default program chosen to open ROFL files. You can right-click on the ROFL file and click the Open With button, then the Look for another app on this PC button. You need to select the League of Legends installation folder using the file explorer.
Conclusion
If you want to watch the game replay, you can use the client directly. Although there is no way to convert the ROFL file to MP4, you can still screen record the replay through AnyRec Screen Recorder. In this way, you can share your 4K recordings with 60 fps frame rate on any platform.
Related Articles