That's How You Record PS5 Gameplay Video and Audio without Time Limit
So the PS5 automatically records the last 30 minutes of gameplay by default. Is there any way to up this time to 1 hour? I believe this might have been made possible but I can't find the option.
- From PS5 Forum
Yes. You can use professional game recorder to record gameplay on PS5 for hours. It is very annoying when you want to record the whole process of clearing a difficult game on PS5 and share your skills on social media but only find a 30-minute recording option. It only provides screen recording for up to 1 hour, and it has a timer on the recording showing how long you have been recorded. But don't worry about that. You can get a better PS5 game recorder here. Just continue reading to see how to record on PS5 in 4K longer or less than 1 hour.
Part 1: The Best Way to Record on PS5 with High Quality (No Time Limit)
To record PS5 games without a time limit, you should rely on professional screen recorders on your computer. At first, you need to connect your PS5 to the computer through a PS5 capture card and two HDMI-to-USB cables. Then you need to use AnyRec Screen Recorder to record PS5 games easily. It is a powerful screen recorder that supports a game recording mode with high quality and frame rates. You can learn more about its features in the following.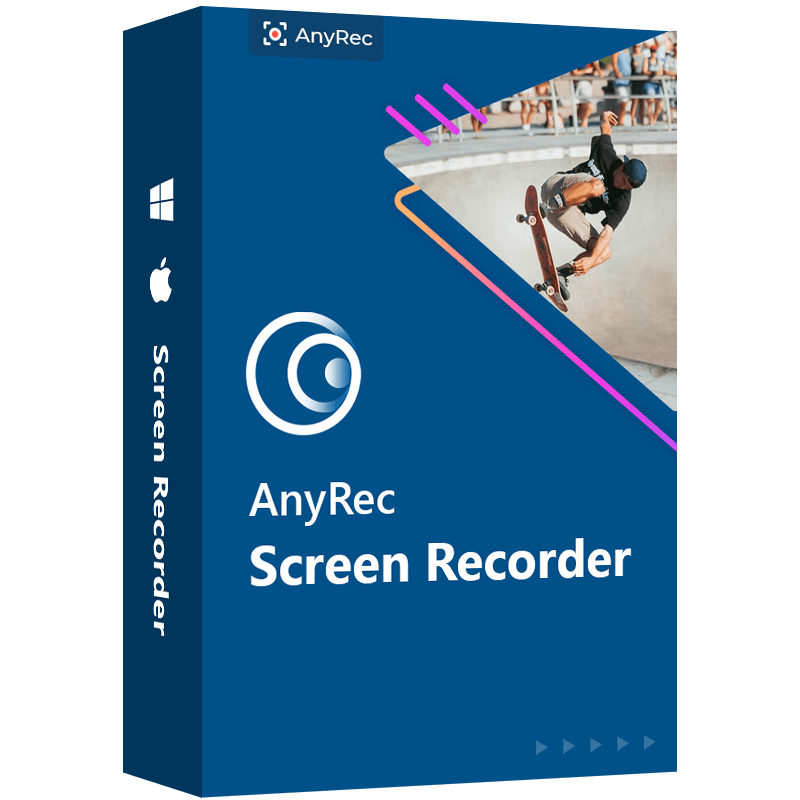 Easily Record PS5 Games on PC without the Time Limit
Record PS5 games through the designed game recording mode easily.
Adjust the format, quality, and frame rate to export high-quality videos.
Less recourse occupation of your computer to reduce lags.
Basic editing features to preview and clip the recordings freely.
Step 1.Connect your PS5 to the computer through the PS5 capture card and HDMI-to-USB cables. Then download and launch AnyRec Screen Recorder on Windows/Mac. Click the Game Recorder button to start the PS5 screen recorder.

Step 2.Click the Select Game menu to choose the PS5 Window. Then adjust the volume of the System Sound input. You can also turn on the Microphone and Webcam to record yourself playing games according to your need.

Step 3.To customize the recording format, quality, and frame rate, you can click the Record Setting icon and choose the Output option. Then choose the MP4 format with a 60 fps frame rate to reduce the lags. And you should choose the High Quality option to keep a high quality of the recordings. Click the Save button to save the settings and go back to the main interface. Then click the REC button to start recording PS5 games.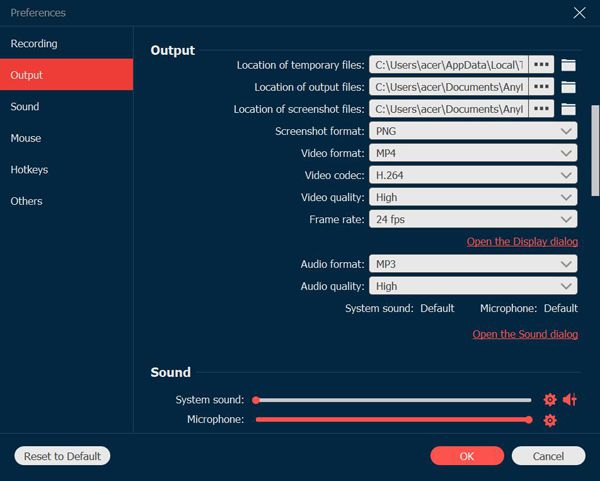 Step 4.Click the Stop icon in the toolbox to stop recording at any time you want. Then preview and clip the extra recordings at the beginning and end. At last, click the Save button to choose the desired storage path.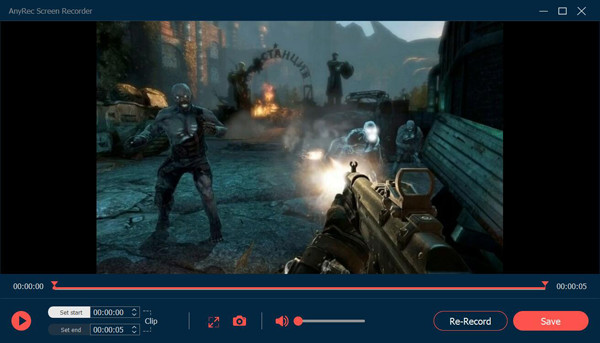 Part 2: How to Record PS5 Gameplay with the Default Recorder
PS5 has a built-in screen capture to record PS5 gameplay or take screenshots. It's indeed a good game recorder to start a quick recording on PS5, but it has some limitations. Although you can reset the recording options to record a longer time on PS5, it is limited to 1 hour. And a timer will always be over the recording, which can't be removed. Besides, you can only get and spread your recordings through a U disk. If you accept all of these requirements, please keep reading the detailed steps below to record PS5 games.
Step 1.Before starting recording PS5 games, you should go to the Settings menu and change the recording settings. In the Video Format option, you can choose the recommended WebM format with smaller sizes.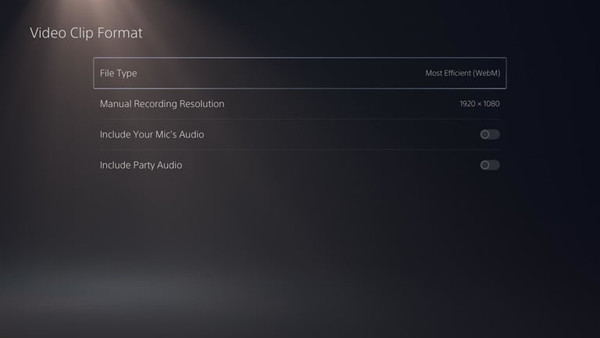 Then go to the Shortcuts for Create Button option. You can learn about the operation guide to take screenshots or record on PS5. And you can change the length to 60 minutes at the bottom.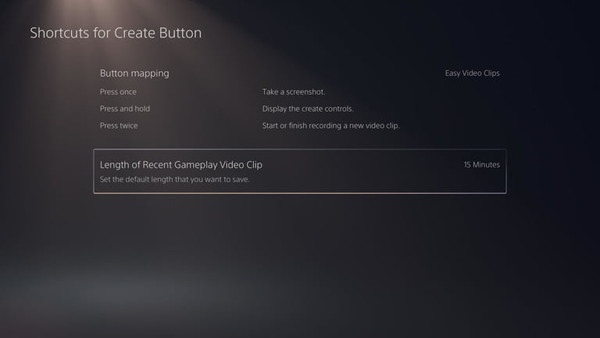 Step 2.Launch the desired PS5 game on your PS5 console. Press the Create (three lines) button on your controller and choose the Record pattern on the right. Or you can simply press the Create button twice quickly to start recording PS5 games.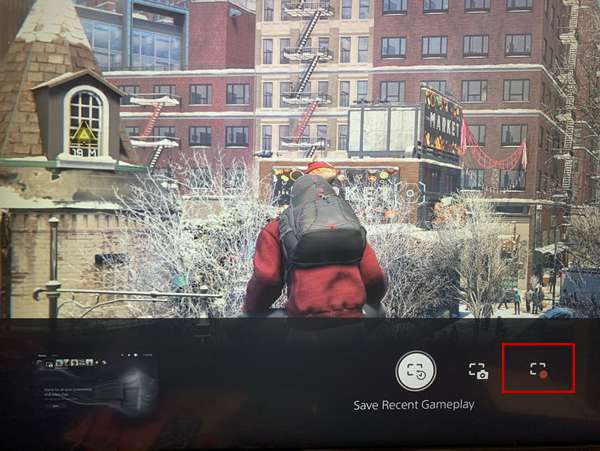 Step 3.When you want to stop recording, you just need to press the Create button again and confirm to stop. Then you can watch the clips in the media gallery.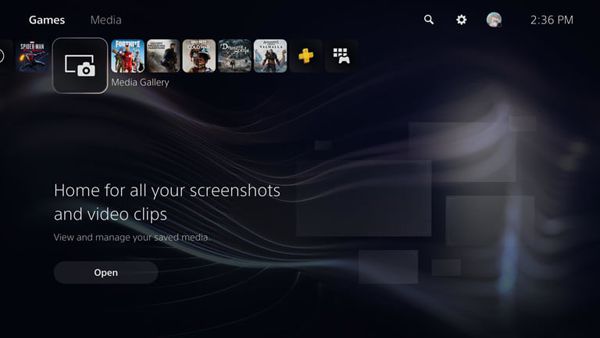 Note
If you want to record the previous videos, you can press the Create button and choose the Save Short Clips option with the desired time.
Part 3: FAQs of Recording PS5 Games
1. Where do I save the videos recorded on my PS5?

The recordings taken by the built-in recorder on PS5 are saved in the media gallery. You can find it on the main interface of PS5. To watch the recordings on your computer, you need to use a U disk to spread the videos.

2. Can I record sports games on PS5 with a high frame rate?

Yes, you can. To record PS5 games with a high frame rate, you should rely on AnyRec Screen Recorder. It provides 60 fps to record sports games with fluent images.

3. What is the best PS5 capture card to record PS5 on PC with high quality?

There are so many capture cards for PS5 and more you to choose from. But the recommended is Elgato Game Capture 4K60 Pro MK.2 that supports 4K resolution and 60 fps frame rate. It will help you record PS5 games with high quality.
Conclusion
You have learned two efficient ways to record PS5 games with or without the time limit. The default recorder is easy to use, but it has a time limit of 1 hour. To record PS5 game longer than 1 hour, you can choose to record PS5 games on your computer through AnyRec Screen Recorder, which will keep the high quality and frame rates of the recordings.
Related Article