How to Record An Audiobook with the Proper Equipment? – 4 Tips
Recording an audiobook is the next step after writing a book. It is not uncommon, primarily if you have written it with a personal matter. Although you can hire professional narrators, fulfilling it yourself is rewarding on the financial and creative sides. Of course, the process takes a lot of trials and errors, but learning the first steps will harness your ability to record audiobooks. With this post, you will learn how to record an audiobook yourself.
Part 1: Useful Tips for Recording High-quality Audiobooks
Did you know that you can record audiobooks for money? And might take some time to gain clients from recording. But to start this newly founded hobby, you need the right pieces of technical equipment to be able to record audiobooks with quality. Let's see the other things you need to start, and you might find audiobook recording jobs someday.
1. Equipment You Need to Prepare
As there is a considerable audiobook market, you can use this opportunity for additional income. It is not easy to embrace recording audiobooks because you will spend money to build your station. You can use this list to see what's the needed important recording types of equipment:
a. PC or iPad with 8GB of RAM.
A device with less than 8GB of RAM will likely freeze a lot, and you don't want that at the start of your new career.
b. Digital Audio Workstation
This equipment allows you to edit and manage audio files to reduce noise floor, record musical instruments, and create audio samples.
c. Microphone
Consider getting a cardioid condenser microphone to minimize or block background noises.
d. Pop Filter
This type of equipment is affordable. It is a thin metal screen that blocks small puffs of air. Since these big thumps cannot be fixed with an equalizer, a Pop filter is essential.
e. Audio Compressor
An audio compressor will help you balance the volume levels in recording audiobooks.
f. Headphones
A headphone with noise-canceling technology will allow you to find mistakes in your recording and fix them.
g. Quiet Recording Room
You can put in your room some foam panels to soundproof and block vibrations.
The given pieces of equipment are the basic ones for starting audiobook recordings. But once you find out some lacks in your recording, you might need to include other equipment such as a shock mount, Mic Boom Arm, and an audio editing tool.
2. 3 More Tips for Recording Audiobooks
Aside from getting suitable equipment to record audiobooks, you also need to equip yourself with the required skills to produce professional audiobooks. Because if you are not an experienced narrator, no one would want to buy your recordings. So, to break it down for you, here are some tips on recording audiobooks as a beginner.
Practice a Lot
For a beginner, it is essential to practice a lot to build up skills in recording audiobooks. You can start by picking a random book from the library and narrating it yourself. Since there are different events and characters in one book to voiceover, you might need to select different voices to emphasize their differences.
Differentiate a Character's Voice and accent
To embody a book's character, you need to learn the skill to give it a distinctive voice. It is inevitable to run into a scene where you need to voice over three different characters. The right thing to do is listen to professional narrators and how they execute the different voices, accents, and even the talking speed of various characters for recording audiobooks.
Take Your Time
You need to keep in mind that recording audiobooks take a long way to be acceptable in business. Even if you have to finish recording one audiobook, learn to take one step at a time. This will help you distinguish some minor mistakes and work them out.
Part 2: The Best Audio Capture to Record Audiobooks with High Quality
Recording high-quality audiobooks take a lot of time to improve. But as you want to improve your voice, pronunciation, and talking speed, you can start using AnyRec Screen Recorder. This professional tool allows you to record audiobooks without expensive equipment. It is easy to set up as you only need to tweak some settings to achieve the desired audio output. With AnyRec Screen Recorder, you can start your first step in recording audiobooks.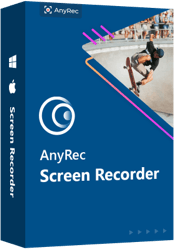 AnyRec Screen Recorder
Record audiobooks with Noise Cancellation and Audio Enhancement functions.
Provide the best customizable audio settings to amplify and modify the recordings.
It only requires a few types of equipment, such as a microphone and headphones.
Offer a soundcheck function to try the equipment for recording audiobooks.
How to use AnyRec Screen Recorder to record audiobooks:
Step 1.Download and install the tool on your device. You can download AnyRec Screen Recorder on the official website. Once installed, launch it to start recording audiobooks. From the main interface, click the Audio Recorder button.

Step 2.Plugin the microphone and headphones. To do a soundcheck, go to the Preferences menu. Click the Sound bittpm, then tick System Sound and Microphone. You can also tick the checkboxes for Noise Cancellation and Enhancement to minimize background noises. Click the OK button to save all the changes.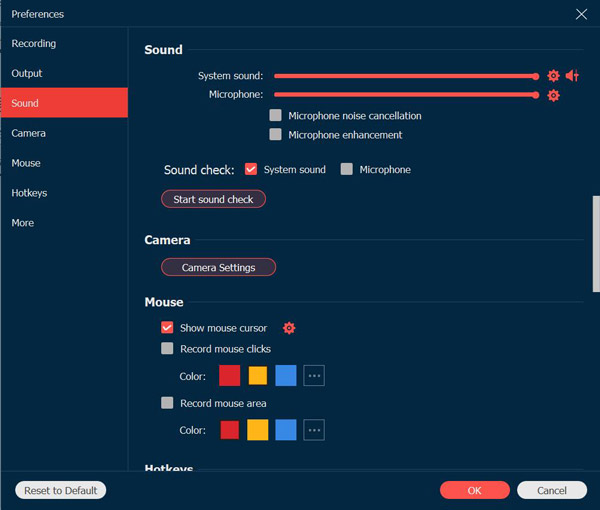 Step 3.Once you are back on the main menu, ensure that System Sound and Microphone are toggled on. Click the REC button to start recording audiobooks.

Step 4.A window will appear to let you trim the recorded audiobook. Click the Save button to choose the desired designation folder. After that, click the Next button to confirm the saving method. You can listen to your recordings from the History window of the tool.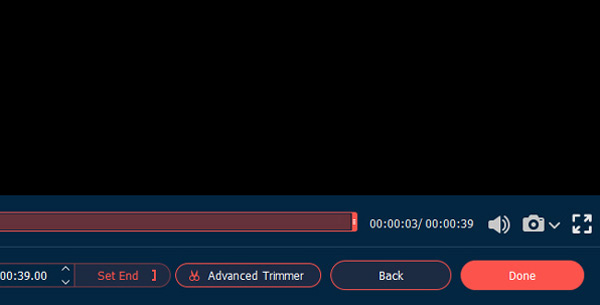 Part 3: FAQs about Recording Audiobooks on Windows/Mac
What recording system should I use to record audiobooks?

You can use various systems for recording audiobooks, but you can try some of the recommended systems: Cubase Pro, Studio One, and Reaper. However, you must know that you must purchase their premium version to utilize the features entirely.

How many hours do I need to record audiobooks?

Mostly, narrators can fit 8,000 words into an hour, but it still depends on you and your skill with narration. The standard hours for audiobooks to be recorded take somewhere from 1.8 to 3.5 hours. So, you'd better find a sound recorder without time limitation.

How do I publish my audiobook recordings?

The best option to publish the recorded audiobooks is to self-publish. There are a wide of platforms to do self-publish. You can try on Soundwise, ACX, Findaway Voices, and Kobo. Although you can't rely on these platforms alone, you need to invest in promoting and advertising your creation.
Conclusion
How to record an audiobook? While this post laid down the basic foundations in starting recording audiobooks, you also need to find the equipment like the best microphone for audiobook recording, etc. However, you can also find an alternative for expensive recording equipment like AnyRec Screen Recorder. Try its free trial version and find out its professional audio features are best for recording audiobooks.
Related Articles