How to Compress MP3 with Online Tools on Windows and Mac
Downloading media files consume considerable space on your device. But you can avoid having trouble with storage space by compressing MP3 files. You would not know that an audio file has decreased quality because it is hardly noticeable on headphones or speakers. This post will provide the best alternatives to compress MP3 in smaller file sizes. Find the best tool to compress an MP3 online without losing too much quality.
Part 1: How to Compress MP3 on Windows/Mac
A trusted desktop tool is a better idea to compress an MP3. Like AnyRec Video Converter, you can rely on its compression function to minimize file size without losing too much audio quality. Its advanced settings allow you to change the output audio by lowering bitrate and sample rate. Moreover, it supports a batch compression of MP3 files, which can be processed at 50x speed, so you don't have to wait long hours. AnyRec Video Converter is your go-to to compress, convert, and edit media files!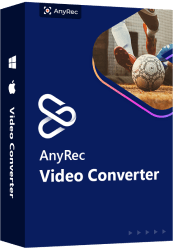 AnyRec Video Converter
Compress MP3 files and other file formats like WAV and WMA with unnoticeable changes in the sound.
Allow users to import media files with large file sizes and compress them in batches for a more straightforward process.
Provide a straightforward interface to access the needed tools when compressing MP3 files.
All-in-one software offers more than 20 tools for converting, editing, enhancing, and merging video and audio files.
How to compress MP3 with AnyRec Video Converter:
Step 1.Click the Free Download or go to AnyRec's official site. Install the software to your device and launch it to begin compressing MP3 files. Click the Add button to upload the file from your folder. You can add more MP3 files to compress by clicking the Add Files button at the left top part.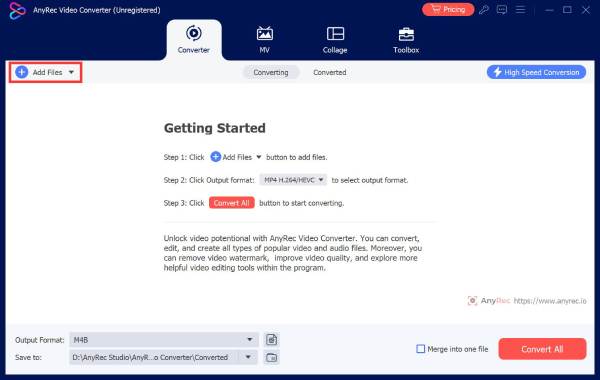 Step 2.Once the files are successfully uploaded, click the Format icon and go to the Audio section. Select the MP3 option or another output format. Choose a quality option, or you can click the Custom Profile button with the Gear icon to customize your preferred quality.
Step 3.Once the Custom Profile window is open; you can change the audio encoder, sample rate, channel, and bitrate. Moreover, you can rename the Profile and save it as another quality option. Click the Create New button to keep all the changes.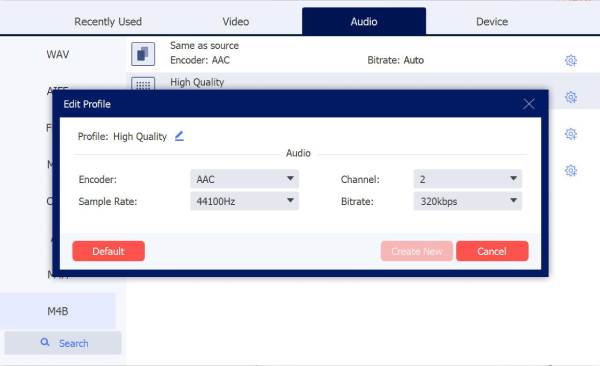 Step 4.Afterward, you can repeat the same process to other MP3 files. Then, click the Save To button to browse the designated folder path to store the compressed MP3 files. Finally, click the Convert All button to finish the process.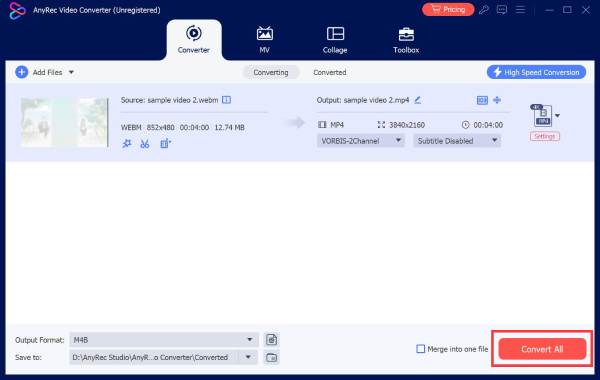 Part 2: How to Compress MP3 Online
If you want a free online MP3 compressor, you can try the recommended ones below. Detailed steps are provided so you can follow and achieve the best quality for compressed MP3 files. Without further ado, here are the best three online MP3 compressors.
1. Online Converter
This online MP3 compressor is a well-known tool over the internet. It has the most straightforward interface, providing only the necessary features to compress MP3 files within 200 MB. Its quick compression process has gained many users, but not everyone likes its simplicity. That said, Online Converter doesn't offer much, and there is no guarantee that your audio files will turn good once compressed.
How to compress MP3 using Online Converter:
Step 1.Go to the main site of Online Converter. Click the Choose File button and browse for the MP3 file you want to compress.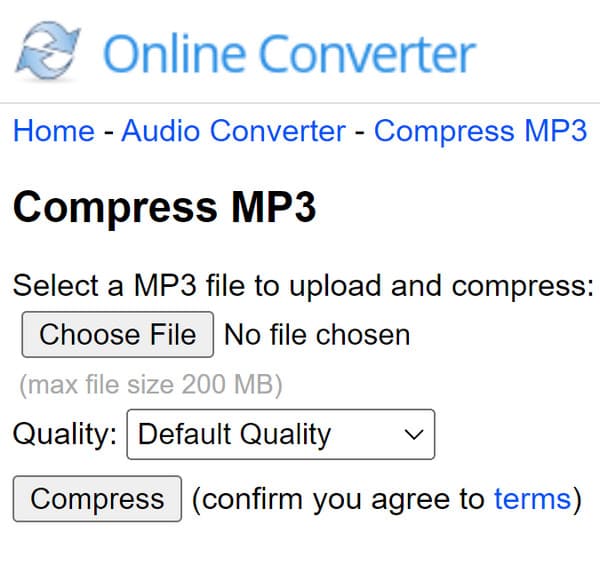 Step 2.Click the Quality button to pull up the list. You can choose a different quality option like Best Compression or Best Quality.
Step 3.After that, click the Compress button to process. You will be directed to another site to give you the compression result. Click the Download button to save the compressed MP3 to your device.
2. Free Convert
As the name suggests, this online tool is free to compress MP3. It doesn't require you to sign up; just drop the files on its interface, and it will do its job to compress files. It is also abundant as it allows you to upload files with a maximum file size of 1GB. You can also convert MOV to MP3 with a much smaller size. The problem with Free Converter is it lags in the middle of compressing, and there is a chance that the progress will lose.
How to use Free Convert to compress MP3:
Step 1.Start by going to the Free Convert webpage. Click the Choose Files button to upload the MP3 for compression. You can also get files from your Google Drive, Dropbox, or a URL. Click the Add More Files button if you wish to do a batch compression.
Step 2.Once the MP3 file is uploaded, click the Gear button to open the Advanced Options window. You can select the desired compression method and the target size percentage. Click the Apply Settings button to save the changes.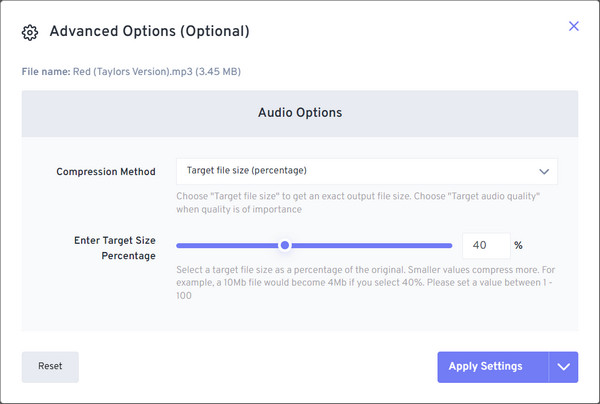 Step 3.Click the Compress Now button to start the compression process. Click the Download MP3 button on the next page to download the compressed MP3 file. Other saving methods include Google Drive and Dropbox; you can even download them through a QR code.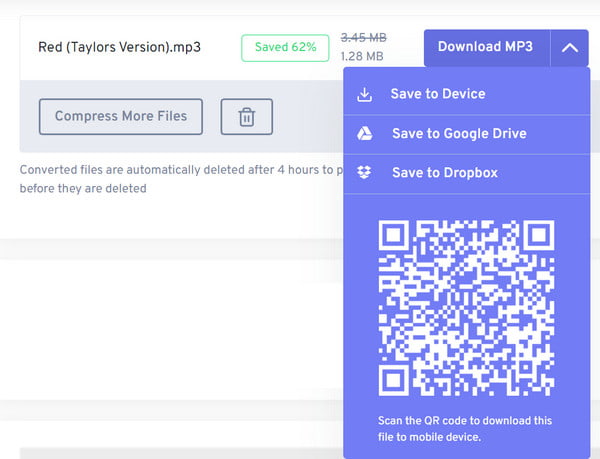 Part 3: FAQs about Compressing MP3
How does compress MP3 work?

Compressing MP3 uses lossy data compression to encode data. Although it uses no exact approximations, compressing an audio file helps reduce a large file by discarding partial data, enabling you to save storage space on the computer.

Does compressing an MP3 file affect the sound quality?

Fortunately, lossless compression can reduce the file size and keep the same audio quality. An MP3 file can take less space not only on your computer but also on a DVD, CD, hard drive, etc.

What is another way to compress MP3 to send via email?

If you are sending a folder with multiple MP3 files, you can send it as a zipped folder. To zip a folder on Windows, right-click the folder and click the Send To button. Choose the Compressed(zipped) folder option then you can rename the file folder.
Conclusion
You can save some space on your device when you compress MP3 files. Of course, it still depends on the tool you use and how your audio files will turn out. To ensure that you have the best audio quality in a compressed MP3 file, it is recommended to use AnyRec Video Converter as the MP3 compressor for accurate compression. You can try the free trial version of the software and find out more powerful features that can help you with editing media files
Related Article