How to Print Screen on Dell Laptop-Full Screen and Selected Region
Since Dell laptop applies the Windows system, you can also use the default hotkeys and snipping tool to print screen on Dell laptop. In this way, you can record your highlights in a gameplay, capture precious moments, and more. Whether you want to print screen on Dell laptop with the full screen, a selected window, or the chosen area, there are different shortcuts and tools for you. Or you can use the all-in-one snipping tool, the best alternative program to print screen on Dell laptop. Keep reading this article and learn more about it.
Part 1: How to Print Screen on Dell Laptop (Windows 11/10/8/7)
There are a few ways to print screen on Dell laptop with the use of your keyboard and built-in tools provided by Windows. This applies to all models and series of Dell laptops with Window 11/10/8/7. Using the Print Screen key on your Dell laptop's keyboard is the easiest and fastest way to do a screenshot. This article section will know the different key combinations and the default apps for printing screen on Dell laptops.
1. Print Screen Key Shortcuts
Keyboard shortcuts are quick ways to get the desired screenshots. As for doing a print screen, there are several key combinations you can do that shorten the process of screen capturing. For instant screenshots, you can use the dedicated print screen key labeled 'PrtSc' or 'PrtScn' to print screen on Dell laptop.
There is a specific combination for Dell laptops that do not have a separate key for the print screen and is joined with the F keys, specifically F10. You need to press Fn key+F10 to activate the print screen tool.
Windows key + Print Screen is a keyboard combination that saves your screenshots automatically on your Screenshot folder. This saves you time keeping it as an image since you don't need to paste it into an editing tool.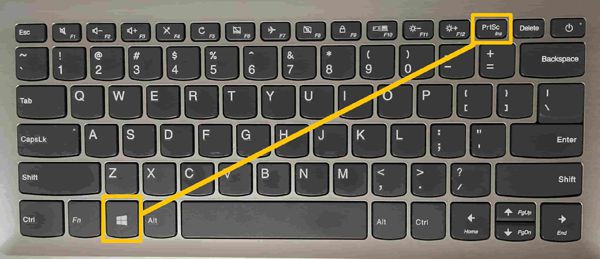 2. Snipping Tool on Dell Laptop
If you want to know how to print screen on Dell laptop in the old-fashioned way, use the Snipping Tool. This tool was first introduced on Windows Vista. To use the tool, type on your search bar 'Snipping Tool.' Once you find the tool, open it to launch the main interface window. From there, you can click the New button to start capturing screenshots, Mode to see the four snipping modes, and Delay to set a timed screenshot.
First, select the snipping mode you want to use. Choose between Rectangular snip, Free-form snip, Window snip, and Full-screen snip. Rectangular snip is the default option.
After selecting the snipping mode, click New or press Ctrl + N to start taking screenshots. Your screen will have a white transparent overlay, and your cursor will turn into a crosshair. Then use your mouse cursor to click and drag on your screen to do a customized area screenshot. Once you print screen on Dell laptop, press Ctrl + S to save the image on your desired folder. Or you can know more about Windows 11/10 Snipping Tool shortcuts here.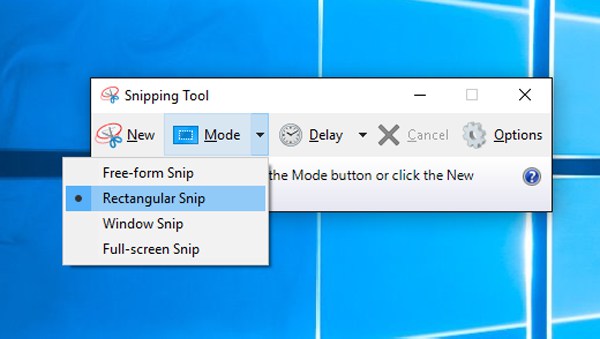 3. Print Screen on Dell Laptop Using Snip & Sketch
Snip & Sketch is the new Print Screen tool of Windows. The advantage of this tool is a better editing option and a specific key combination shortcut.
Use the search feature on your taskbar and type Snip & Sketch. Alternatively, press the key combination Windows + Shift + S to print screen on Dell laptop.
Your screen will slightly dim, and your cursor will become into a crosshair. Use your mouse to choose a region of your desktop area. Hold the left mouse button and drag it across the screen. Release the button to print screen on Dell laptop. Open an editing tool to paste your screenshot and save it as an image.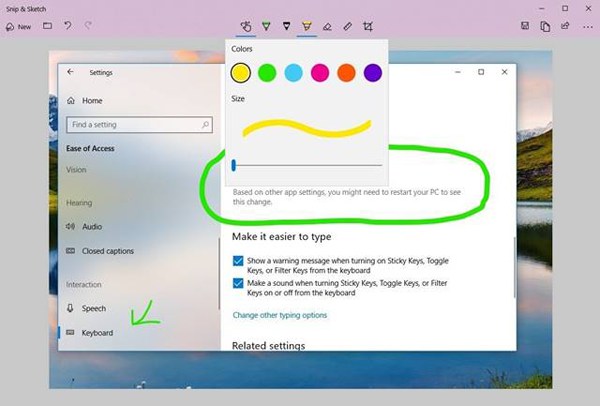 Part 2: The Ultimate Way to Print Screen on Dell Laptop Easily
There are times that you feel the default apps for taking print screen on your Dell laptop are inadequate. The main concern is limited features in editing that restrict you from further modifying your photo. One of the most popular software that fits the said criteria is AnyRec Screen Recorder. This software records the activity of your computer's screen with the additional feature of screenshot capability. You can print screen on Dell laptop while watching a movie, during gameplay, and browsing the web.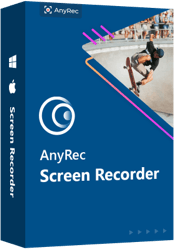 AnyRec Screen Recorder
Designed snapshot tool to print screen on Dell laptop with high quality.
Take screenshots of the full screen or selected regions freely.
Add annotations and notes with shapes, lines, highlights, texts, etc.
Customizable hotkeys to help you print screen on Dell laptop at any time.
Here are the steps to print screen on Dell laptop using AnyRec Screen Recorder.
Step 1.First, launch the software to see the main interface. Click the Snapshot button located on the right side of the interface to capture a screenshot of your screen's activity. Click Snapshot to begin taking screenshots.

Step 2.Your mouse cursor will change into a crosshair, enabling you to do print screen on Dell laptop with the desired region. Use your mouse to choose precisely which application window or any part of the desktop area you are capturing a screenshot. Release the mouse to take a screenshot.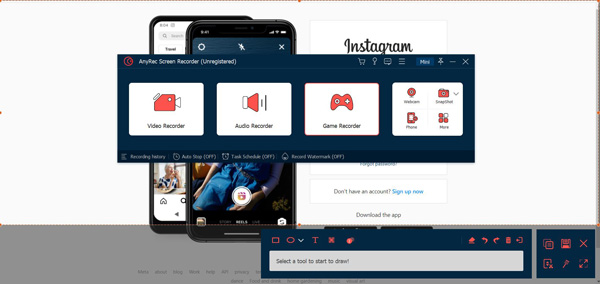 Step 3.After taking a screenshot on Windows 11/10/8/7, a floating toolbar will appear, which you can use to edit your newly taken screenshot. On the said toolbar, there are options that you can use to add text, annotations, shapes, and color effects. After you finish editing, click the Save icon to keep it on your PC for later use.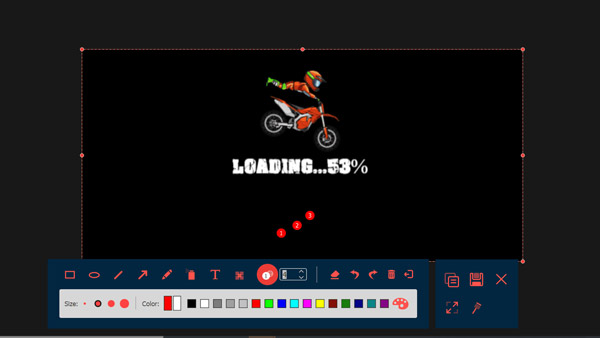 Dell Screen Capture Software
Screen record and take screenshots on any Dell laptop with the original quality. You can turn everything you see/hear on Dell to digital files.
Part 3: FAQs about How to Print Screen on Dell Laptop
How to print screen on Dell laptop quickly with the snipping tool?

You can use the Windows snipping tool shortcuts to use it freely. Just press the Alt + N keys to take screenshots with the last mode.

Which mode should I choose to print screen on Dell with the desired region?

You can use the Rectangle Snip or Free-form Snip modes in the Snip&Sketch tool to capture the desired screen easily. Just choose the desired one through the Capture window.

Where to find the screenshots captured by PrtSc?

If you use the PrtSn key to print screen on Dell laptop, the screenshots will only be saved in the clipboard. And you need to launch the Print app and paste the screenshot to save.
Conclusion
You have known 4 efficient ways to print screen on Dell laptop, including all versions. The default tools will not occupy more space, but there are limitations to the capture mode and editing tool. Thus, you can also have a try on AnyRec Screen Recorder, the most powerful snipping tool on Windows/Mac.
Related Articles