How to use the Prtscn Keys on Windows and Mac for Capturing Screen
Prtscn Keys are handy to take screenshots on your Windows/Mac. Using the default snipping tools make the process easier and save your time.There are many different Prtscn keys to take screenshots and this article will introduce all of them in detail. Since the default tools only provide limited functions, you can also learn about the best alternative snipping tool with several capture modes. Keep reading to take screenshots on Windows/Mac.
Part 1: How to use the Prtscn Keys on Windows 11/10/8/7
Prtscn keys are helpful whenever you want to quickly capture a photo of a scene from a movie or a video. And on Windows OS, there are several keyboard combinations that you can use to do a screenshot.
1. Print Screen key: Copy the entire desktop area or anything that is displayed
This Prtscn key is the most straightforward method to do a print screen. With just a single press of the dedicated print screen key on your keyboard, everything in your display will be copied. You can paste the screenshot on any editing tool like Paint or apps that allows you to paste an image. And if you use multiple monitors, using the Print Screen key will take a screenshot of all that is shown on your monitors.

2. Windows key + Print Screen: Saves a screenshot in image format
This key combination allows you to capture a screenshot of your entire screen display and automatically saves it in image format. To find your recent screenshots, go to the File folder, then choose Pictures. Click the Screenshots sub-folder to see all your screenshots.

3. Alt + Print screen: Copy the active window or application to the Clipboard
This Prtscn shortcut quickly does a screengrab of your active window. This saves you time because you don't need to edit and crop the unnecessary parts on the photo. It will also automatically be copied on Clipboard. You can paste it on any editing tool and save it as an image file.

4. Windows key+ Shift + S: Capture a screenshot with a customizable screen ratio
This is the print screen shortcut for the built-in snipping tool for Windows, which is Snip & Sketch. When using this key combination, your screen will slightly dim, and your cursor will change into a crosshair. Pointing out that the print screen tool is active. To take a screenshot, hold press the left mouse button and drag over the screen. Release the button to capture a customized screenshot.
Part 2: Introductions to Prtscn Keys on Mac and How to Take Screenshots
Like in Windows, Mac OS also has a set of Prtscn keys and shortcuts you can use to take screenshots quickly. And in this section, you will learn the commands you need to remember so that you won't struggle using the screenshot tool on Mac.
1. Entire Screen Capture.
Command- Shift- 3
This is the print screen key for capturing the entire screen on your Mac. The screenshot is automatically saved as an image file on your desktop. A thumbnail will appear on the lower right part of your screen. You can click it to view and edit your screenshot or leave it for a few seconds to be naturally stored on your Mac.
Command-Control-Shift-3
This print screen key is for copying the entire screen of your Mac. Screenshots will be copied on the clipboard in order for you to paste them on another program and editing tool. You can paste it on Word, Powerpoint, Photoshop, Google Docs, etc.

2. Part of the Screen.
Command- Shift- 4
This command is for printing screen a part of your screen. You will use a cross-hair cursor to click and drag across the screen and select a portion to snip on Mac. Release the mouse button to screengrab the chosen area, which is then stored and appears on your desktop area.
Command- Control- Shift- 4
This shortcut command is for copying a part of your screen. A cross-hair mouse cursor will appear for you to use in screen grabbing. Hold and drag your mouse to capture the selected region of your desktop area or window. Release the mouse button and paste it into the editing tool and applications.

Part 3: The Ultimate Solutions to Fix Prtscn Keys not Working on Windows/Mac
There are unexpected times when your Prtscn Keys will not function due to hardware problems, or the built-in tool is not responding. And the default way to fix this problem is restarting your computer or changing to a new keyboard. But if you need to do a print screen urgently, have a try on Anyrec Screen Recorder now. It can help you take screenshots on Windows/Mac quickly without the Prtscn keys. The editing tools also supports adding annotations freely.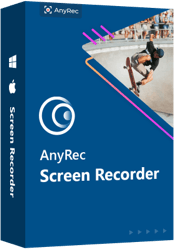 AnyRec Screen Recorder
Take snapshot with the full-screen, the customized region, or a selected window.
Able to adjust the image settings, including the resolution, format, quality, etc.
Preview the screenshots and crop them into the desired size before exporting.
Additional editing tools to add shapes, lines, callouts, texts, and more.
Steps on using Anyrec Screen Recorder without the Print Screen keys:
Step 1.To begin, open the program to see the tool's main interface. On the right side area of the interface, where the extra features can be seen, choose Snapshot.

Step 2.After you enable the Snapshot feature, you will notice that your mouse cursor becomes a crosshair. It allows you to customize the screen capture ratio or choose an application window to screengrab. Hold and drag the crosshair cursor across your screen and release the button to take a screenshot in Minecraft gameplay, important messages, etc.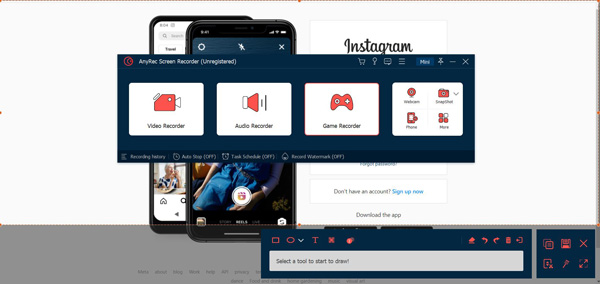 Step 3.Unlike the default print screen keys, you can also use the newly appeared toolbar with options to add texts, shapes, color effects, and annotations. Once you finish modifying your screenshot, click the Save button to keep it on your PC as an image.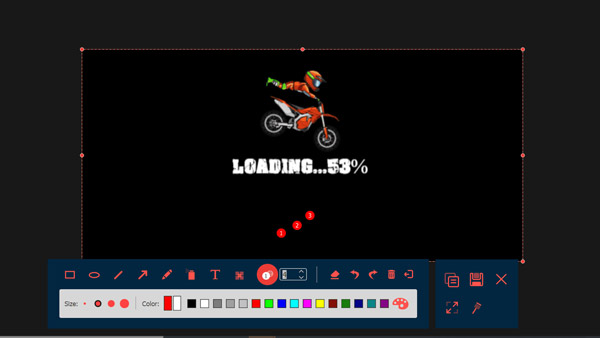 Part 4: FAQs about Prtscn Keys for Taking Snapshots on Windows/Mac
Does PrtSc key support taking screenshots of the desired region?

No. The PrtSc key on Windows 11/10/8/7 only capture the full screen of your computer. And the screenshots will be saved on your clipboard instead of the file folder. So you need to paste it on the Paint and export the screenshot.

Where are my screenshots saved on Mac?

If you use the default print screen keys to take snapshots on Mac, then the screenshots will be saved on your desktop. You can also change the default settings to adjust the storage path.

How to use prtscn key to take a partial screen on Mac?

There are many default commands on Mac to take screenshots, and you can use the Command + Shift + 4 buttons to capture a partial screen easily.
Conclusion
Here are the overall introductions to the Prtscn keys on Windows and Mac. You can use the default ways to take screenshots without any additional function. Thus, have a try on AnyRec Screen Recorder to get the best experience to capture your screen with the desired size, format, and quality. Free download it now!
Related Articles