6 Effective Solutions to Fix AirDrop Not Working on iPhone/iPad
If you are an Apple user, you have probably heard about AirDrop. AirDrop works in a similar way as Bluetooth. If AirDrop is enabled, users can directly transmit photos, files, and other items to neighboring Apple devices, and the speed is faster than Bluetooth transmission. However, it would be absolutely heartbreaking if AirDrop is not working on your iPhone/iPad because you would be unable to transfer files wirelessly across Apple devices. This issue has been reported to Apple several times, and it has been discovered that it frequently happens after the iOS 14/13 upgrade. But don't get too stressed up over it! This guide highlights the most effective solutions to fix AirDrop not working on your iPhone and Mac. Please continue reading to be well guided.
Part 1: 6 Efficient Solutions to Fix AirDrop Not Working on Your iPhone/iPad
#Solution 1: Check If Your Device is Detectable
Check if your AirDrop is detectable if it is not working on your iPhone. In line with that, make sure your AirDrop is turned on to be visible by other devices. Take note that it must be manually enabled in order for it to function. And so, to enable AirDrop, follow the instructions outlined below.
For iOS Devices:
Step 1.For you to set up the AirDrop settings, go to the Control Center. For outdated iPhone devices, you may swipe up the screen of your device. On the other hand, for the updated iPhone devices, you may swipe down the hidden menu on the upper right side of the screen. After that, long-press the Wifi button for you to see the AirDrop button.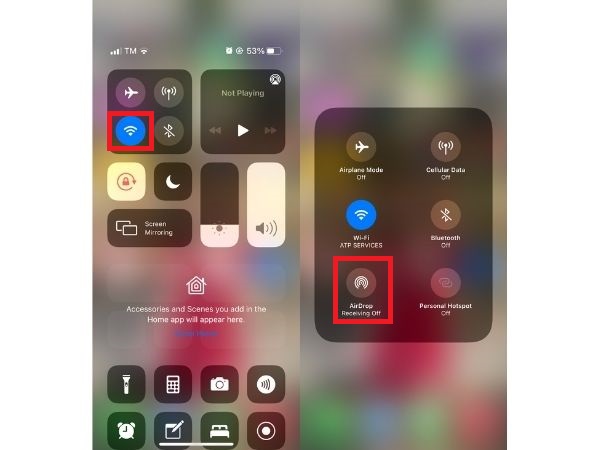 Step 2.Next, hit the AirDrop button and select Everyone to turn on your AirDrop and make it detectable to other devices, which will fix AirDrop not working.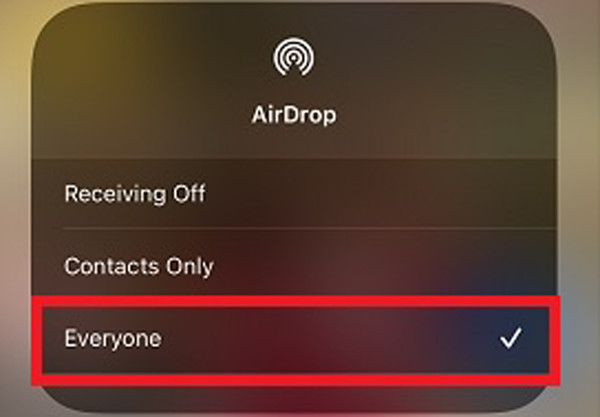 For Mac OS:
Step 1.For you to set up the AirDrop settings on your Mac, go to the Finder app and then click the Menu Bar button.
Step 2.After that, you may click the Go button then AirDrop. Next, click the Allow me to be discovered button. Finally, choose the Everyone button.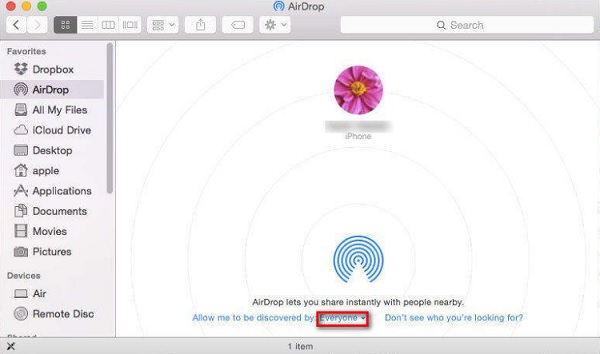 #Solution 2: Ensure That All of the Devices Are Within Range of Detection
Of course, make sure that your iPhone or Mac is within detection range for it to be discovered and reached. Ascertain that your iPhone or Mac is in close proximity to the device to which you wish to transfer your data. If you are 20 feet or 6 meters away from your device, the AirDrop will not work because it might be undetectable.
#Solution 3: Turn Off the Airplane Mode on Your Device
Airplane mode disables your iPhone's connection to all wireless networks, including cellular and Wi-Fi, so AirDrop will not work if it is enabled. Kindly follow the steps below to turn off your Airplane Mode.
Step 1.Go to the Control Center to turn off the airplane mode. You can slide up the screen of your iPhone if it is an older model. On the other hand, you can swipe down the hidden menu on the upper right side of the screen on updated iPhone devices.
Step 2.After that, you can simply click the Airplane button to turn it off. Finally, you can check whether the AirDrop not working issue is fixed or not.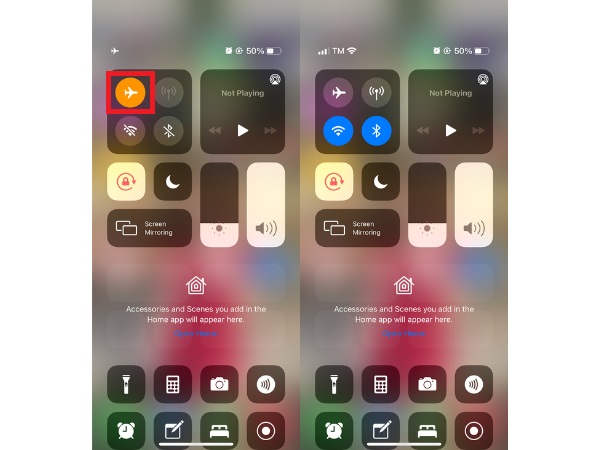 #Solution 4: Ensure That Your Device's Screen Is On
If the iOS device's screen is turned off when you are trying to AirDrop files, the items will not be sent or received. When utilizing AirDrop, ensure your iOS device's screen is turned on.
When it comes to Macs, you can utilize AirDrop when the screen is turned off, but make sure it is not in sleep mode. AirDrop will also be disabled if you put your phone in sleep mode.
#Solution 5: Turn on Bluetooth and Wi-Fi
As previously stated, AirDrop can function correctly when both WiFi and Bluetooth are operating properly. It is possible that AirDrop will not work if your WiFi or Bluetooth is not working properly.
Although WiFi and Bluetooth will automatically turn on if AirDrop is enabled, you can try turning WiFi and Bluetooth off and on again to see if it will work properly.
Step 1.Go to the Settings app, then select the Wifi button. After that, you may now turn off and on your Wifi.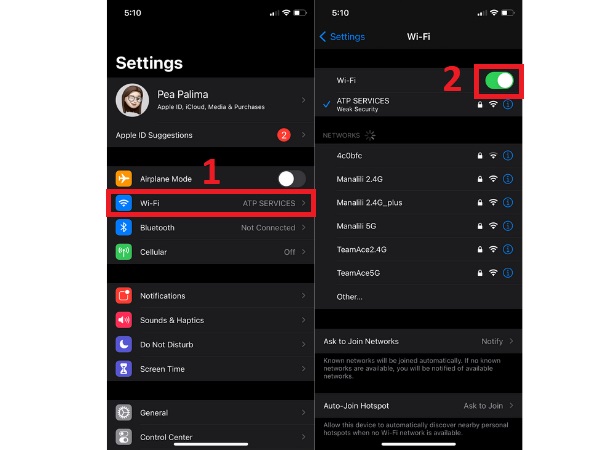 Step 2.Go back to the Settings app and then, click the Bluetooth button. After that, your Bluetooth has been reopened as well.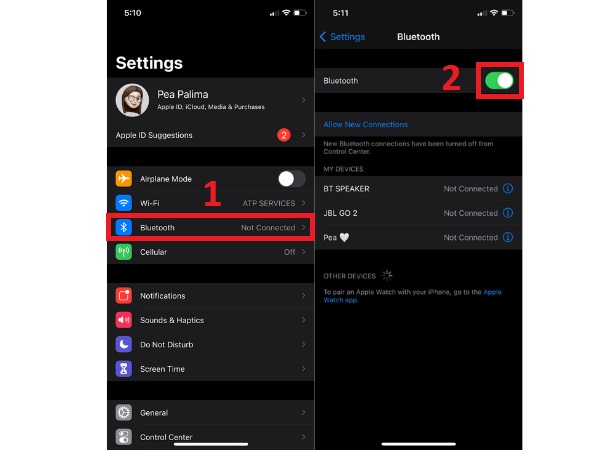 #Solution 6: Reset Networks
It might be painful to reset all your networks, but if you have done everything that is written above, this method might be necessary for you to fix AirDrop not working issue.
Step 1.Go to the Settings. After that, click the General button. Among the list, select the Reset button.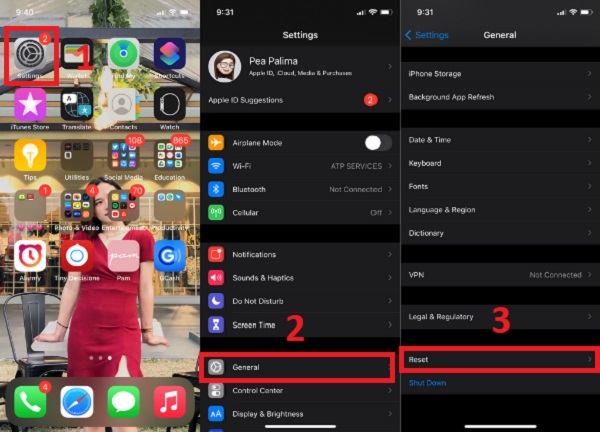 Step 2.Next, click the Reset Network Settings button. Then, you need to enter your Passcode. Finally, click the Reset Network Settings button to confirm the action.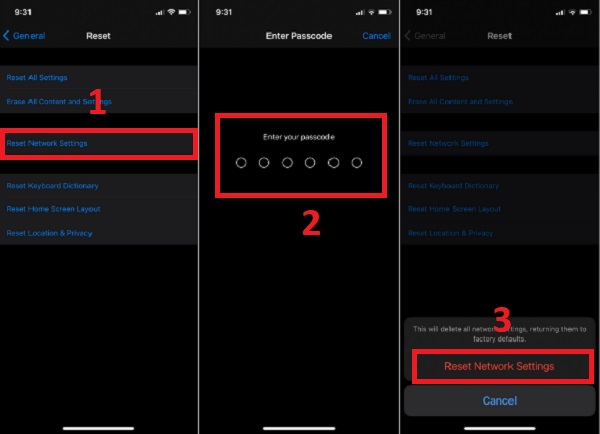 Bonus Tips: Transfer Screenshots/Videos from iPhone to Mac without AirDrop
AirDrop allows you to send videos, images, audio, and other files from one Apple device to another. If AirDrop still doesn't work when you want to send the screenshots you took just now from your iPhone to Mac, AnyRec Screen Recorder allows you to capture the screen as screenshots or videos straight on your Mac. So, what exactly are you waiting for? Now is the time to download this software and start sharing your files with ease! All you have to do is to follow the steps below. It's also workable when your AirPlay doesn't work on your iPhone.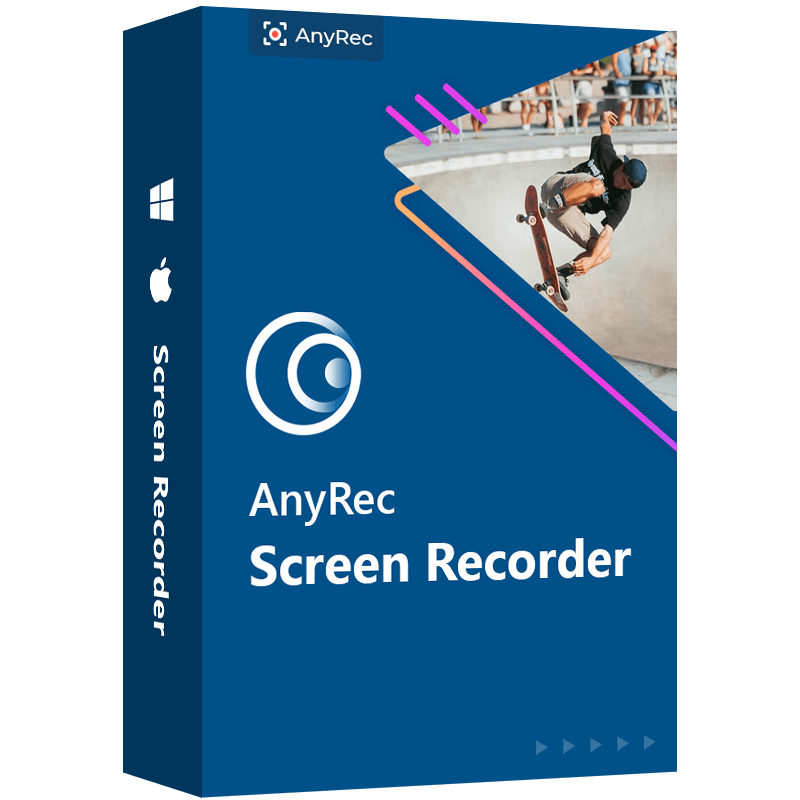 The Best Screen Recorder to Capture Your iPhone on Mac
Provide a designed phone recorder tool to capture iPhone screens on Mac.
Capture your screen with an adjustable screen size of a certain region.
Able to adjust the recording settings and edit the recordings freely.
Support to export the recording to any format with the desired quality.
Steps to Follow:
Step 1.Launch AnyRec Screen Recorder on your computer. After that, you should connect your computer to the same WiFi as your iPhone. Then, click the Phone Recorder button and your iPhone will be mirrored on the computer.

Step 2.After that, choose the location where you want to record on-screen actions. Then customize the screen size.Next, if you wish to record your audio as well, you may turn on the System Sound and Microphone buttons.

Step 3.After you have finished with the settings, press the REC button to begin recording. You may take pictures, set the record length, edit the recording, and modify the audio volume during the recording process.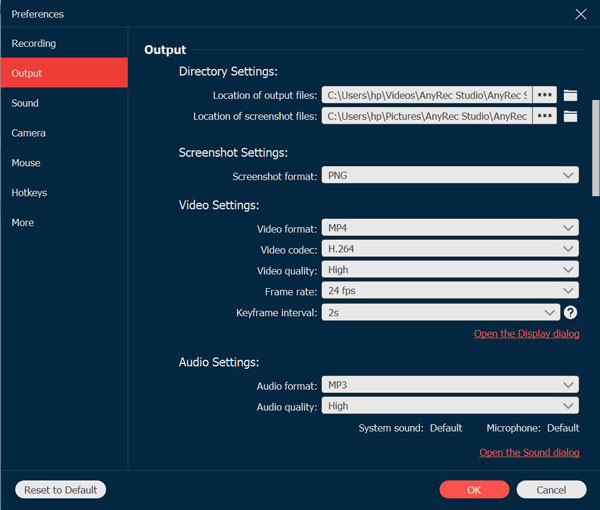 Step 4.Finally, you may now save your recorded video. Just click the Stop button to stop the recording. After that, you may check your video first. Once done, you can now click the Save button on the bottom right area of the app to save your video.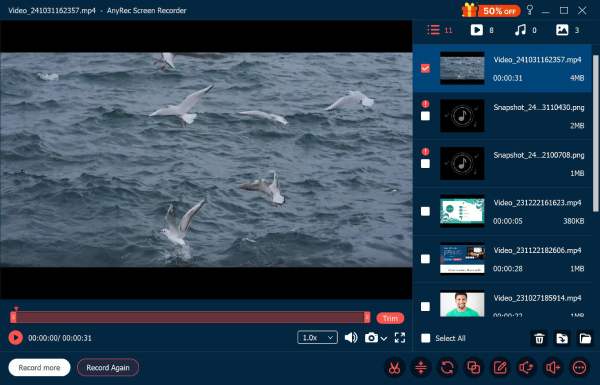 Maybe you want to buy yourself a new iPhone. Check the difference between iPhone 13 and iPhone 12 here.
Part 2: FAQs about AirDrop Not Working on iPhone/iPad
1.Why is AirDrop from iPhone to Mac not working?

You may check if both devices turned on their AirDrop and make sure they are on the detectable area for the device to reach each other.

2.Is it possible to share contacts via AirDrop?

Yes! AirDrop can be used to share contacts. To share a contact card on your iPhone, simply tap 'Share Contact' and select AirDrop from the drop-down menu.

3.What devices are compatible with AirDrop?

AirDrop works with any iPhone, iPad, or iPod touch running iOS 7 or later, as well as any Mac model from 2012 or later running OS X Yosemite or later (except for the 2012 Mac Pro). AirDrop is exclusively compatible with Apple devices, and it is not available on Android or Windows.
Conclusion
There you have it! These are the 6 most efficient solutions to solve AirDrop on your iPhone that is not working. Which strategy is most beneficial to you? We would be pleased to hear from you. Please contact us if you have any further queries, and we will see what we can do to assist you.
Related Article