[Solved] Can You Play Regular DVDs on a Blu-ray Player
Without any questions, Blu-ray players can play Blu-ray discs smoothly. However, if you have no Blu-rays but regular DVDs or CDs, you must wonder can Blu-ray players play DVDs and vice versa. Stay assured because all your questions will be resolved below. Besides the following content will also elaborate on their significant distinctions for those who still do not know the differences between Blu-ray and DVDs. Moreover, whether you have Blu-ray, DVD, or CD, the best Blu-ray player app will handle them all. So, buckle up and dive in to see more.
Part 1: Can Blu-ray Players Play DVD or Vice Versa
Can you play regular DVDs on a Blu-ray player? Yes, you can. In most cases, most Blu-ray players on the market are compatible with regular DVDs and will play them without a doubt. Because most Blu-ray player manufacturers would include blue and red lasers when developing the players. So, the Blu-ray player can play both Blu-rays and DVDs. But there is still a possibility that some Blu-ray players do not support regular DVDs. The best way to find out if your player is one of them is to check the specifications before inserting a DVD. One question is solved, and another one is: Can a DVD player play Blu-ray? The answer is no. DVD player only supports regular DVDs and is not compatible with Blu-ray discs. Because a DVD player uses the red laser while reading a Blu-ray requires the blue laser.
Part 2: Differences between Blu-rays and Regular DVDs
You may often see Blu-ray and DVDs and have a collection of DVD or Blu-ray movies. But, you possibly still have confusion over the differences between these two different formats, which also explains why some of you have doubts about the question, "Can Blu-ray players play DVD." The following content will elaborate on their differences from three aspects for you.
Resolution and Audio Quality
If you compare the resolution and audio quality of movies on Blu-ray and DVD, it would be like comparing 4K to 1080P, and obviously, the former is always better. These two elements are also vital for your viewing experience when enjoying a movie, and Blu-rays can include much more advanced audio formats like DTS:X, Dolby Atmos, etc. As for the resolution, Blu-ray is still the winner and delivers much more information than DVD.
Storage Capacity: Blu-ray vs DVD
By default, Blu-ray allows you to store more data than DVD and enables you to put larger files in it. So, you do not need to shrink a video file size to fit into the Blu-ray. The Blu-ray storage capacity is 25 GB per layer and 50 GB for dual-layer, which is five times bigger than a DVD.
Lasers: Blu-ray vs DVD
Blu-ray and DVD both rely on optical storage and need laser technology to read them. The main difference between the lasers is that the Blu-ray uses a blue laser while a DVD uses a red one. That's also why a DVD player can't read a Blu-ray.
Part 3: How to Play a DVD with a Blu-ray Player App
Since you have found out the answer to the question: Do Blu-ray players play DVDs, the differences between Blu-ray and regular DVDs, you will need a powerful Blu-ray app to help you handle all the discs you have, including CDs, DVDs, and Blu-ray. So, come and meet the AnyRec Blu-ray Player, a user-friendly player compatible with all kinds of DVD and Blu-ray formats. Whether you insert the latest Blu-ray or the oldest DVD into your computer, this player will always be able to recognize it. Meanwhile, this Blu-ray player also offers an immersive audiovisual experience when watching a DVD movie. The convenient shortcut keys and navigation panel enable you to switch between different chapters quickly.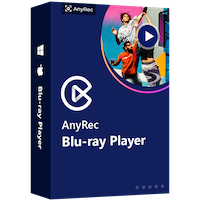 Anyrec Blu-ray Player
Support seamless play for both Blu-ray and DVD.
Provide excellent audiovisual experiences.
Switch between different chapters and titles smoothly.
Add suitable subtitles for your DVD movies in a few clicks.
Step 1.First of all, get a free download and installation of AnyRec Blu-ray Player on your computer. Launch it afterward. Then, insert your DVD into the drive and connect the drive to your computer. Click the Open Disc button on the main interface of the Blu-ray Player.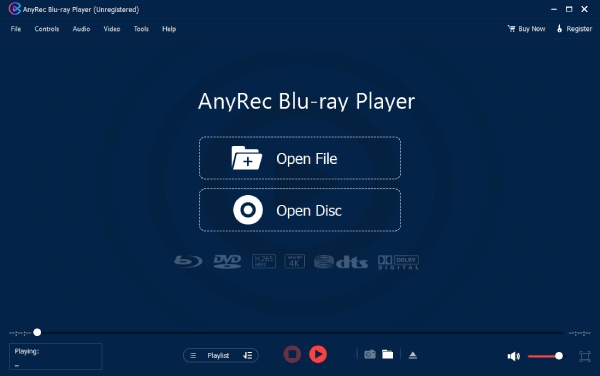 Step 2.Choose the disc you insert and start playing it. Then, you can click the Playlist button above to navigate to a different chapter. Besides, all the tools you need to control the playback are on the panel below, where you can adjust the volume, take a snapshot, etc.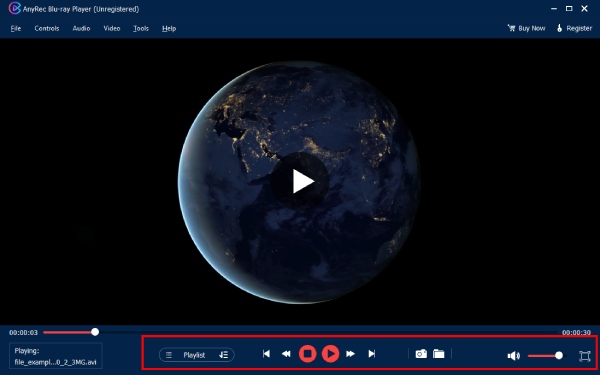 Part 4: FAQs about Can Blu-ray Players Play DVD
Can Blu-ray players play DVDs from all regions?

Yes. You will need a region-free Blu-ray player to play DVDs from all regions. Otherwise, you can't play region-locked DVDs once your player's region does not match the DVD.

Can I use a Blu-ray player to play CDs?

Yes. A Blu-ray player can play a standard audio CD as well. You must insert your CD and connect an external speaker for the sound.

Can Blu-ray players play DVDs with 3D movies?

It depends. Not all Blu-ray players support 3D movies. You must check the specifications of your Blu-ray player in advance to see if it is capable of playing discs designed for 3D viewing. Or, you can call the manufacturer, which is also a workable way to find the answer.
Conclusion
That's all for all the basic knowledge about Blu-ray and DVD. The question "Do Blu-ray players play DVDs" becomes much clearer for you, and you know that you can use a Blu-ray player to play regular DVDs. Moreover, if you are looking for a powerful Blu-ray app to help you read the discs on your computer, AnyRec Blu-ray Player is your best choice.
Related Articles