Solutions for DVD Player Won't Open on MacBook Pro/Air/iMac
The DVD Player is a reliable tool for playing DVDs on your Mac. But it won't be as good as it used to be when the Apple DVD Player not working on your Mac. You may encounter such a problem in different scenarios. For example, after you insert a DVD into your Mac, it keeps spinning around and pops out. Based on different scenarios and warnings you receive on your Mac, this article collects the corresponding solutions to solve the DVD Player won't open issue. Meanwhile, there is also the quickest solution that enables you to jump through all the tedious troubleshooting processes if you wish to see the DVD immediately. Now, scroll down and check it out.
Part 1: Quickest Way to Play a DVD when DVD Player Won't Open
The quickest and easiest way to watch a DVD when the DVD Player won't open on your Mac is to install another reliable player. AnyRec Blu-ray Player can be your excellent alternative player on the Mac. Whether using the latest MacBook Pro, Air, or iMac, this player will perfectly adapt to your device and seamlessly play all kinds of DVDs. Unlike DVD Player, which doesn't support certain types of DVD-RW discs, AnyRec Blu-ray Player supports a wide range of DVD formats, including DVD+R, DVD-RW, DVD+RW, DVD-RAM, etc.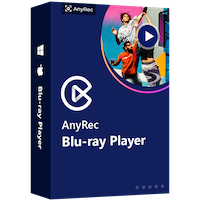 Anyrec Blu-ray Player
Play your DVD content in original quality.
Enjoy DVD with an immersive audio experience.
Capture the best moment during the watch with the snapshot.
Offer smooth playback control with an easy navigation panel.
Step 1.Launch AnyRec Blu-ray Player after downloading and installing it on your Mac. Insert a DVD into your Mac. Go back to the player's main interface, click the Open Disc button and choose the DVD you just inserted. Then the content in it will start playing automatically.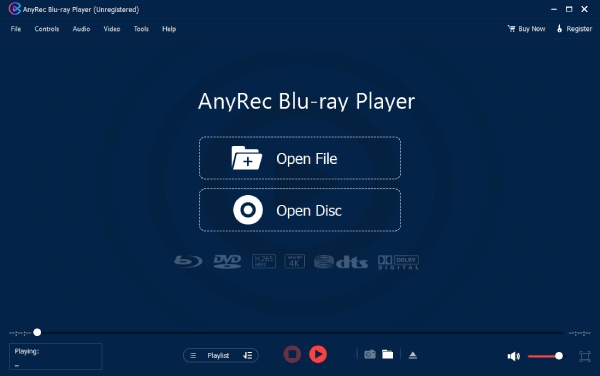 Step 2.You can change to a new chapter by clicking the playlist button on the control panel below. Besides you can also stop the playback, go forward or backward, and adjust the volume through the control panel. To take a screenshot, click the Screenshot button with the camera icon. At last, you can click the up-arrow icon to eject the DVD whenever you want.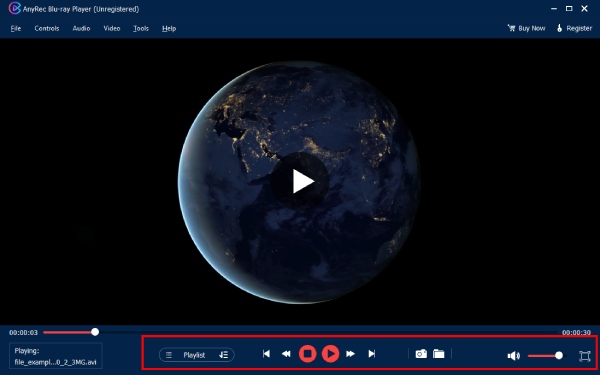 Part 2: Troubleshooting Apple DVD Player not Working
There are many reasons behind Apple DVD Player not working. To solve it correctly and make the play work, you must specify the reason before finding the corresponding solutions. Luckily, the following content has listed some major situations and solutions. Whether you are using MacBook Pro, Air, or iMac, you can find suitable solutions here.
1. DVD Player Won't Open, And The Disc Ejects
This situation only relates to region code. If the DVD you inserted is not from the same country where you bought this Mac, the DVD Player won't open. For example, if your DVD is encoded with region code 2 while the Mac is set to region code 1, these two won't match, and the disc will automatically eject. You can change the region code to solve it. If you haven't reached the limit (one can only change the region code 5 times), you will see a pop-up asking if you want to change the region code once you insert this DVD. Then, choose a region code the same as your DVD.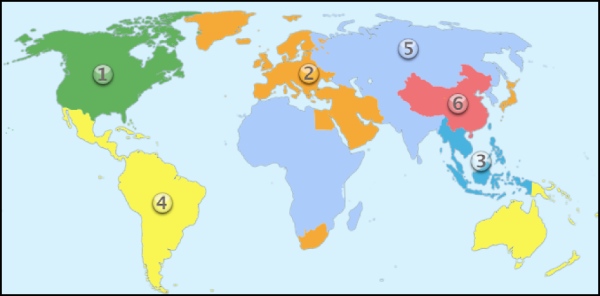 2. Supported Disc Not Available
Like the content mentioned above, the DVD Player supports limited DVD formats. Just like Adobe Premiere Pro, which only supports MP4 for imported video. Certain types of DVD-RW are not on the supporting list. So, the DVD Player won't open. If this is a homemade DVD or you own its copyright, considering extract the content and moving it to a supported DVD. Or switch to a more compatible player like AnyRec Blu-ray Player.
3. Error Message: Not Permitted
When you see such an error, this suggests you are operating an action in the DVD Player while this action is not supported by the movie you are watching, and there is a clash. Another possible reason is that you insert a DVD-RW disc, and the player can't recognize it. Both situations can be solved by changing to a more advanced DVD player.
4. Skipping Over Damaged Area
If you see the Apple DVD Player not working and such an error message, unfortunately, your DVD is damaged or scratched. So, it can't be recognized by the program. You may need professional help to fix it.
Part 3: FAQs about DVD Player Won't Open
Why is the Apple DVD Player not working during watching?

This can happen because a damaged disc or the audio device you connected has something wrong. You can eject the DVD and insert it to try again. Or you check your audio device and adjust the sound preferences.

Why is the Apple DVD Player not working after trying the solutions?

You can check if the DVD Player is set as auto-play every time you insert a DVD. Sometimes, if you insert a DVD improperly, the DVD Player also won't open. Or if the DVD has copyright protection, the player may also fail to open.

How to force quit DVD Player and eject the external DVD on Mac?

You can log out of your Apple ID and log in again, then eject your DVD. If you still can't eject it, click the Apple logo on the menu bar and choose the Shut Down option, disconnect the DVD drive and start your Mac again to see if everything is fine.
Conclusion
Put it in a nutshell, next time, if your DVD Player won't open on your Mac. You can see which error message or situation you have encountered. Then, address the situation with the corresponding solutions. A more advanced player like AnyRec Blu-ray Player is highly recommended if it is a compatibility issue.
Related Articles