Make a Screencast to Record All Activities on Your Computer and Mobile
If you want to record anything on your computer or mobile phone's screen, the best way is to make a screencast. And do not worry that you are not familiar with the screencast; this post will give you knowledge about it. What's more, there is also the best screen recorder recommended to you. So, you can apply the knowledge to this software and make a screencast about the game, education, tutorial, and so on.
Part 1: What is Screencast
A screencast is a digital recording of computer screen output, also known as a video screen capture or a screen recording. It often contains audio narration. You can think of a screencast as the video equivalent of a screenshot. You'll notice that screencasts are also often called screen recordings.
Making a screencast is one of the most simple and effective ways to show what you know. They're great for teaching or sharing ideas and can be used for workplace communication.
For example, what if you have a new coworker who needs to learn to use a critical piece of workplace software? You could write out complicated instructions or go and sit with them at their desk while they learn, but that can be time-consuming and inefficient.
Part 2: Create a Screencast on Windows/Mac/iOS/Android
If you want to find software that could make a screencast both on your PC and mobile, AnyRec Screen Recorder is the best choice for you. This screen recording software could help you record everything on your computer and phone. One software solves all problems.
There are amount advantages of using AnyRec Screen Recorder to make a screencast. For example, you can record any length of video you want on your devices, and you do not have to worry about the long time using this program will make your devices hot. And the biggest benefit is that AnyRec Screen Recorder could literally record anything activity on your devices. Therefore, many programs will forbid users from recording screens, and this problem can be solved perfectly when using this software.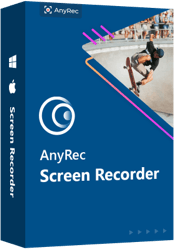 AnyRec Screen Recorder
Have the hardware acceleration to record HD gameplay without lagging.
Record the computer and phone screen with your face and voice lossless.
Capture both internal audio and external audio of devices at the same time.
Save your recorded video and audio on your devices up to 4K.
1. Make a Screencast on Windows and Mac
Step 1.Launch the program and click the Video Recorder button. And select the desired area for recording on-screen activities.
Step 2.Click the Full button to record the full screen. Click the Custom button to click the Select region/window button to customize the recording area. The Select region/window option provides more controls to select the specific window or rectangular area.

Step 3.Toggle on the audio options from the System Sound option and the Microphone option. When you need to capture desktop videos, you can click the System Sound toggle only. As for narration recording, you should include both system sound and microphone.

Step 4.During the recording process, click the Pause button to pause the recording, or click the Stop button to enter the preview window. Click the Save button to export and save the video recording file. You can simply preview the video recording to cut unwanted parts from the file.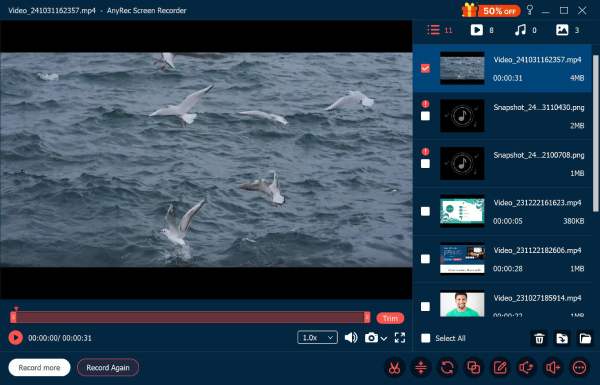 2. Create a Screencast on Android and iPhone
Step 1.After clicking the Phone button on the main screen, there will be a window to let you choose your phone system.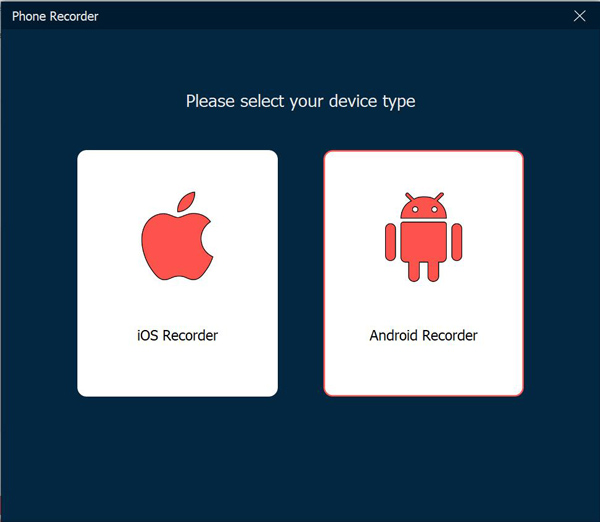 Step 2.If you choose the Android system, there are two ways to connect your phone to the computer.
You can use the Wi-Fi connection. Firstly, download FoneLab Mirror on your phone. Make sure your computer and phone are the same Wi-Fi connection. Later, tap Detect on your phone to find your computer to start casting. You can also enter a pin code on FoneLab Mirror or scan the QR code on the computer to start casting.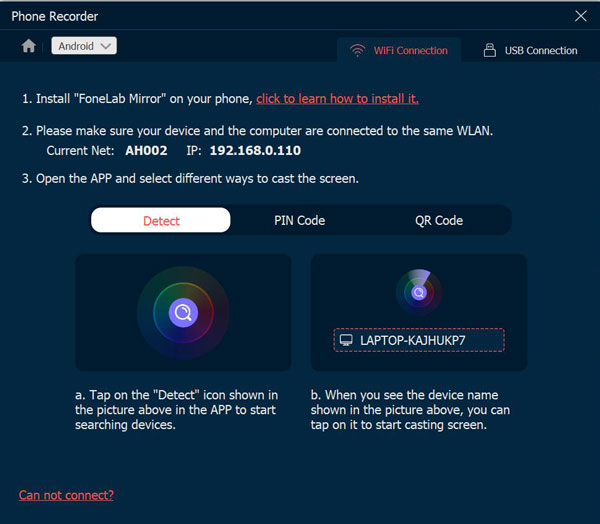 And another connection way is USB Connection. A USB wire can connect your phone and computer to start recording your phone. Follow the on-screen wizard to mirror and screencast on your phone.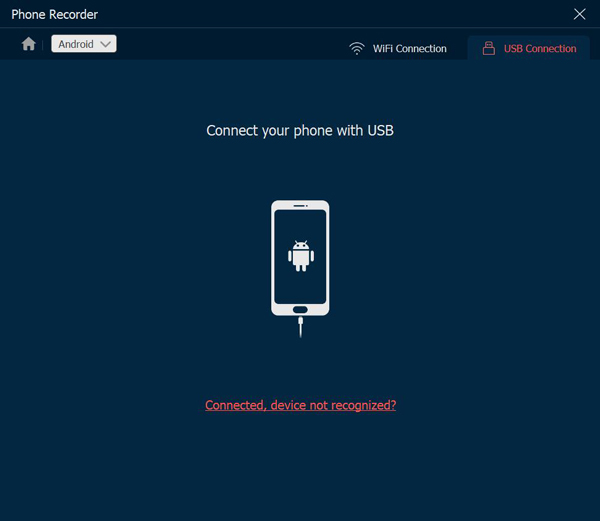 Step 3.As for iOS users, it doesn't require any third-party software to record iPhone 12/13/14. And you can choose to record video or just audio on your phone. If you choose to screen mirror on your phone, all you have to do is tap Screen Mirror on your iPhone and find AnyRec Screen Recorder to start recording..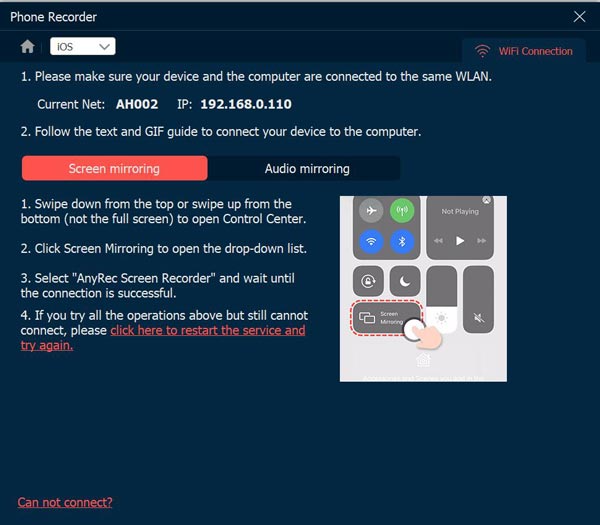 Part 3: FAQs about Making a Screencast
How can I record one application only?

Traditionally users have to record their full screen which may be unsettling since the risk of unintentionally exposing personal documents. Most of the updated screen casting applications nowadays, however, can help users to lock their recording frame to a particular application.

Can I edit my screencast afterward?

Yes. But you should take a look around to see if your screen recording application supports editing. Most Java-based screencast tools probably export your screencast to an independent editing site while AnyRec Screen Recorder supports your editing tool after recording video.

What screen resolution should be set for my screencasts?

Aspect ratio and resolution are critical if you don't want your screencast to appear missing, fuzzy, or illegible. Online videos may display well on several resolutions. However, you might want to record your screencast at 1280×720 for the best visibility on different devices.
Conclusion
After you read this post. I believe you know what is screencast, it is just like a screen recording. However, if you want to have a good-quality recorded video and a great user experience, you should choose AnyRec Screen Recorder. With the help of this software, you can make a screencast about anything, even if to take it as an audio recording software on your computer or mobile phone.
Related Articles