3 Best Methods to Record Screen on Mac with Internal Sound for Free
If you are wondering how to record screen on Mac with sound, your MacBook has the built-in features to record onscreen activities, such as QuickTime Player. QuickTime Player is more than a media player but also capture the videos from your MacBook with external audio files. To protect the online streaming files, especially the music files, Apple does not provide an built-in option for recording internal audio. With this post, you are about to learn how to screen record on Mac with audio files, including both external and internal sound.
Part 1: How to Screen Record on Mac with Audio by Built-in Software
Owning a Mac means you get a chance to use all its built-in features. With its robust tools, QuickTime Player is one of its powerful apps for playing media files. Not only that, but it also has the ability to record onscreen activities on Mac with external audio. Unfortunately, many users are disappointed with QuickTime because it cannot include internal audio while screen recording.
You will need the Soundflower program to capture the system sound on QuickTime, another software to download. While Soundflower is an open-source extension for Mac, it helps QuickTime to access and record internal audio while screen recording.
How to screen record on Mac with internal audio through QuickTime and Soundflower:
Step 1.Since QuickTime Player is the default media player for Mac, you only need to launch it on your device later. First, download the Soundflower extension from a trusted site and extract it from a zip file. To fully install the extension to your device, you need to permit the program. Go to System Preferences, select the Security and Privacy menu, then click the Allow button. You will also need to restart your device to finish installing.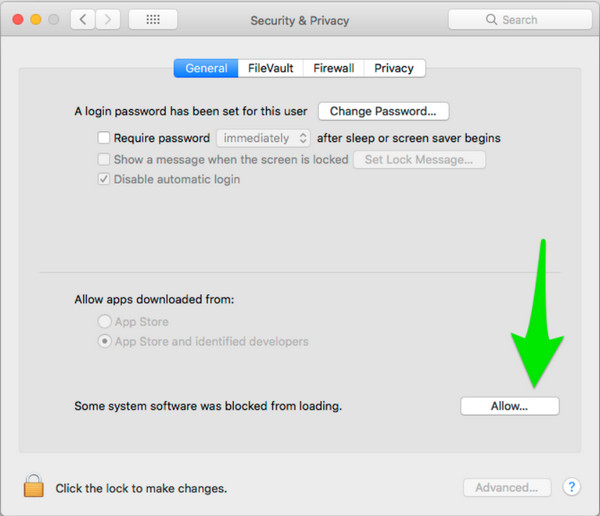 Step 2.Once your device is restarted, go back to System Preferences, then select the Sound Settings option. Click the Output button to pull up the list of available output devices on your computer's audio. Locate the Soundflower as one of the entries from the list. You will see two Soundflower options: SoundFlower (2ch) and Soundflower (64ch). If you are a beginner, you can choose (2ch) for a more manageable configuration. Save the changes and proceed to the next part.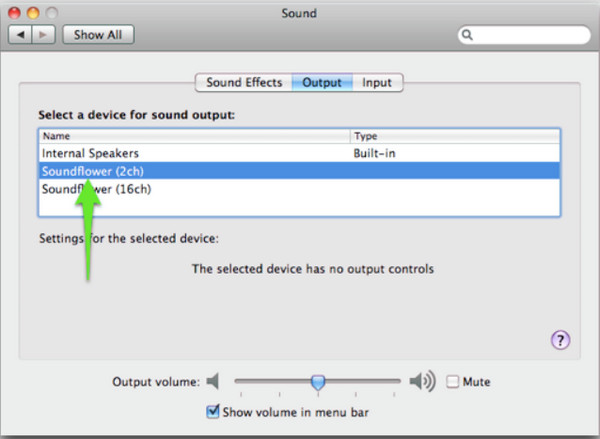 Step 3.Launch QuickTime Player to set up for screen recording. Click the File button from the top menu and select the New Screen Recording button. The window that will appear allows you to record your screen. But before that, click the Options button on the right side part of the window. Make sure that your Microphone is set as Soundflower (2ch) so QuickTime can record the system sound from your mic instead of external sound.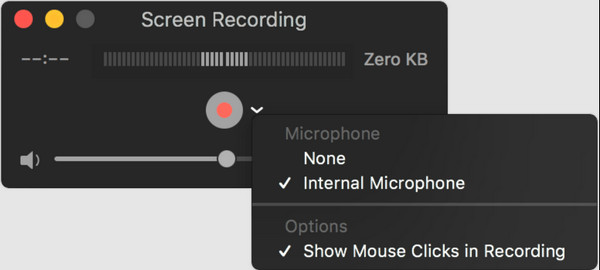 Step 4.The Options menu has other configurable features like the quality and choice to hide or show the cursor on the recording. Once done, start screen recording on Mac with sound by clicking the Record button. Confirm that you want to record, then proceed to do your project. You can choose between fullscreen and partial screen recording. After done recording, click the Stop button and proceed to edit and share the recorded screen to your social media accounts.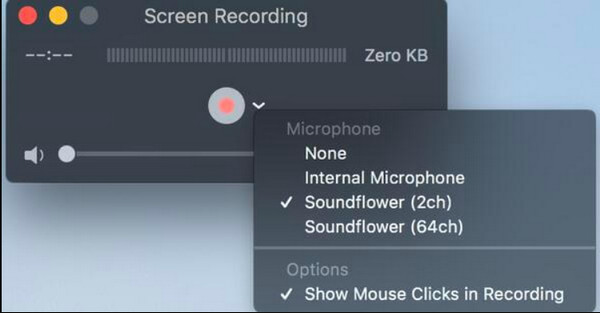 Part 2: How to Screen Record on Mac with Internal and External Audio
Although QuickTime has provided you with the best way to record onscreen activities with sound, you still need to install Soundflower to capture your device's system sound. AnyRec Screen Recorder will not let you down with its built-in video recorder. Unlike QuickTime, it allows you to install and record effortlessly. Aside from the best video quality, you can also have a high expectation of audio quality. Features include a soundcheck system for internal audio and your microphone, so you can fix them before hitting the Recorder button. Use AnyRec Screen Recorder to screen record on Mac with external and internal audio.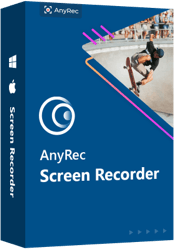 AnyRec Screen Recorder
Enable to screen record with both system sound and microphone on Mac for gameplay, business meeting, and other onscreen activities.
Allow users to save output video to a different format, quality, frame rate, codec, and keyframe interval.
Provide microphone effects such as Noise Cancellation and Enhancement with configurable audio format and quality.
It has a straightforward interface with a widget menu for taking screenshots, applying real-time drawing effects, and setting a recording schedule.
How to screen record on Mac with sound using AnyRec Screen Recorder:
Step 1.Go to the Official website of AnyRec Screen Recorder and click the Free Download button for Mac. Then, install the software on your device and launch it to record screen on Mac with internal audio. Click the Video Recorder button from the main menu of AnyRec Screen Recorder.

Step 2.Select the screen region you want to record. You can also choose the Full option for a fullscreen recording. Then, toggle the System Sound option to capture internal audio. If you wish to capture your voice or do a commentary, tick the Microphone option. You can do a soundcheck from the Sound option in Preferences.

Step 3.After sound checking, click the REC button to start recording the screen on Mac with sound. The widget menu allows you to apply drawing effects while recording, take a screenshot, and stop the recording automatically by setting a schedule. You will find other functions, such as the pause and stop buttons.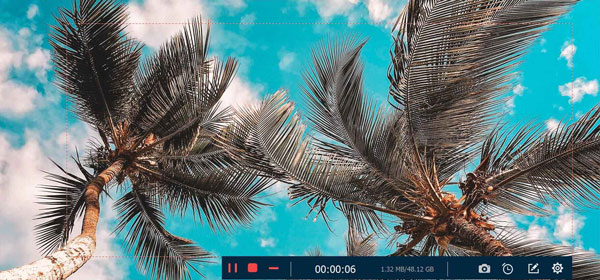 Step 4.Once you are done recording, trim the recorded video to remove the unwanted parts. Choose the designated folder path where you want to save the video file. Rename the file or select a cover from your folder. Finally, click the Save button to complete the process. You can preview all the recorded files from the software's History folder or go to the designated folder you chose.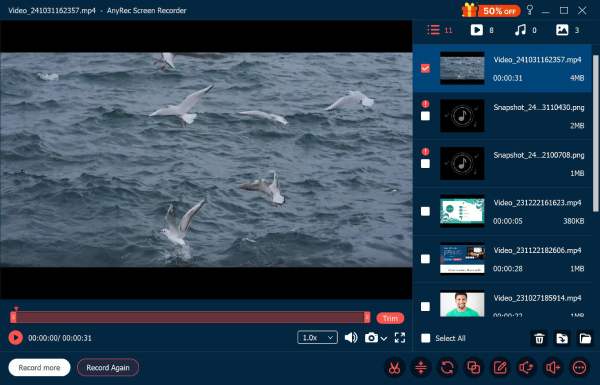 Part 3: How to Screen Record on Mac with Audio by Extension
Another way to record a screen on Mac with internal audio is another extension called Loopback. It is an excellent extension that can combine audio sources in one virtual device. It has channel options while the routings are configurable with easy virtual wiring. It is an excellent alternative to record screen on Mac with internal audio. However, Loopback can only record one audio source from your device, such as recording and watching Olympics online. It is said it can't record internal and external audio while screen recording. But even so, the extension redeemed itself by providing you with the best quality video and audio.
How to screen record on Mac with internal audio using Loopback:
Step 1.Free download and install Loopback audio from a reputable site. Ready the object you want to record from your screen. If you are opening a page on your browser, it is better to use Chrome or Firefox. Then, go to the System Preferences menu to configure the recording features. Under the Sound option, Click the Output button. Select the Loopback Audio as your sound output.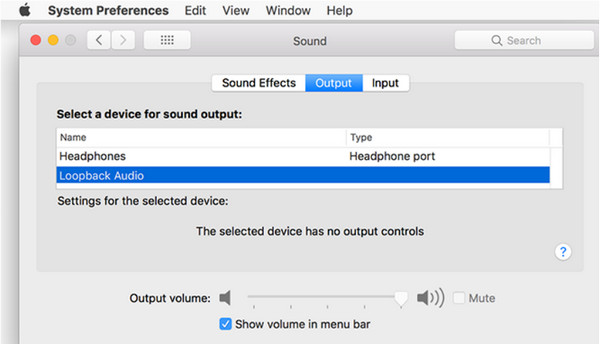 Step 2.Launch QuickTime Player and select the File menu. Choose the New Screen Recording option. Choose the screen option for the screen recording size. Open the Options menu and click the Loopback Audio button. You can also configure other options like Show Floating Thumbnails and Show Mouse Clicks.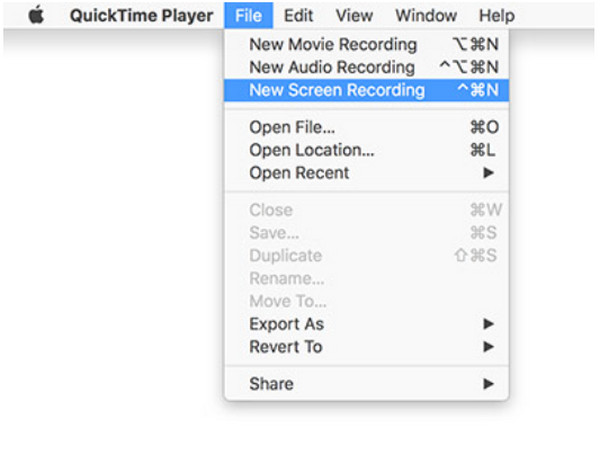 Step 3.Go back to the object or site you want to record. Ensure that you have 5 seconds allowance to capture the very start of the object. Then, click the Record button to start the screen recording. After that, if you wish to stop the recording, click the Black Square/Stop button from the top right of the screen and save the recorded video to the desired folder. Make sure you set the settings from System Preferences to default to hear sounds from your speakers.
Part 4: FAQs about How to Screen Record on Mac with Audio
Where do my recordings go when I screen record on Mac with sound?

If you have a macOS native screenshot utility, all the recorded files are saved to Desktop by default. You can change the location using Command + Shift + 5, under Options and Save To

How long can I screen record on Mac with internal audio?

The great thing about screen recording on Mac is the unlimited recording time. It will not restrict you from capturing onscreen activities for how long you like. Still, you need to keep in mind about available storage space.

What video format does QuickTime save my screen recordings on Mac?

The default video format for screen recordings is MOV and HEVC with H.264 codec. You can export the recorded video to various resolutions such as 4K, 1080p, and 720p. The output formats make the files unplayable to other portable devices like Windows.
Conclusion
Learning how to screen record on Mac with internal audio gives an excellent method to capture various activities on your laptop. QuickTime is the default option to capture onscreen activities. But QuickTime screen recording not working with Internal audio files. You can use AnyRec Screen Recorder to record videos without too much effort. The outputs can be saved to different formats so you can easily share them with other devices. Try the free trial version and experience an effective way to screen record on Mac with sound.
Related Article