6 Best Backward Recorders to Reverse Videos for Different Scenarios
How do you have fun with any trending circulating the Internet like reversing your video or voice? You want to see yourself acting in reverse or hearing your voice saying unknown words, you look for backward recorders to help you reverse your video and audio on Windows and Mac. In this article, we will talk about the best backward recorders which not only to bring laughter us but also, recorders that we can count on for school projects and work. This also has tips and tricks for how to reverse your files and a recommendation on how to get video capture and reverse it. Now, straight away to our 6 best backwards recorders you should not miss.
Part 1: 3 Best Backward Recorders on PC/Mac
There is a lot of software that can put reverse effect to your video or audio. Here are the 3 best backward recorders that can help you with other matters.
Top 1: Adobe Audition
Adobe Audition is more than a professional audio editor, which enables you to flip tracks to play backward and choose a scary voice changer. It not only provides the basic reversing features, but also adds additional audio effects. You can flip clips multiple times without losing quality, or just reverse one portion of the audio files. When you need to have a professional audio backward recorder, it should be the right choice.
Pros
1. Provide advanced features for recording and editing audio
2. Allow editing and blending stereo waveform
Cons
1. It is expensive to explore more features from the Pro version
2. This tool takes too much space and may slow down your computer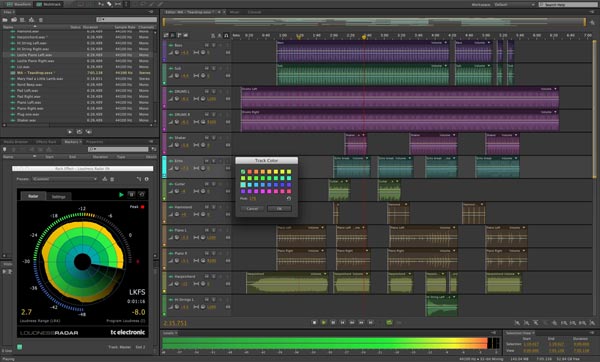 Top 2: Audacity
Audacity is an open-source and free backward recorder for recording and editing audio. This tool is not comparable with Adobe's functionality but it is more than enough to prove its purpose through its distinctive features. Audacity is capable of both voice recording and audio editing as it has a voice recorder. You can even improve your file with its enhancement tool. After recording, you can edit it which you have options to reverse it.
Pros
1. Provide multiple tracks and editing tools for audio tracks
2. Permanently reverse audio file and save as the desired format
Cons
1. Lack of some advanced audio filters
2. Support limited output formats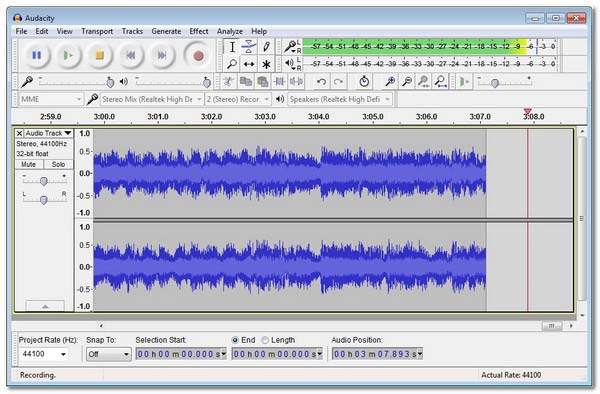 Top 3: GarageBand
GarageBand is a popular method to reverse your content for free on Mac. It is a powerful backward recorder with some advanced voice editing features, such as semitones, speed, and more others. It is also known for its feature of composing music which many musicians like as it helps them to create songs. When you need to create a TikTok sound effect or other special audio filters, it is one of the best choices. In short, you can create music and record audio with GarageBand.
Pros
1. Support iCloud service and touch bar
2. Provide editing tools for voice recording on the timeline
Cons
It is only available on Mac
1. The interface is not user-friendly for beginners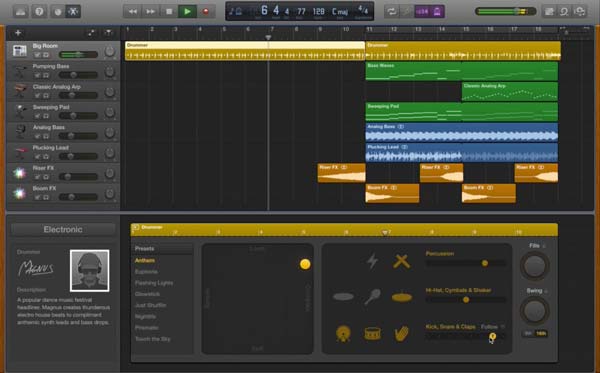 Part 2: The Best Video Backward Recorder on PC/Mac
What is the professional backward recorder to verse audio and video files? Video Converter is the all-in-one video and audio reverser that enables you to reverse the video/audio, add background music, convert video files and apply video filters. Moreover, you can also apply more other video filters to make stunning videos for TikTok or other social media websites.
1. Reverse a video with an audio file and turn it backward easily.
2. Select the desired part of a video to reverse the desired region.
3. Add background music and edit the audio files for the video.
4. Trim the desired part, apply video filters, and more others.
Step 1.Once you have installed the Video Converter, you can launch the program on your computer. Just click the Toolbox menu and choose the Video Reverser option to turn the video into a backward file.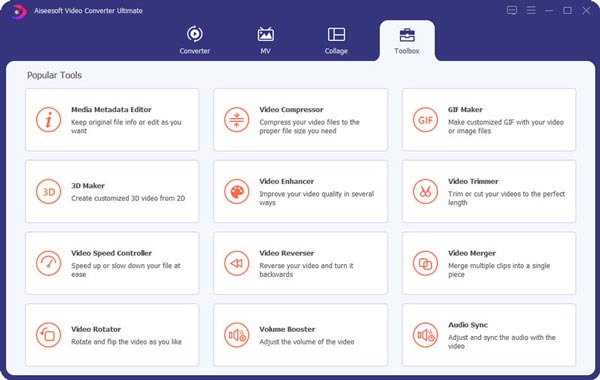 Step 2.Select the desired video file you want to reverse, you can use the progress bar or time set to get the video clip that you want to reverse. After that, you can click the Export button to export the reversed video.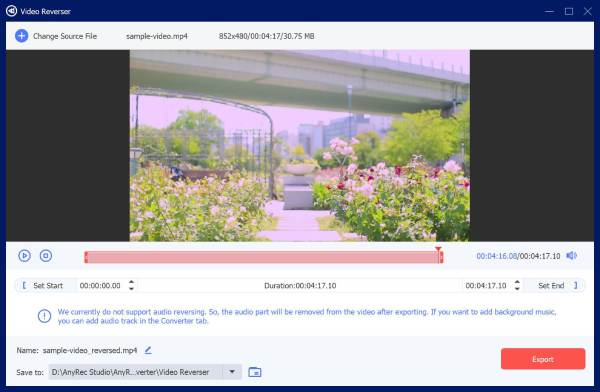 Step 3.The audio file will be removed for the reversed file. If you need to add the audio files to the file, you can go to the Convert menu to add a new audio track.
Part 3: 2 Best Apps to Play Recordings Backwards
Is there such a media player to play backward recordings? When you just need to check the backward effect before reversing and editing your video and audio, you can learn more about the 3 best apps to play the recording backward. We got you! Here are the best apps to play your recordings.
Top 1: QuickTime
As a built-in player for Mac, QuickTime Player is one of the best choices to play recordings backward, watch online content, watch HD movies, and other media files with trouble-free configuration. Aside from this, It also provides some basic video editing and screen recording that can help you with reversing your video and playing the files within the program.
Pros
1. Offers editing tools for any kind of file
2. Plays your video and audio efficiently
Cons
1. It buffers when the file you play is too large for the program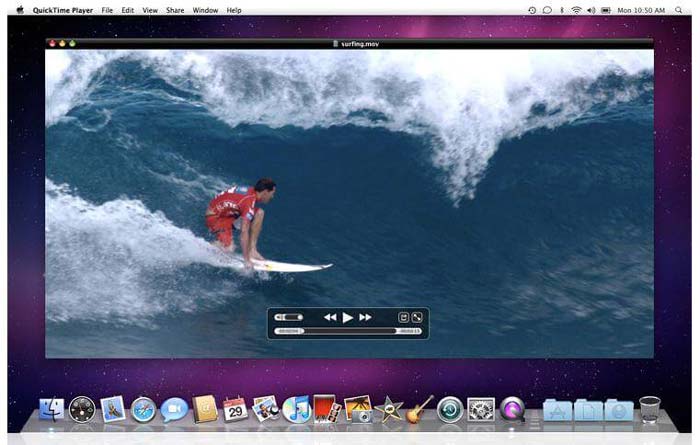 Top 2: VLC Media Player
VLC Media Player is a free and open-source player for all platforms. It allows you to play your video and audio smoothly with multi-track audio and subtitles. Whether you need to play the videos, apply the reverse effect, or even record the movies from streaming sites, it should be the free backward recorder for Windows and Mac.
Pros
1. Easy to use interface that works on computers and smartphones
2. Provide keyboard shortcuts that you can customize
Cons
1. Doesn't support using tags for media file
2. Difficult to find your song in the library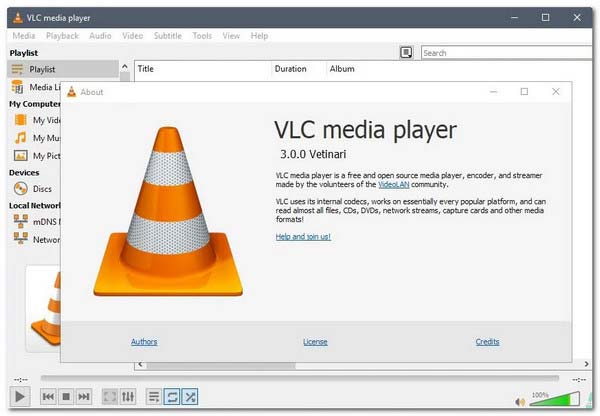 Part 4: Tricks about Backward Voice Recorder
Is it possible to reverse a part of the audio?

Yes. Audacity enables you to highlight a portion of an audio track, which you can trim the desired part of the audio. Just apply the reverse audio filter, or video filter according to your requirements.

Can you reverse a voice recording from WhatApp?

Definitely. Just download the audio file from your WhatsApp folder before editing the file within the above backward audio recorders with reverse effects. If you want to make your voice more hilarious, you can always put other funny effects.

What are the backward recorders for Android/iOS?

When you want to play videos and audio files backward, you can choose GarageBand as the desired backward recorder. Of course, Speak Backwards, Reverse Audio, Say It Backward, and more other applications.
Conclusion
When you want to share a reversed video or audio file to a peal of loud laughter and enjoyment with family and friends, you can have an idea of how to get the desired software from the article. Whether you need to reverse audio files or play backward the videos, you can always get the desired backward recorder from the article.
Related Article