2 Ways to Record Vimeo Video on Windows/Mac/Online
Vimeo is a popular platform for uploading and sharing video projects. When you see interesting videos, you can get the permission to download and watch offline. However, some video creators don't enable the download button. During this time, you need to try Vimeo screen recording tool.
Here you can get a professional Vimeo recorder to capture all videos with high quality. Moreover, you can use Vimeo Record tool to capture screen to MP4 too. So even though the video publisher deletes this video, or Vimeo is down, you can still watch Vimeo videos on your phone, computer, and smart TV.
Part 1: Screen Record on Vimeo with AnyRec Unlimitedly
Most screen recorders can capture videos with an essential resolution, which could be a problem if you wish to share a clip online. But with AnyRec Screen Recorder, you can screen record video from Vimeo with the same quality or higher. Compared with the Vimeo screen recorder Chrome extension, this product provides more screen recording features. Here is a simple chart you can refer to.
| | | |
| --- | --- | --- |
| | AnyRec Screen Recorder | Vimeo Record |
| Don't need to register a Vimeo account | √ | X |
| Share recording videos to everyone. | √ | X (Require Vimeo subscription.) |
| Unlimited recording length | √ | X (Up to 2 hours.) |
| Take a screenshot | √ | X |
What's more, AnyRec Screen Recorder provides advanced settings that allow you to change the video resolution and quality whenever you need. Also, you can customize the screen recorder to full screen or any desired region part. Install AnyRec Screen Recorder and find the best recording tool for Windows and macOS.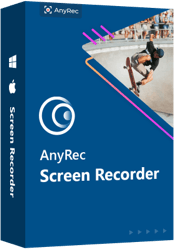 AnyRec Screen Recorder
Record Vimeo screen video and audio without lagging.
Take a snapshot while playing Vimeo video to JPG or PNG.
Set a scheduled task to start and stop recording on Vimeo automatically.
Wide support of video/audio/screenshot saving and sharing options.
Step 1.Download AnyRec Screen Recorder by clicking the Free Download button. After the installation, run the desktop Vimeo recorder. Click the Video Recorder button from the main interface. Proceed to customize the settings accordingly.

Step 2.Set the full screen recorder if you wish to record your whole screen. Or you can select Customand choose a window or page. Then, turn on the System option to capture the audio from your computer. If you need a soundcheck, click the Record Setting button with the gear icon, click Preference, and go to the Sound menu. Click the Start Sound Check button to begin.

Step 3.When everything's set up, click the REC button to record Vimeo. You will find a widget menu where you can apply real-time drawing effects, take video screenshots, and perform other essential functions. Click the Stop button once you have done recording.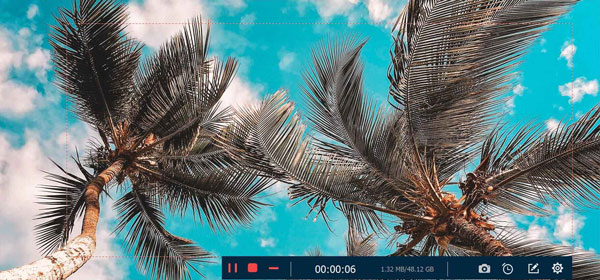 Step 4 .Preview and trim the video clip on the next window. Later, click the Next button. Choose the designated folder path. After that, you can save Vimeo screen recording video. You can also find the Vimeo clip in the recording history section.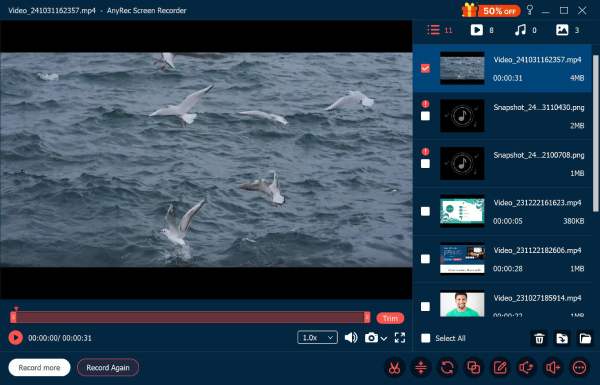 Part 2: Use Google Extension to Record Vimeo Online
Vimeo screen recording can be done with a Chrome extension. It will allow you to capture onscreen activities and share them across the internet. The recommended extension is the Vimeo Record extension, which you can install from Chrome Web Store.
Unlike most extensions, Vimeo Extension allows you to record content from your account and share it directly. It also grants access to the camera and mic when recording. Let's see how to screen record on Vimeo with the Vimeo Record extension.
How to set up Vimeo Record extension:
Step 1.After installing the program on your device, click the Extensions/Jigsaw piece button from the top part of your Chrome browser. You can pin the extension to reveal it on the main menu.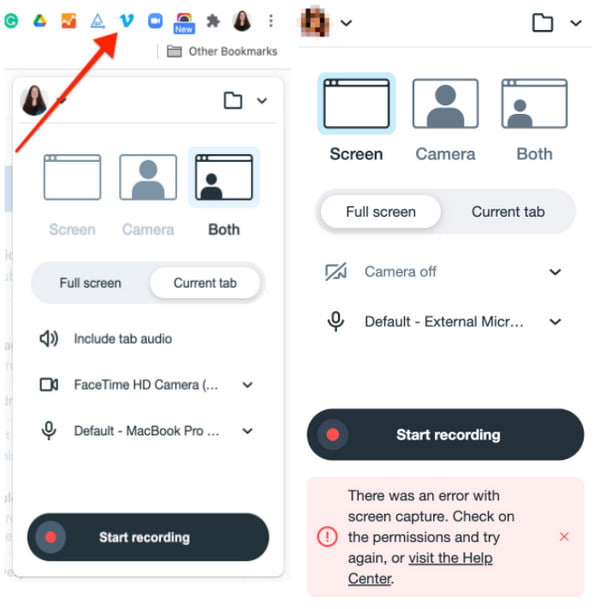 Step 2.If you need the camera and microphone for recording but block your browser from accessing these functions, go to the Settings menu and click the Hamburger button. Go to the Privacy and Security tab and click the Site settings button.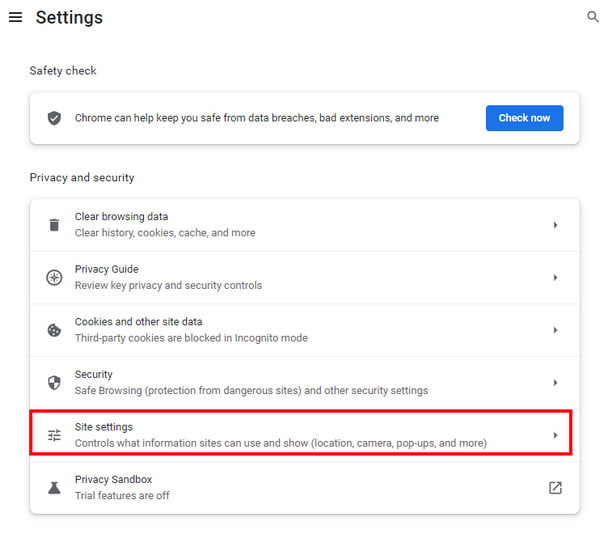 Step 3.Select Vimeo Record from the list of extensions. Tick the Allow option to enable recording with the camera and microphone. Review the changes and proceed to preparation for screen recording.
How to use Vimeo Record extension:
Step 1.Go to the Vimeo website. Select the video you want to record. Click the Vimeo button from the Extensions menu at the top part of the browser. Then, it would help if you chose which screen type you want to apply for the recorder (Fullscreen, current tab, camera, etc.) You can also set up other functions like the camera or microphone.
Step 2.After setting up the extension, click the Start Recording button and play the Vimeo clip. A quick countdown will start. You can use the functions from the recording overlay, like the pause or resume option.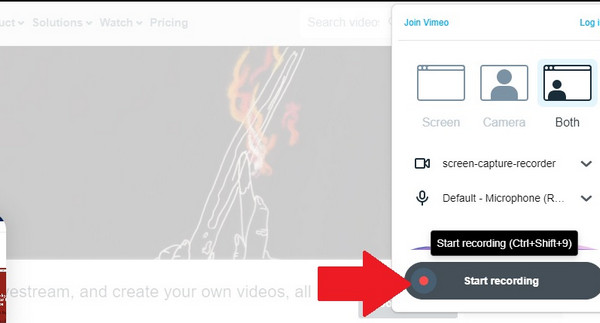 Step 3.You can restart the recording by clicking the Trash button from the recording overlay. Repeat the steps to re-record the video. Once done recording, click the Stop button. The output will then automatically upload to your Vimeo account.
Note
The Vimeo Record extension can only capture up to two hours of video. It is also not guaranteed that the video quality is good.
Part 3: FAQs about Vimeo Screen Recording
1. How to screen record Vimeo on mobile?

You can turn on iOS 11 screen recording to screen record on iPhone and iPad. As for Android 10 for Samsung/LG users, you can enable the default screen recording feature as well. Or you can use third-party screen recording apps.

2. What is the best resolution for Vimeo screen recording?

The usual standard video resolution is 720p for screen recording. But if you want to ensure the best quality when uploading a video on your Vimeo account, you can set a screen recorder to 1080p. AnyRec Screen Recorder has advanced settings for high-quality output. You can also set the frame rate at 60 and a different video encoder.

3. Is there a Vimeo screen recording for smartphones?

Since Vimeo is available for Android and iOS, you can use a Vimeo screen recording. Although built-in screen recording features are given for iPhones and updated Android devices, you can use third-party apps from Google Play Store and App Store to record your iPhone or Android.
Conclusion
Vimeo screen recording is now easier with the suggested tools. However, you might get disappointed if the output quality is lower than expected. Moreover, uploading the video to your Vimeo account guarantees reduced quality. So, for the best pick, AnyRec Screen Recorder will help you capture onscreen activities without a hassle. Try the free trial version and enjoy watching content while recording!
Related Articles: