Capture the Moment: 3 Quick Methods to Record Video on PC
Want to re-watch an important online meeting or class? You can write down every detail that happened online by recording a video on PCs, which will be easier for you to go back and watch it again. Nevertheless, not all PCs have recording apps with all features you want. Fortunately, all these issues can be solved. Just continue reading and learn the 3 best ways to record your computer screen of Windows 8/10/11 without any watermark.
Part 1: How to Record Video on PCs [Windows 8/10/11]
By installing the AnyRec Screen Recorder on any of your PC, no matter what Windows version is, you can enjoy an excellent visual and audio experience when you record a video on your PC. Meanwhile, no more worries about the internal sound cannot be recorded. Because this recorder will help you capture everything you want to save on your screen.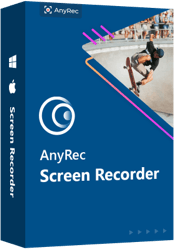 AnyRec Screen Recorder
Set recording time and auto stop in advance.
Capture part of the screen and leave out privacy.
Make notes for important messages while recording
Record both internal and external sounds.
Step 1.Download and install this recorder on your PC. After that, launch it, and to record your PC's screen, click the Video Recorder button on the main interface. Or press Alt and S keys to activate it, but this will start recording immediately.

Step 2.Press and move your mouse to choose a recording area or click the Full button to record the whole screen. Click the Microphone button to capture screen video with your voice. Then click the REC button to start screen recording.

Step 3.A toolbar will show up telling you the recording time. Click the Pause button to stop for a while or click the Resume button to finish recording. You will see a preview window and click the Export button to save it to your PC.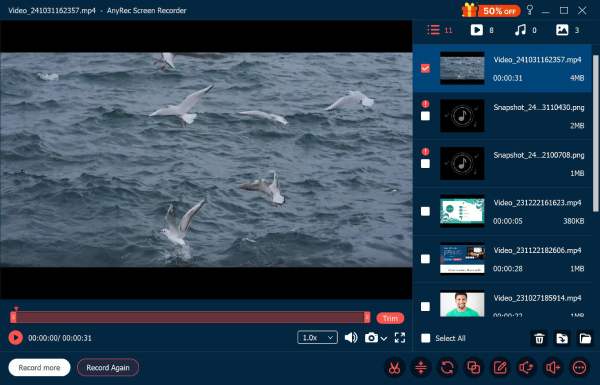 Bonus Tip: How to Record a Video on PC Online
Without installing extra apps, you can also record a video on the PC of Windows 8/10/11 for free. Free Screen Recorder offers unlimited recording service without any extra charge. You do not even need to create an account, just download a small launcher on your PC, and you can access this online recorder permanently.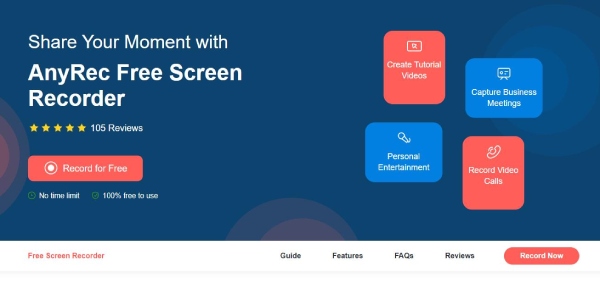 Step 1.Open any browser on your PC and go to the Free Screen Recorder website. Click the Record for Free to install a small launcher.
Step 2.Move the cursor to select a recording area and choose the recording audio. You can then click the Rec button to start recording screen video and audio on your computer.
Step 3.Click the Download button to save it to your PC, or you can share it on YouTube.
Part 2: Built-in App to Record Video on PC [Windows 10/11]
How to record a video on a PC with Windows 10/11? Well, there is a built-in video capture software lying on your computer, which is the Game Bar from the Xbox app. You can always activate it to record a video on PCs of Windows 10 and above since it is already pre-installed.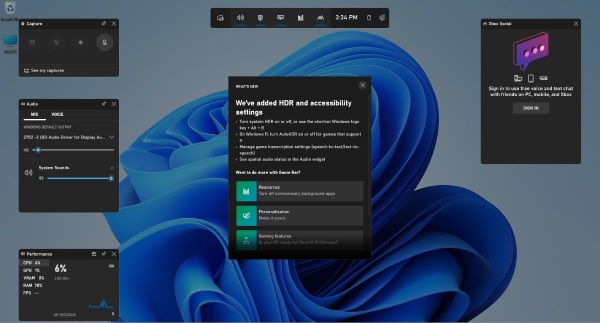 Step 1.Press the WIN and G keys on your keyboard to open the Gamer Bar.
Step 2.Then choose an audio mode by clicking the Settings button on the top and going to Capturing. You can choose all audio, only game audio, or none.
Step 3.To start recording, press the WIN, ALT, and R keys. Also, use this combination to stop recording.
Step 4.Your recording will be saved in the Captures folder under the Videos folder. Or click the See my captures button to view.
Tips
The Game Bar is mainly designed for game recording. Therefore, not all windows can be captured, and you may also find the shortcut keys not working on some screens. When this happens, you may refer to other free screen recorders for help.
Part 3: FAQs about Record Video on PC
How to record a video on the PC with PowerPoint?

Open your slides in PowerPoint and click the Record button in the Control Dock. Then click the Screen Record button to choose an area on your desktop to record. Afterward, click the Record button or press the WIN, Shift, and R keys to start recording. Press the WIN, Shift, and Q keys to end it. After it, click the Save Media As button to save the captured video to your Windows PC.

How to record a video on a PC with a webcam?

You can record a video for yourself with the webcam on your computer easily. Whether it is an internal or external webcam, you can just install the Windows Camera first from the Microsoft Store. Choose your camera by clicking the Camera icon above. Then click the Record icon to start recording yourself. Once you are done, click the Stop button to finish.

Does Bandicam have a watermark when recording?

When you record a video on your PC with Bandicam full version, you will not see the watermark. But if you are using the free version, once you export the video, you will see a Bandicam watermark. Once it is produced, it cannot be removed or erased even if you purchase the app later.
Conclusion
To sum it up, from now on, you have prepared yourself with 3 workable guides on how to record a video on a PC for different operating systems. In the near further, whether you want to record the best moments in gameplay or important information during an online meeting, these methods can all be your best helpers. You can always trust AnyRec Screen Recorder and capture desktop activities like a pro.
Related Articles