Top 13 Best Face Swaps to Download on Android and iOS
Are you having fun with making memes of your friend's face? Or do you want to be that celebrity from Met Gala? Face swapping is the answer! This article will introduce a list of the best 13 face swap apps for Android/iPhone, and you can swap your face with a friend, your favorite superhero, or a celebrity. This article also included a bonus tip to make the best face swapping videos or images with powerful editing tools.
Part 1: Top 12 Best Face Swap Apps for Android/iPhone to Create Funny Effects
1. Face Swap Booth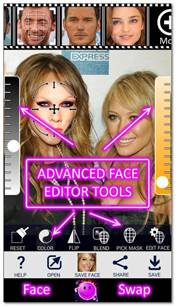 Face swapping with this app is one of the easiest ways. With its advanced tool, you can face swap a celebrity's face to your photo without hassle! It even allows you to customize overlay faces by using the unique built-in set of masks, and you can pick the best one you like. Face Swap Booth is available on Android and iOS.
Pros
Extensive library of celebrity photos.
Automatically detect face.
Cons
Controls are janky.
The last update was in 2016.
2. MixBooth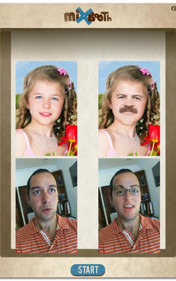 This face swap app has a massive library that contains templates and your saved photos, so you can use a face anytime you want. This app will save you time looking for the perfect fit for face-swapping. Edit and explore with this app and face swap your face with a celebrity without the internet. View the result by shaking your smartphone after editing a photo.
Pros
Face recognition feature.
Instant transformation process.
Cons
Distort facial features sometimes.
It doesn't allow photos from phone gallery.
3. Face App – AI Face Editor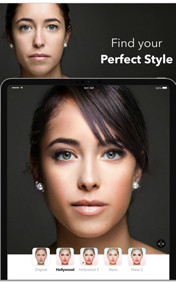 A brilliant and intuitive face swap app, Face App enables you to swap faces naturally with its user-friendly interface. It also has add-ons features like beard, cosmetics, hair, and many more you can put to your photo. Polishing the edited image by putting it into awesome backgrounds provided by the app, and you can compare it to the original photo to see the difference with ease.
Pros
Remove blemishes and scars.
Gender swapping and Age swap.
Cons
Most cool filters and features are in the pro version.
Slow loading progress.
4. Reface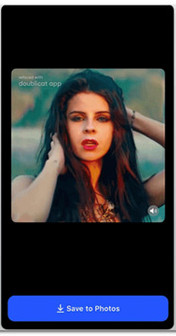 Surprise your friends with a very convincing face swap by using this app for photos and videos! Reface has many filters you can use to make cool or funny face swap. The help of AI technology allows you to look like your favorite hero or celebrity in a movie thoroughly. Moreover, this app enables you to make GIFs from your photos and videos in a few simple steps.
Pros
Allow direct sharing on social media.
It has a built-in meme maker.
Cons
Overflowing advertisements.
Watermark for edited photos and videos.
5. Face Swap Live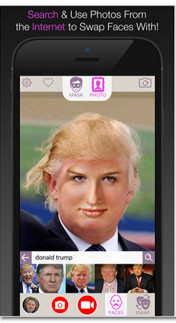 Use augmented reality masks with this app to see the best result in a few clicks. Of course, you still need to take your time editing a funny face swap with the provided effects you can use for free. Moreover, this app allows you to import photos from smartphones and even the internet. Download Face Swap Live on Android or iOS.
Pros
Include 3D effect.
Interactive face deformation.
Cons
The app is glitchy and lags sometimes.
Unsaved edited photos.
6. Face Swap Picture Editor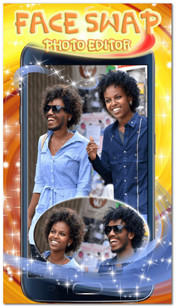 A simple and free face swap app you can find on Google Play Store. If you have a photo with two people included, you can easily face-swap them! Or, if you have a picture of yourself and your pet, this app also allows you to face swap with animals. Use the app's other features, such as fantastic photo frames, stickers, and create funny photos to share with friends online.
Pros
Works well with selfie camera.
Huge library of images.
Cons
Unavoidable paid promotion.
It cannot access Google photos.
7. Cupace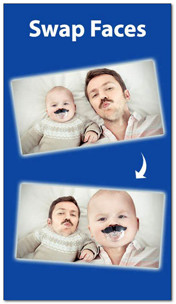 Face swapping on Cupace is as easy as copy-paste method. Just cut out the face from a photo and face it to another desired image. You can use a magnifying glass tool and manually control the process for a more precise result. This face swap app saves a cut-out face so that you can use it again anytime you want.
Pros
Add-ons like text, stickers included.
Support social platforms sharing.
Cons
Only available on Android.
No option for adjusting brightness, color, etc.
8. Reflect - Realistic Face Swap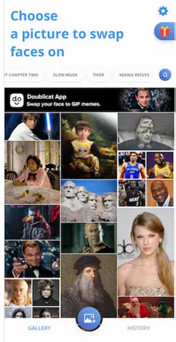 If you want to face swap using an iOS device, this app is our recommendation. You can download this face swap app for free and start face-swapping right away. With artificial intelligence, swapping faces with this app produces high-quality images. Moreover, you can select a full-on modification or lower the swap level to make the editing more realistic.
Pros
Built-in meme creator.
Direct sharing photos on social networks.
Cons
Watermark included.
$5 to save photos.
9. Snapchat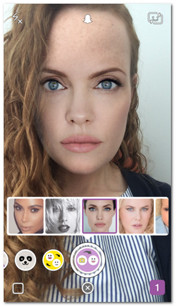 Snapchat is one of the most widely used social media interaction and face-swapping apps. Whether you want to face swap a photo or change your face during live, you can do both! This highly-rated app has the best face swap features if you can find the right one on the Explore section. You can also take Snapchat screenshotsto capture your face swap.
Pros
Allows editing old photo.
Other filters and effects offered.
Cons
Need some searching among hundreds of filters.
10. FaceOver Lite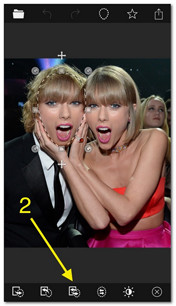 Another dedicated iOS face swap app you can use for free is FaceOver Lite that has built-in essential editing tools. Get the right angle of a face, cut it out, and paste it to the desired photo to make a funny face swap. To achieve a realistic result, use the app's manual substitution mode that enables you to take control of the facial features.
Pros
Allow partial face swap.
The free version has a lot of features to offer.
Cons
Sometimes can't open file.
Buttons are hard to understand.
11. Photomontage Collage
If you are looking for a more uncomplicated face swap, this app is for you. This photo editor lets you make your funny face swap with a high-quality resolution. You don't need to worry about mistakes in editing because the app will automatically correct them for you. Moreover, you can enrich the photo content with the stickers, text, and other essential tools Photomontage provides.
Pros
Offer infinite tools for text, color filters, layer overlay.
Suitable for instant face swapping.
Cons
The app is mostly 90% advertisements.
Keeps on backing out.
12. Face Blender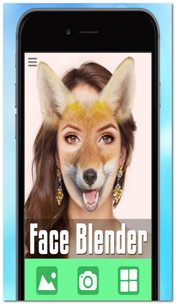 Blend your face on one of the historical people and make yourself look like Cleopatra with this great app! With over a hundred templates, you can cut out your face in a picture and simply paste it on the desired models. Other than that, the app will automatically adjust your look to match the model's angle. Face Blender does not limit you with templates, but it allows you to import your photo to put face swap!
Pros
100+ templates from the President of the USA to a gymnast.
Allow selfie or use an existing photo.
Cons
No option to adjust brightness, skin tone, and others.
Can't read face in an imported photo.
Bonus Tips: The Best App to Edit Face Swap Video/Images on Windows/Mac
We recommend AnyRec Video Converter for professional editing on face-swapped videos and images to make it easy for you. This program supports AI technology to help enhance your video in any way you like it. It offers advanced features to make your video look smooth and high-quality when uploading to social platforms. Try it now to experience AnyRec Video Converter's unique functions!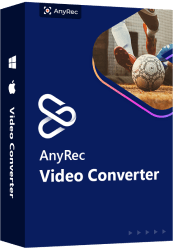 AnyRec Video Converter
Allow users to choose video quality resolution up to 1080p, 2K, and 4K.
Support many tools to boost volume, fix shaky video, optimize brightness, etc.
Provide all basic editing functions to crop, cut, rotate, add audio to videos, etc.
Many additional tools like filters, effects, text, and many more.
Part 2: FAQs about Face Swap Apps for Android/iPhone
1. What is face swap, and how does it work?

Face swapping is just literal what you think: Pasting your face into another photo of a person. It could be anyone, but they face swap with their favorite individual for most people. With the help of deepfake technology, face-swapping creates realistic facial changes.

2. Does TikTok have a face swap feature?

Unfortunately, it doesn't have a face swap feature yet. You can use one of the face swap apps included in this post. Then just save and upload it to your TikTok account, and your TikTok video will go viral.

3. How to make face swap in Photoshop?

Choose and open the photo with the face you want to cut out in Photoshop. Go to the Tools menu and choose the Change Background tool. Use the green color brush and draw around the face, draw red color brush around the green color, and then Photoshop will automatically separate the face to the background.
Conclusion
With face-swapping your photos to another, you can see yourself walking on that red carpet in Met Gala or flying around like Spider-Man. It is a great time to entertain your family and friends with the help of the best face swap app. Moreover, you can enhance these photos with AnyRec Video Converter to improve and modify your content. If you have more recommendations, please contact us.
Related Articles