5 Best Face Editing Apps for Portrait Retouching and Makeup
Face editing app are in high demand these days because most individuals edit their portrait images before publishing them on social media to hide freckles, thin the face structure, change eye color, and so on. However, many people are having difficulty editing profiles due to the complicated process, such as Photoshop. Is there an easy app as a Photoshop alternative to editing face or profile on your smartphone? Here are the five best face-editing apps to help you achieve your goals in the simplest way possible. Of course, you can also make and see TikTok duets with two different portraits.
Part 1: Facetune
Facetune is a face-editing app designed to assist you in achieving your ideal look. Its wrinkle/blemish remover, teeth whitening, red-eye and dark circle removal, and other features are beneficial. It is also worth noticing its face-reshaping tool. Facetune's best feature is its defocus tool, which blurs out the background and focuses all attention on the person. It is also worth noticing its face-reshaping tool. Facetune is described as Photoshop without the hassle of Photoshop. There are also photographs to look at that are both unedited and photoshopped.
Pros
Touch up and polish portrait images and videos.
Provide a whole series of retouching tools to edit face.
Cons
Cost extra $4.49 to acquire Facetune features.
Do not provide nature photography and other photography ventures.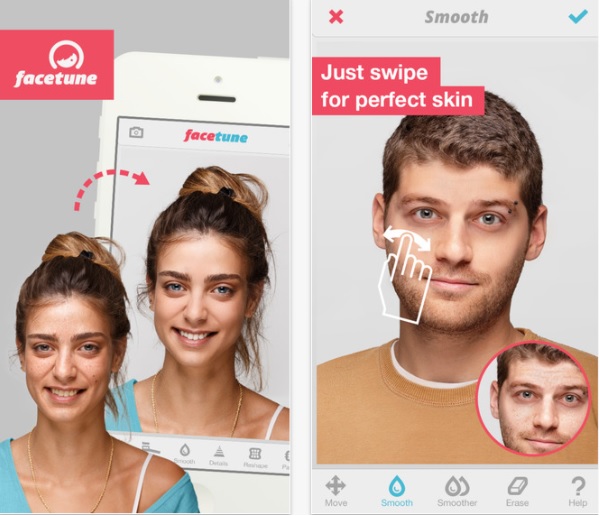 Part 2: Beauty Booth Pro
Beauty Booth Pro is one of the best face editing apps because it has its face detecting tool that enables you to do quick cosmetic repairs like removing the dark circles, removing the shiny looks, as well as improving your skin tone and color. It provides customers with a wide range of eye and skin correction choices. Beauty Booth Pro focuses more on the eyes and skins because they are the two most noticeable areas that attract a person's attention. When you need to polish the profile portrait or selfie, it should be a nice choice.
Pros
Complete all of the hard retouching tasks in clicks.
Apply 24 different eye effects as well as 32 different beauty-filter effects.
Cons
The photo-editing app is only available for iPhone users.
Pay for $1.99 to get full functionalities of the face editor.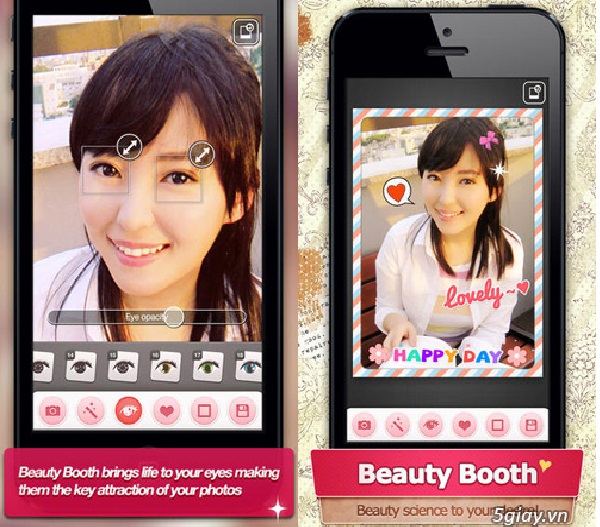 Part 3: Visage Lab
You don't have to worry if you're having a hard time retouching your photo to make it ideal, because Visage Lab face editor can automatically do face editing, such as smoothens the wrinkles, removing the greasy appearance of your face, it can help you remove those face imperfections like pimples and dark spots, within a matter of seconds it can whiten the teeth, it adds a touch of glitz, it can alter and enhance the colors and skin tones as well as outline the eyes. It's even better because you can alter your background to something more attractive.
Pros
Provide natural touch-up images and the best effect.
It is available for both Android and iOS devices.
Cons
Can't identify the face properly at times.
There is an advertisement that some users might deem disturbing.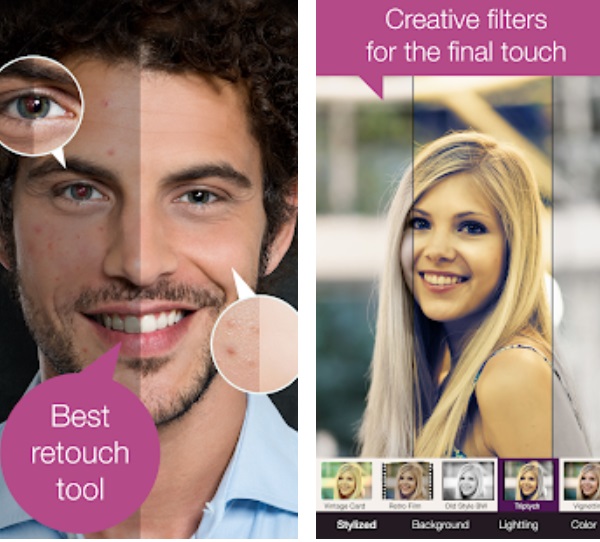 Part 4: Pixlr
Exercise your creativity with the Pixlr face-editing app by modifying your photo with a variety of free effects, overlays, and filters. It is a lot of fun to use its fantastic features such as cropping and resizing the image in a very fast moment, easily adjusting the color of your photo, you may add text to your photos with a large number of fonts you can select from, smoothly remove your blemishes, red-eye, and smoothen your skin with the simple tools. However, clicking the 'Auto Fix' button on this app is one of the most useful features for facial retouching.
Pros
Provide a free and ideal photo editor for social media influencers.
Do not have access to any of the photographs to protect privacy.
Edit photographs smarter, faster, and easier from anywhere you are.
Cons
Pixlr stock content subscriptions only allow for one-time use.
Get annoyed with its advertisements if you have not yet purchased its ad removal license.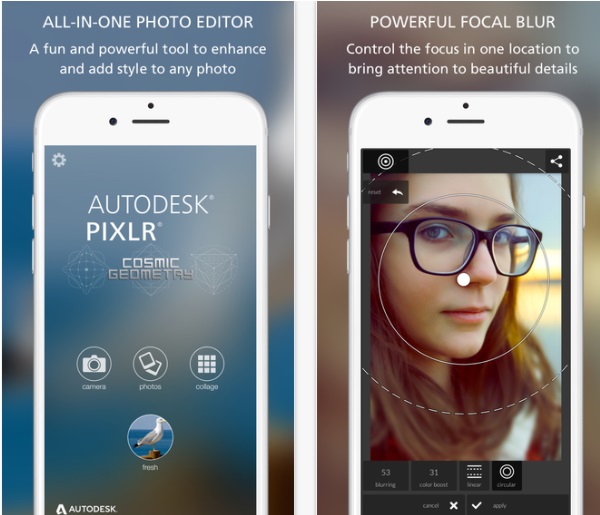 Part 5: Photo Makeover
Photo Makeover is more than a face-editing app, but also a funny photo editor. Unlike the typical face editors that remove imperfections, smooth wrinkles, and remove your gleaming appearance, you can also make naughty and animal faces with it. This software might be fun for your kids as well! It includes a library of pre-made facial templates. Moreover, you can always get the optimal effect with automatic color balancing. When you need to create a TikTok profile image, it should always be the initial choice you can take into consideration.
Pros
Allow you to manually alter your portraits.
Provide swipe editing with touch-sensitive control.
Cons
Unfortunately, Photo Makeover is only available for iOS users.
Photo makeover face editor is available for $0.99.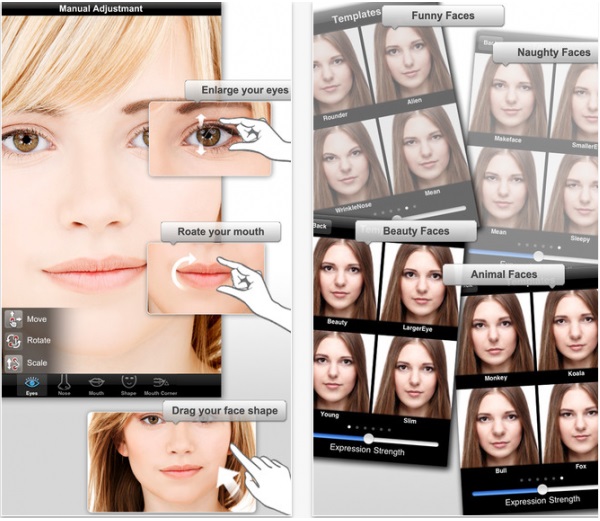 Part 6: FAQs about Face Editing App
What is the advantage of editing my photo?

Rather than your name, people are more likely to remember your portrait or profile image. As a result, it's fantastic if they remember you because of your lovely image. It is the reason you have to edit face, especially when you use the photos for business.

Is it safe to use a photo editing app?

Yes. It is safe to use most of the face editing apps mentioned above. You are the only one who can see the photos you upload unless you want to share them with others. Just download the official version from Apple Store or Google Play instead.

Is Instagram a great app for face editing?

Instagram is quite useful for altering images because it has a lot of tools that are enjoyable to polish and edit portrait images. Instagram also has a variety of filters to choose from. Of course, you can save the photos for resumes or other programs.
Conclusion
Editing has never been easier, so you can be a photographer on the go. If this is you, you should experiment with any of these top picture editing applications to determine which one you like. To summarize all of the information presented above, we have presented the five best face-editing apps for you to use to quickly and easily enhance your images.
Related Articles