Top 7 Tools and Apps to Blur Face to Avoid Being Seen in the Photo
Many people do not want to be seen in some photos, or they think their faces are not pretty good in the photo. So, they are looking blur face app to help them do it. Many apps and tools could do it, but you should find those well-using ones. Luckily, this post will give you the top 7 tools and apps to blur face. These tools and apps could keep the original resolution of the photo as high as possible. And also, there are other photo editing functions you can experience. So, read this list and choose your favorite one.
Part 1: Blur Face/Information/Object with AnyRec Watermark Remover
If you want to find the best tool to blur faces in photos, you can use AnyRec Watermark Remover. It is the best alternative website online tool for blur face apps. You can easily blur watermarks, faces, objects, and even personal information from the photo. In a word, you can remove everything away from the photo. And the convenience of avoiding downloading apps is another reason to experience this tool.
You can also select from four different grades of thickness and strength for your mosaic. And you can choose a polygonal or lasso for the area to blur the face or other things. Or you can just use the brush and set the thickness over the face. What's more, there is an eraser that could help you if you choose the wrong part of your photo.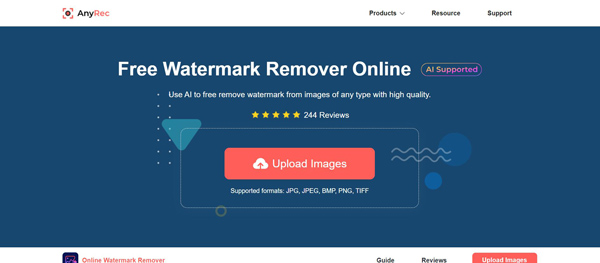 Features:
◆ Keep the high quality of the photo after blurring the face.
◆ Have different ways to choose the thing you want to blur on your photo.
◆ Support many input formats, including JPG, JPEG, PNG, BMP, TIFF, and more.
◆ Crop the photo when you are going to save the photo.
Part 2: Top 6 Apps to Blur Face on iPhone and Android
1. Blur Photo Editor
Blur Photos Editor is a popular app to blur faces on iOS. This app allows you to share your photos on all popular social networks with just a few taps. This tool is perfect to meet your simple photo-enhancing needs. You can easily conceal the identity of people in your photos. You can define the area of the picture you'd like to blur manually, and the app lets you control the intensity of the blur effect you're applying.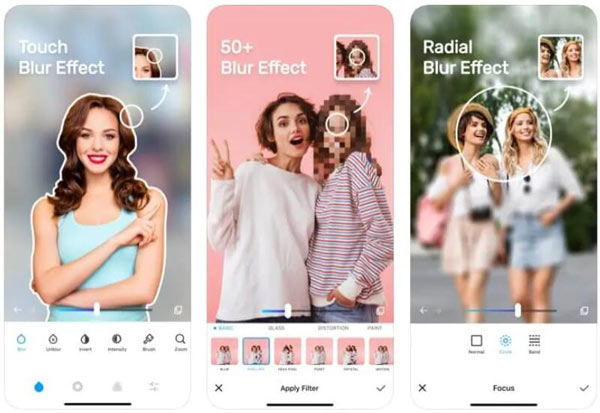 Features:
◆ Share photos directly to social media.
◆ Enhance photos with a few taps.
◆ Work only in the iOS system.
2. BlurEffect
Developed exclusively for iPhone and iPad, BlurEffect is one of the well-developed apps to blur faces in photos and video backgrounds on iOS. The video blurring format is kept accessible here. Simply scroll your finger to obscure a portion of the image. Along with this comes the multiple blurring frames and pixelated options right on your photo and video.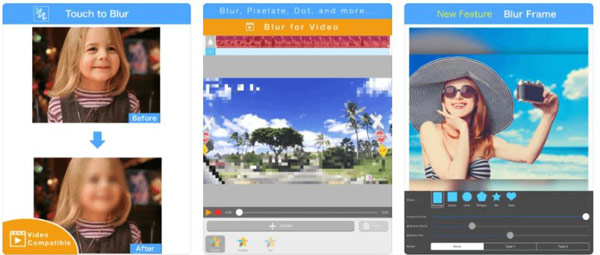 Features:
◆ Keep accessible for video blurring format.
◆ Control the fading intensity up to your preference.
◆ Download only in the Apple Store.
3. Video Mosaic App
This blur face app lets iPhone users blur something when recording videos or apply the blur effect to recorded videos. When it comes to blurring, it provides several available options for you to choose from. You can blur the entire video or obscure any part of the video frame or get only faces blurred. Moreover, you can decide the shapes for blurring such as hearts, abstract and geometric shapes.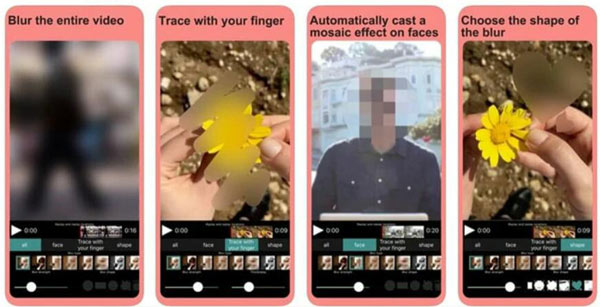 Features:
◆ Blur something when recording videos.
◆ Support different and special mosaic shapes.
◆ Download only in the iOS system.
4. KineMaster
KineMaster is a powerful blur face app designed for iOS and Android users to blur faces with just a finger touch. It has credible features to level up videos like multiple video layering, chroma key function, voiceover, transition effects, and many more. If you need a multi-functional blur effect video editor, KineMaster is a nice choice for you.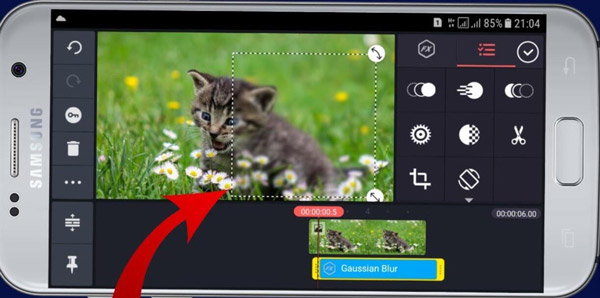 Features:
◆ Level up videos with quality, sound effects, and other functions.
◆ Add blur effect for videos and photos.
◆ Have more editing functions for videos and photos.
5. Snapspeed
Snapspeed is a photo-editing application developed by Google to help iOS and Android users blur faces or objects in their photos&videos. Besides, it's also competent for photo enhancement and accessible to filter your footage, such as removing the shadow on a photo. If you'd like pleasing editing without advertisement disturbing, this app is what you're looking for.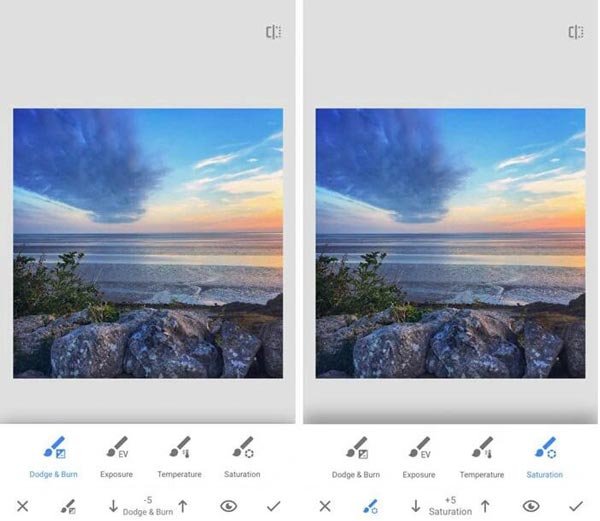 Features:
◆ Support professional editing tools for photos.
◆ Promise no advertisement during the app use time.
◆ Have enhancement and access to filter your footage.
6. Blur & Mosaic
If you are looking for a blur face app that makes obscuring faces in photos and videos easy, then Blur & Mosaic is probably one of the best choices you have at your disposal. You just have to use your finger to mark the area you'd like to blur and choose from nine available mosaic styles. However, the app contains ads, and you have to make an in-app purchase to remove them.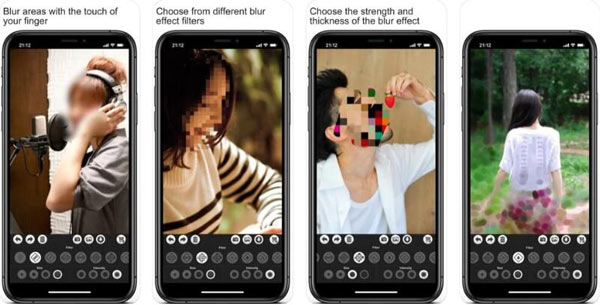 Features:
◆ Support four different thickness and strength options.
◆ Purchase the app to remove the ads away.
◆ Give nine mosaic styles for photos and videos.
Part 3: FAQs about the Blurring Face App
How do you take blurry face selfies?

Take multiple pictures at a fast shutter speed to get blurred photos. Adjust your camera's shutter speed to be around 1/30th of a second. Use your camera to follow a moving face until it crosses the center of your lens.

How do I blur a face in a picture in Word?

First, you should insert the picture in your document. And then choose the photo on the canvas. On the Picture Format screen of the toolbar ribbon, click the Artistic Effects button. And there is the Blur button.

How can I blur a moving face in a video?

If you want to blur a moving face, you can use PicsArt Photo Studio on your phone. This app could help you add a blur effect with the timeline mode. But if you want to use a more professional video editing tool, you can use AnyRec Video Converter to blur a moving face in the video.
Conclusion
After reading this list, you must know which one is your favorite blur face app. Although some apps have many other photo editing tools, the convenience of AnyRec Watermark Remover is beyond them. A website online tool could solve your problem easily. Just go to the website and experience this tool.
Related Article