Video Chat with Girls - Top 10 Websites to Chat with Strangers (Especially Girls)
Are you looking for new female friends online? Or looking for a date with the girl that can potentially become your future wife? Have a try on online video chat with girls. There are a lot of fake online chat websites today that steal your information, expose your privacy, and scam through subscriptions. Thus, this article will select the best 10 safe and free websites without subscriptions to have video chat with girls. Continue reading below to see the list of video chat with girls websites and choose according to your preference.
Part 1: Top 10 Websites for Video Chat with Girls Online
Looking for new friends is not difficult anymore. With the help of online video chat websites, you can now meet and communicate with anyone using your webcam and PC. Try these websites to start an online chat with girls if you are open to new friendships and relationships.
1. Omegle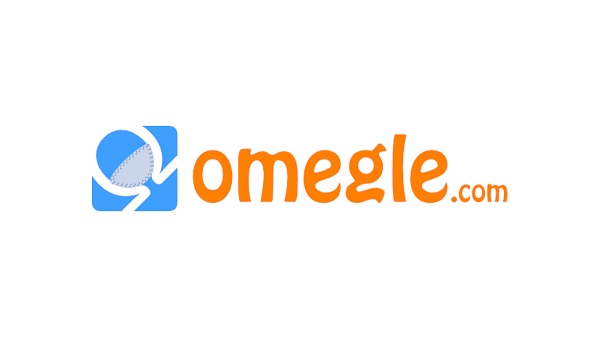 First on the list is Omegle. One of the most popular websites to video chat with girls online. You can meet and make friends with the people you connect with around the globe. You have the option to communicate using text chat or webcam chat.
1. You don't need to create an account to use the website.
2. Being anonymous protects you from sharing your personal information.
3. You can be paired with a person of the same interest.
2. Camfrog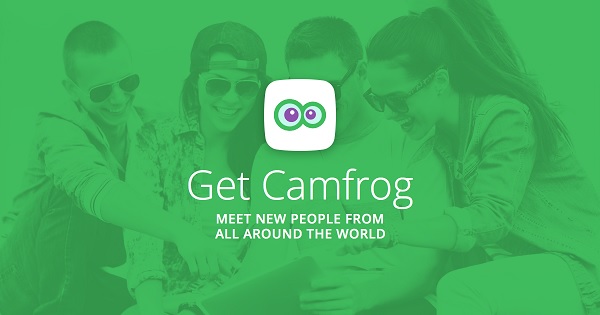 Camfrog is a well-known place to online video chat with girls. This website connects you to people worldwide to chat, discuss and build relationships with them.
1. Private video chat rooms.
2. Webcam is not required to start a video chat.
3.Camfrog is available on all devices.
Do you want to have a record of your encounter with someone while video chatting? Maybe for lasting memories and remembrance of your first meeting with your friend or significant other. With the help of a screen recording program, you can now record anything on your screen. Anyrec Screen Recorder is the tool for recording the activity of your screen. You can use it while having a video call, browsing the web, and watching videos.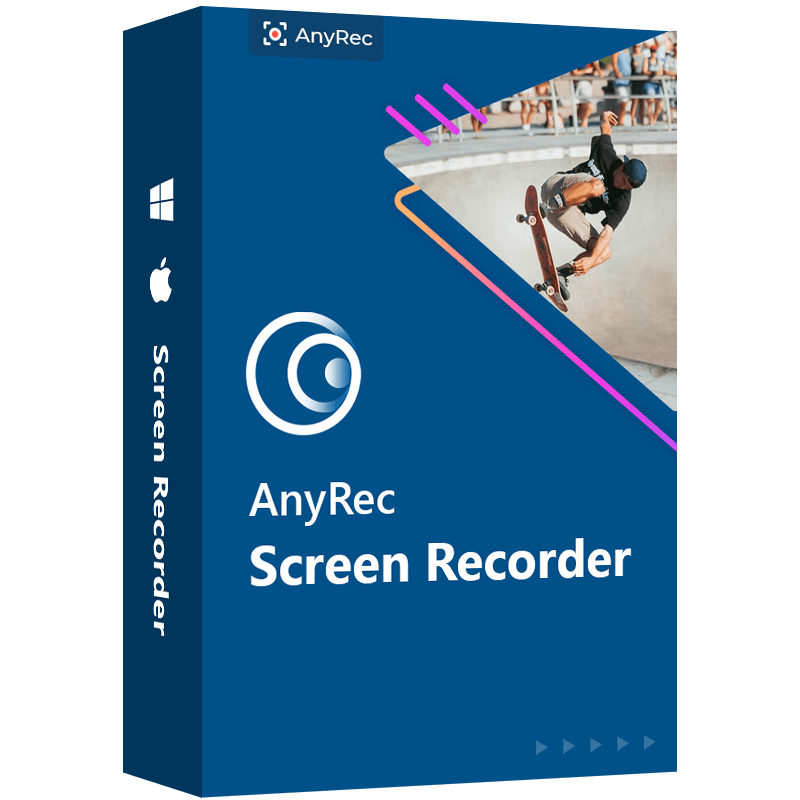 AnyRec Screen Recorder
Record on video chat with the full-screen, selected window, or desired area.
Adjust the video and audio settings, including the quality, frame rate, and format.
Provide 6 capture modes to record audio, video, webcam, gameplay, phone, etc.
Additional tools like real-time drawing, task schedule, customized hotkeys.
3. Bazoocam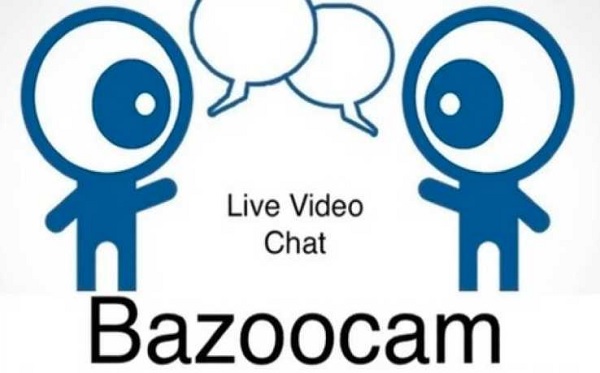 Bazoocam is a website that allows you to chat with girls online. This is a free-to-use website where you can talk with strangers via chat, video call, and live video.
1. You can play one-on-one games with strangers.
2. Pair-up with random people based on your location.
3. Multiple language versions for easier communication.
4. Chatrandom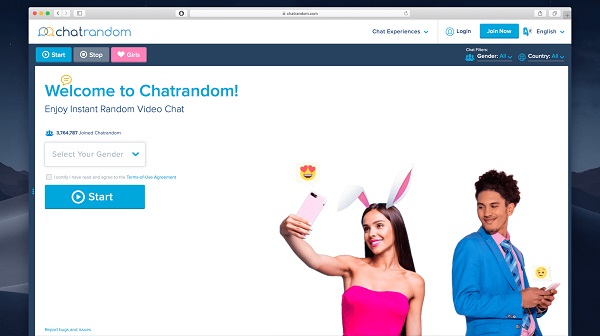 Next is Chatrandom, another free website like Omegle where you can randomly video chat with girls. You don't need to register to use the video chat. You also have the choice to chat with and without a webcam.
1. Users can chat in 20 languages.
2. Public chat rooms to connect with other members.
3. Free users can use most of the features.
5. Bumble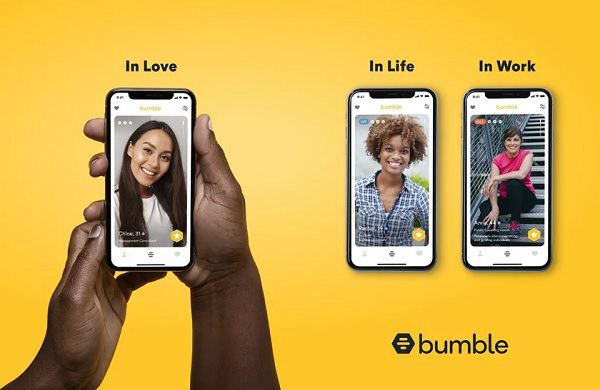 Bumble is a dating app available on iOS and Android platforms and a new desktop site, Bumble Web. Connect with millions of people who share the same interest, values, beliefs, and hobbies. (Check to see if Bumble is down now.)
1. You can edit your profile picture with advanced filters.
2. Good safety features and privacy.
3. Message your recent matches.
6. Talkliv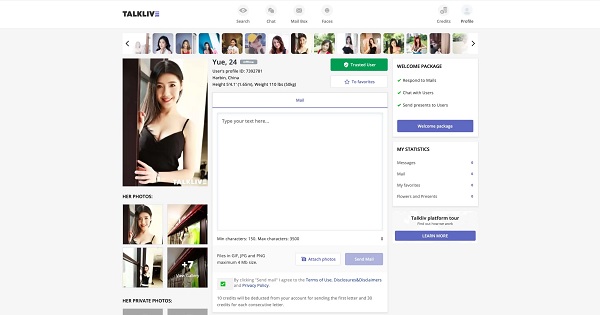 Talkliv is a communication platform wherein you can do online video chat with girls, mostly Asian women. You can search for profiles based on their age, status, country, nationality, occupation, and hobbies. You need to use two credits every time you chat with a person.
1. 20 free credits for first time user.
2. No fake profiles after selecting.
3. Great if you are into Asian men and women.
7. Chatspin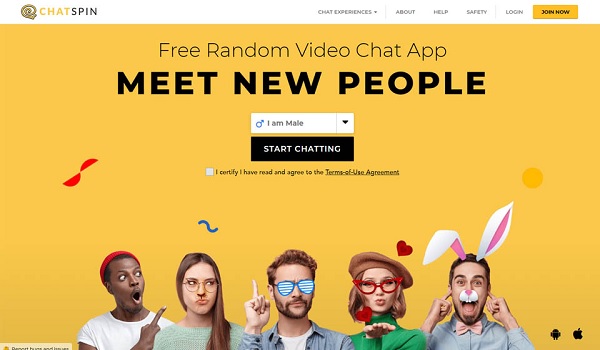 Chatspin is a free online chat with girls that connects you with thousands of strangers around the world. It offers gender and location filters, face masks, private chat, and more. Make new friends, talk about your hobbies and interests, and find a date with the help of this video chat with stranger app.
1. Add effects and filters during a webcam chat.
2. Connect instantly with people nearby and in other parts of the world.
3.; Remain anonymous to protect your identity.
8. Chathub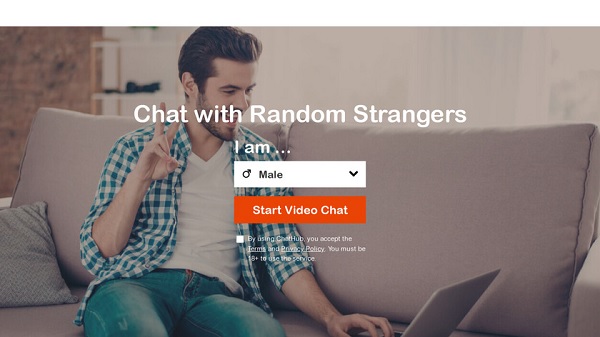 Chathub is one of the best alternatives to Omegle for online video chat with girls free. It gives you a choice to choose your match-up based on gender, language, and location.
1. Available in both mobile and desktop.
2. No registration is needed to start chatting.
3. Only provide one-to-one matching feature.
9. Tinychat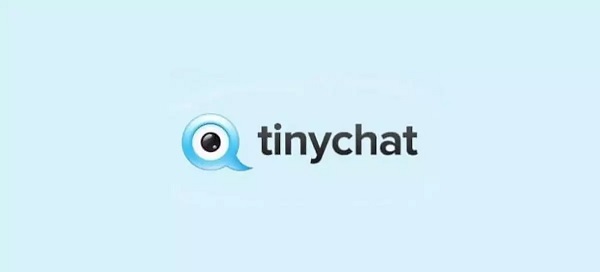 Tiny chat offers video chat rooms for free. You can make new friends with strangers you meet via video chat and create a chat room with other members. There's no need to sign up, no download; just go to their website and instantly start a video chat with girls.
1. Can add up to 12 members in a group video chat.
2. Explicit contents are highly monitored and restrained.
3. You can send private messages to users.
10. Emerald chat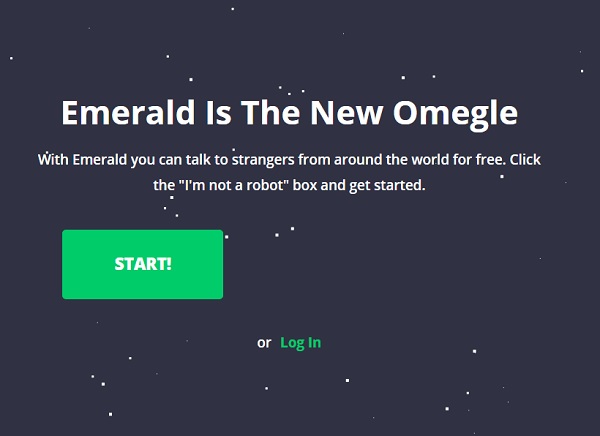 Emerald chat is last on the list for the best online video chat with girls. This website is also an excellent alternative for Omegle. It is a free chat website for text, video, and audio chatting. You don't need to register or create an account to use this website.
1. Full-time moderators and support.
2. Works great even on mobile phones.
3. Group chat feature.
Part 2: FAQs about Websites for Video Chat with Girls
1. Can I have online video chat with girls from the same collage?

Luckily, Omegle provides this function for you. If you have log in to the account with your collage website to verify your identity, you can find the girls from the same collage with you.

2. How to have online video chat with girls without an account?

Some video chat websites require no account or registration. In this way, you can simply talk with others anonymously. Have a try on Omegle, Bazoocam, Chatrandom, etc.

3. Is there an app designed for girls to chat with girls?

Yes, there is. HER dating app is only for girls, and especially for lesbians. Like other sites, you can create online video calls with random girls on it.
Conclusion
After reading this article, you have known the 10 popular sites for video chatting with girls. You can find your soulmate, friends, or just the person to discuss with. And if you want to record all the interesting chatting on the website, you can use AnyRec Screen Recorder to export high-quality recordings.
More Related Articles