Why is Bumble Down? – Recent Analyzation of Possible Causes
With the increase of users claiming that Bumble is down, it is likely to have technical issues again. To be ready whenever the unfortunate situation occurs, this post will analyze when the Bumble is down, and you might learn how to check why the Bumble is not working.If you still want to find like-minded people on the Internet, you can also also find the best 5 Bumble alternatives in the article.
Part 1: Is Bumble Down? With Recent Data and Reviews
There are many solutions when the Bumble app is not working. But it is better to know the different situations when the app is not active. Knowing the exact issue will help you to identify the right solution. Below, you will see the common errors when Bumble is down.
Pros
Server connectivity or Wi-Fi issue.
User log-in issues.
Unable to send or receive messages.
Won't go past the Continue page.
Difficulties with logging in via phone number, Facebook, or Apple passcode.
Oops! Something went wrong.
Cons
Reinstall the app from reputable sources like Google Play Store or App Store.
Restart the device or completely close the app.
Switch from Wi-Fi connection to phone's data connection.
Use a Status Checker website.
Check Twitter if there is an update from Bumble's official page.
Reach out to the app's customer service.
If you ask why Bumble seems not to work frequently, the Bumble official pages may post updates on Twitter, such as increasing inquiries, outages, or a new version update. But the best thing to check the Bumble status is to go to a status checker like the DownDetector, ServicesDown, or UpdownRadar.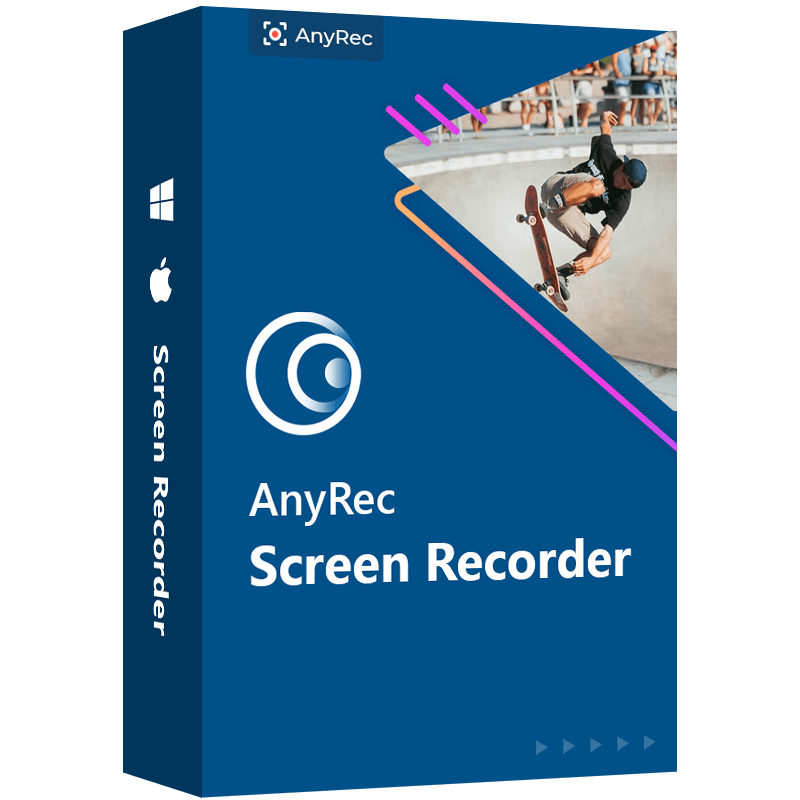 AnyRec Screen Recorder
Record all your memories on Bumble when Bumble site is down.
Capture the full-screen, the selected window, or a fixed area.
Save all the recordings in MP4, MOV, MKV, FLV, or GIF format.
Adjust the settings to keep the original high quality.
Part 2: 5 Best Alternatives to Bumble with Dating Services
The Bumble app is not the only video chatting app you can only use to connect and befriend strangers. Mainly, you don't deserve to experience frequent errors in the app. If you are unsure about finding other good dating services, this post will give you insights into the best-recommended dating apps so you can continue looking for friends online when Bumble is down.
1. Hinge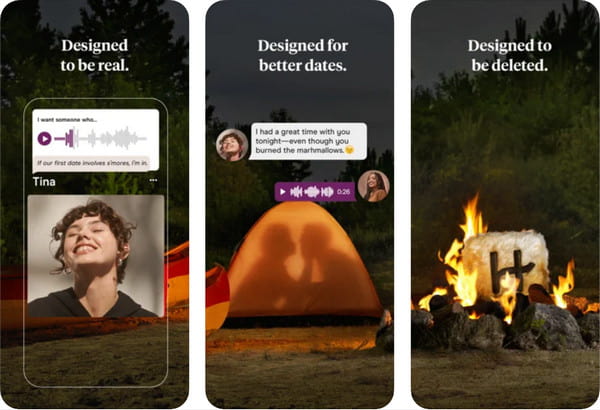 Many people are hooked up with Hinge. It is the best alternative to use when Bumble is not loading or having an issue. The Hinge app is accessible online, and you can even download it on Android or iOS. It allows you to display more information about yourself so it is easier to find matches, or you can connect your Facebook account to find mutual friends or potential partners. Its Noble-Prize-Winning algorithm will surely succeed in finding a date.
Pros

Enable users to create engaging profiles.
Maintain a zero-tolerance and safe environment.
Check users about their dates for further improvement.
Cons

Sometimes messages show late or out of order.
Lesser amount of users than Tinder and Bumble.
2. Badoo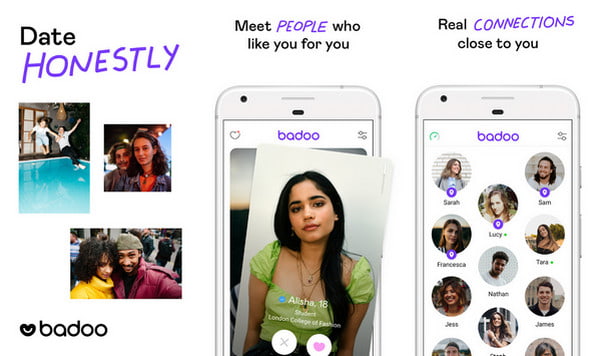 The Badoo app has been around since 2006 and focuses more on authentic conversations between strangers. It believes that having unfiltered chats makes it easier to connect with people, including sharing pictures, cravings, intentions, etc. When Bumble is stuck on the loading screen, you can use Badoo for free or purchase the premium version to unlock unique features. But despite supporting authenticity, Badoo protects every user, and it has more security features than other dating apps.
Pros

Detect rude messages.
Verify profiles to remove bots.
Recording feature to answer fun questions.
Cons

Randomly opens and closes; users need to force close the app.
It does not offer much.
3. Coffee Meets Bagel Dating App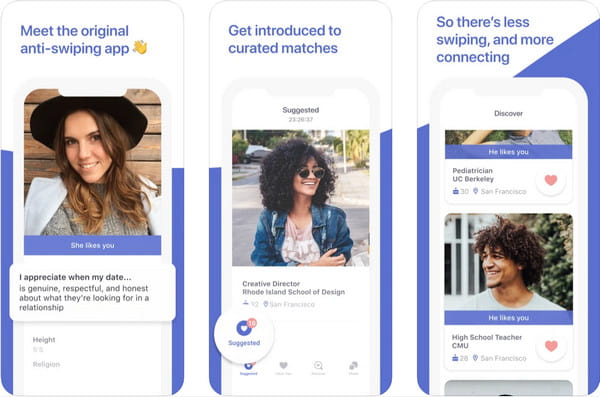 Are you tired of swiping and repeating introductions to people? The Coffee Meets Bagel is the best dating app whenever Bumble is not working and will help you find something real. This alternative has 91% of users looking for a serious relationship which means less swiping and more chatting. With its over 159 million matches, you might also have a match and a serious relationship in no time.
Pros

Simple and cost-effective.
The majority of users are in their 30s.
Affordable price for the premium version.
Cons

Fewer matches than other dating apps.
The matching algorithm is not too sophisticated.
4. OkCupid: Dating, Love & More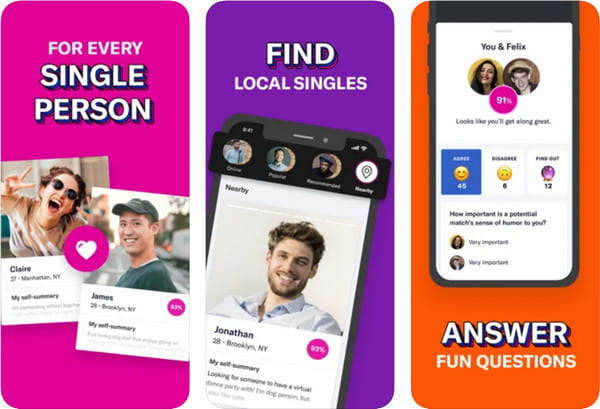 OkCupid is an excellent alternative for Bumble when it is down. It provides you with great dates by having connections to potential partners. The dating app is full of singles near you with who you can have deep conversations at any time of the day. What's more, OkCupid lets you have video chats or call anyone you match with! You can access this superb alternative online and app version.
Pros

Free dating app
Local dating features to find people nearby.
Advanced filters and additional options.
Cons

The app version has the least functionality.
Prone to meeting scammers and swindlers.
5. Tinder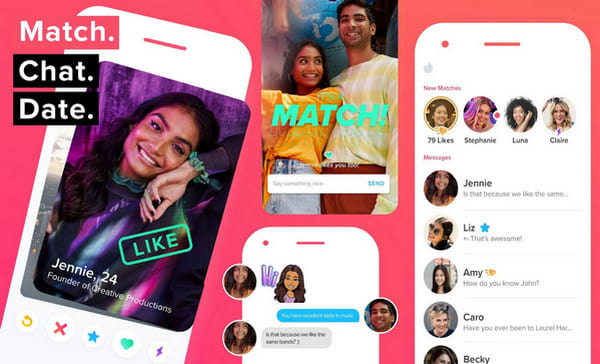 Pros

Free intuitive app.
Immediate matches from other users.
Rewind feature to undo a Like or Nope.
Cons

Lags and crashes.
Require a premium account to change the location for swiping.
Part 3: FAQs about Bumble Site Down
1. How to delete my Bumble account?

To delete your account on Bumble, go to the website and log in. Tap Profile from the top-left corner of your screen, then locate the Settings option. You will see Delete Account at the bottom of the screen. Tap it and confirm.

2. How to disconnect my Facebook account from Bumble?

If you want to disconnect your Facebook account from Bumble, you need to log in on Facebook. Go to the Settings and Privacy menu. Tap on Settings, then tap Apps & Websites under the Permissions menu. Tap Bumble, then tap Remove. Confirm by tapping another Remove button.

3. Does Bumble has customer support when Bumble is down?

Yes, the Bumble dating app has a customer support where you can inquire and send reports. However, it is not much of a help because 1.) They don't have a phone number to call. 2.) They receive a large number of inquiries and requests, which makes it more difficult to have an answer to why it is Bumble down.
Conclusion
Bumble is down on some days, and there is no telling of its actual cause. Aside from the updates from the app's official page, you can also use a status checker website to check if the Bumble app is not working or is it just you. Fortunately, you can also choose another dating app to continue searching for like-minded people. More dating apps will likely offer more accessible and unique features.
More Related Articles