Top 15 Video Chat with Strangers Apps for Making Interesting Friends
Endlessly scrolling through your social media accounts can make you feel bored. Someone to talk to is a good idea, so you might need to socialize online. Recently, there have been uprisings video chat with strangers' apps where you can encounter people from the other side of the world. When you need to try to talk to strangers as a new challenge to yourself, but don't know where to start. Don't worry! Because in this article, you can learn some great video chat with strangers' apps, not just kill the boredom but find some great friends around the world.
Part 1: Top 15 Video Chat with Strangers Apps on Android/iPhone
If you have watched some funny videos on YouTube or TikTok with people talking with strangers, it is a sign to try it too. With the following recommended apps, you can download a video chat with stranger's app on Android or iPhone and try your luck finding great friends.
1. Telegram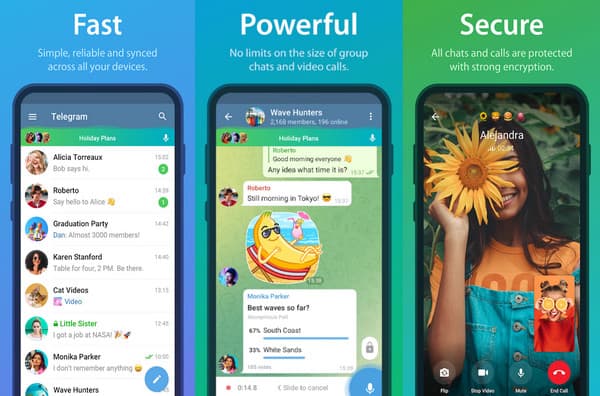 A must-have video chat stranger app that gives hassle-free functions. You can connect with people through a distributed network of data centers. In which to say, you can communicate with people that have the same mind as yours. Using Telegram can help sync and access all your messages from other apps. It also enables you to continue your chat on another device just sign in with the same account.
Features:
◆ Safe and secured to use by using a combination of 256-bit symmetric AES encryption.
◆ Free video chat stranger app to download, enabling users to create many groups.
◆ Provide powerful functions in a straightforward interface for easy access.
◆ Features include photo and video editing tools with animated stickers and emojis.
2. Badoo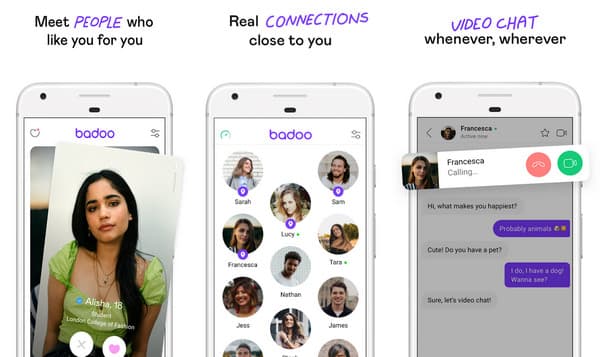 Badoo has millions of users that are close to 200 nationalities receiving one of the top seats as an excellent video chat with strangers app. As a new-age social platform, Badoo is the place for people who want to be their authentic selves, outreaching for people who share the same interest. Although the app is more like a dating app, it will not limit you from finding friends and purely talking about random things.
Features:
◆ The video chat with stranger's app search for people near you to chat.
◆ Allow you to choose people to talk to by swiping right or left.
◆ Connect you and strangers through face-to-face video chat.
◆ Unlimited usage of filters to beautify your photos and get more likes.
3. Twoo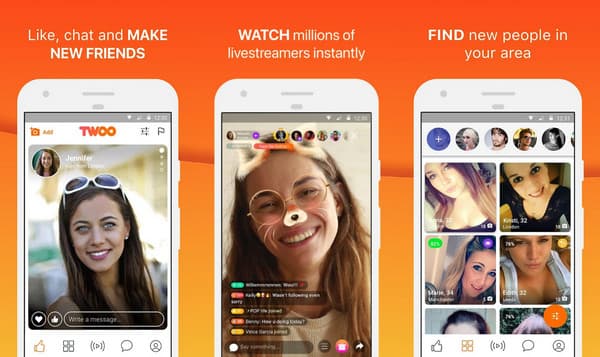 If you are more into random video chatting, you can download the Twoo app on your mobile device. It has a significant length of users you can chat with at any time of the day. The video chat with stranger's app also offers a live stream feature where you enable people worldwide to watch you and have incredible conversations. By creating zones, the video chat with strangers app will effectively manage interaction with people like you.
Features:
◆ Track people who visited your profile and allowed you to chat with them.
◆ Provide facility for two persons and group chats as well.
◆ Allow users to view other people's profiles and direct message them.
◆ Live video chat with people all over the world.
4. CamSurf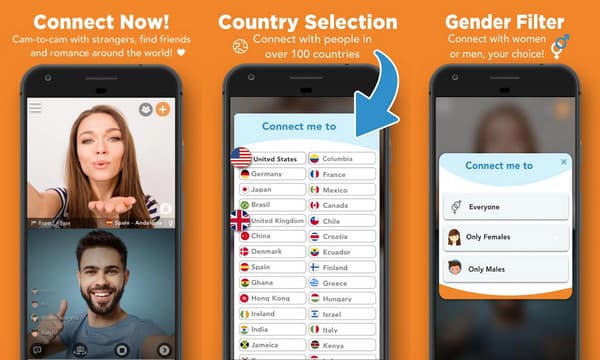 Since 2015 its first launch, CamSurf has prioritized bringing people together from around the world. It is one of the fastest-growing video chats with stranger apps as CamSurf made billions of connections. Randomly meet people and enjoy all the perks with the app. Download the app on Android or iOS, and you might find the friends you are looking for.
Features:
◆ Protect and secure personal information by not giving sign-up forms.
◆ Employ dozens of moderators for users to follow the rules for clean interaction.
◆ Enable filter the countries the users want to connect with.
◆ Instantly connect strangers to have a cam-to-cam conversation.
5. Bigo Live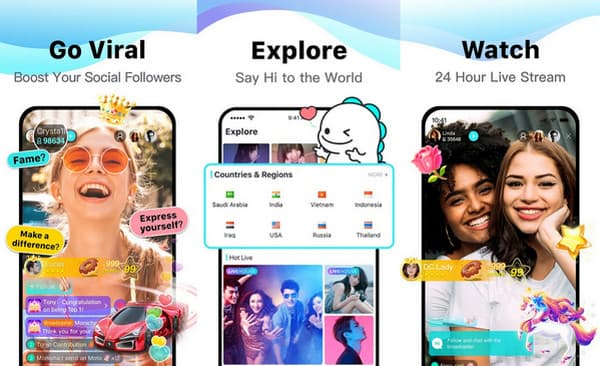 Another successful video chat with strangers app that connects millions of people. Bigo Live enables you to go live and show the world your special moments. Whether playing a musical instrument or showing your dancing skills, the app will help you gain watchers. This social platform is also an ideal way to live-stream your gameplay or video chat with multiple people at once.
Features:
◆ Support live gameplay like DOTA2, Grand Theft Auto, LOL, etc.
◆ Live Voice Chat function to drop-in audio conversations.
◆ Virtual presents to send like roses, rings, dream palaces, and more.
◆ Cute games to offer like raising a cute pet online and more.
6. Holla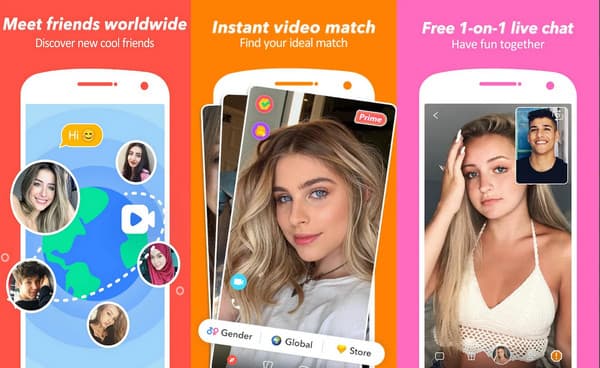 This video chat with strangers app has full of surprises for you. You can download it on Android, and you will instantly connect with people. You can choose to filter the countries you want to reach or track people near you. This free video chat strangers app allows you to select people you want to interact with through the swipe cards.
Features:
◆ Free usage of video calls, chats, and live voice chats.
◆ Prioritizing a safe community for enjoying connections to people.
◆ It has a 24/7 moderation system to protect and answer reports.
◆ Customizable matching and live streaming.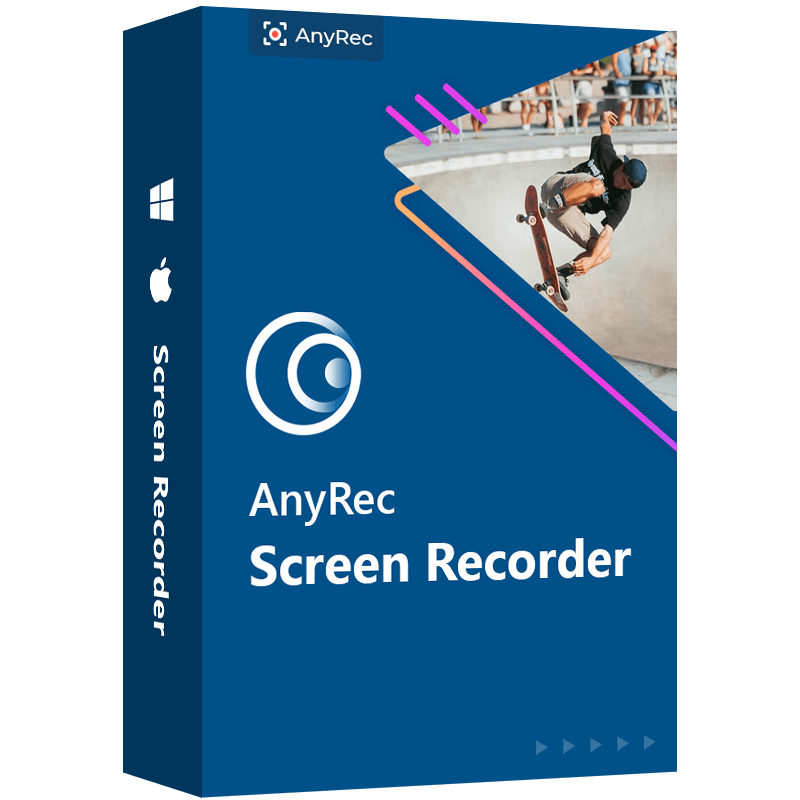 Best Screen Recorder to Remain the Precious Memories with Strangers:
Record video, audio, webcam, and take screenshot with lossless quality.
Capture the full-screen, a selected window, or chosen areas freely.
Able to add drawings, like shapes, lines, callouts in real-time.
Customizable preferences like hotkeys, formats, and outputs.
7. Azar
With its flexible functions, Azar is the ideal video chat with strangers app to discover more people. The Azar app can welcome you to any culture you are interested in. It offers convenient rooms which have one-of-kind groups you can be part of. Also, you can use the video chat with strangers app to any internet connection like WiFi, 3G, and 4G networks.
Features:
◆ Support exchanges of any kind of files like video, audio, and images.
◆ Real-time translation to cut across the language barriers.
◆ Customization of target groups to video chat or video call.
◆ Enable users to participate as a guest in a live stream and talk with the hosts.
8. MicoChat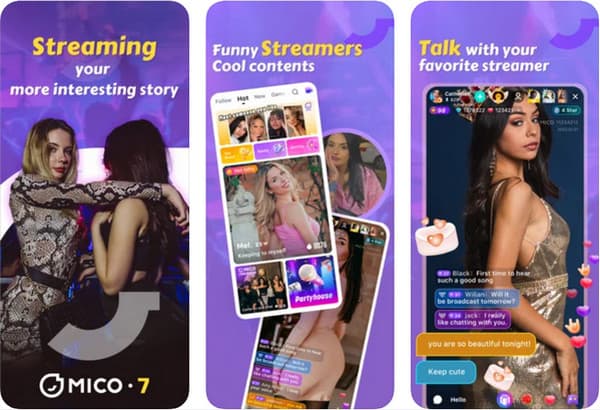 MicoChat is an exclusive video chat with strangers app for iOS devices. When you download this app to your smartphone, you will automatically be classified based on your country of origin. Of course, you can still customize this on the settings. The app also provides translation so people will understand each other despite the different languages. Explore something fun with MicoChat.
Features:
◆ Allow users to make new friends through the match game and random match feature.
◆ Group video chat includes perks like a maximum of 8 people, voice chat, and more.
◆ Group live chat groups are accessible for everyone interested to join.
◆ Provide broadcasting functions to showcase talents and meet new people.
9. Qeep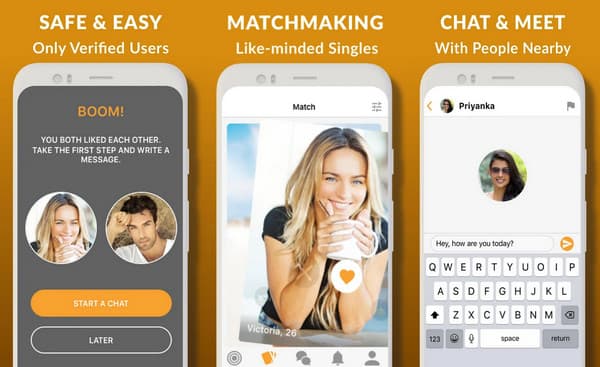 This video chat with strangers app has a matchmaking algorithm to find you the best match of people you like to talk to. You can customize your profile and input all your assets to help you gain chats in minutes! The Qeep app is available for Android and iPhone to help people find new friends and even a date!
Features:
◆ Let single people mingle by registering for free.
◆ Track a user's location to search for a match nearby.
◆ Match results are in a constant flow 24/7.
◆ Secures photos and video sharing to other strangers.
10. Ablo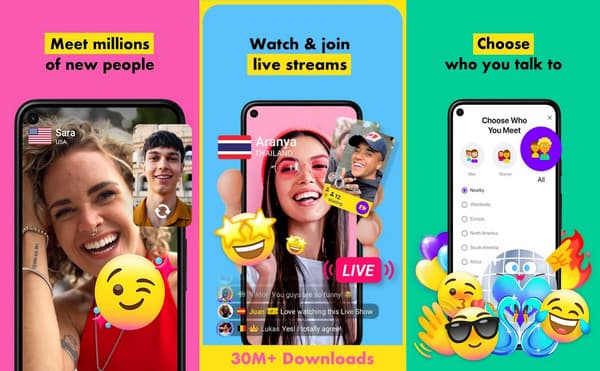 If you are interested in talking with a person from France, Spain, or Korea, you can use the Ablo app. This video chat with strangers app has versatile features to help you gain new friends. For example, you can enjoy the conversation with your newly-found friend even if you have different languages. Moreover, the app does not restrict you from joining live shows and chat any available individual.
Features:
◆ It does not require any payment and is free to use.
◆ The interface is easy to use for legal age and older people.
◆ Moderators are always present to help users with their reports.
◆ Great app to have new friends and explore different cultures.
11. JusTalk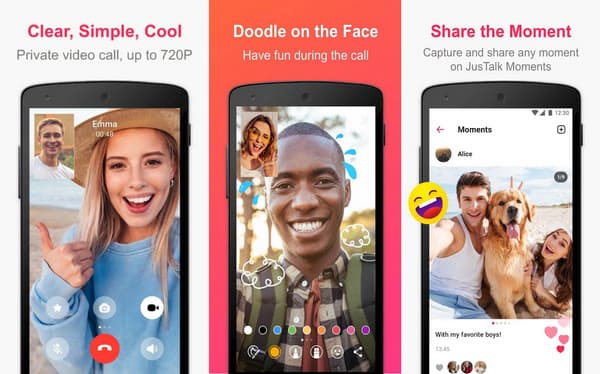 The Just Talk app is available for Android and iOS devices, which helps many people talk with strangers worldwide. The video chat with strangers app has a reputation for combining different individuals keen to group video chat. As one of the dependable apps, you can be unstoppable to discover extraordinary people and share what you have with them.
Features:
◆ Free usage of features like sending files, stickers, and comments.
◆ HD quality of video calls to any country and place.
◆ Accessible video chat with strangers app over WiFi, 3G, and 4G.
◆ Enable non-JusTalk users to call or share files.
12. Chatous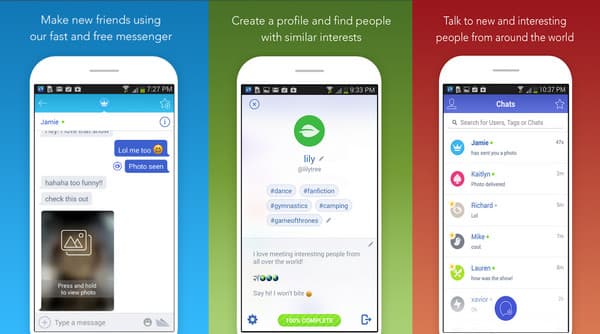 On Chatous, you can use find friends just by using a hashtag! The video chat with strangers app has an easy way to connect with people and talk about topics you love with them. You can enjoy many features of this app, like sharing photos, videos, and audio clips. Download the Chatous app to kill boredom while sharing your thought with like-minded people.
Features:
◆ Protect users' identities from any malicious intent from violators.
◆ Enable users to gain coins by subscribing to the premium version.
◆ Same features to enjoy on mobiles and desktop computers.
◆ Clean interface and easy to navigate.
13. Skout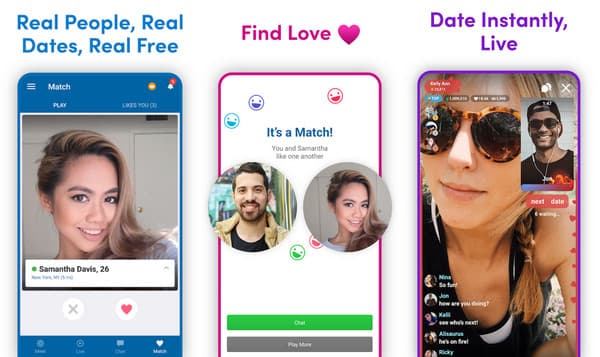 Go live and meet new people by using Skout. The video chats with the strangers app will allow you to chat with different individuals randomly. You can chat with people at your place or globally and hang out if they are near your origin. Do not miss out on finding great people, and download the Skout app to start looking for new friends.
Features:
◆ The app will ask the user what is their preferences for shorter searching.
◆ Updates will always keep Skout keep stable and stress-free.
◆ Enable to browse profiles through random searches or promotions.
◆ Profile promotion allows users to promote their content and chat with strangers.
14. Anonymous Chat Rooms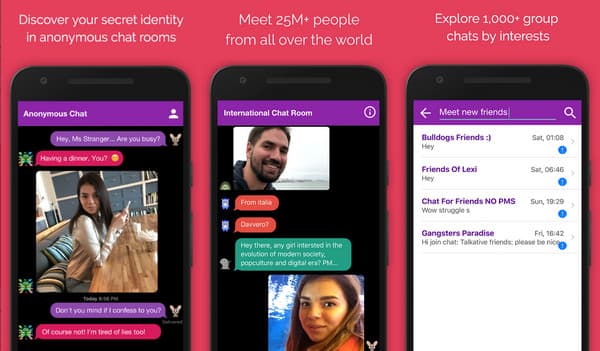 If you prefer talking randomly and do not want personal information to leak out, this video chat with strangers app is for you. This app helps you express yourself and not feel guilty about it later. Of course, many people do not like oversharing, but they need someone to talk to. And if you are one of them, this app is for you.
Features:
◆ Allow users to reveal or hide their personal information when chatting.
◆ Ideal for finding online tutorials for Brazilian, Japanese, Spanish, and other languages.
◆ Allows real-time record a 10-second video clip to send to chat rooms.
◆ Create chat rooms and invite people from around the world.
15. Wink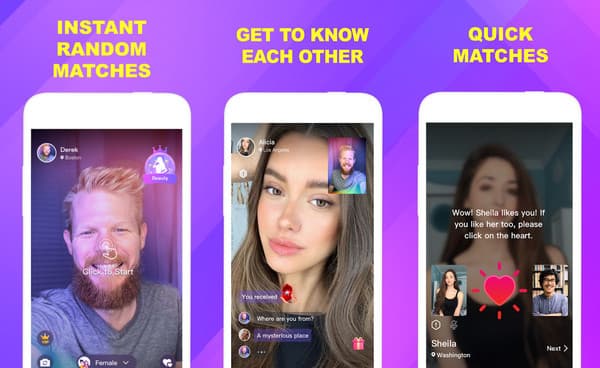 Lastly, this video chat with strangers app is another excellent way to look for strangers to talk to. Explore this app, and you will find its benefits like chat rooms, a way to collect gems, and more. Download the app on Android or iPhone.
Features:
◆ Millions of users of the app to connect with any diverse environment.
◆ Random video chats through swiping cards and searching for friends.
◆ Allow users to collect gems to purchase boosters, gifts, and more.
◆ Personalize profile and stand out with excellent descriptions.
Part 2: FAQs about Video Chat with Strangers Apps
1. What are the best video chat with stranger software for Windows 10?

Just like mobile versions of video chat stranger apps, some of them have an online tool for you to meet new people. But you can also try Google Duo, Omegle, Telegram, and more.

2. Can I use video chat with strangers app without login?

Of course, you can. If you are worried about your privacy, you can try the following apps that require no account: Kaaps Stranger chat, CamTalk, Sweet Chat, Kwee Random Chat, etc. Or you can go to some video chat sites online.

3. Is random video chatting safe?

No. Maybe users can encounter a scam through regular conversations. Since everyone can participate in any video chat, this is highly possible to happen.
Conclusion
Video chat with strangers apps is fantastic to make your circle of friends grow. An app also promotes a sense of individuality by expressing themselves in a diverse environment. You can always use AnyRec Screen Recorder - the secret screen recorder to capture beautiful moments with strangers you meet online.
Related Article